In this second part of our series, we take a look at the diverse gender roles in Moominvalley and how they are connected to Tove Jansson's life. Did you know that the English translation of the characters Thingumy and Bob misses an important reference to Tove's first love story with a woman?
Tove's love for Vivica Bandler, whom we wrote about in the first part of this series, also found its way into the Moomin stories in the form of the duo Thingumy and Bob. They make their way to Moominvalley in the book Finn Family Moomintroll.
Early one morning at the beginning of August Thingumy and Bob came walking over the mountain, and stopped just where Sniff had found the Hobgoblin's Hat. Thingumy wore a red cap and Bob carried an enormous suitcase. They had come a very long way and were rather tired, so they rested for a bit and looked down over Moomin Valley, where the smoke from the Moominhouse was rising between the silver poplars and plum trees. "Smoke," said Thingumy "Foke means smood," said Bob nodding. And they began to wander down to the valley talking in the strange way that Thingumies and Bobs do talk. (It isn't clear to everyone, but the main thing is that they understand each other.)
(Finn Family Moomintroll, 1948)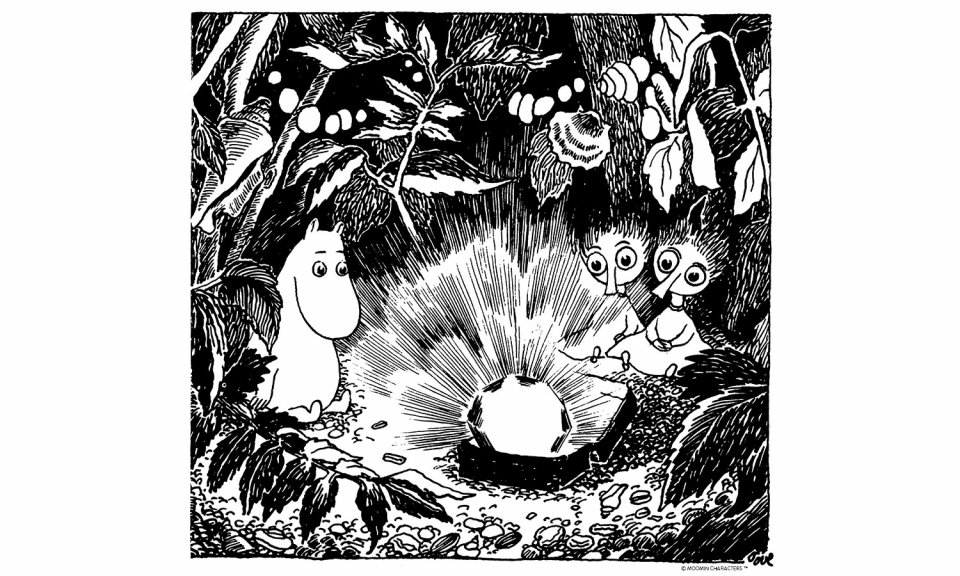 Thingumy and Bob speak a language of their own with the same wording that Tove and Vivica used in their letters. They carry a big secret, the ravishing King's Ruby, which radiates a red light out into the universe. It's not far-fetched to read the story as an allegory of Tove's and Vivica's forbidden love.
Thingumy and Bob lost in translation
Thingumy and Bob's original names in Swedish, Tofslan and Vifslan, match the names Tove and Vivica, and it's actually the nicknames Tove used for her and Vivica in her letters. From a gender perspective, it's rather interesting that the English translator chose the names Thingumby and Bob. Bob would normally be considered a masculine name, whereas Tofslan and Vifslan have the typical form of feminine diminutives in Swedish, and in its present form, the English translation misses the reference to Tove and Vivica.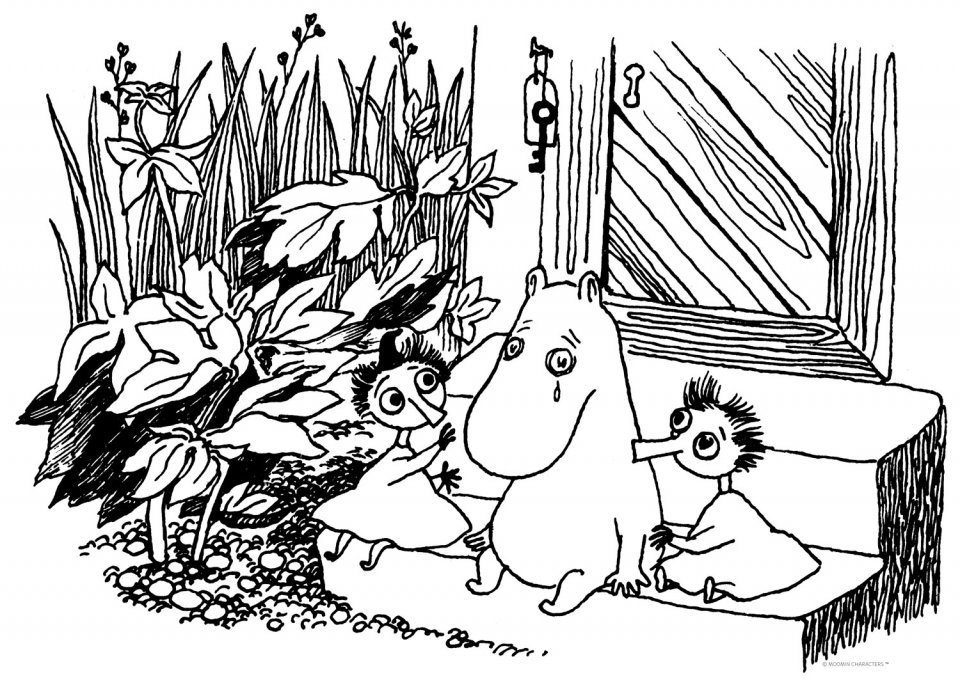 Vifslan, you know what, I've started getting a strange new sense of "coming home" when I go into the studio. Home to you. Of course there could be a letter waiting, and your chain is hanging on my bedhead. I look at it before I go to sleep and when I wake up, and hold it in my hand when I'm unhappy.
(Tove in a letter to Vivica 3.1.1947)
Cuddles me tonight – you likes me, doesn't you, even though I look like something the cat brought in and fail to send you the poems I ought to be writing in your honour every morning and evening, if I was remotely worth my salt. – Tofslan al Fresco
(Tove in a letter to Vivica 31.1.1947)
In real life, Tove's and Vivica's love was not able to sustain their relationship for more than a few intensive weeks, after which it became apparent that Vivica was not going to leave her husband. Later it also became evident that she had many other female lovers. Tove was heartbroken, but eventually the two of them became lifelong, deeply entrusted friends and collaborated on many fruitful theatre projects featuring the Moomins.
Thingumby and Bob offer perhaps the most straight-forward reference to queerness in Tove's Moomin stories, but there are also other interesting perspectives on gender and relationships in the books and comics.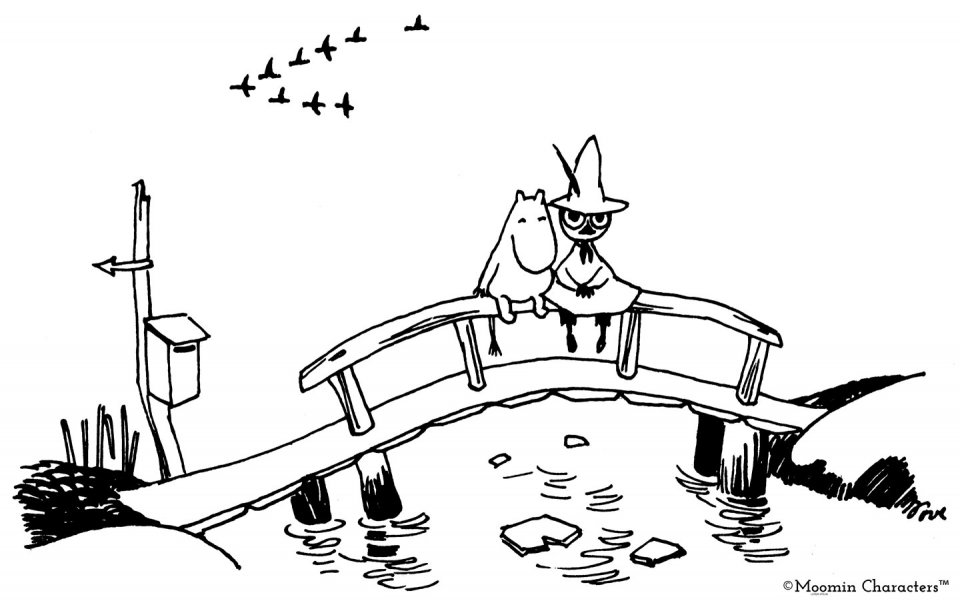 In the Moomin stories, Moomintroll's best friend Snufkin is a wandering vagabond who loves freedom and doesn't want to be tied down, while Moomintroll can't seem to get enough of his friend's company.
This relationship has sometimes been said to mirror the dynamic between Tove Jansson and her longtime lover at the time she met Vivica, a man called Atos Wirtanen, but the same can perhaps be said about her relationship with Vivica – where Tove wanted to commit to Vivica only, but Vivica wanted to stay free. On the other hand, there surely lived a small Snufkin in Tove herself, who wanted to stay free to create her own art and choose her path in life, living a rather unconventional life for a young woman at the time. 
The amorphous gender roles of Moominvalley
Some readers may interpret gender roles in Moominvalley as conventional, with the motherly Moominmamma, the adventurous, manly Moominpappa and the vain Snorkmaiden being rather traditional representatives of their gender.
However, gender roles in Moominvalley are often less clearly defined, like the hemulens, who can be both masculine and feminine, but who always wear long dresses, or the whompers, whose gender is seldom stated.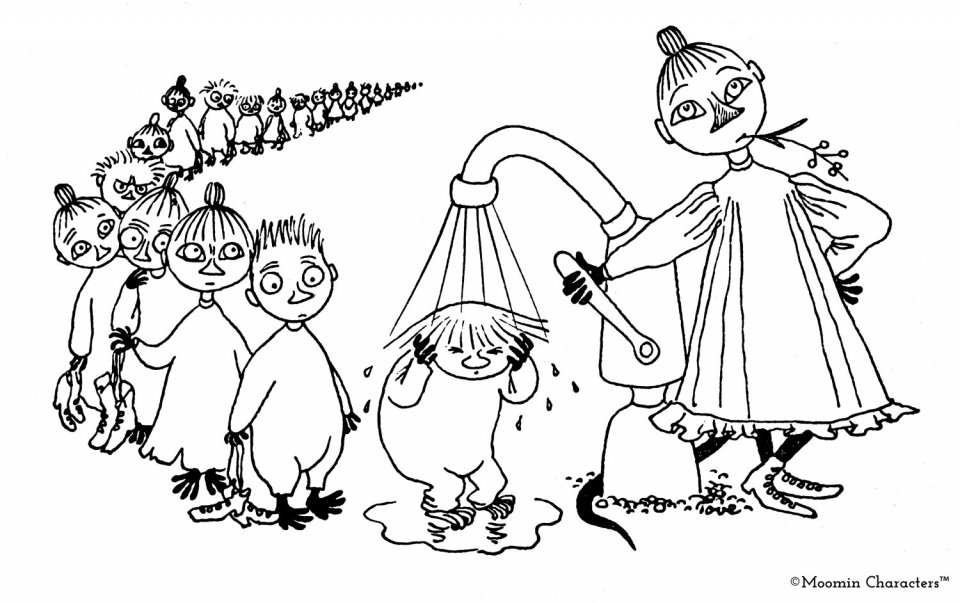 A rather clearly established female character is Mymble, little My's mother, who has over 30 children.
The original Swedish name of the character, Mymlan, and her species mymla, is very similar to a word that Tove and her friends used to describe the activity Mymble has most likely been engaged in rather actively in order to have so many children: "mymla". In her letters and diaries, Tove uses the word "mymla" for having sex, a word that could apparently be applied both to lesbian and heterosexual sex, or used as a noun – she writes about meeting an old "mymla" while running errands.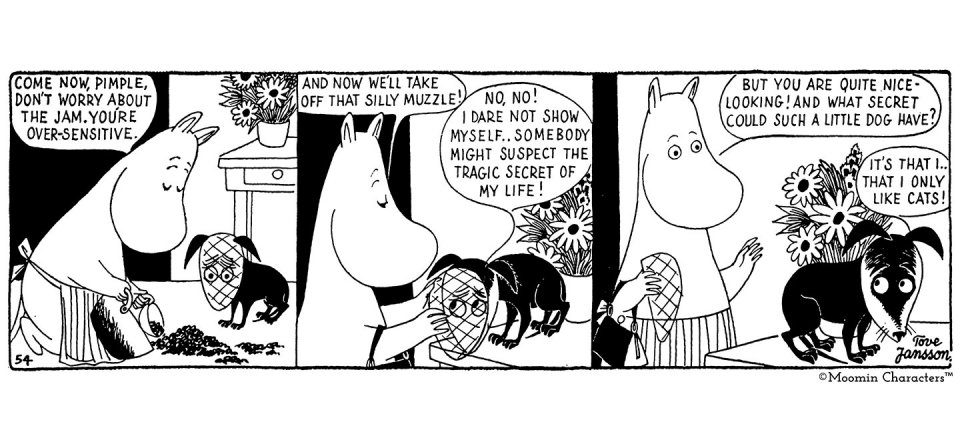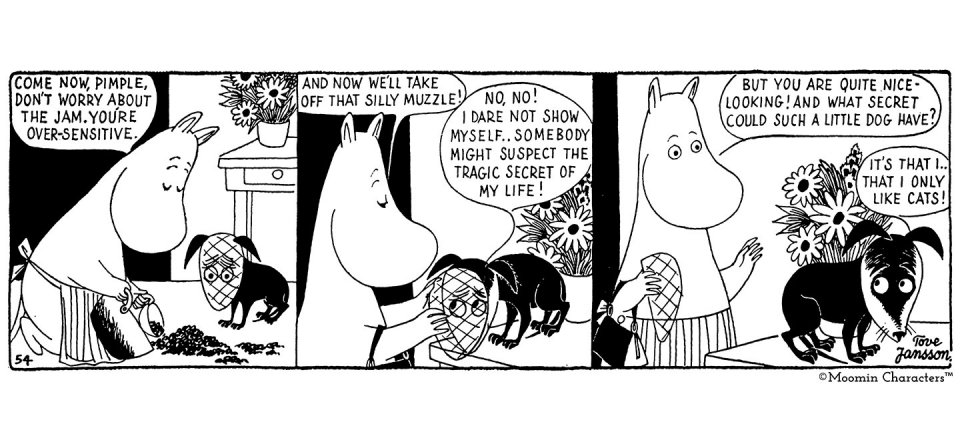 Another interesting character from a queer and gender perspective is Sorry-oo, the little dog that belongs to Misabel, the Moominfamily's maid. He appears both in the Moomin books and comics, however in the comics it's under a different English translation (Pimple).
In the comic strip story Moominmamma's Maid (1956), Pimple is described as having a "deep, dark secret". He doesn't like dogs, but prefers cats and wishes he could be friends with one. When Moominmamma discovers his secret, she solves the problem by painting a dog with stripes, calmly accepting Pimple's need to be true to his inner nature.
In the next post in our series about queer themes in Tove's life and art, we'll dive into the beautiful love story between Tove Jansson and the love of her life, Tuulikki Pietilä, with whom she lived together for 45 years.
— —
The quoted letters appear in Letters from Tove Jansson by Boel Westin and Helen Svensson (translated by Sarah Death), forthcoming English edition published by Sort of Books 8th Oct 2019