Let's take a trip around the world to visit all the official Moomin Shops, with some Moominous tips you might not know about!
In this article, you'll find dedicated Moomin Shops and shop-in-shops in
📍 Finland, Sweden and Norway 📍 The United Kingdom 📍 Japan and Hong Kong 📍 United States 📍 Online.
1. Moomin Shops in Finland
Let's start with the land of the creator of the Moomins, Tove Jansson's home country, Finland. The original Moomin Shop was opened in 1999 in Kämp Galleria in a cosy space of only 11 square metres. This shop no longer exists, but over the years, new locations and grander spaces have opened in Helsinki and Turku. 
Moomin Shop Lasipalatsi (the Moomin flagship store)
📍 Where? Mannerheimintie 22-24, 00100 Helsinki, Finland
☝ Did you know? This shop is a must-visit spot for any Moomin fan – the design and colour scheme of the shop were inspired by the beautiful illustrations and stories of the first Moomin book, The Moomins and the Great Flood.
🌟 A secret tip! As you enter the store and dive into the world of The Moomins and the Great Flood, pay attention to the details around the store – there are plenty of references to the book! How well do you know first ever Moomin story?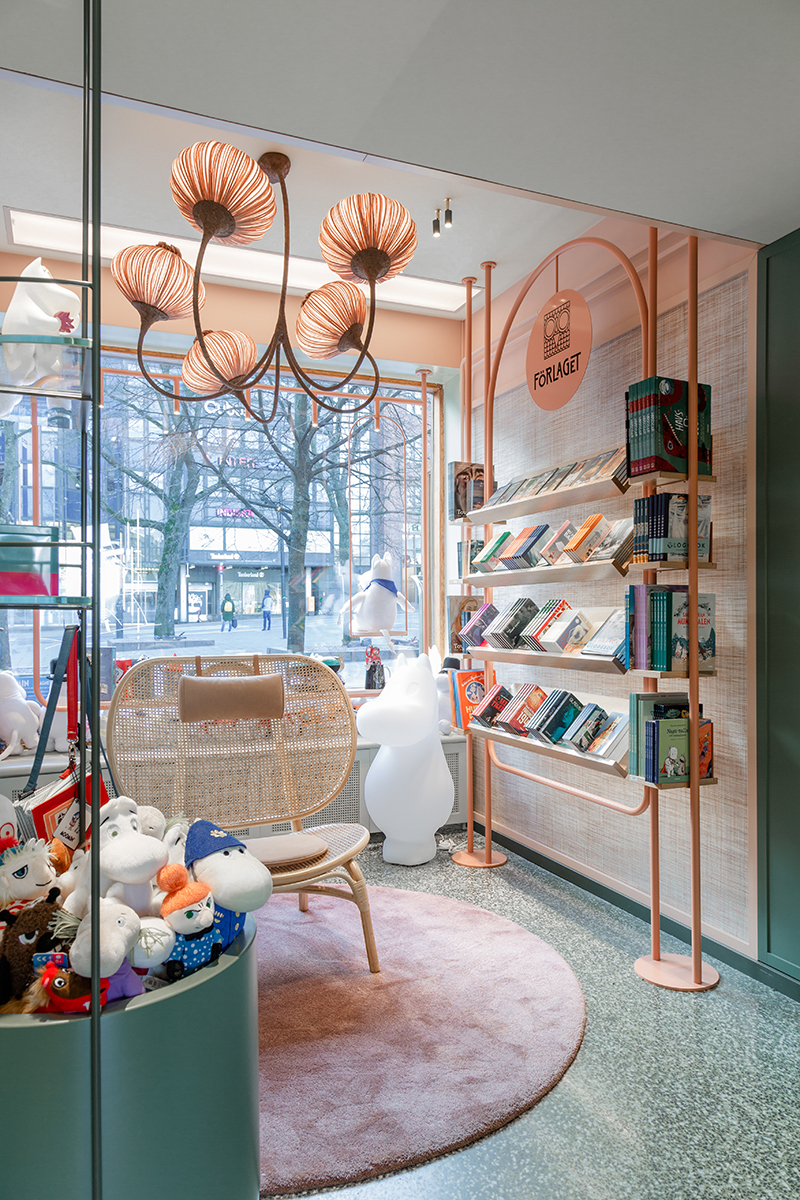 Moomin Shop Forum
📍 Where? Shopping Mall Forum, Mannerheimintie 20, 1st Floor, Helsinki, Finland
☝ Did you know? The first Moomin Shop in the city, after the original shop from 1999, was opened in Forum. The shop has since moved spaces inside the shopping centre, but it is still the biggest Moomin Shop in Finland, filled with just as much Moominous joy to take home with you!
🌟 A secret tip! You'll also find a great photo spot with Hattifattener in this shop!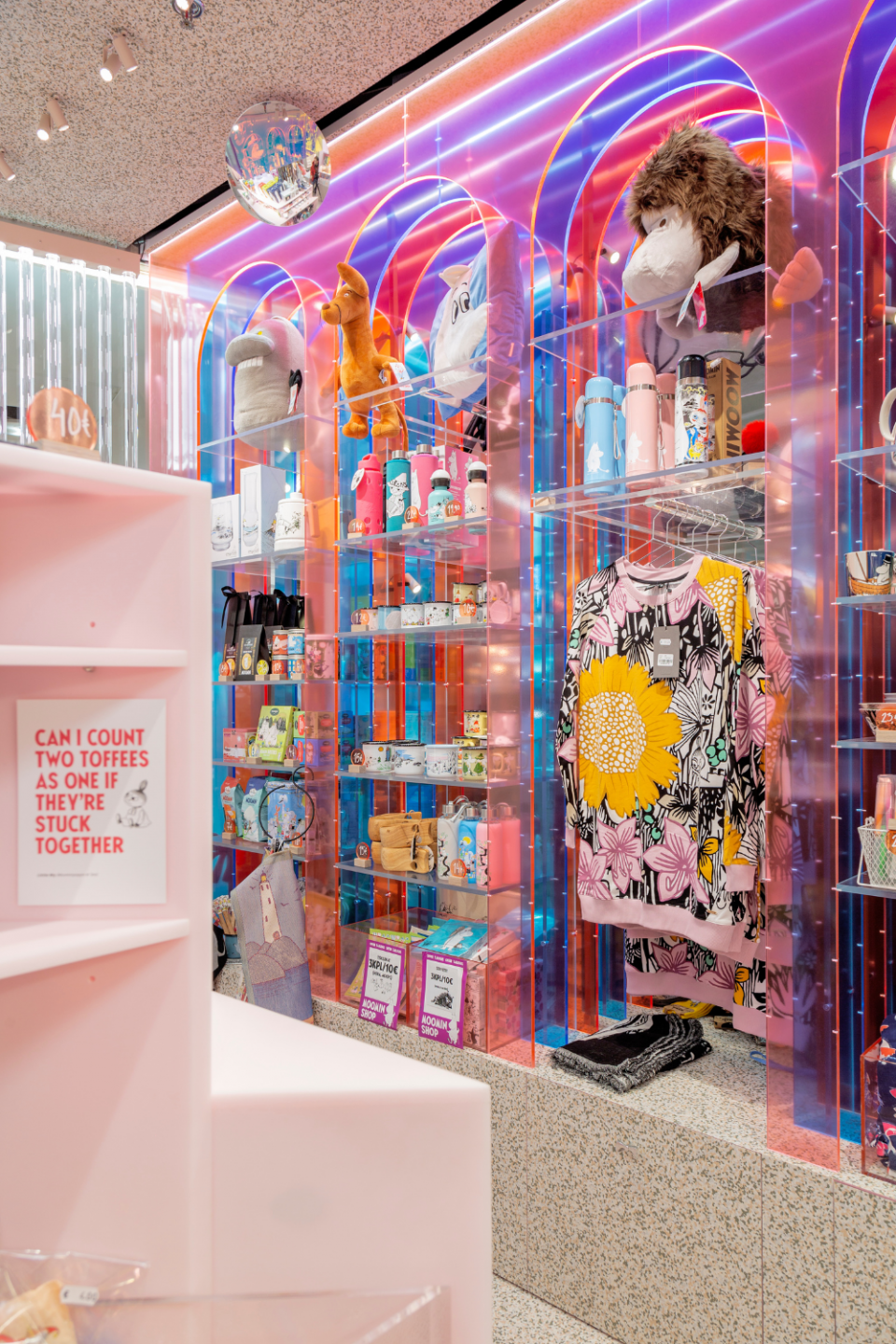 Moomin Shop Hansa
📍 Where? Kauppakeskus Hansa, 1st floor, Antintalo, Eerikinkatu 15, 20100 Turku
☝ Did you know? This shop was opened in 2019. What do you think about the quirky interiors?
2. Moomin Shops in Helsinki Airport
Let's board a plane and visit some Moomin Shops outside Finland… But first – there are two Moomin Shops in Helsinki Airport, one located in the Arrivals hall and another in the non-Schengen area (both in Terminal 2 – the only terminal for international flights). If you visited Finland but missed the Moomin Shops in the city, this is your chance for some last-minute Moominous gifts!
👀 Psst! A new Moomin Shop opened in the Schengen area in September 2023 – you can now shop Moomin in all areas of the Helsinki Airport! More information soon…
Moomin Shop Helsinki Airport Arrivals
📍 Where? Helsinki Airport, Terminal 2, Arrivals hall. On arrival, this is after collecting your luggage and exiting, and on departure, this is right at the entry hall before checking in.
☝ Did you know? The first Helsinki Airport Moomin Shop opened already in 2007, but it has since been replaced with two wonderful shops.
🌟 A secret tip! There's another great photo opportunity at this shop – this time, you can pose with the Groke!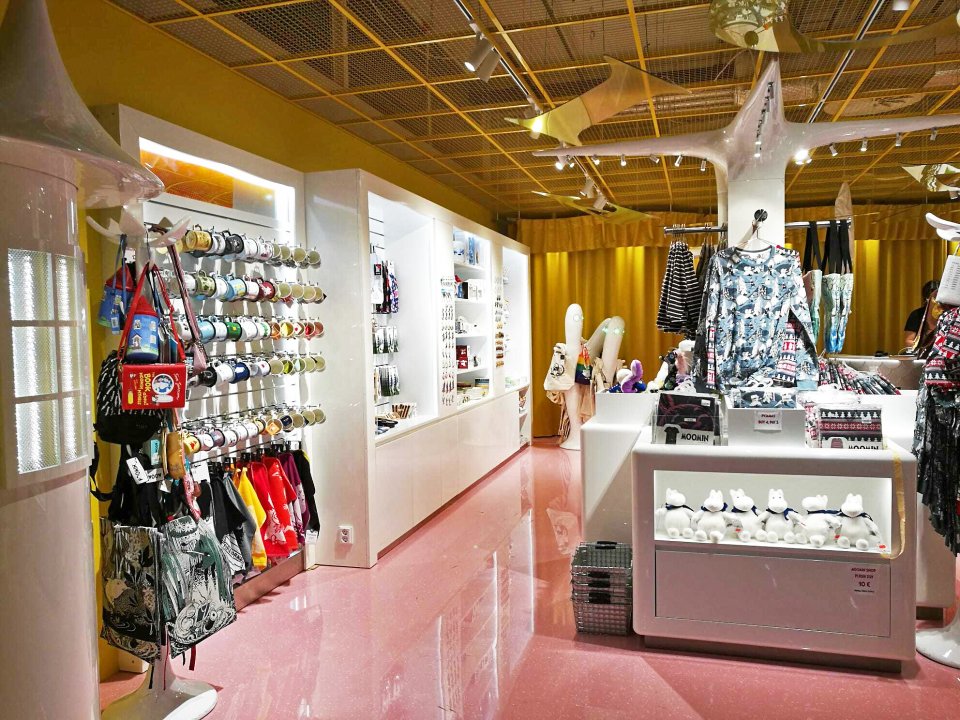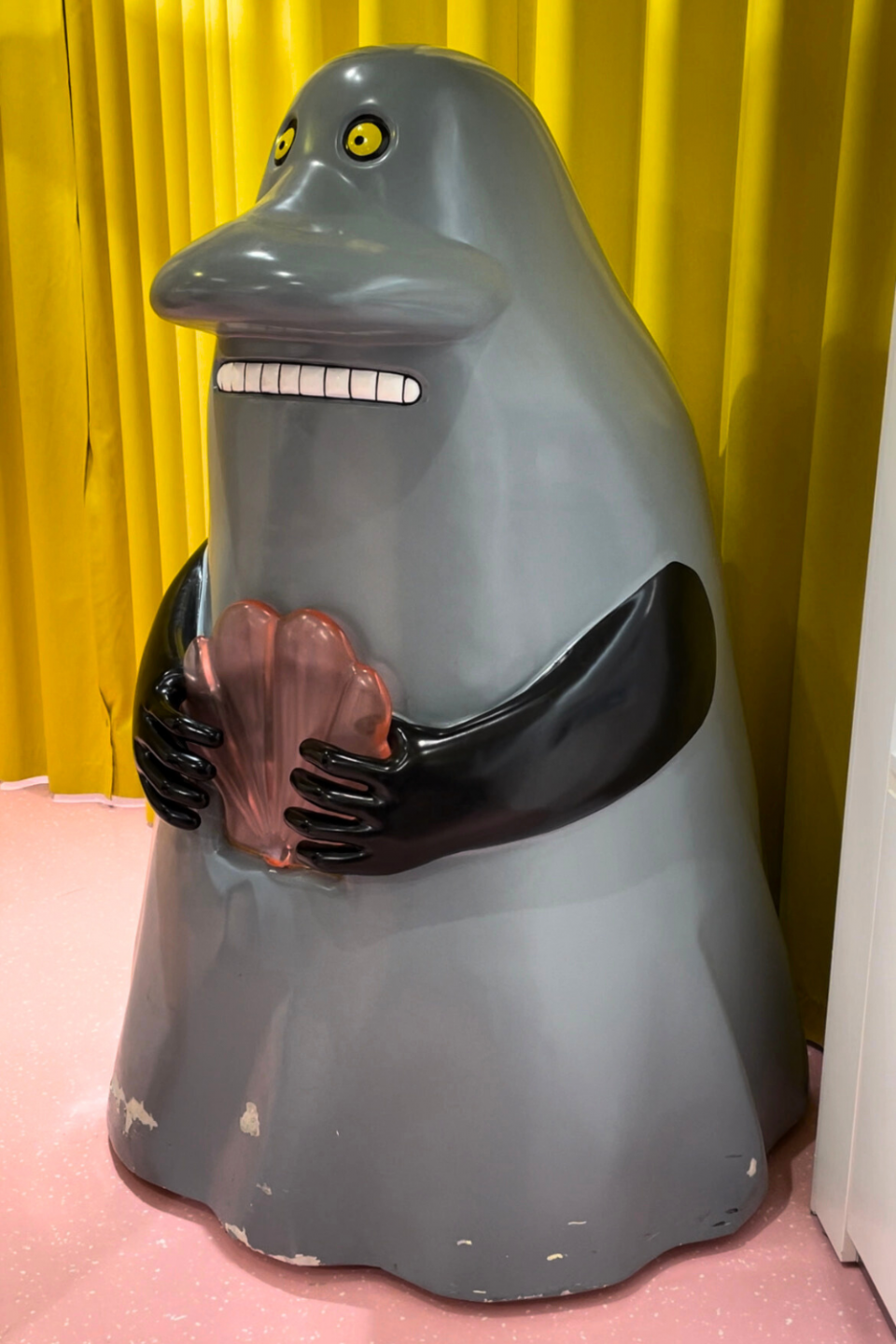 To get in the mood, watch this video about the Arrivals Hall Moomin Shop: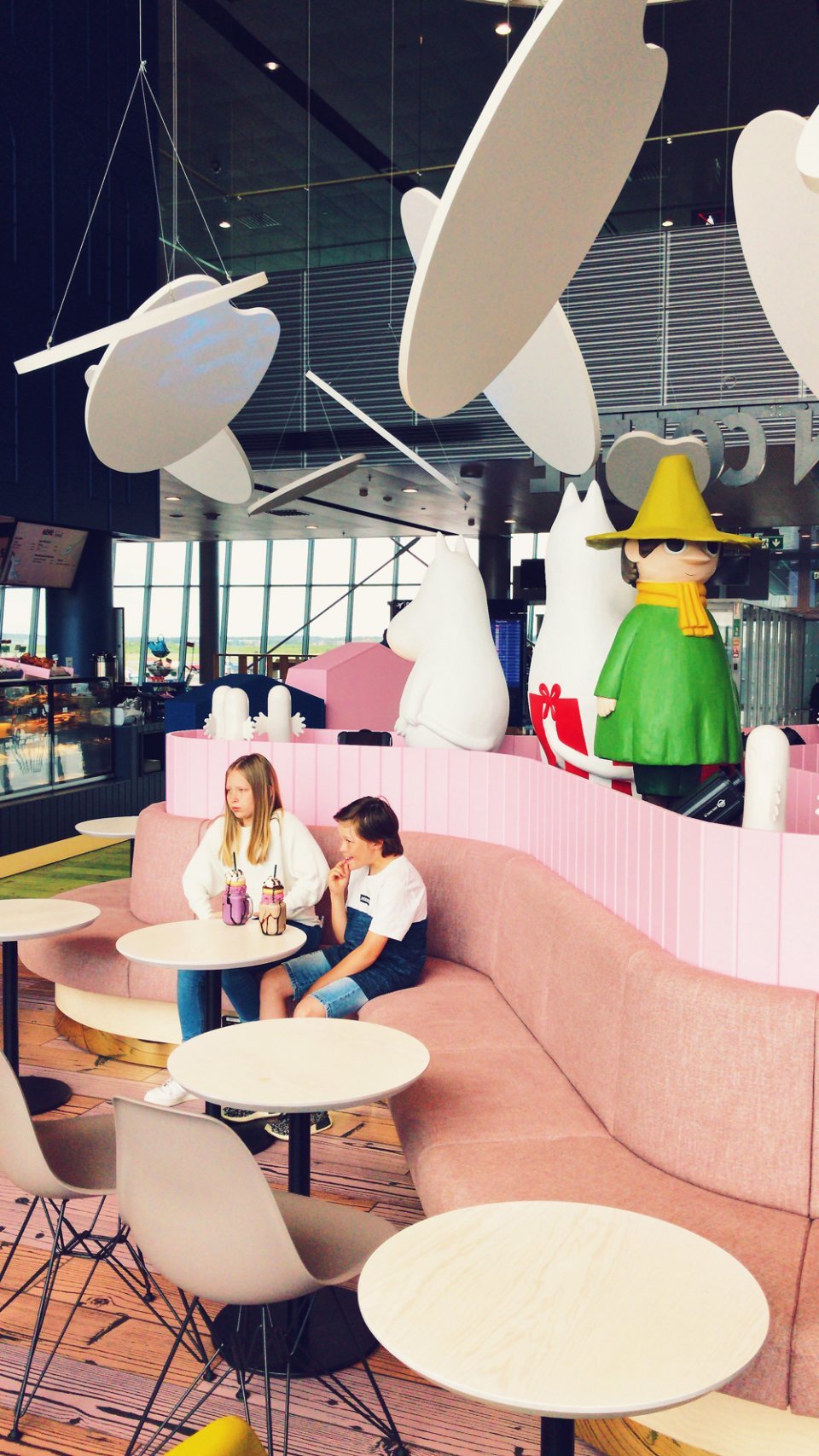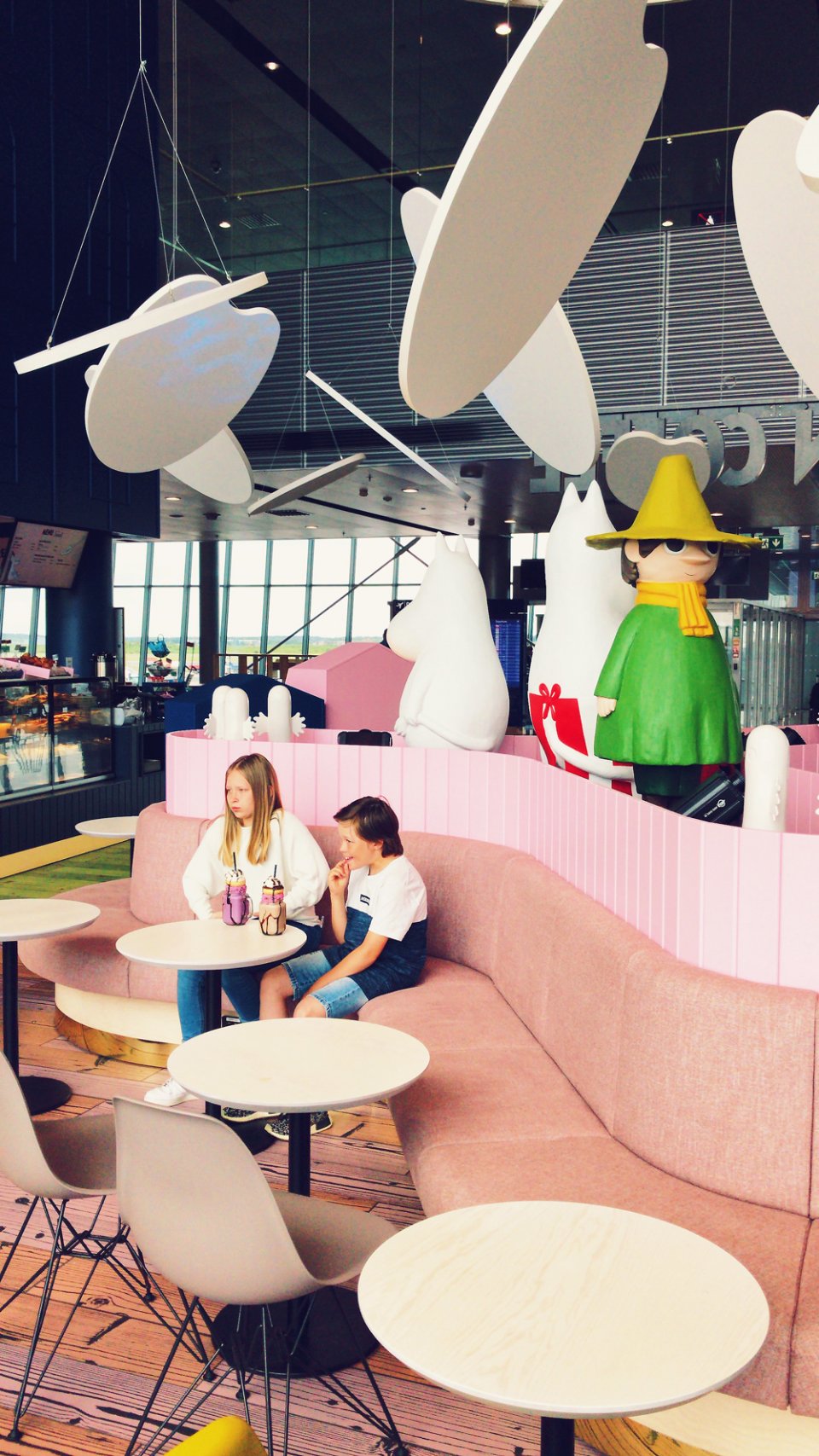 🌟 A secret tip! If your flight is taking off from the non-Schengen area, make sure to also visit the world's first Moomin branded airport café! At Moomin Coffee, located right next to Gate 40, you can relax in magical surroundings and enjoy treats inspired by Moominvalley. Taking a Moominous moment for yourself is a great way to make an often stressful time at the airport a little bit lovelier.
3. Other Moomin Shops in the Nordics
There are official Moomin Shops also in the neighbouring countries, Norway and Sweden.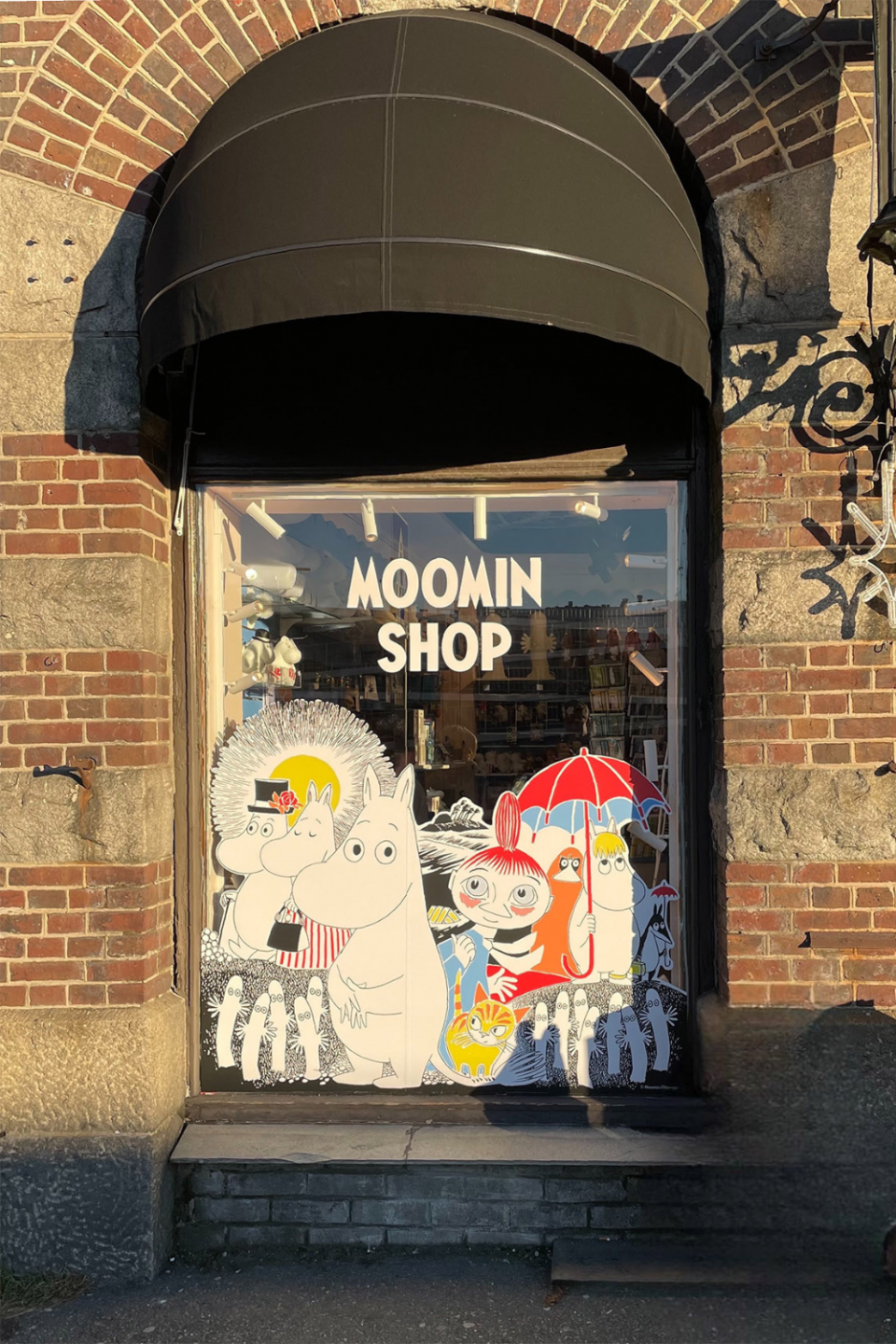 Moomin Shop Bergen
📍 Where? Bryggen 13, 5006 Bergen, Norway
☝ Did you know? This shop was opened in 2022.
🌟 A secret tip! An official Moomin online shop was opened in Norway in 2023!
Funny's Äventyr Moomin Shop-in-Shop
📍 Where? Shopping center Mobilia Per Albin Hanssons väg 36D, 214 32 Malmö, Sweden
☝ Did you know? The children's cultural centre Funny's Äventyr is free to enter! You'll find the Moomin Shop inside the Funny Store.

Junibacken Moomin Shop-in-Shop
📍 Where? Junibacken, Galärvarvsvägen 8, 11521, Stockholm
☝ Did you know? Junibacken, the children's cultural centre, is also home to Sweden's largest outdoor Moomin playground!
4. Moomin Shops in London, England
Let's fly across the water to England, where the Moomins were popular already in the '50s.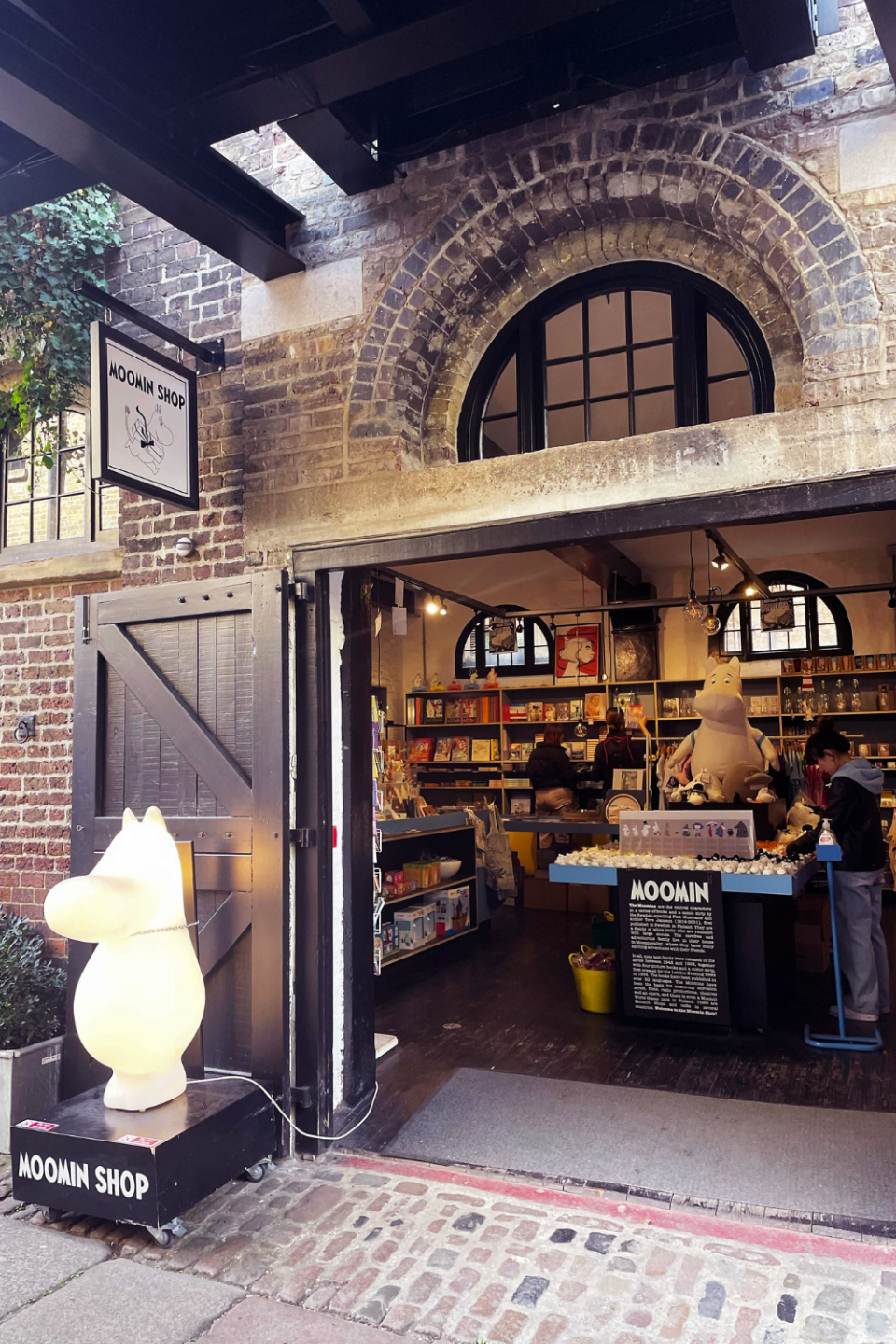 Moomin Shop Camden
📍 Where? Camden Stables Market (Stall 20), Chalk Farm Road, London, NW1 8AH
🌟 A secret tip! In addition to Covent Garden, this is another perfect location for combining your love for the Moomins with some tourist activity, if you're visiting London.
Moomin Shop Covent Garden
📍 Where? 43 Covent Garden Market Building, Covent Garden, WC2E 8RF, London, United Kingdom
☝ Did you know? Opened in 2011, this is the first Moomin Shop in the UK. You can find it on the second floor inside the beautiful Covent Garden Market (not accessible by wheelchair).
🌟 A secret tip! Climbing up the tower-like stairs to this shop can easily transport you to the world of Moominhouse, setting you up for some Moominous shopping!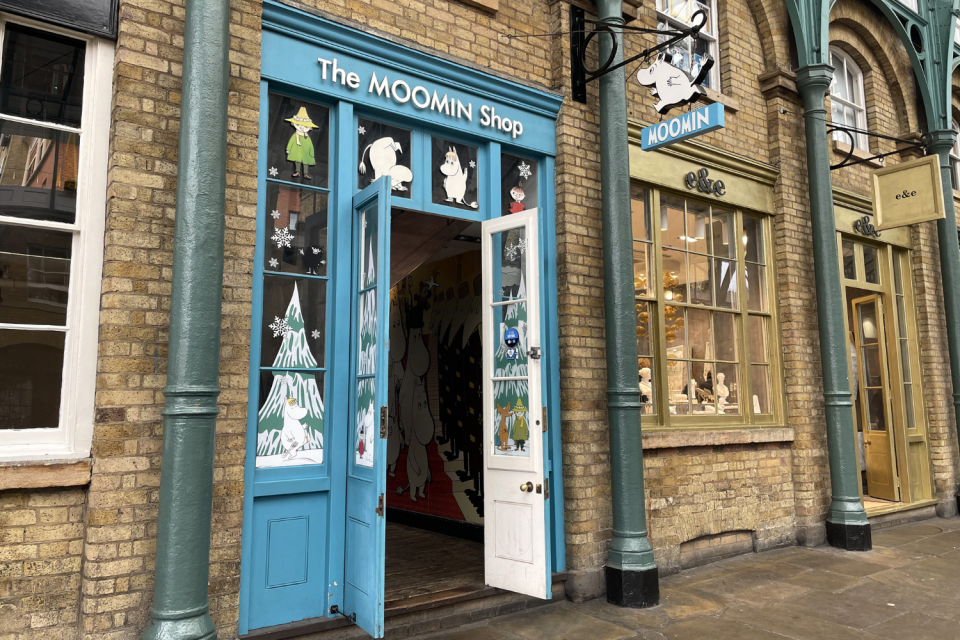 5. Moomin Shops in Japan
The love for the Moomins has long reached far outside Europe, with a big fan base and several official shops in Japan.
Moomin Shop Ginza
📍 Where? 3-1 Ginzanishi, Chuo-ku, Tokyo, 104-0061
☝ Did you know? This shop was opened in December 2022, in the famous shopping district of Ginza.
🌟 A secret tip! With a thousand different Moomin products, this shop even has a selection of imported Nordic brands and some exclusive Moomin goodies only available here!
Moomin Shop Osaka
📍 Where? LUCUA Osaka, Floor 8, 3-1-3 Umeda, Kita-ku, Osaka-shi, Osaka, 530-8217 
☝ Did you know? This shop is brand new – it opened in September 2023!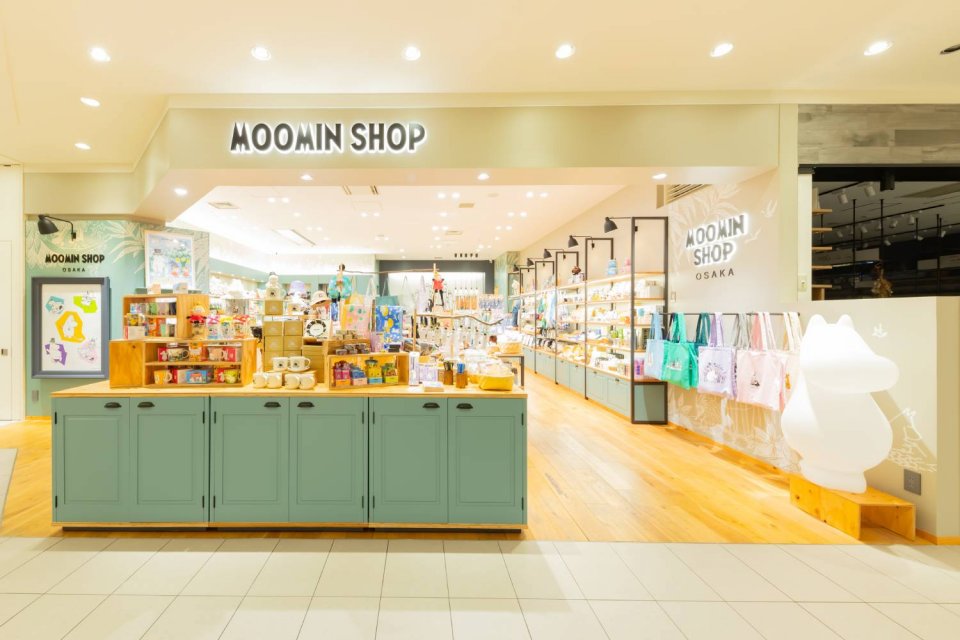 Moomin Shop CASUAL EDITION Sapporo Stellar Place
📍 Where? Sapporo Stella Place 5F, 2 Kita-5-jonishi, Chuo-ku, Sapporo City, Hokkaido
☝ Did you know? This new, casual drop-in Moomin Shop was opened inside Sapporo Stellar Place in April 2023.
🌟 A secret tip! The theme of the shop is based on the first Moomin comic, Mumintrollet och jordens undergång, from 1954. Can you see the snippets of Tove Jansson's original Moomin comic strips in the shop?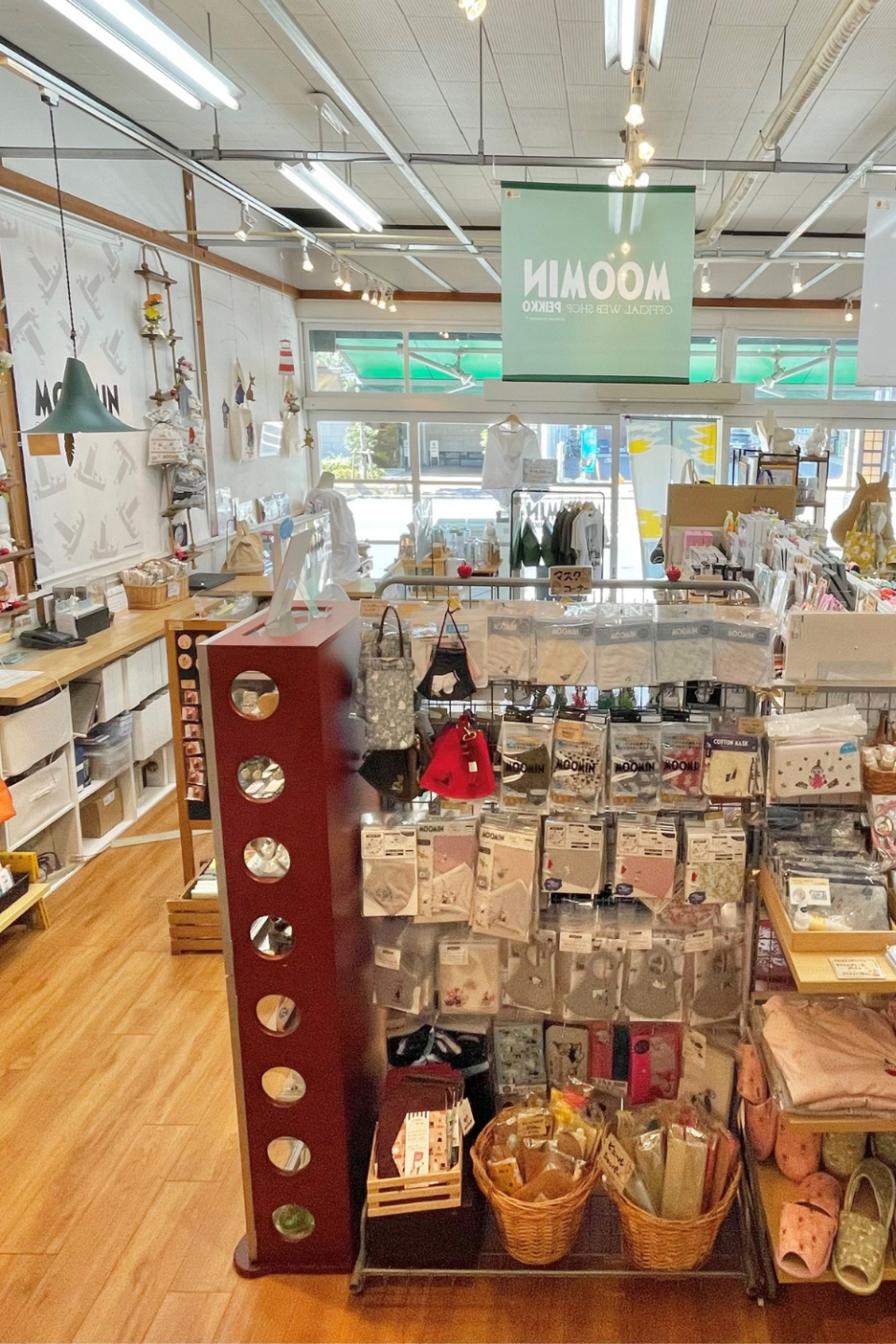 PEIKKO Antenna Shop
📍 Where? 4-8-6 Kamezawa, Sumida-ku Tokyo, 130-0014 Japan
☝ Did you know? This is one of the oldest Moomin Shops still open in Japan.
🌟 A secret tip! You can also buy PEIKKO Moomin products on their official web shop.
7. Moomin Shop in Hawaii, United States
Last but not least, our journey ends on the island of Hawaii, in the United States.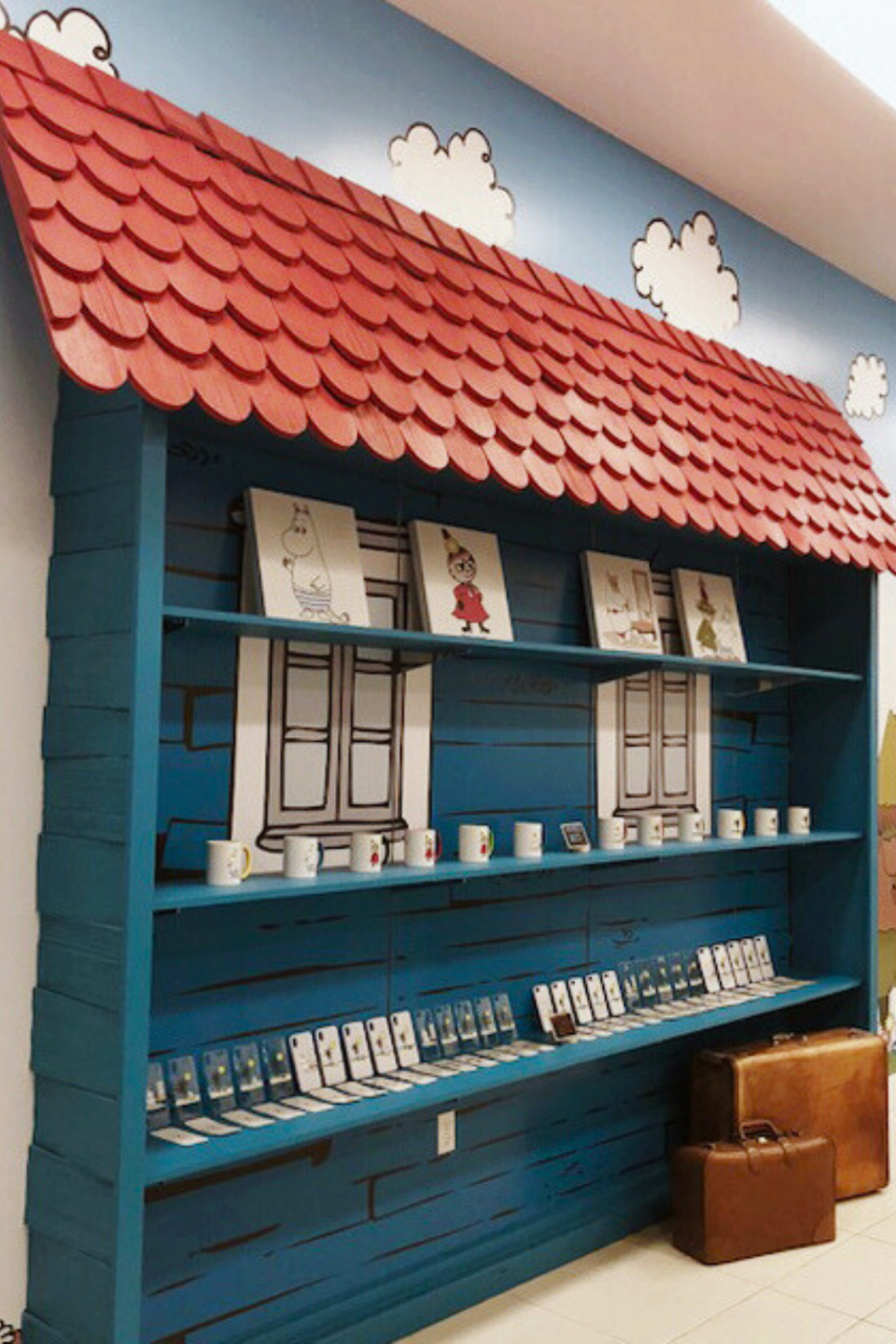 Moomin Shop Hawaii
📍 Where? 1450 Ala Moana Blvd. Shop # 3560, Honolulu, HI 96814,, United States
🌟 A secret tip! You might find Moominous items that come in handy enjoying Honolulu – why not get yourself a Moomin beach towel?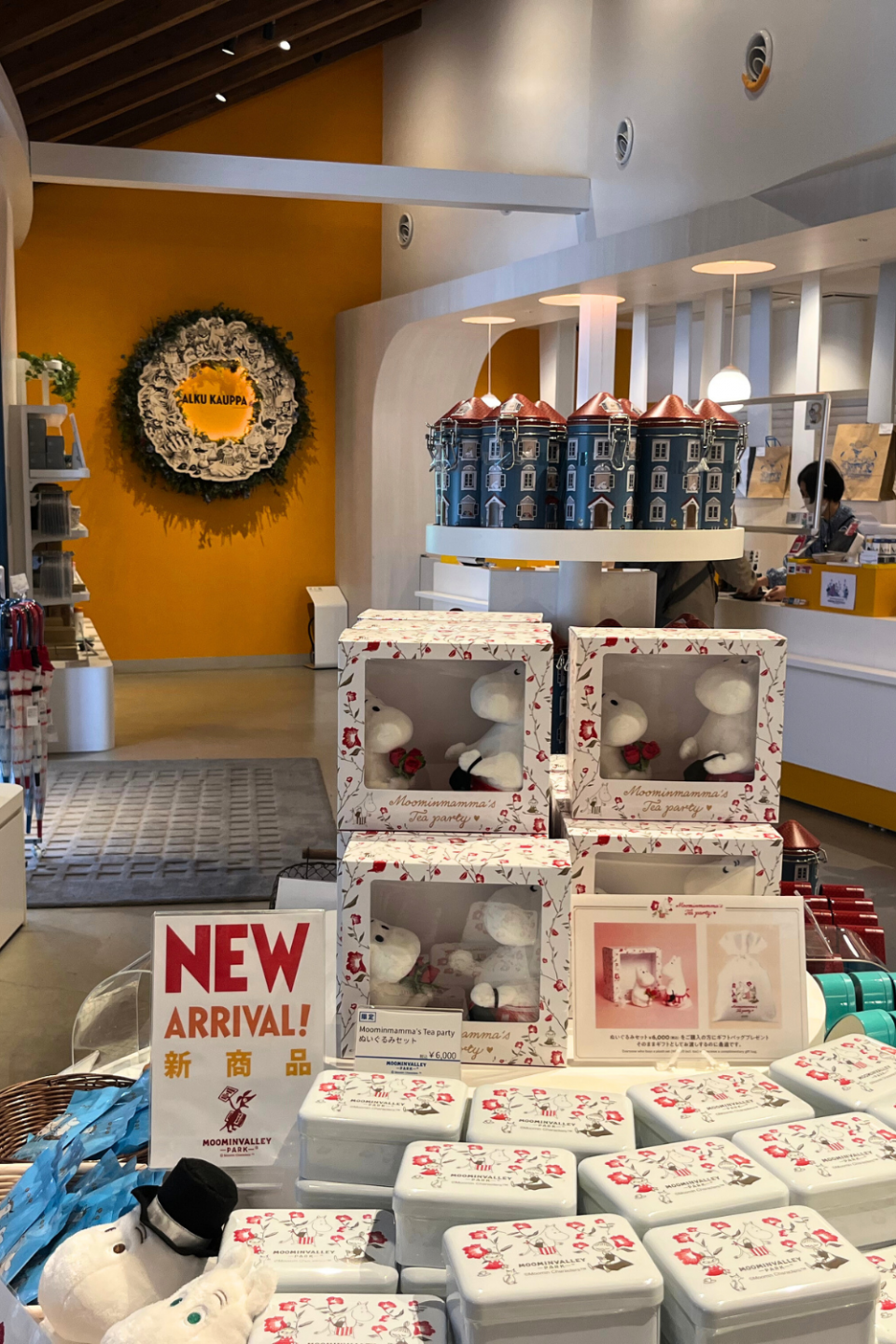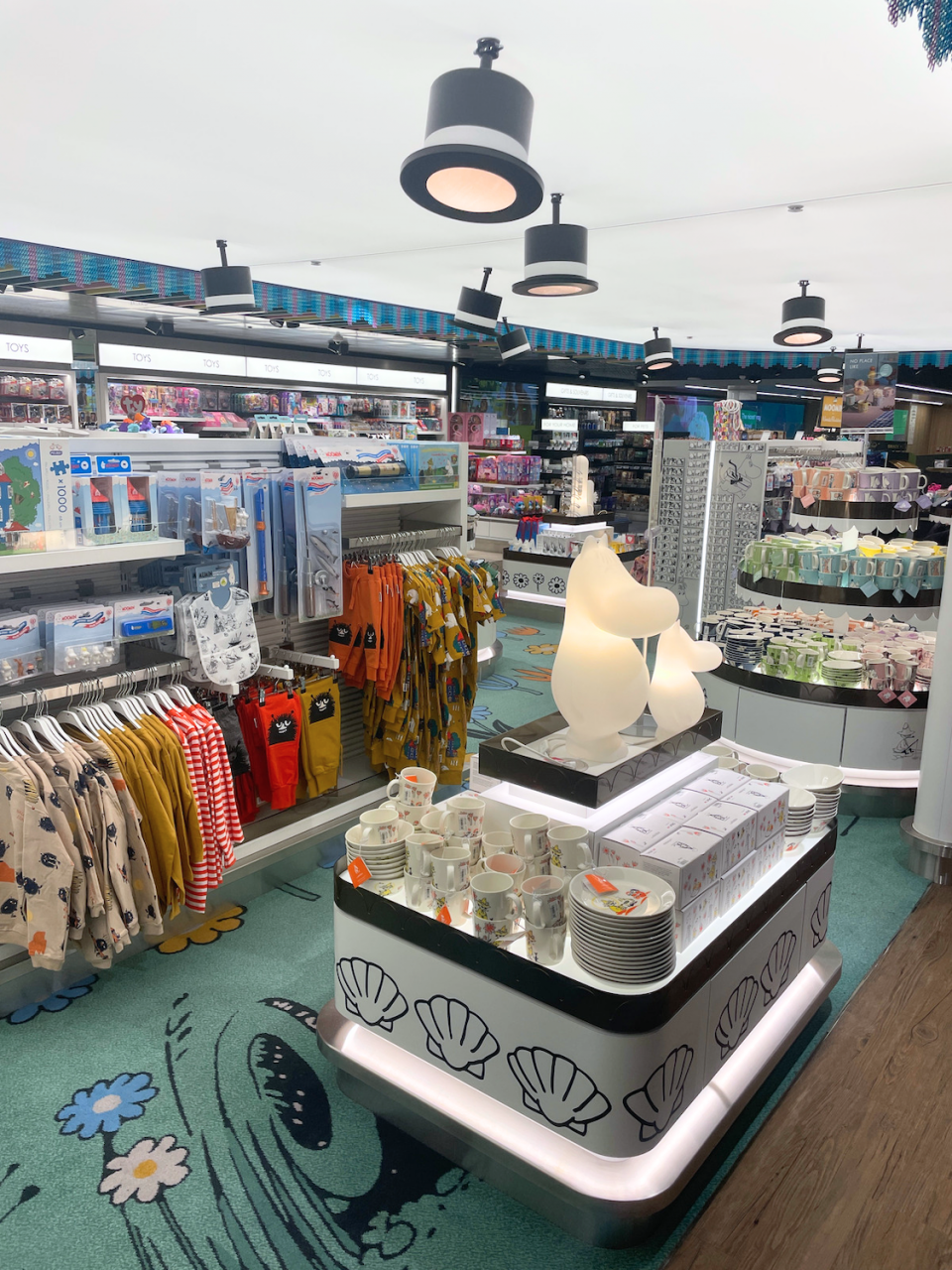 Tallink Mystar Ferry Moomin Shop-in-Shop
📍 Where? Inside Superstore of Tallink Mystar Ferry traveling between Helsinki and Tallinn
☝ Did you know? This shop opened in 2023 – a brand new Moomin section for a brand new ferry!
🌟 A secret tip! This isn't it for Tallink Silja ferries… Those travelling between Helsinki and Stockholm can book a Moomin themed family cabin!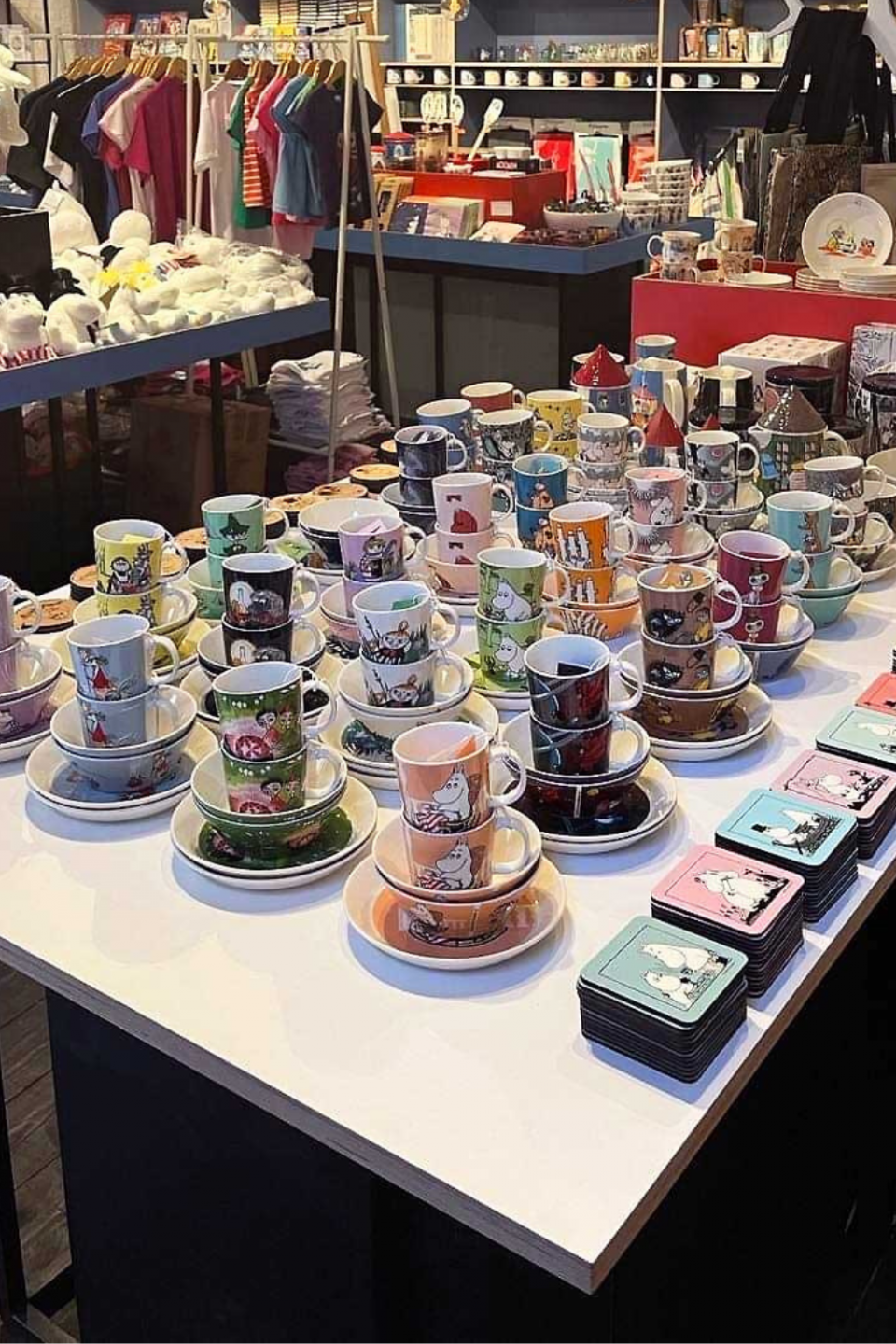 Moomin Shops online
So if you love the Moomins, you have plenty of opportunities around the world to explore and shop hundreds of Moominous products in person (or online). Find your nearest shop and embrace the Moomin fan within you! Or, do you have a new place in mind for the next Moomin Shop?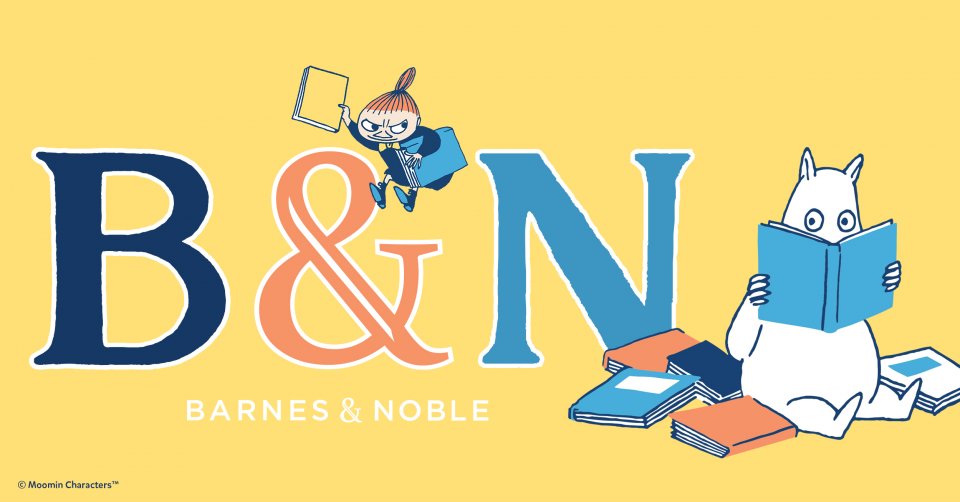 22.2.2023
Moomin products are now available at selected Barnes & Noble stores! Find your nearest store at Moomin.com or visit the online shop!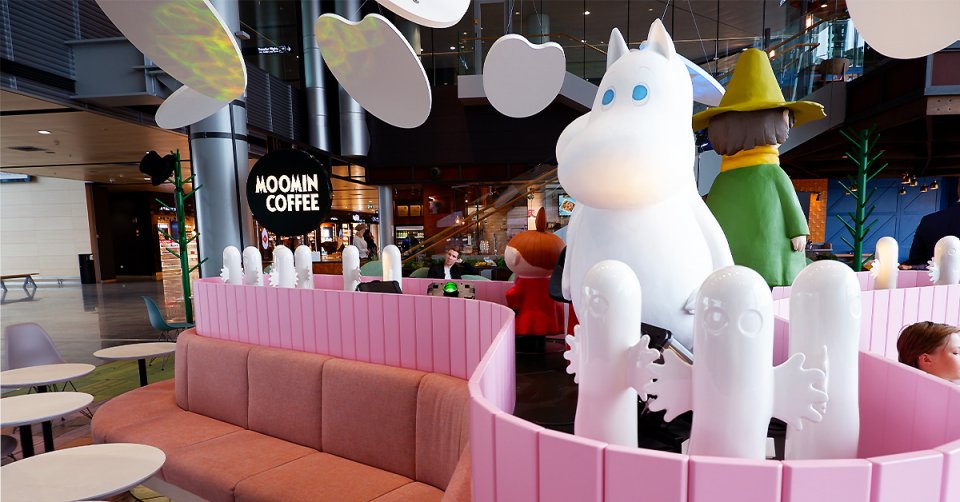 19.6.2019
Come visit the Moomin airport café, Moomin Coffee, at Helsinki Airport and enjoy the beautiful moominous milkshakes, decos, and pancakes.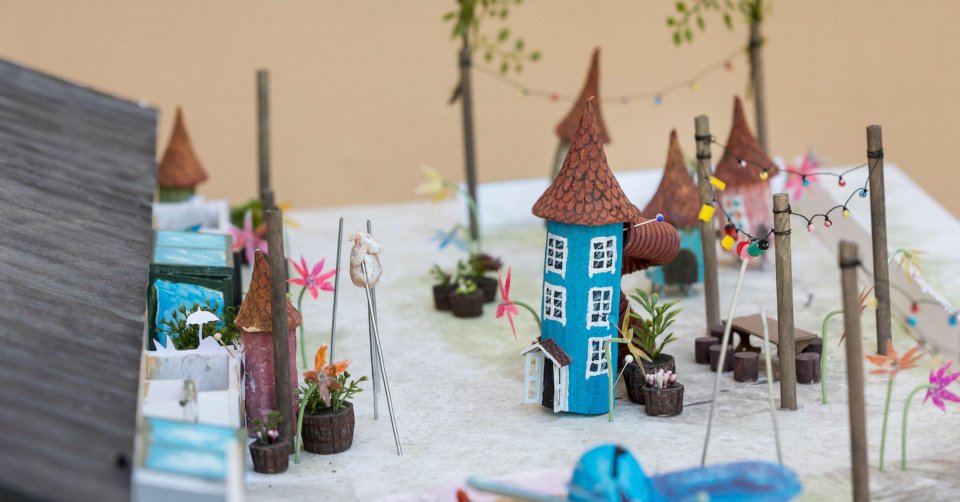 21.6.2022
Slide down from Moominhouse, play inside a giant seashell or head on an underwater adventure on the Oshun Oxtra. Welcome to the new Moomin playground in Junibacken, Stockholm!