One of the themes of the Tove Festival in Helsinki was queer themes in Tove Jansson's literature. Here are some highlights of the discussion focusing on queer Moomin stories – and you can also watch the discussion with English subtitles in the video below.

What does one actually mean by queer themes in literature? Mia Österlund, Associate Professor in Comparative Literature at Åbo Akademi University, defines queer as something norm-breaking, something that is not in line with the heterosexual norm.
"When you look at fiction, queer can mean different things. It can be a dissonance, an ambivalence – something a bit odd. But it can be something that is very clearly presented as well. That's how it is with Tove Jansson", she says.
"I had never thought about queer Moomin stories or Moominvalley as queer"
It turned out that all three panelists had different personal experiences of discovering queer themes in Tove Jansson's litareture and queer Moomin stories in particular.
For author Kaj Korkea-aho, finding queer themes in Tove Jansson's literature was revelatory.
"I had never thought about these things before I became an adult and moved to Turku to study literary science in the early 2000s, and even then it was not talked about much. I mean, that Moominvalley was queer and that Tove Jansson had this side to her."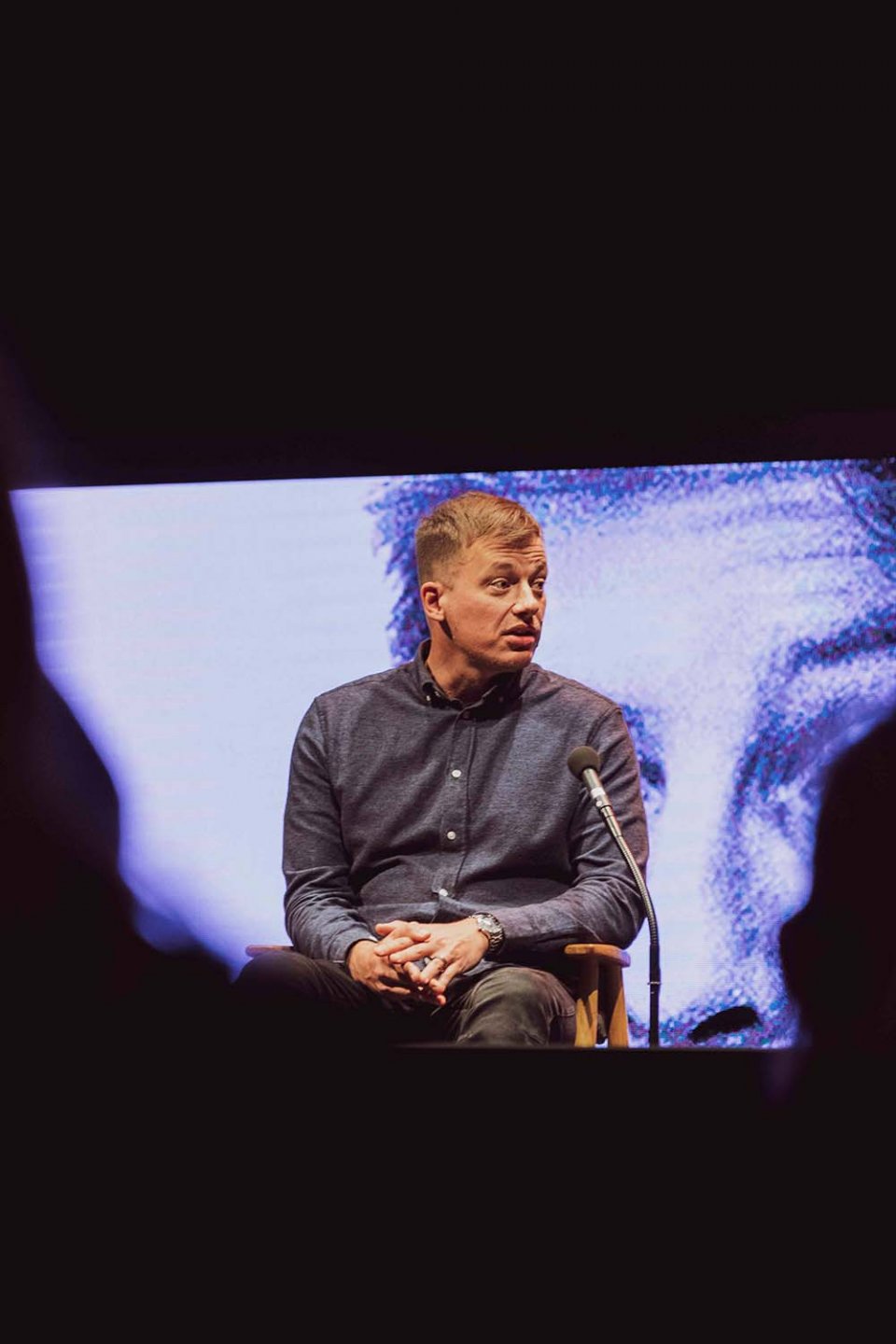 Korkea-aho wondered if living in a small city in rural Finland meant being in a "silent zone"."
"Realizing this as an adult and reading the books from this perspective has been very interesting and enriching."
"As a young, gay man, I understood exactly what she meant"
Mark Levengood, journalist, moderator and Unicef ambassador, has a different experience:
"I am one of those who experienced the queer perspective already in my childhood. Because I grew up in Helsinki [Finland's capital and Tove Jansson's hometown]. But it wasn't that great either in the 70s."
Levengood loved the comic strips, particularly a story featuring the maid Misabel and her little dog, who has to wear a muzzle because he carries a big secret – that he likes cats.
"When you as a very young and very gay young man fumbled around in Helsinki – I understood exactly what she meant. Even though we had no context, and there was nowhere to find this information, I understood her perfectly."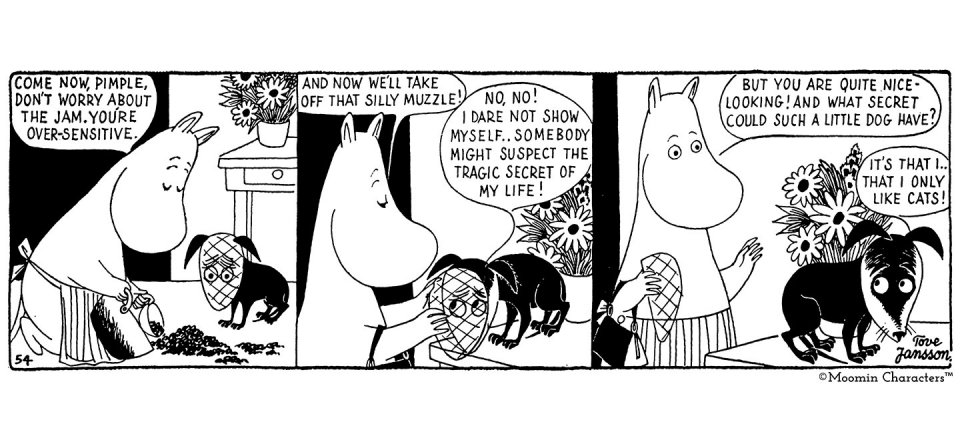 Moominmamma's way of addressing the situation with the unhappy dog is very gentle and understanding. Moominmamma first tries to find a cat that wants to be with a dog. When she doesn't find one, she paints another dog with stripes, so that Sorry-oo gets to play with a "cat". She never questions Sorry-oo for wanting to play with cats. The attitude, that everything is alright the way it is, is a consistent and carrying theme in Moominvalley.
"My mother was not like Moominmamma, but she had the same attitude", said Levengood. "When I came out as a sixteen-year-old to my mother, she smoked her cigarette and said: 'Well, I have myself wondered how it would feel to be with a woman.'
And I said: 'What! Have you?'
And she answered: 'No, I just said it to be nice – it would be a lot of fuss.'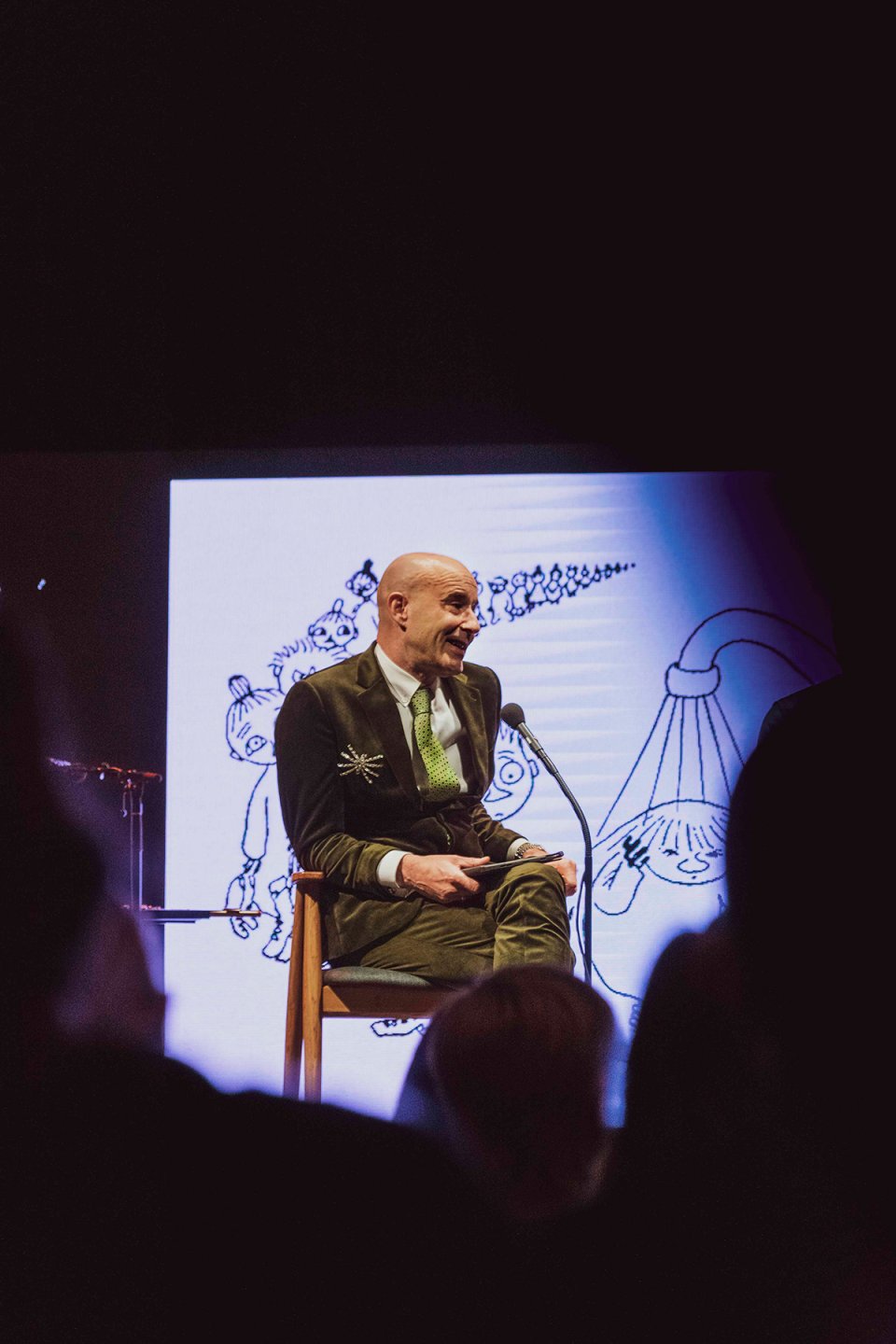 Little queer flags for those who can see
"What surprised me, is something I call queer typography", said Mia Österlunnd.
"It means that the first footnote she uses in the Moomin books is about queerness. And it's about Hemulens. We have a Hemulen who walks around wearing a dress. And the footnote says: 'The Hemulen always wore a dress that he had inherited from his aunt. I believe all Hemulens wear dresses. It seems strange, but there you are. Author's note.'
And strange is another word for queer. I see it as she is waving with a little queer flag", said Österlund.
"For those who can see it", said moderator Kira Schroeder.
"That said, I'm exaggerating a little bit", of course, continued Österlund.
"I think Tove Jansson's poetry is about letting things be. I'm so surprised that she does it so early. She normalizes homosexuality during a time it is forbidden, dangerous. It takes courage to write about it."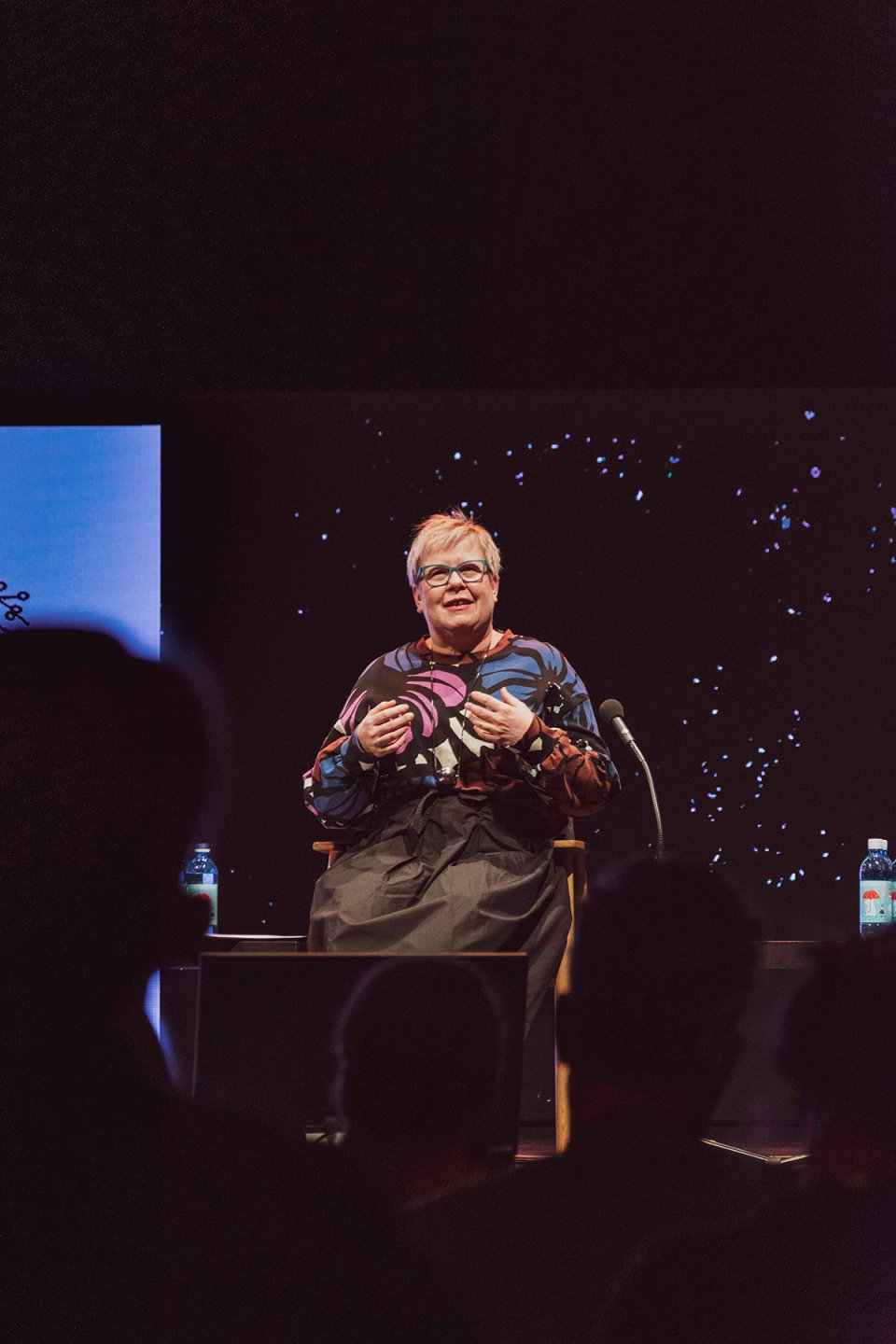 Queer Moomin stories with footnotes
Mia Österlund said there are many of these footnotes – one way to draw attention to the queer perspective. According to her, using footnotes is like putting an exclamation mark there and saying 'something's going on here!'
"And the fact that it's a footnote shows that it's important that the information is there, for the record. But it's still only a footnote. It's not something we should pay too much attention to", added Kai Korkea-aho.
"That approach is what makes Moominvalley so welcoming and inclusive. Everybody gets to be exactly who they are."
If you want to read about the part of the panel discussion that focused on Tove's later literature, but also a very interesting queer reading of Who Will Comfort Toffle, head over to www.tovejansson.com
Watch a longer version of the panel discussion with English subtitles in this video from the festival: