The co-operation between Moomins and Stockmann department store in Finland started already in 1956. The Easter display was the first Moomin-themed event at Stockmann and due to the lovely display, all the beautiful Moomin products were sold out.
Based on the positive experience of the Easter display, Stockmann wanted to organize an event in autumn as well. Moominhill for the "Back to town" -themed campaign was designed by Tove Jansson together with the decorative team of Stockmann, and timed to other "Back to school" campaigns.
According to the campaign summary from September 1956, over 50,000 people visited the Moominhill, built in Stockmann's Show Hall. The event was also widely quoted in various newspapers and according to the Finnish newspaper Ilta-Sanomat, children were able to draw Moomins and cut Moomin paper dolls. In 1956, Ilta-Sanomat was the only Finnish newspaper to publish the Moomin comics and were happy to coordinate also the content marketing of the event.
At Moominhill in Stockmann children were also given Moomin masks and therefore Moomin masks were seen almost everywhere in town and thus drew more and more children with their parents to the Stockmann's Show Hall. The Moomin-themed window display at Aleksanterinkatu also presented Moomin products from ceramic figures to handkerchiefs and encouraged people to visit the Moominhill at the fourth floor.
The Stockmann wrapping paper we nowadays know from different products Stockmann has recently released together with the Moomin licensees, was designed in 1956 for the "Back to town" campaign.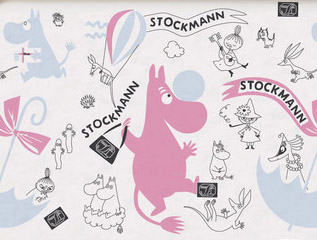 At the beginning of April, Huutokauppa Helander, held an auction in Helsinki and sold the one meter tall Snorkmaiden seen in Stockmann for the first time in 1956. Luckily we have the possibility to tell you more about this beautiful character later on!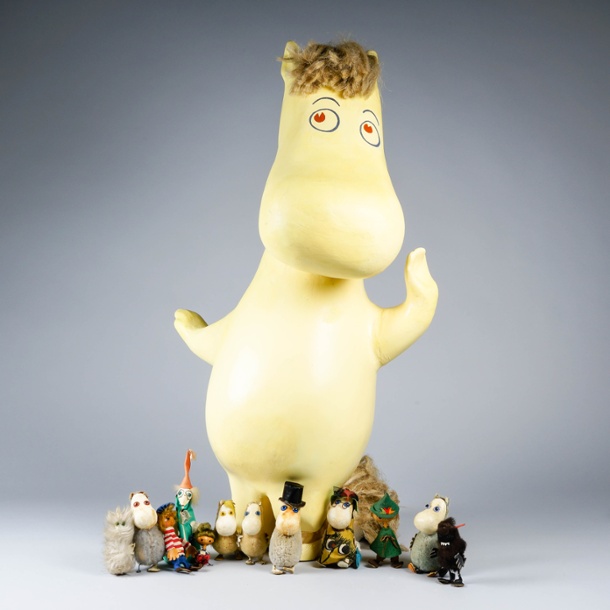 Photo: Huutokauppa Helander, Erkki Laine. 
What kind of co-operation will Moomin and Stockmann do in the future and will the Moomin shop-in-shop seen at Stockmann around Christmas get a follow-up? Yes – and faster than you know!