The new Moominvalley TV series has been selected as one of the competing feature animations of the Oscar®-qualifying New York International Children's Film Festival in 2019. The festival will also mark the world theatrical premiere of Moominvalley.
The 22nd annual New York International Children's Film Festival (NYICFF) has chosen the new Moominvalley TV series to compete in the Feature Film category with 14 other works, including titles such as the first feature from the hyped new Japanese animation studio spun off from Hayao Miyazaki's stable of younger animators.
An Oscar®-qualifying event celebrating its 22nd year
NYICFF is the largest and the most significant film festival in the US for children and teens. It was founded in 1997 to support the creation and dissemination of thoughtful, provocative, and intelligent film.
It is an Oscar®-qualifying event, which means that the jury winners are eligible for Academy award consideration. The festival became Oscar-qualifying in 2011 and has since then gained a track record for selecting films that go on to become Oscar nominees.
The festival features an esteemed jury that selects the qualifying films. The jury for the year 2019 has not yet been announced. In 2018 it included distinguished film industry professionals such as Sofia Coppola, Geena Davis and Uma Thurman.
The festival will run from February 22 through March 17 at seven theatres around the city.
The world theatrical premiere of Moominvalley the TV series announced
The festival describes Moominvalley as "slyly-written, lively script that will keep adults and children engaged in the Moomins' capers at a rapid clip". NYICFF points out that the new series is an "evocative mix of 2D and 3D animation bringing the Moomintroll family to vivid life."
"Rosamund Pike leads a top-notch voice cast as Moominmamma, wisely grounding the family's insatiable curiosity as they seek the shadowy Groke and luminescent Hattifatteners", they add.
Moominvalley is shown for the first time theatrically in New York at the Scandinavia house on Saturday the 23rd of February. The other three viewings you will find here. The festival is known for consistently selling out their screenings so acting fast is strongly advised.
"We are thrilled to showcase the diversity of outstanding filmmaking from around the world at NYICFF 2019 and demonstrate that multidimensional storytelling and artful approaches know no boundaries in terms of age range, genre or country," said Programming Director Maria-Christina Villaseñor.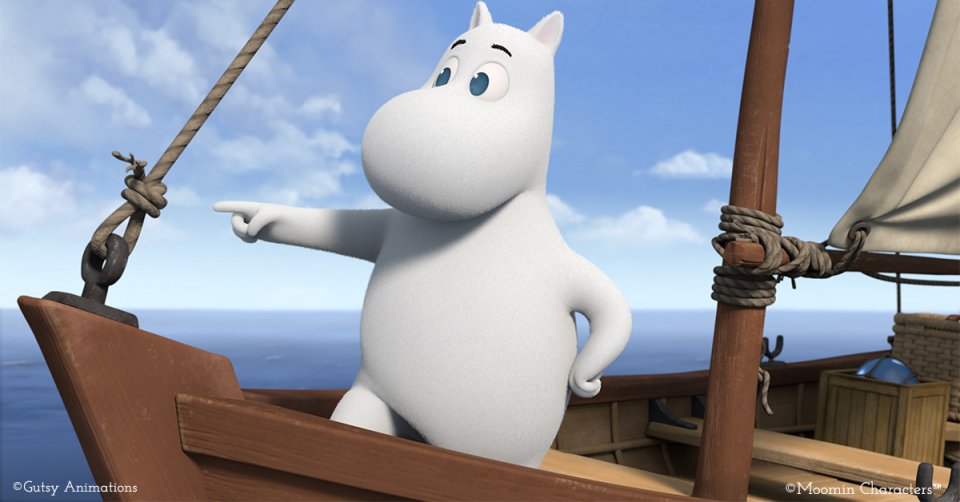 The full list of feature films competing at the 2019 New York International Children's Film Festival includes:
AÏLO: A LAPLAND ODYSSEY (France)
DILILI IN PARIS (France/Belgium/Germany)
DOUBLE TROUBLE (Poland)
GORDON & PADDY (Sweden)
MINUSCULE – MANDIBLES FROM FAR AWAY (France)
MOOMINVALLEY (Finland/UK)
MY EXTRAORDINARY SUMMER WITH TESS (Netherlands)
OKKO'S INN (Japan)
PACHAMAMA (France/Luxembourg/Canada)
PENGUIN HIGHWAY (Japan)
QUEEN OF NIENDORF (Germany)
RAOUL TABURIN (France)
SUPA MODO (Germany/Kenya)
THE BOY WHO HARNESSED THE WIND (UK/Malawi)
THE FALCONS (Iceland)