#82 Spring winter 2017
The seasonal winter mug came with a promise of spring with Snufkin returning from his long journey. The illustrations on the mug are from Tove Jansson's novel Moominland Midwinter (1957) and have been adapted by Tove Slotte to fit the mug.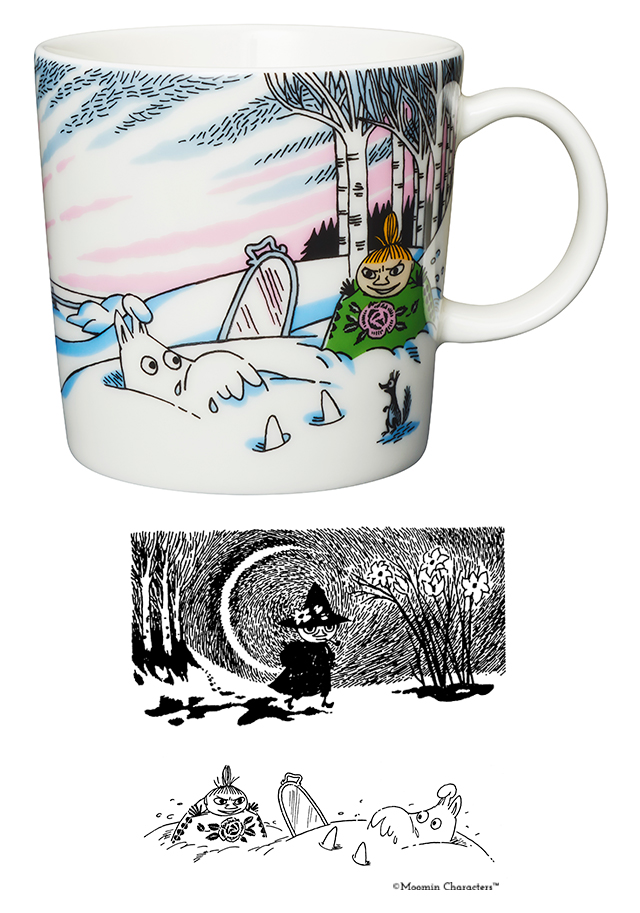 In February 2018 Arabia released a new character mug, Thingumy and Bob green. The mug clearly has a new style compared to the older character mugs. Traditionally, the character mugs have displayed Moominvalley's well-known characters on a monochrome background, but this mug has a livelier background, resembling the backgrounds on the seasonal mugs.
The mug's motif with the inseparable Thingumy and Bob and the ruby is from Tove Jansson's novel Finn Family Moomintroll (1948). The illustration of the pair on the other side of the mug is designer Tove Slotte's interpretation of the characters from behind.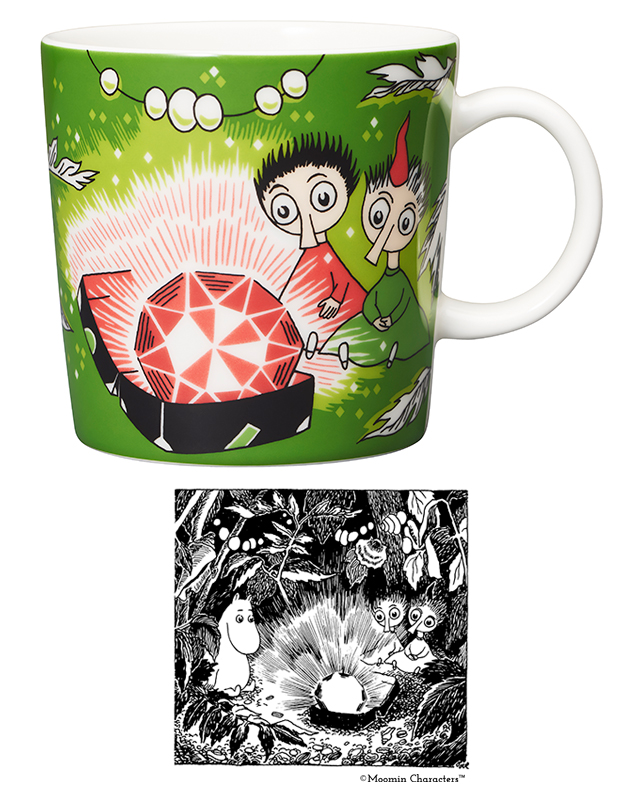 Even though the Hobgoblin is a figure mentioned in only one of Tove Jansson's books, many Moomin mug collectors wished for a mug with the character. Arabia's first character mug was released in 1999 and only in February 2018 did the Hobgoblin purple show up in stores.
Both the Thingumy and Bob green mug, which was released in 2018 as well, and the Hobgoblin purple mug is from Finn Family Moomintroll (1948).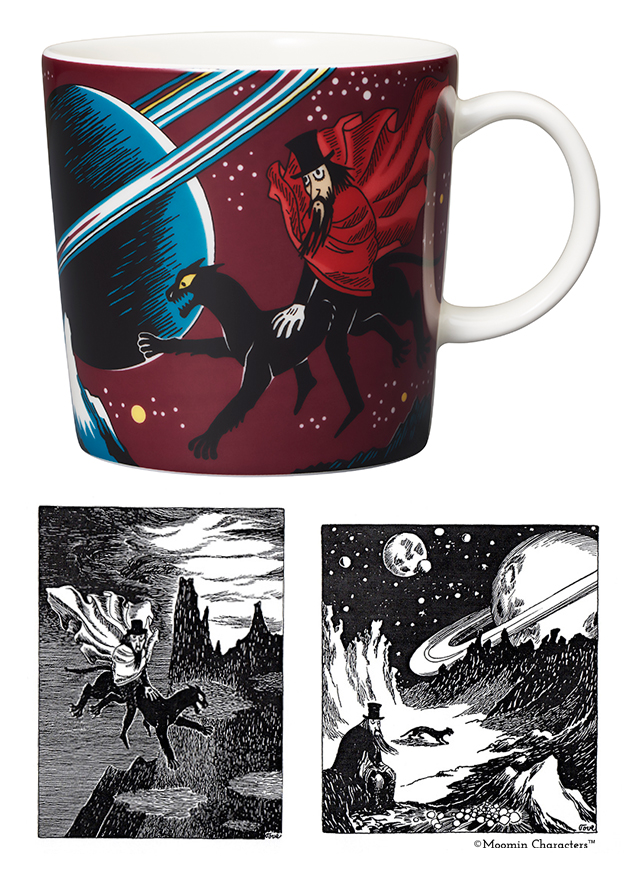 Arabia also launched a plate and a bowl in the same series, both designed by Tove Slotte. You can read more about the design process for the mugs Thingumy and Bob green and Hobgoblin purple in our previous blog post: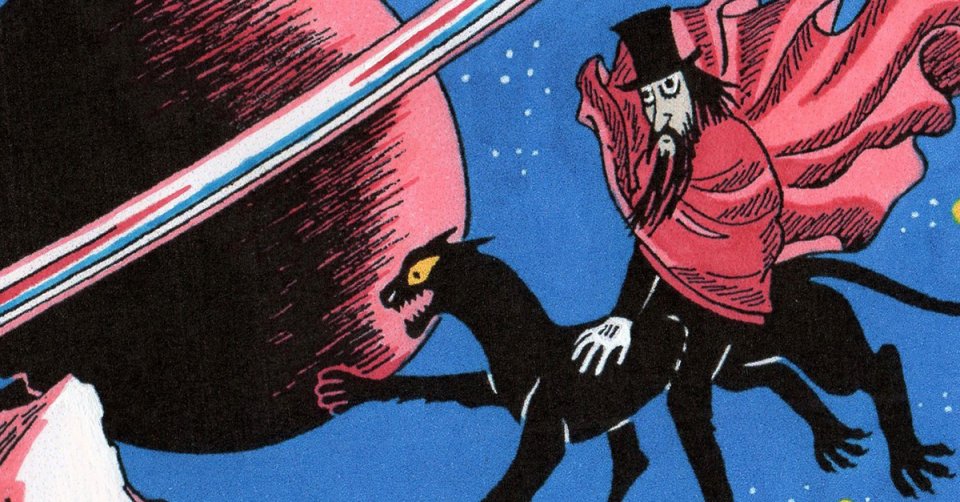 15.1.2018
It takes two years to design one series of character ceramics. This is what the design process of Moomin mugs is like!
#85 Going on vacation 2018
The 2018 summer mug, Going on vacation, was accompanied by a bowl with the same motif, which was taken from Tove Jansson's series #4 Moomin's Desert Island (1955).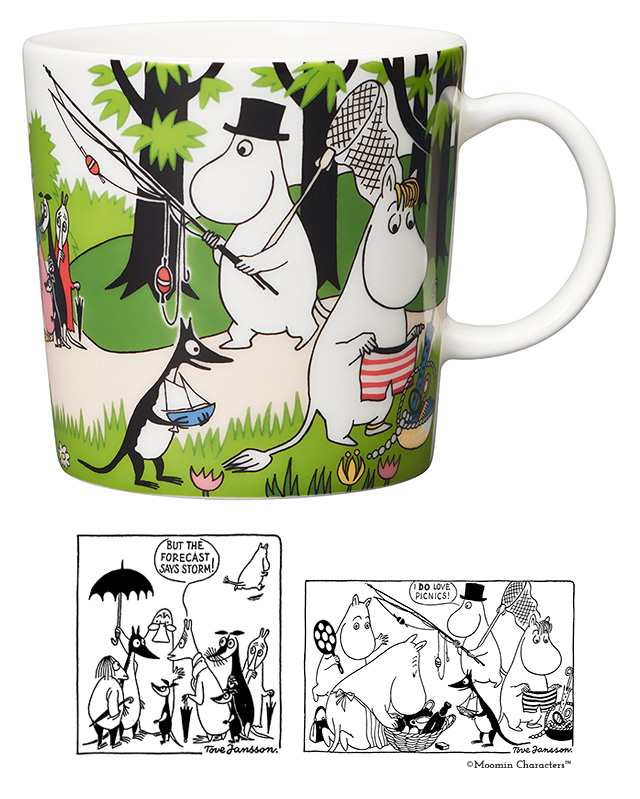 As with many other seasonal mugs, Tove Slotte has chosen to present some more unusual characters from Tove Jansson's original stories. On the mug, a variety of scientist, both tall and short, young and old, are studying the Moomin family's departure. They are thinking about the weather and wondering how the conditions will change.
Pictures:
Featured image and the original illustrations: Moomin Characters
Mugs: Fiskars
Get to know each and every one of Arabia's Moomin mugs on our dedicated Moomin mug page.