Yesterday we presented the new Moomin mugs by Arabia which will be available in February. It takes two years to design one series of character ceramics.
The Moomin character plates from Arabia are classics: they showcase the residents of Moominvalley doing their own thing with a background color that emphasizes their personality. The Hobgoblin is a visiting character, because he appears in only one Moomin book, the Finn Family Moomintroll (orig. Trollkarlens hatt, 1948).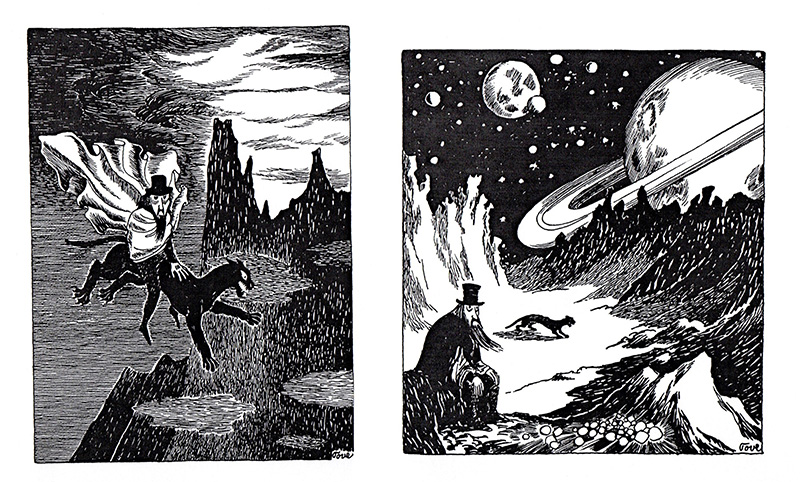 Designing a character dish is a long process that takes nearly two years. It's based on the feedback from consumers, as well as the modern appeal of art, such as future trends in colours. Tove Slotte, the designer of the Moomin by Arabia products, always bases her illustrations on Tove Jansson's original drawings and stories. Usually the dishes follow a specific story line.
"I take the original drawings from their backgrounds and design a complete form," explains Slotte. "Usually I draw a background with some of the original drawings by Tove Jansson. The elements of each character plate are based on lines that Slotte draws manually. She colours the backgrounds with manga pens that have a brush-like, soft tip. The colouring is fun because most of the original drawings are black and white – she has the freedom to play with colours. In Arabia, the colour sketches are an important part of the design process:
"The colour has to fit into the collection, as well as emphasize each character's temperament," explains Business Unit Director Nora Haatainen from Fiskars.
When the colour sketches are ready, the original is transferred to a glassine sheet in both colour and black and white. After that, it's scanned into a computer for digital adjustment, and eventually onto the ceramic surface.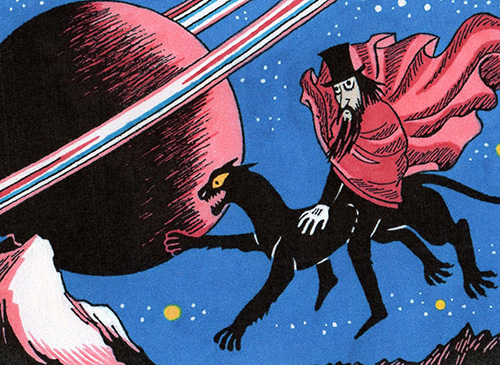 The ruby reflects Thingumy and Bob's special relationship
Thingumy and Bob serie renewal had to happen at the same time with the launch of Hobgoblin, because they're all from the same story. In the tale Finn Family Moomintroll , Sniff, Moomintroll and Snufkin find the Hobgoblin's hat on a mountain-top. The hat begins to behave oddly – eggshells thrown into the hat transform into clouds and the Moomins begin to fly with them.
The adventure begins when the Hobgoblin comes to Moominvalley on his black panther to search for the world's biggest ruby. One ruby he hasn't found, the biggest and most beautiful, is the King's Ruby. Thingumy and Bob hide the big ruby in their suitcase, and run to Moominvalley for safety.
Thingumy and Bob's real life equivalents were Tove Jansson and theatre director Vivica Bandler. The ruby represents their special relationship, which is why it was chosen to be one element of the new series.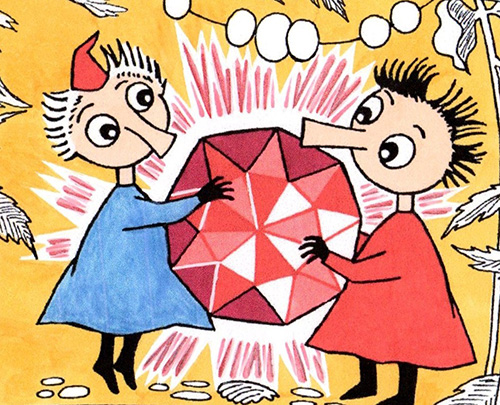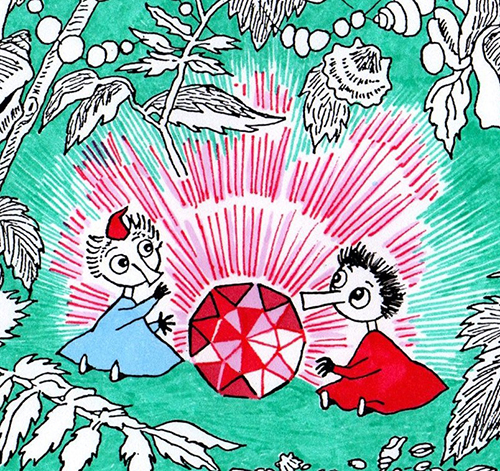 See all the novelties on our webshop where you are also able to leave your email address to be notified when the products are in stock!
Products will be available from week 8 onwards.
Text: Fiskars