Snufkin is a philosopher and a wanderer who enjoys the simple things in life – fishing, playing his harmonica and walking alone at night. A free spirit with no interest in owning things, Snufkin enjoys challenging authority figures such as park keepers. He greatly values his independence, but returns to Moominvalley every spring to spend time with his good friend Moomintroll. Snufkin is widely admired for his quiet confidence and self-belief, especially by the smaller and more timid residents of Moominvalley.
Although others often see him as a rather solitary type, Snufkin can always be relied upon to help others in a fix. (He even once became a temporary foster parent to twenty-four lost little woodies.) Freedom is the most important thing in the world to him, but he cares about the needs of others and takes his responsibilities seriously. He knows that Moomintroll misses him terribly when he goes away, so he always leaves a reassuring letter promising to be back on the first warm day of spring. 
"Snufkin feels rather uncomfortable about owning anything at all."
Snufkin carries the few belongings he needs in his backpack and lives in his tent, which is 'that green summery colour that makes one think the sun is shining outside'. He pitches it near the Moominhouse all through the summer. Entrance is strictly by invitation only, but often very much hoped for – many creatures are drawn to Snufkin because of his enigmatic but kind nature.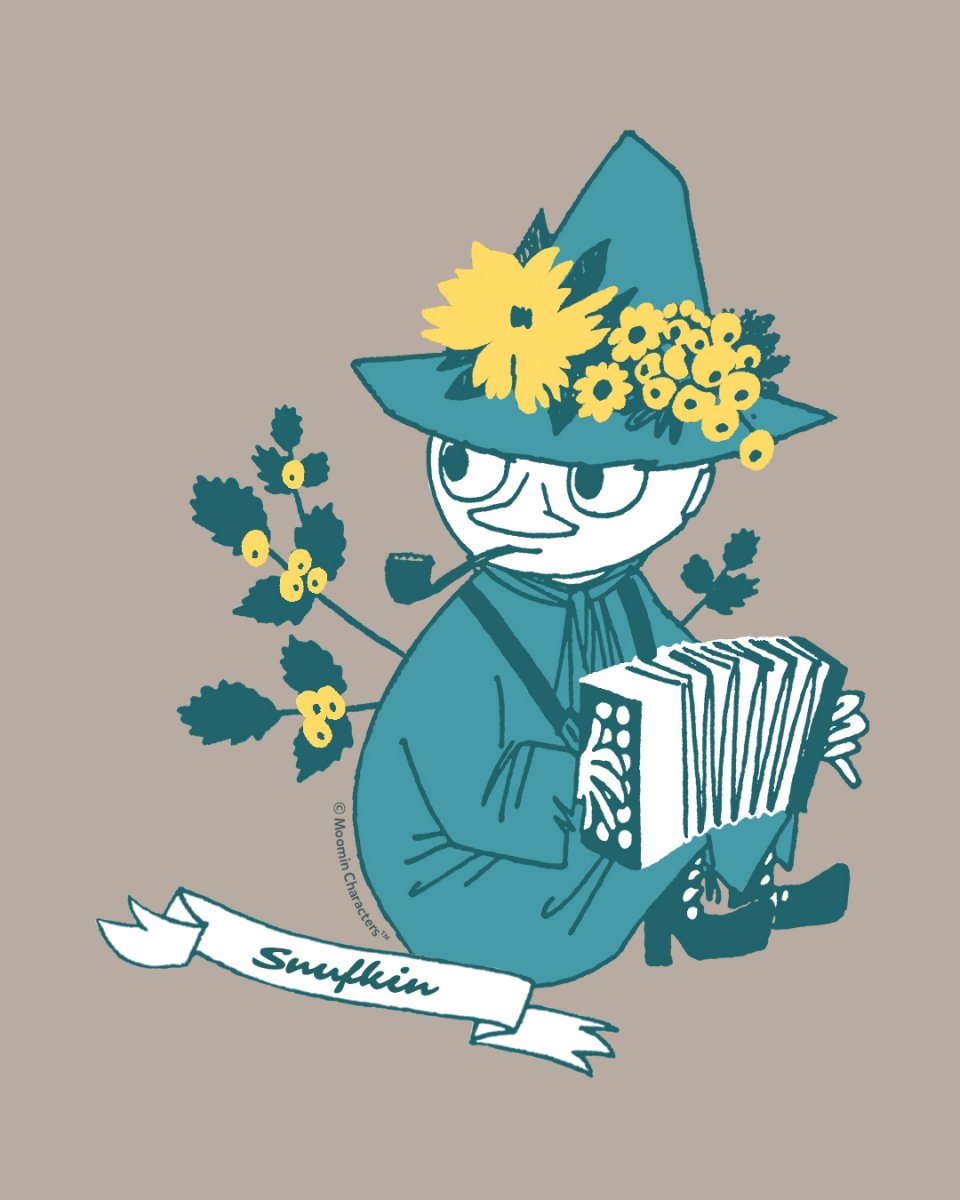 Snufkin's father was the Joxter, a dear friend of Moominpappa's and one of the main characters in The Exploits of Moominpappa (1950). His mother is the Mymble, which means that Little My and the younger Mymble and all the other children of the Mymble are his half-siblings.
He first appears in Comet in Moominland (1946).
What is Snufkin's special talent?
Snufkin is a gifted musician. He plays the flute and the harmonica and composes his own songs, usually inspired by nature. He understands the importance of allowing tunes to arrive in their own time and of striking the right balance between joy and melancholy. And all the residents of Moominvalley – from the Moomin family to the little creeps and hedgehogs who live in the woods – love to hear him play.
What makes Snufkin feel uncomfortable?
Snufkin feels rather uncomfortable about owning anything at all – he travels very lightly, preferring to keep his head full of thoughts and his hands free – but he is especially worried about owning anything new. Making any kind of purchase is particularly challenging. Once, when visiting a village store, he declared that he needed new trousers and even got as far as trying a pair on, but he had to give them back right away as they were rather too new and clean.
A little-known fact about Snufkin:
In the early Moomin drawings Snufkin seems to be bald underneath his slightly shabby green felt hat (which is sometimes simply adorned with a feather, or perhaps a flower or two), but in later illustrations Tove Jansson gave him short, messy brown hair. 
Snufkin quotes:
'I'm monarch of all I survey. I own the whole earth.' (Comet in Moominland, 1946)
'And now we'll pull down every single notice, and every single leaf of grass shall be allowed to grow as it likes to.' (Moominsummer Madness, 1954)
'Snufkin was a calm person who knew an immense lot of things but never talked about them unnecessarily. Only now and again he told a little about his travels, and that made one rather proud, as if Snufkin had made one a member of a secret society.' (Moominsummer Madness, 1954)
'You'll have to blow your noses in your petticoats. Or whatever you've got.' (Moominsummer Madness, 1954)
'At first light Snufkin went to the beach to fetch his five bars of music. He climbed over the banks of seaweed and driftwood and stood on the sand waiting. They came immediately and they were more beautiful and even simpler than he had hoped they would be.' (Moominvalley in November, 1970)
'It's the right evening for a tune, Snufkin thought. A new tune, one part expectation, two parts spring sadness, and for the rest, just the great delight of walking alone and liking it.' (Tales from Moominvalley, 1962 )