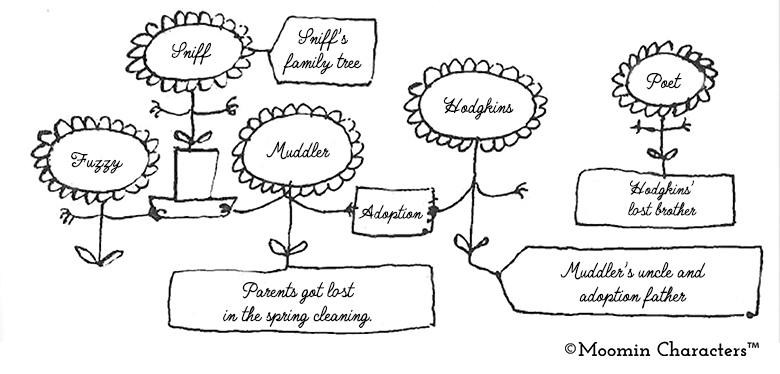 Sniff  has been separated from his parents early on, but his relatives are introduced in the book Moominpappa's Memoirs. Also Tove Jansson has once drawn a family tree which illustrates Sniff's family.
Sniff's father is Moominpappa's friend Muddler. Sniff has inherited the nature and tendency to motion sickness from his father.
Sniff's mother is Fuzzy and the appearance of Sniff is inherited from her. Both Muddler and Fuzzy are enthusiastic button collectors and Sniff gets their button collection when he meets with his parents after a long time.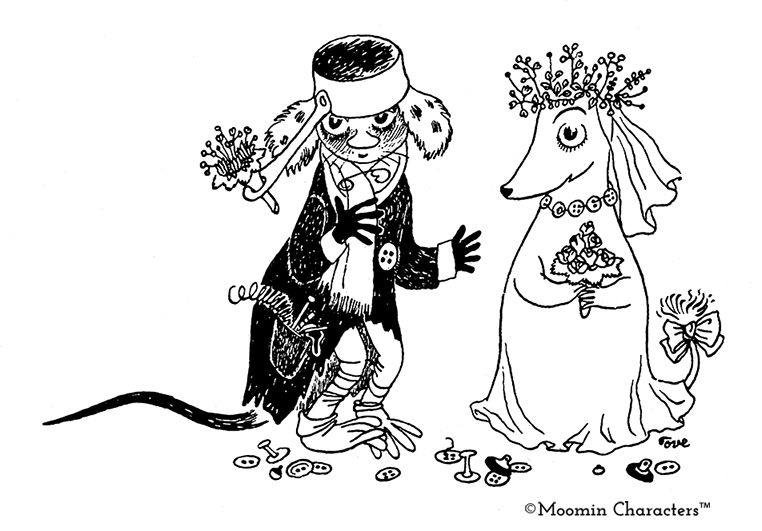 Muddler and Fuzzy
Moominpappa's first friend, Hodgkins, is Muddler's father's brother. Hodgkins is Muddler's uncle and adoptive dad and Muddler's single parent.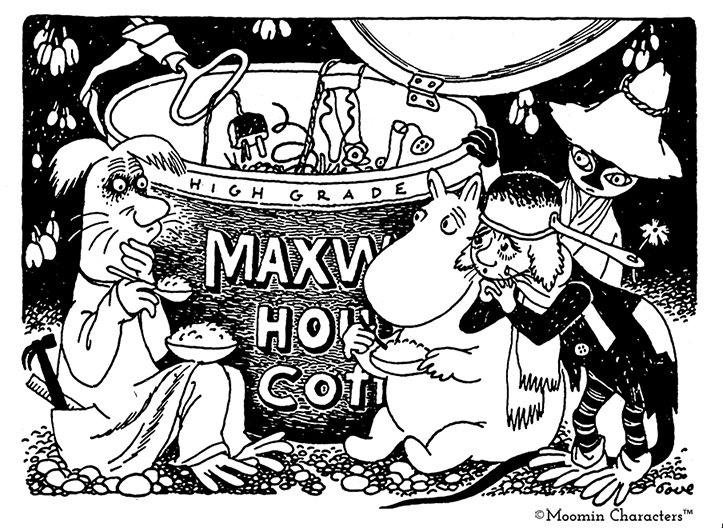 Hodgkins, Moominpappa, Muddler and Snufkin's father Joxter
Sniff's grandparents disappeared in the spring cleaning. Muddler's mother is unknown, but his father was a poet. Hodgkins names his ship Ocean Orchestra after his long-lost brother's book of poems but the ship becomes Oshun Oxtra due to misspelling by Muddler.
In the comic Fuddler's Courtship is also a character looking alike Muddler. He is not the Muddler in the Moomin books but his son Fuddler. Muddler is in Swedish Rådd-djuret and in Finnish Hosuli and Fuddler is in Swedish Klått-djuret and in Finnish Hosuli. Therefore, Sniff should also have a brother, even if he is not drawn in the family tree. Button collector Fuddler is married with the stone collector Jumble.

From the comic Fuddler's Courtship /
Tove and Lars Jansson 1959.
Read also: Moomin Family Tree and Snufkin's Family Tree