In 2016, the exhibition Moomins at the theatre opened at Helsinki's Theatre Museum,  presenting materials from the Mumintrollet och kometen theatre play, which was first staged in 1949.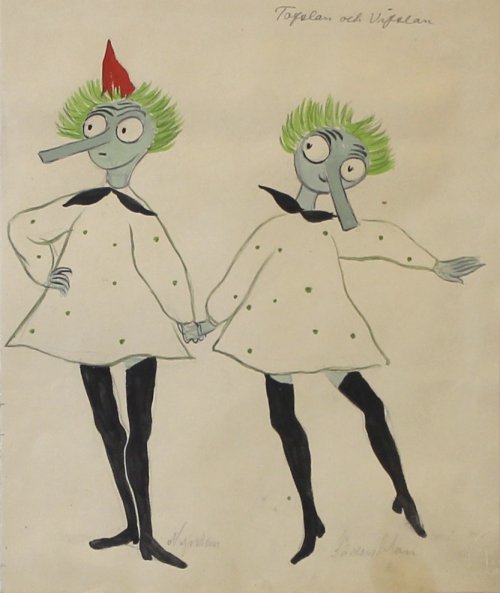 Thingumy and Bob costume draft by Tove Jansson
Photo: Tove Jansson's archive, © Moomin Characters™
Mumintrollet och kometen, 1949
The idea for taking the Moomins into a theatre was originally Tove Jansson's friend, theatre director Vivica Bandler. Jansson was inspired by the idea and began working on the play based on the first three Moomin books published.
In the autumn of 1948, Jansson offered the play for the Swedish Theatre in Helsinki, but the theatre board believed that Tove Jansson's text was inappropriate for a children's play. The play was considered too difficult and strange – just like the Moomin books Tove had written. It was thought that a good children's book should be written just for kids, and it was impossible to think that a book could simultaneously suit adults. The same reason slowed down the play's access to the theatre scene.
In the autumn of 1949, the theatre's board of directors decided to give Jansson's play a chance. The play needed a sufficiently imaginative director, and the one was Tove's friend Vivica Bandler. Tove Jansson herself designed the costumes and set in addition to the manuscript she had written. Actors were the theatre school students, and the youngest actors theatre had at that time.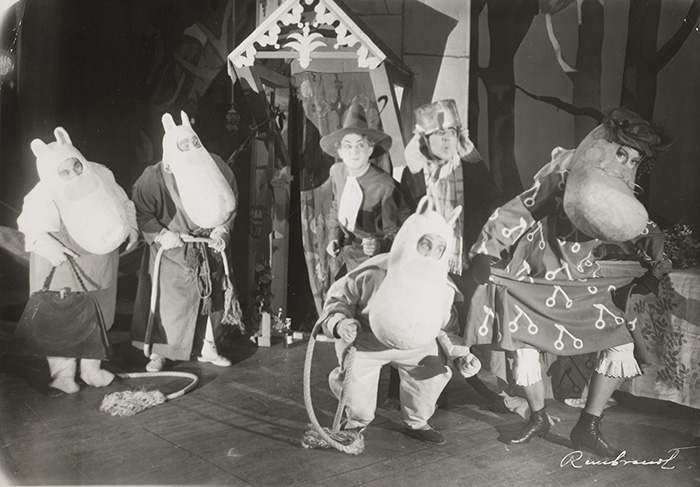 Actors: Birgit Strandberg (Moominmamma), Sigvald Bäsk (Moominpappa),
Olof Hollsten (Snufkin), Måns Fors (Moomintroll), Paul Budsko (Muddler),
Birgitta Ulfsson (Hemulen's mother)
Photo: Rembrandt, SLS arkiv, SLSA 1270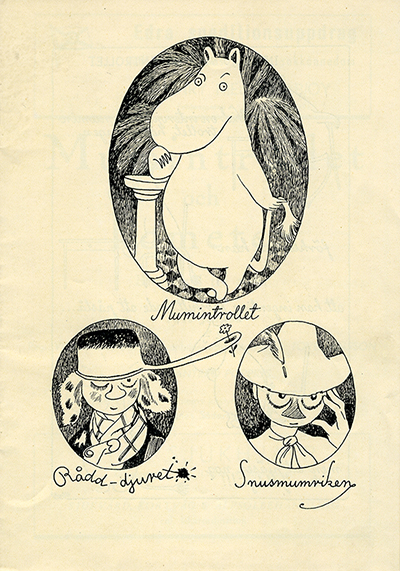 Booklet Tove Jansson drew for the play Mumintrollet och kometen
Photo: Theatre Museum's archive
Mumintrollet och kometen premiered on the Holy Innocents' Day December 29th 1949. Both the audience and the critics liked the play, and it was presented 19 times. However, part of the audience experienced the content and language of the play as inappropriate for young children.
Nevertheless, Mumintrollet och kometen marked a new, interesting, and fascinating era for Tove Jansson with all the numerous theatre works.
Text: Theatre Museum
Find out more about the play Mumintrollet och kometen and other theatre works by Tove Jansson at the exhibition Moomins at the theatre.
Read also: