Moomins at the theatre exhibition opens in Helsinki on June 8th. Theatre Museum's summer exhibition showcases the Moomin productions on stage including Tove Jansson's other theatre works.
While making the exhibition you may find some unexpected treasures. When Finnish National Audiovisual Institute heard about the Moomins at the theatre exhibition they contacted Theatre Museum right away – there is an old film about Moomins in the archives of the institute. Costumes are the same as the ones in Swedish Theatre's play Mumintrollet och Kometen in 1949, the ones Tove Jansson herself designed. The story presented on the filmstrip though is totally different that seen on stage or read from the Moomin books.
Mikro-Kino was Finnish company that produced stereoscopes and filmstrips in Helsinki in 1949-1958. The company was owned by Levi Hellberg who also filmed most of the Mikro-Kino films. With Mikro-Kino filmstrip viewer you can watch the 35mm stereo photos that look a bit three-dimensional when viewed through the viewer – it works just like the traditional View-Masters. Besides Moomin film "Visiting the Trolls" (in Finnish Peikkojen vieraana) from 1950, Finnish National Audiovisual Institute has also Mikro-Kino films presenting for example Helsinki from different point of views; Olympic Games organized in Helsinki in 1952, Malmi Airport as well as the Finnish Grand Race. Also historical and religious stories were filmed.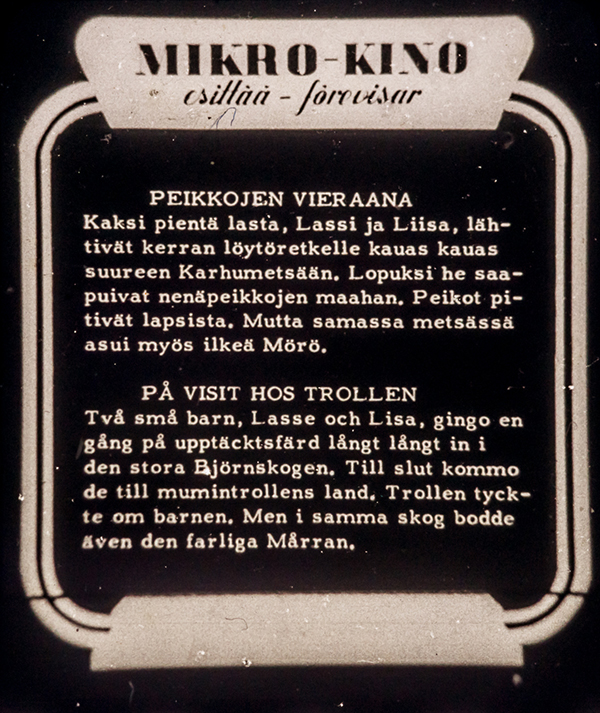 "Visiting the Trolls" tells about Lassi and Liisa who are going on a trip into a forest and they arrive into a land of "Nose Trolls" (in Finnish Nenäpeikot). Trolls love the children, but also a mean "Groke" lives in the forest. And yes – the "Groke" kidnaps the children. Story presents many of the characters from the play Mumintrollet och Kometen: The Moomins, The Groke, Muskrat and a dragon.
Because Tove Jansson was a friend of the family Hellberg, Theatre Museum invited Levi Hellberg's daughter Harrit von Koskull to tell what is this all about. The costumes were loaned from the Swedish Theatre but this probably was the only connection to Tove Jansson and the Moomins. It still stays unknown who wrote the story "Visiting the Trolls", but it was Levi Hellberg that came up with the name Nenäpeikot. Tove didn't like the name at all and that is why the Moomintroll is nowadays known as a Muumipeikko in Finnish.
Here you can see few photos of the Mikro-Kino Moomin film but the whole story can be seen at the Theatre Museum in Helsinki already next week when Moomins at the theatre exhibition opens.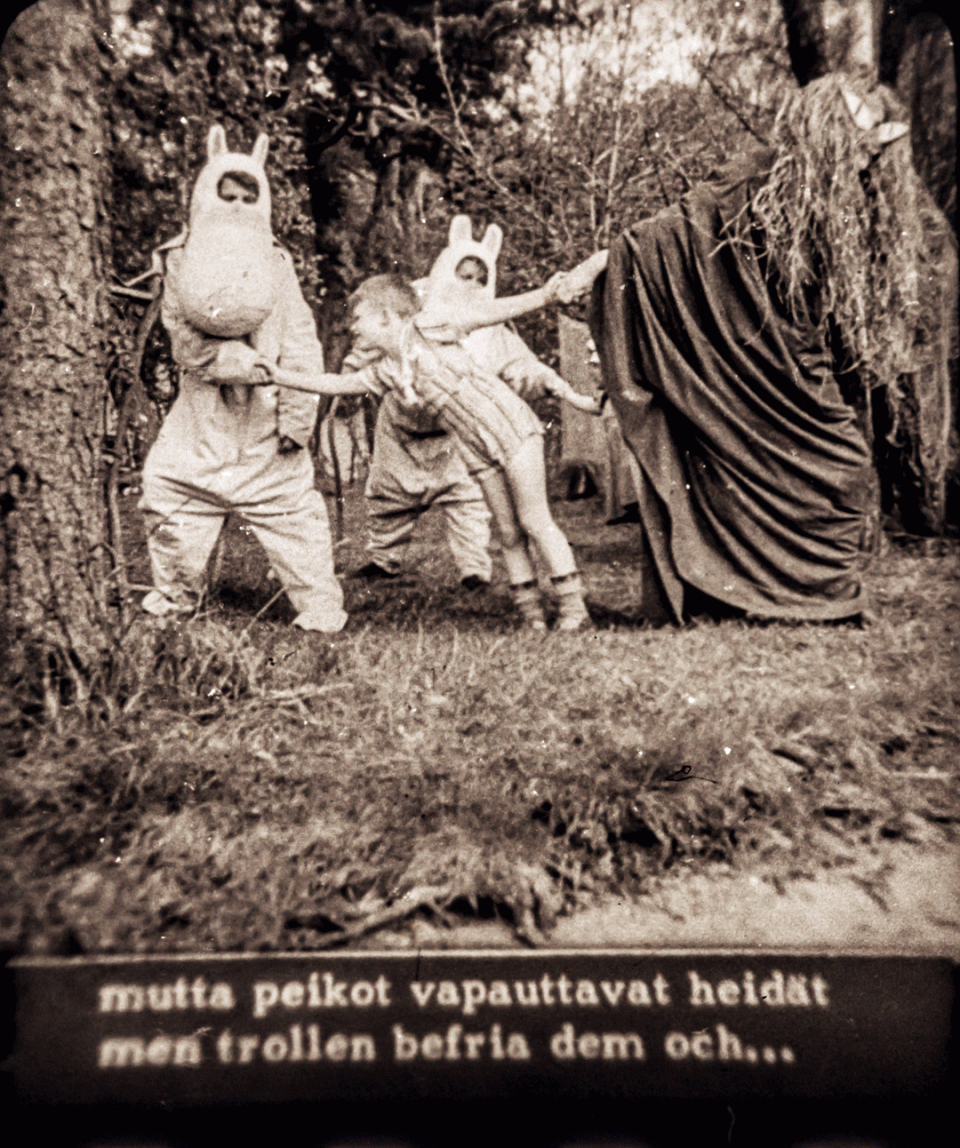 Text source: Theatre Museum
Read also: