Arabia's 2021 seasonal winter Moomin mug features Moomintroll and his friends watching the Snowhorse disappear over the horizon. The Snow moonlight seasonal series continues Tove Jansson's story Moominland Midwinter (1957), describing the wonderful winter that Moomintroll experiences for the first time in his life.
Tove Jansson's Moominland Midwinter has already provided inspiration for 16 seasonal mugs, designed by Arabia since 2006. The 2021 winter set shows the wonderful yet sometimes harsh side of winter.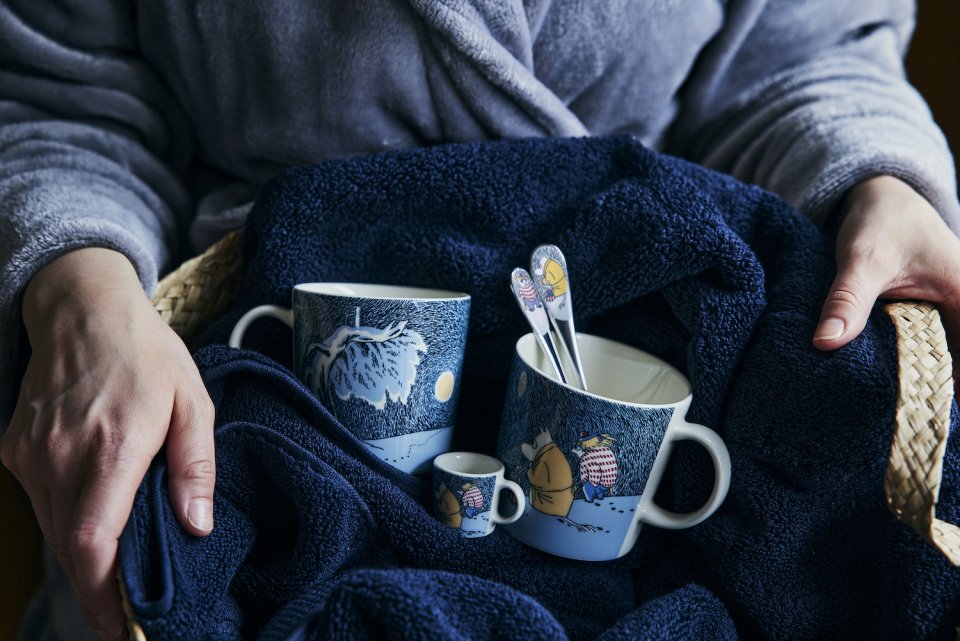 Moonlight wakes up Moomintroll
Tove Jansson was a master in creating delicate illustrations of the weather and the seasons with only a few fine lines. In the illustration on the Snow moonlight dishes, lines are used skilfully to bring alive the story's atmosphere. The blue colour scheme on the mug is a perfect match for the enchanting story.

The story-based Snow moonlight dish set takes viewers to the beginning of Tove Jansson's book Moominland Midwinter, where the moonlight awakened Moomintroll. The moon peeked in through the window and shone directly into Moomintroll's face. Moomintroll woke up and was unable to get back to sleep. Because the Moomins usually sleep through the winter, Moomintroll will see and experience new things, hitherto unknown to him, when he stays awake all winter. The mug features the first illustration in the book Moominland Midwinter, the moonlit night.

The other side of the mug shows Moomintroll wrapped in his bathrobe. He has met an old friend, Little My, and a new friend, Too-ticky, and he spends the winter with them. He has also found his bathrobe in the bath house closet and wears it until his winter fur grows a little thicker and more protective. Moomintroll, Little My and Too-ticky stand by the seashore, watching the Snowhorse, which came to life, gallop away.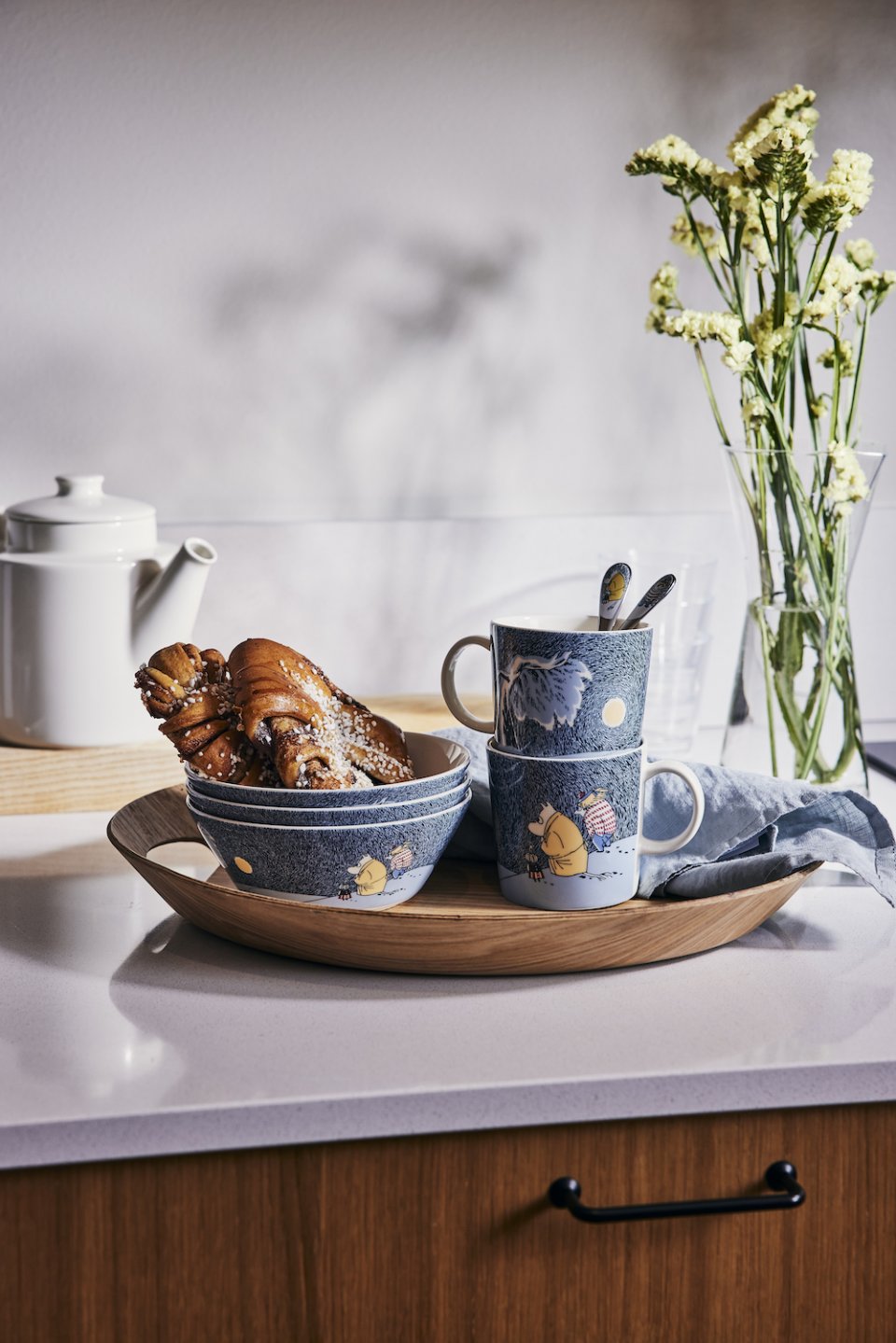 Join the waiting list
The Snow moonlight set includes a mug (0.3 l), a bowl (15 cm), mini mugs and spoons (2 pcs) and will be sold for a limited time from October 1st, 2021. You can already join the waiting list to be the first one to know when the set is available for purchase! Check out the Moomin novelties by Arabia here!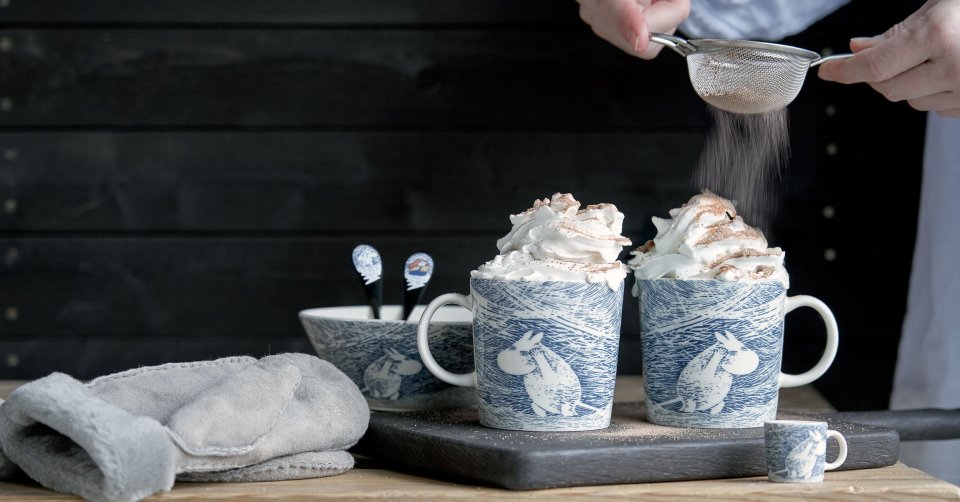 1.9.2020
The Snow blizzard Moomin mug, plate, bowl, and spoon are part of the seasonal Moomin x Arabia collection and feature a wintery theme.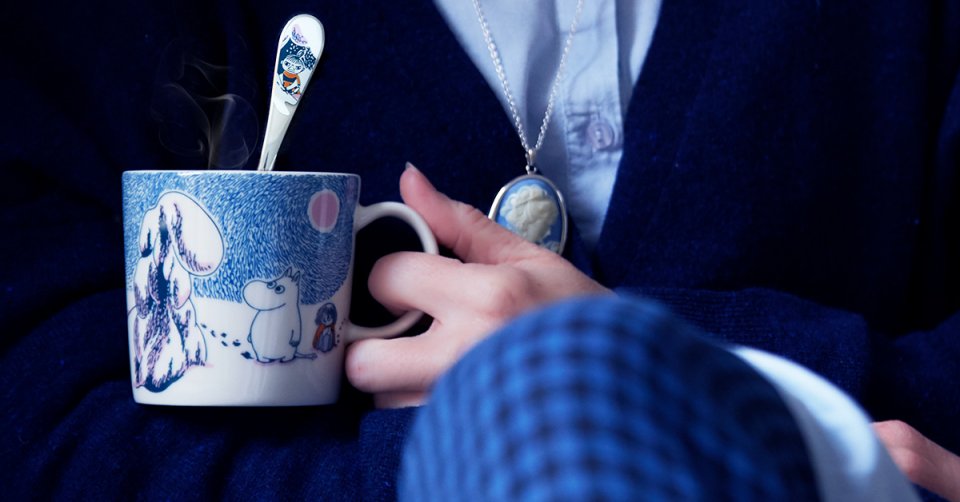 2.9.2019
Snow plays the lead in Arabia's seasonal Moomin dishes as Moomintroll marvels at crown snow-loads and the charming, precise illustrations by Tove Jansson pay tribute to the beauty of nature. The products…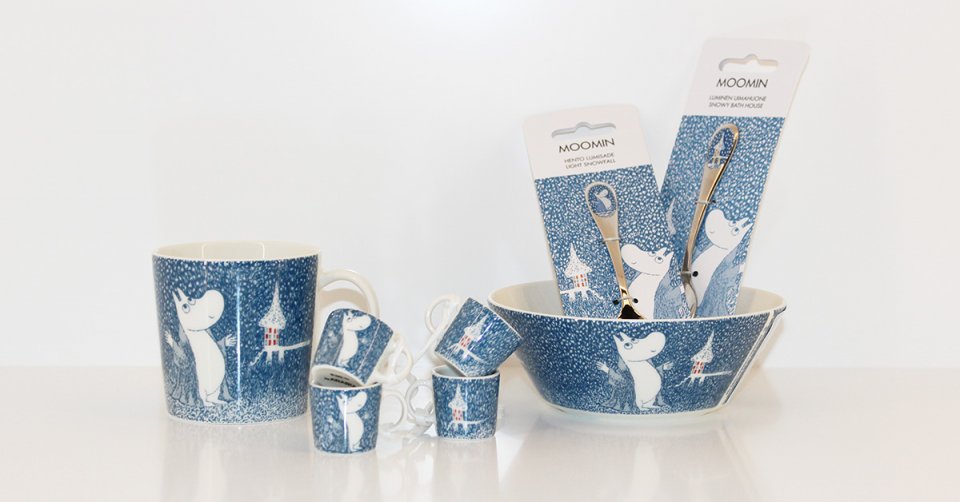 29.8.2018
Light Snowfall is the theme of Arabia's winter seasonals 2018–2019.