In the seasonal winter products of 2020, we can see Moomintroll, lost in the middle of a windy blizzard. The seasonal series, Snow Blizzard, continues the story of Tove Jansson's book Moominland Midwinter (1957) and leads the Moominvalley characters from the storm to the wondrous bath house. The set includes a Snow Blizzard Moomin mug, bowl, mini mugs and spoons.
In her Moomin novels, Tove Jansson perceptively described different natural phenomena, such as storms and winter, and emotions related to them. The Snow Blizzard series depicts the moment when the wind carries Moomintroll and he finally has to give in, and become part of the blizzard.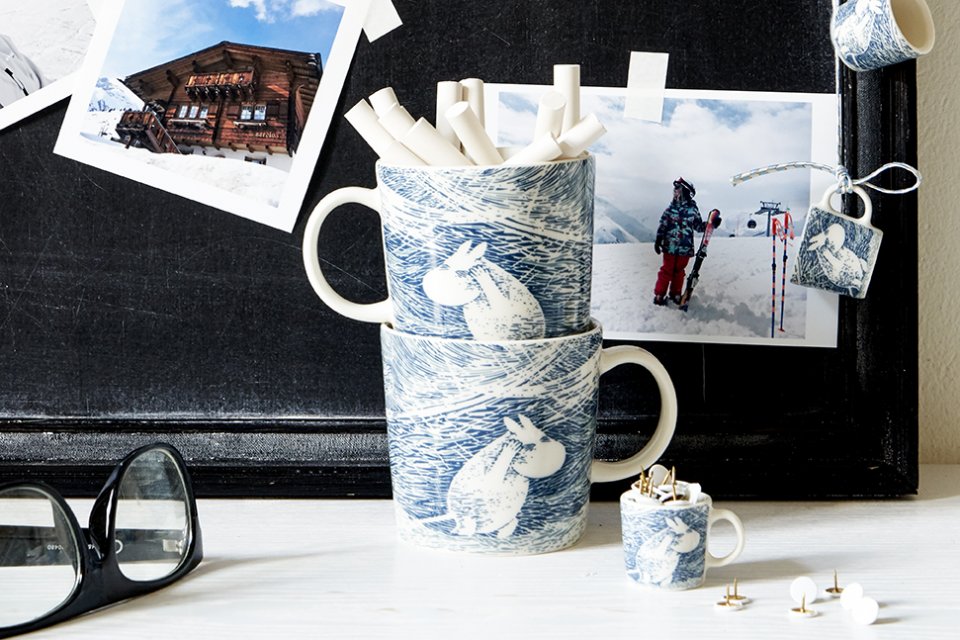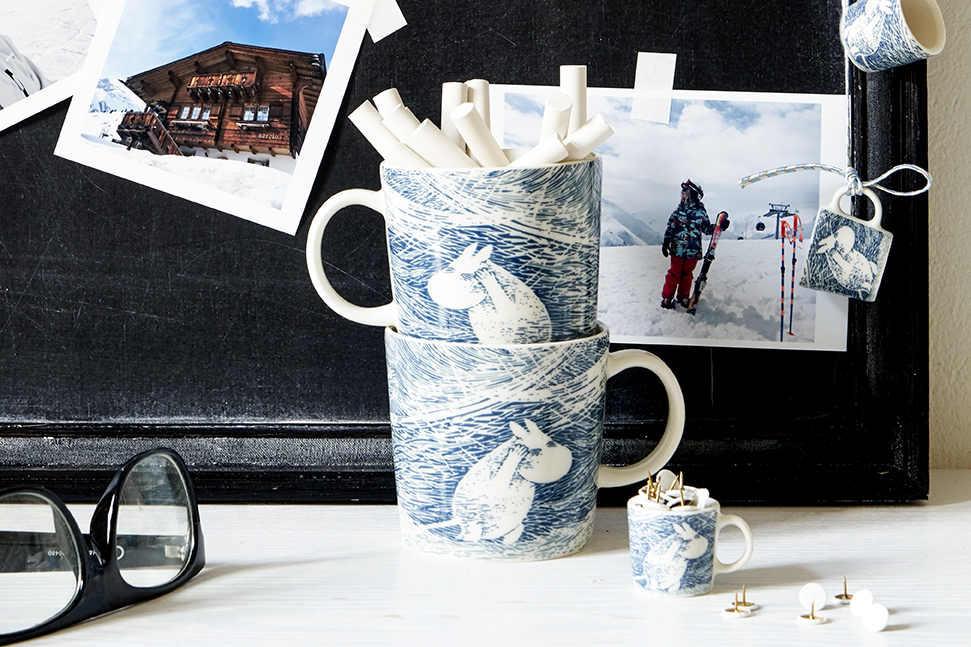 Tove Jansson created the image of wind and blizzard by scratching
In the Moominland Midwinter novel, Moomintroll has woken up from his hibernation and the weather is fierce. Various characters have sought shelter in Moominvalley. They have gathered in the bathhouse and are worried about Moomintroll and a toffle named Salome who are lost in the blizzard.
Tove Jansson illustrated all 12 Moomin novels she wrote between 1945 and 1977. Nearly all illustrations are made with either pen and ink or gouache and watercolour, but there are some made with the rare scratchboard technique. In the scratchboard technique, the dark background is made by scratching, creating an image consisting of white lines. The use of lines was characteristic of Jansson and with the scratchboard technique, she could create a multi-layered atmosphere in the image. The scratchboard illustration in the Snow Blizzard series is an image of icy, cutting wind and snow blizzard – the mysterious forces of the winter.
"The original image has been modified slightly by changing the background colour from black to dark blue and there is also lighter greyish blue here and there", says illustrator-ceramist Tove Slotte, whose task it was to adapt the original image for use in the curved mug.
The set consists of a mug, bowl, mini mugs and spoons decorated with pictures of Moomintroll and the toffle Salome. The story associated with the Snow Blizzard series has a happy end: Moomintroll finds his way back to the bath house and the loud, skiing Hemulen finds the lost Salome in a snowdrift and digs her out. Hemulen places the little toffle between his pullover and undershirt to warm her up and saves her life.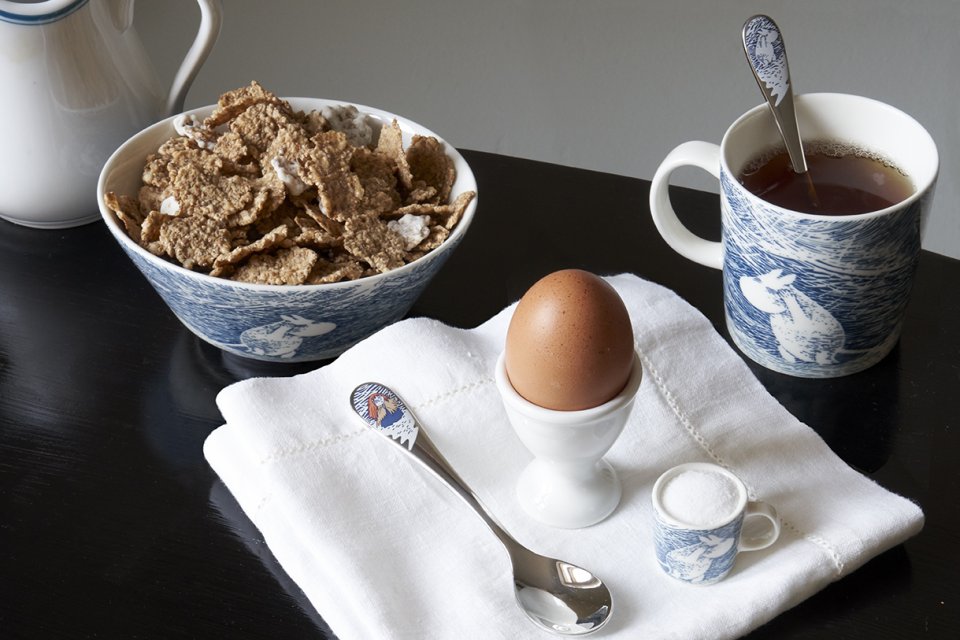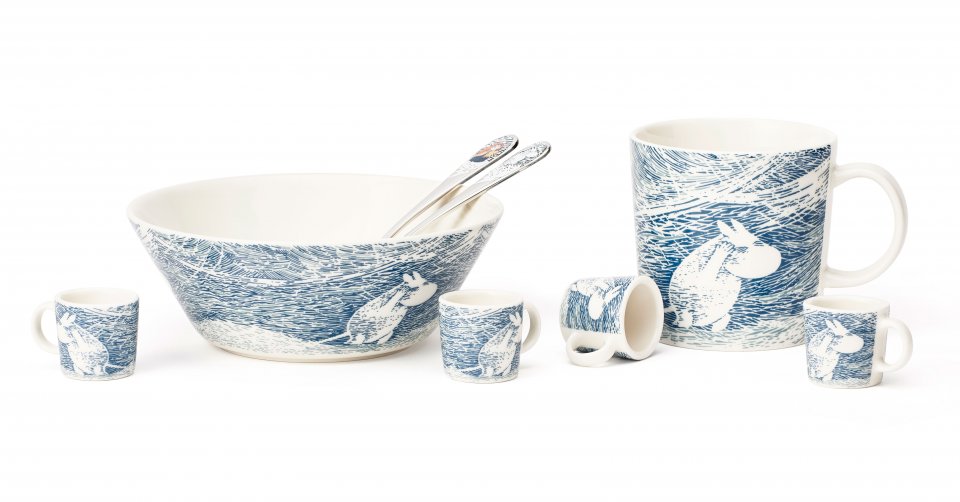 Snow blizzard products will be available from October 1st and sold as long as stocks last. Leave your email address at the product page to be notified when the novelties are in stock!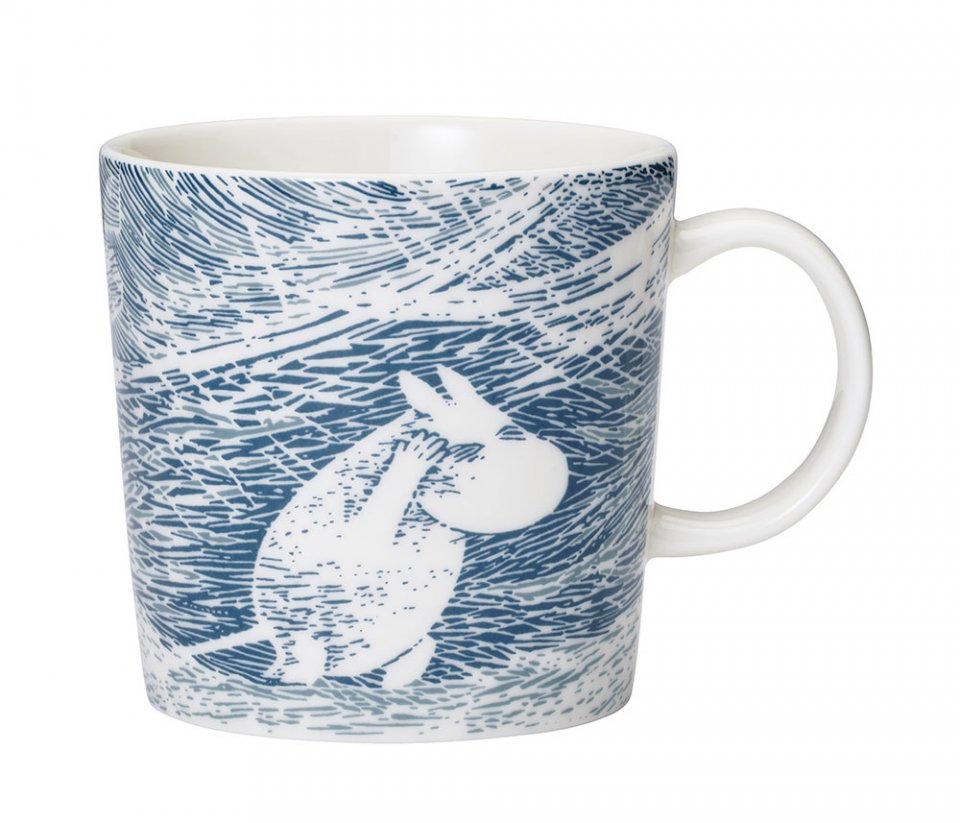 Snow Blizzard Moomin mug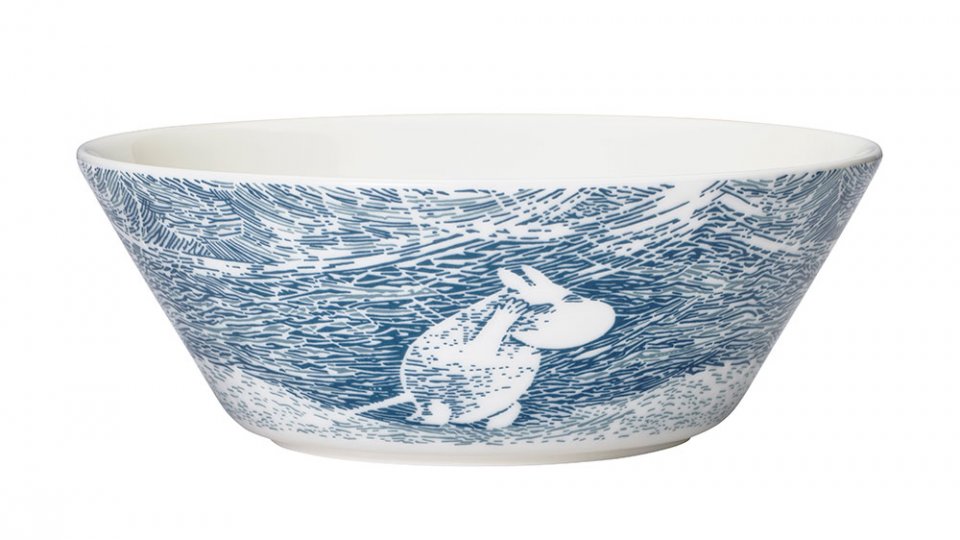 Snow Blizzard Moomin bowl

Snow Blizzard mini mugs

Snow Blizzard spoon

Salome spoon