We collected a list of beautiful products to make your home more magical. With the help of these products you can enjoy a Moominous feeling at home from morning coffee till bedtime!
From coffee pots to bed linen, our webstore has a wide variety of Moomin-themed home products. Read further for inspiration or take a look at our entire homeware selection here!
Pancakes, jam and Moomin equipment
Breakfast – the most important meal of the day. With the help of Moomin kitchen products, you can make your morning more magical!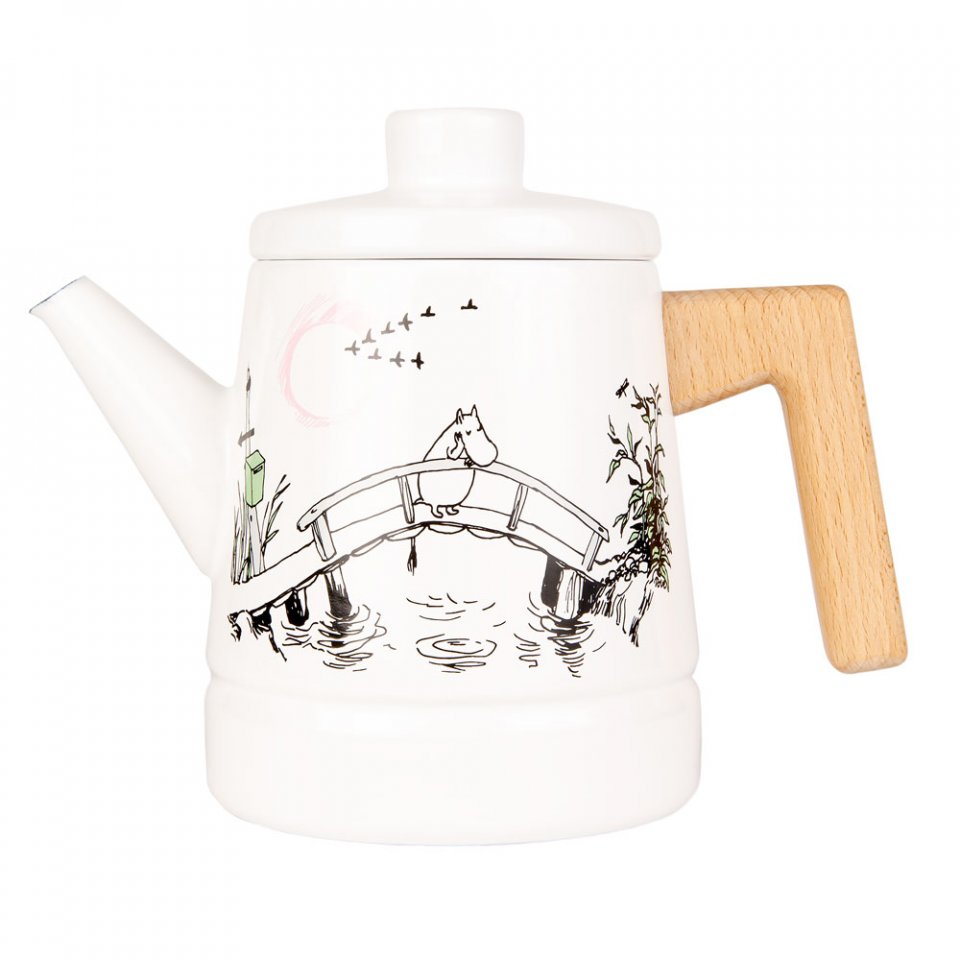 What would breakfast be without coffee? Muurla's coffee pot is so cute that you will probably want to keep it on the table all day long. The coffee pot can also be used to make tea, so it's a perfect item for tea and coffee lovers alike!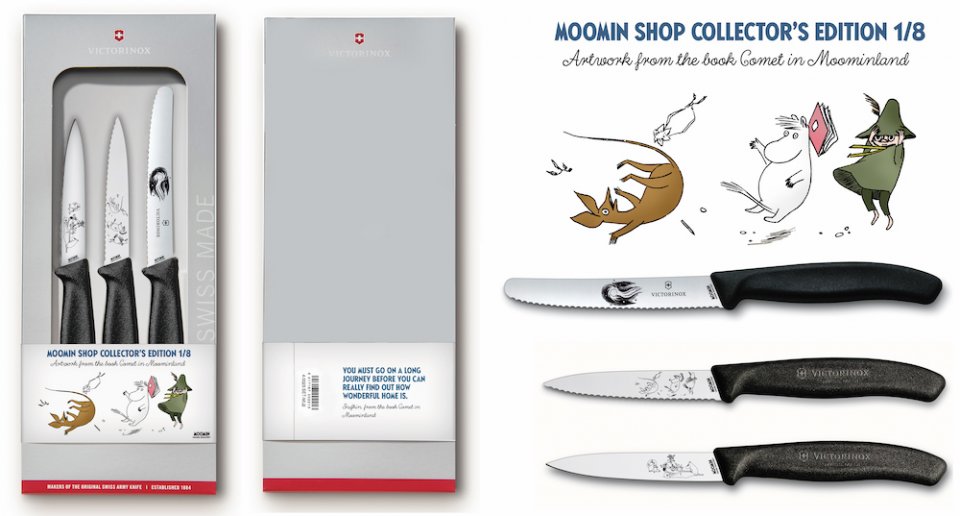 There is nothing that makes cooking more dislikable than blunt knives. Victorinox' knives come in packs of three, including a tomato knife and two different peeling knives. The knives, a limited edition made for Moomin Shop, have artwork from Tove Jansson's book Comet in Moominland (1946).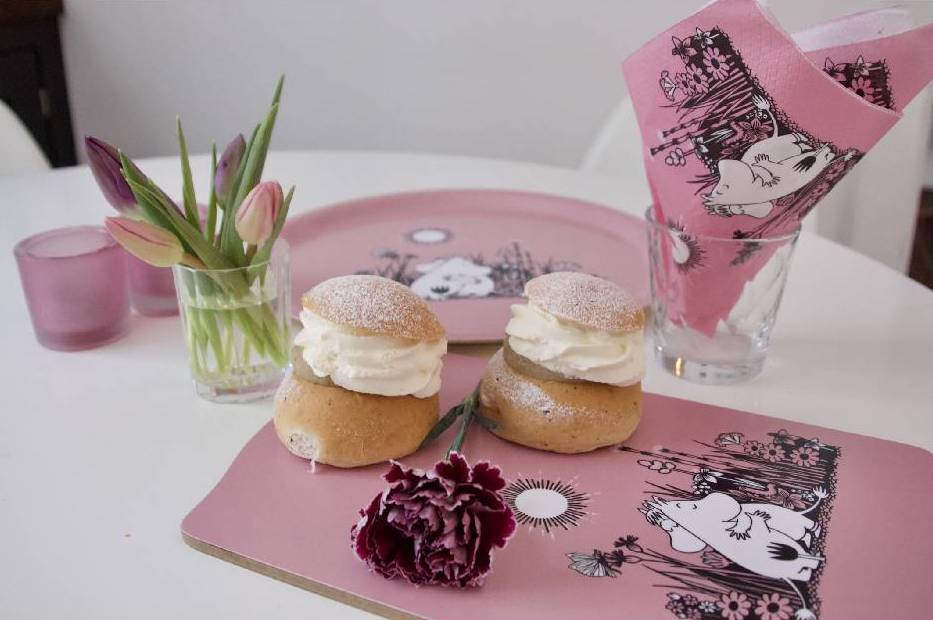 And of course, a matching cutting board to go with the knives! Opto Design's cutting board is handmade in Sweden. The delightful light pink cutting board has an illustration of Moomintroll and Snorkmaiden sharing a hug.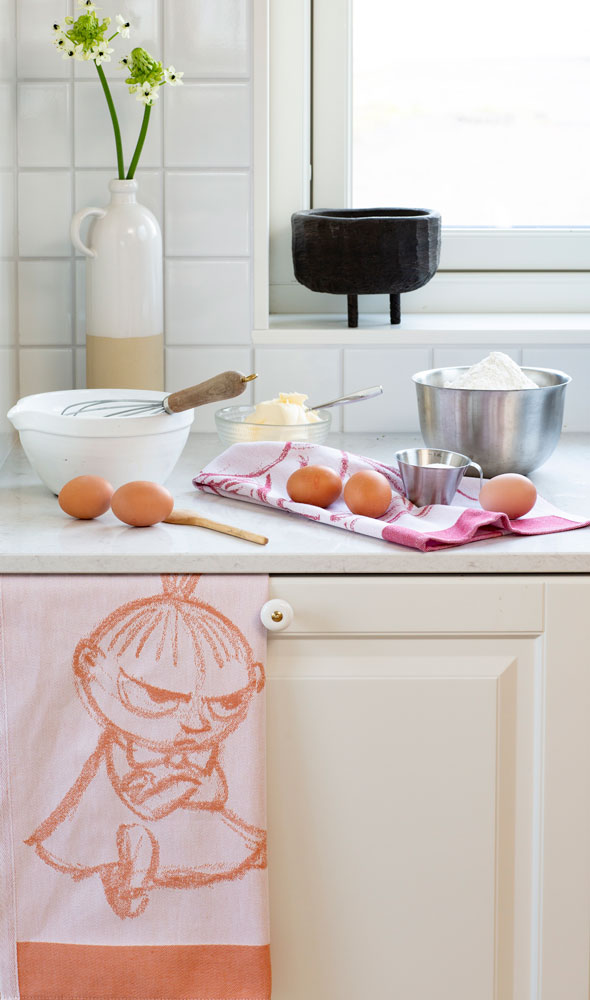 While preparing the breakfast, Ekelund's kitchen towels and dish cloths help you keep the kitchen sparkling clean! The high-quality items are inspired by Tove Jansson's original drawings, featuring the Moomin family and their friends in different situations. 
Spice up your home with Moomin decor
The details are an essential part of what makes a home cozy. Spice up your interior with Moomin-themed posters, lights, magnets and other decorative items!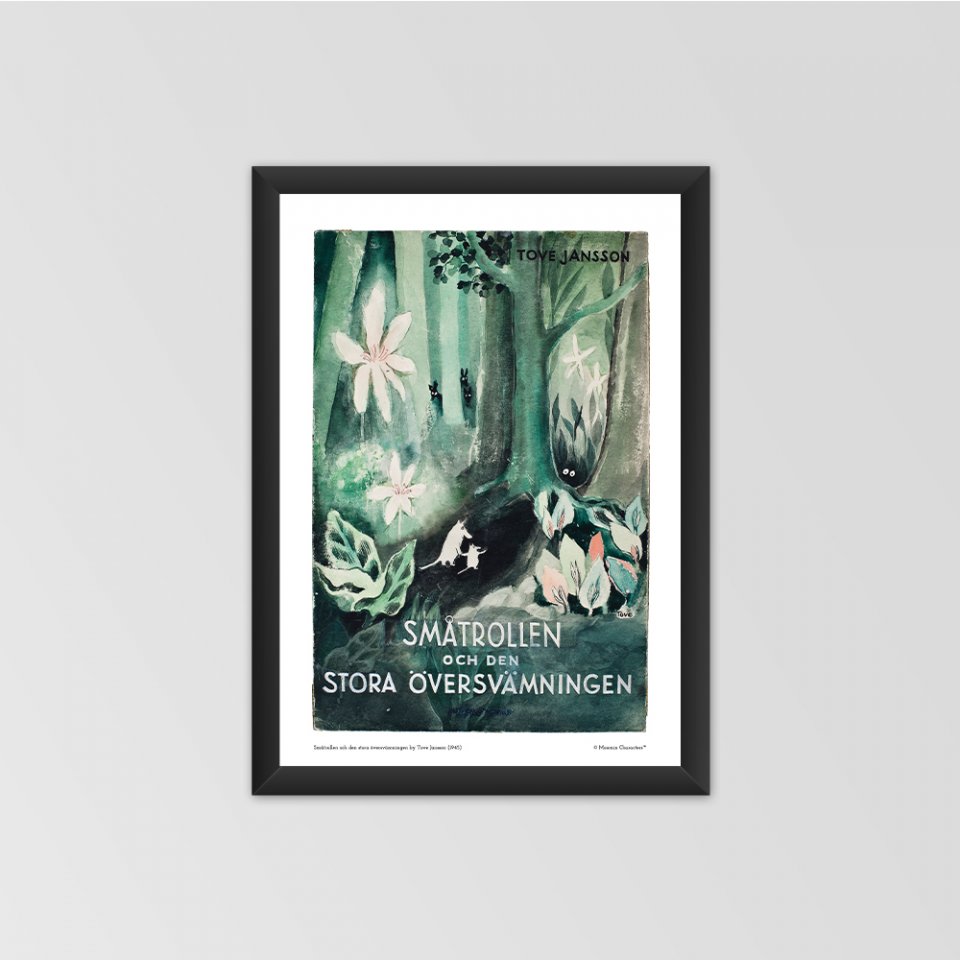 Have you noticed that we have a large selection of Moomin posters in our webshop? We have picked out the best artwork by Tove Jansson from the 1940s to the 1970s to be reprinted as high quality posters. Your favourite book cover, a poster full of Hattifatteners or Little My with her umbrella – we've got you covered.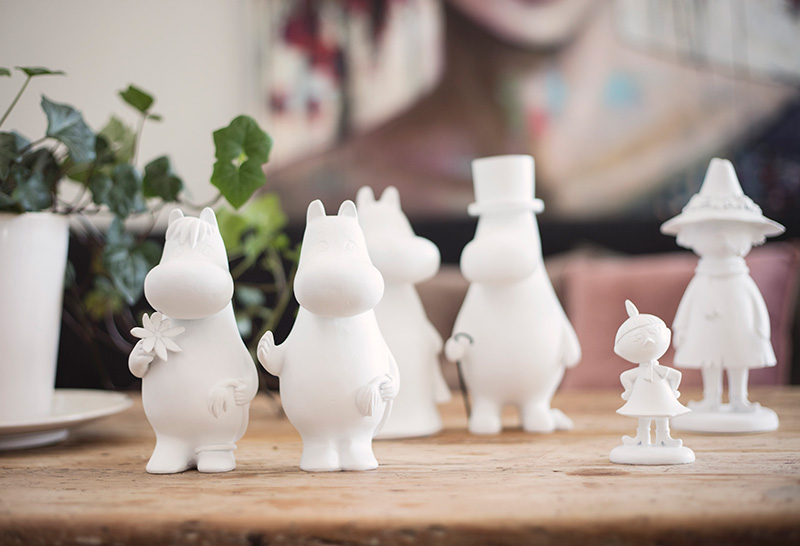 The Moomin figurines by Mitt & Ditt Underbara Liv are made of Polystone, a modern material consisting of stone powder and resin. The fun figurines can be used for decoration both indoors and outdoors. Choose your favourite character or collect them all – take a look at the selection!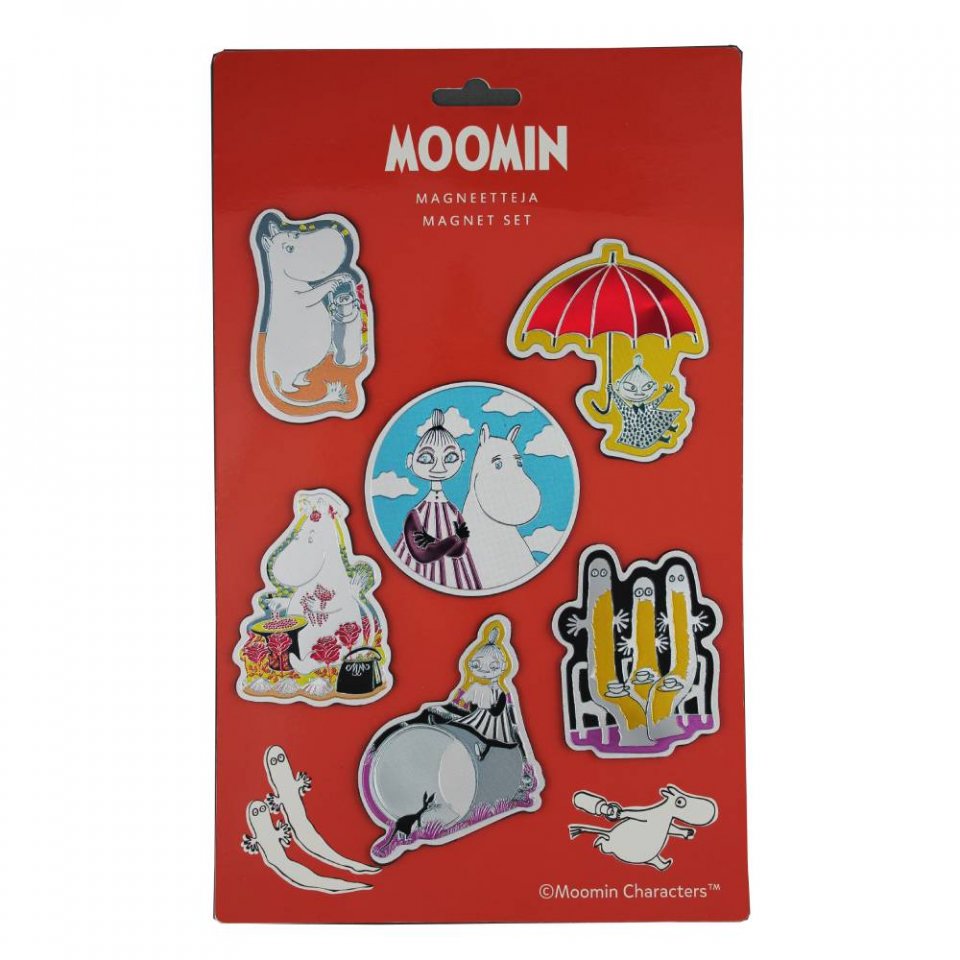 What would a home be without magnets on the fridge door? TMF-Trade's magnets come in packs of six, featuring Moomintroll, Mymble, Hattifatteners and other favourite characters from the Moomin stories.
Turn your supper into a Moomin dinner party 
Arabia's crockery are must-haves for many Moomin fans, but did you know that in addition to the popular mugs and plates, there are many Moomin products that can make your dinner serving more fun and colourful?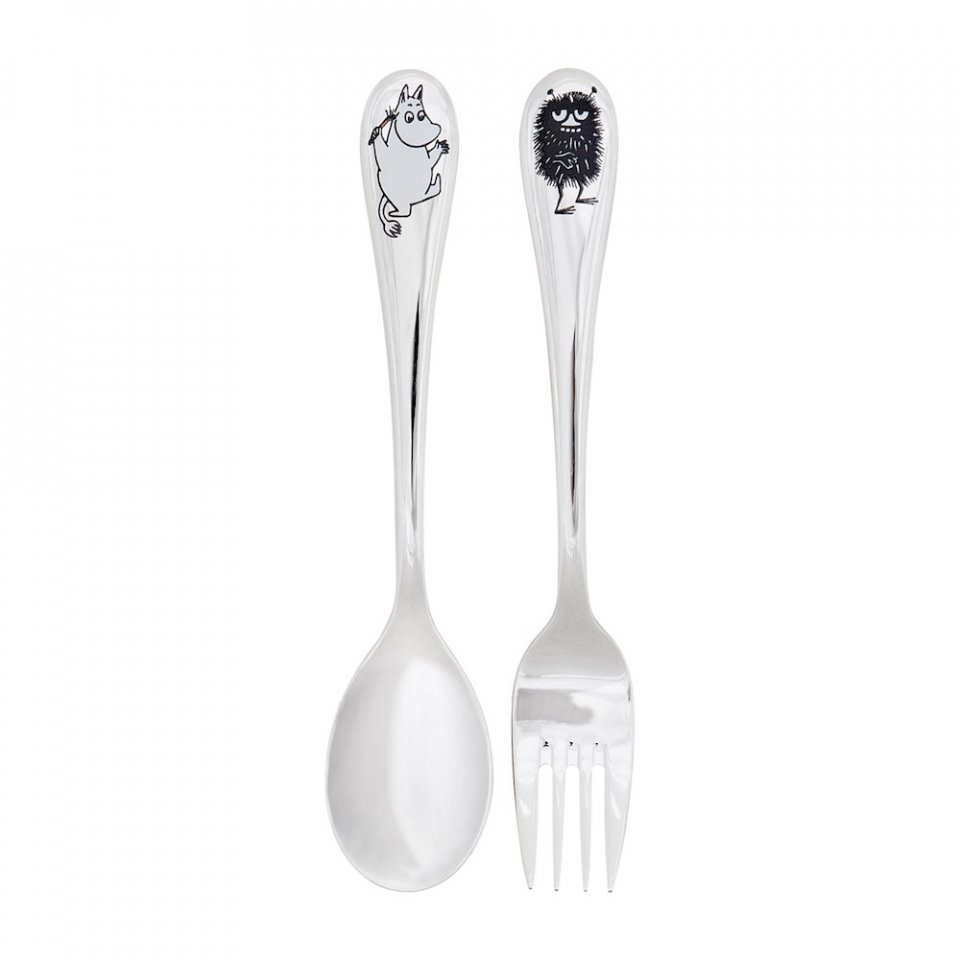 Hackman's Moomin-themed cutlery selection has something for both children and adults. This winter's seasonal spoon with Salome is a perfect dessert spoon, and children love the cutlery set with Stinky and Moomintroll!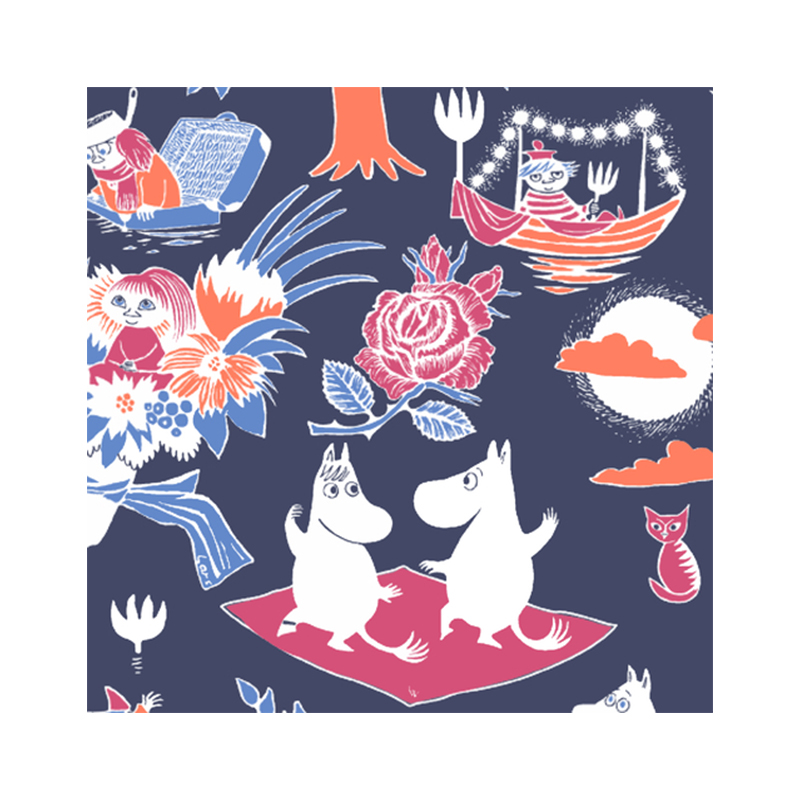 Add a final touch to the table setting with gorgeous napkins! You can find napkins for many different occasions from our webshop. Opto Design's Hug napkins are perfect for a romantic dinner, whereas the Magic napkins by Suomen Kerta look like they're made for dinner parties.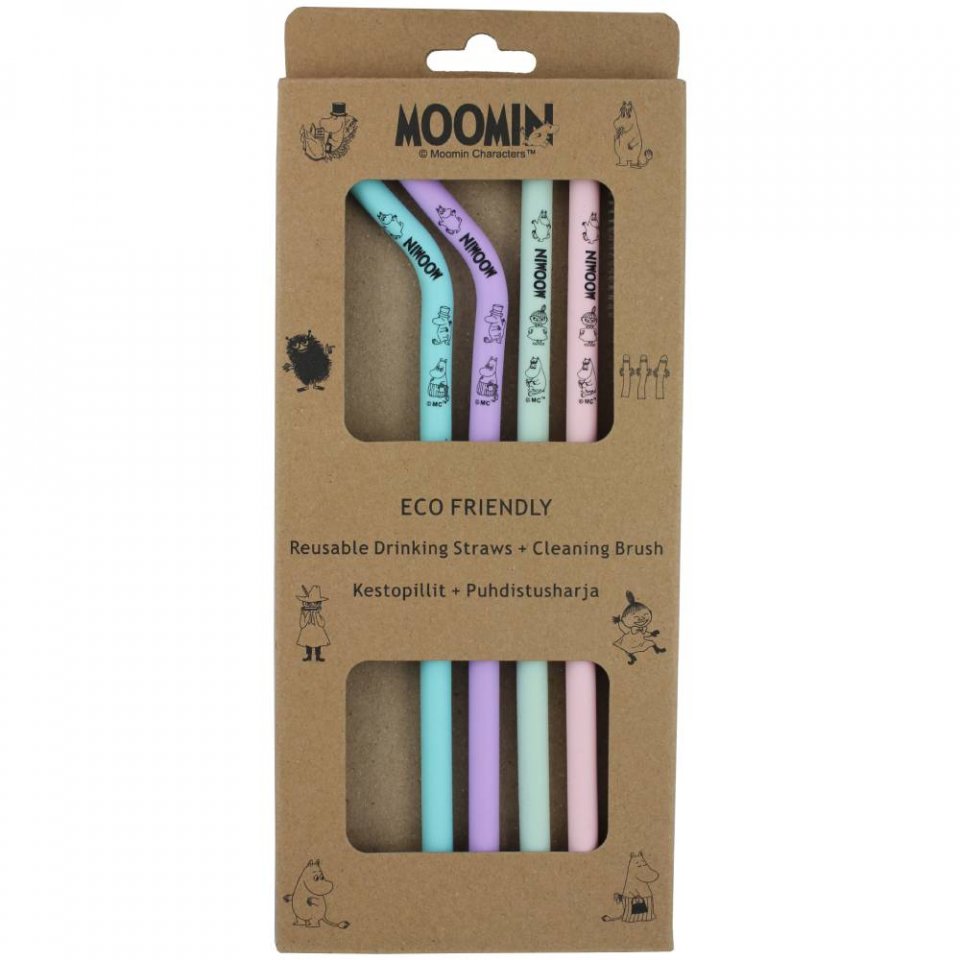 And speaking of dinner parties – the reusable silicone straws with Moomin characters make any dinner feel like a party! The pastel-coloured straws come with a cleaning brush, making them easy to clean and reuse.
Sleep like you're hibernating
One grey morning the first snow began to fall in Moomin Valley. It fell softly and quietly, and in a few hours everything was white. Moomintroll stood on his doorstep and watched the valley nestle beneath its winter blanket. "Tonight," he thought, "we shall settle down for our long winter's sleep." (All Moomintrolls go to sleep about November. This is a good idea, too, if you don't like the cold and the long winter darkness.)
-Finn Family Moomintroll (1948)
Even though it's impossible for us to sleep for months in a row, there are a few things that can help us sleep tight.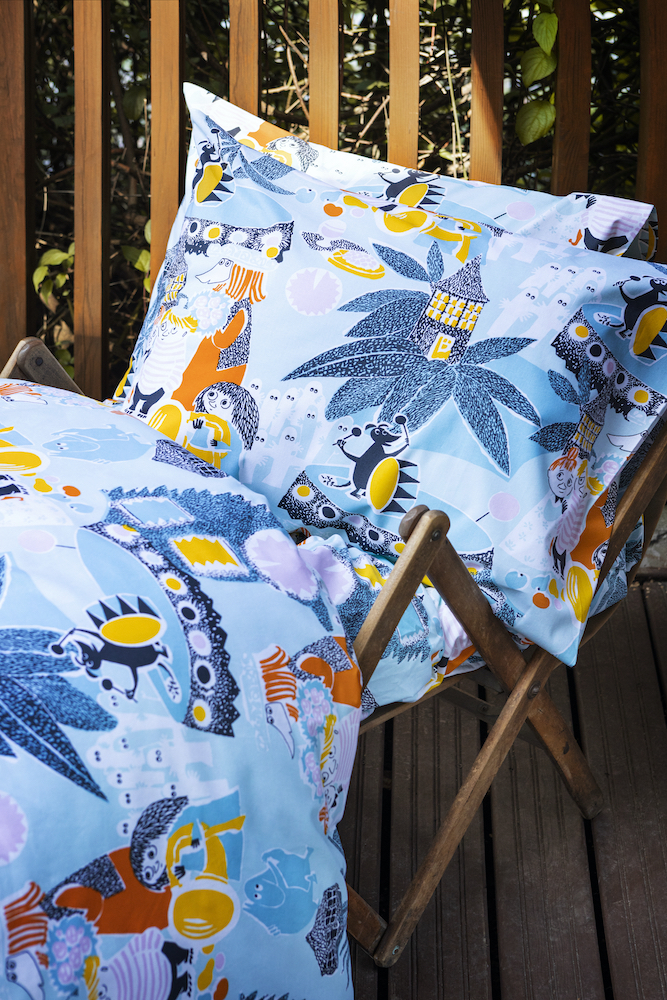 Finlayson's beautiful duvet covers ensure Moominous dreams. The high-quality beddings are made of organic cotton and feel nice on the skin. The "Story" duvet cover set draws its inspiration from the book Who Will Comfort Toffle? from 1960.

A handy solution for overnight guests are Finlayson's sleep bags! The sleep bag is a 3-in-1 solution, offering a sheet, duvet cover and pillow case all in one. In the Star Moomin pattern, a large August celebration is hosted in Moominvalley in honor of Moominmamma's lost handbag.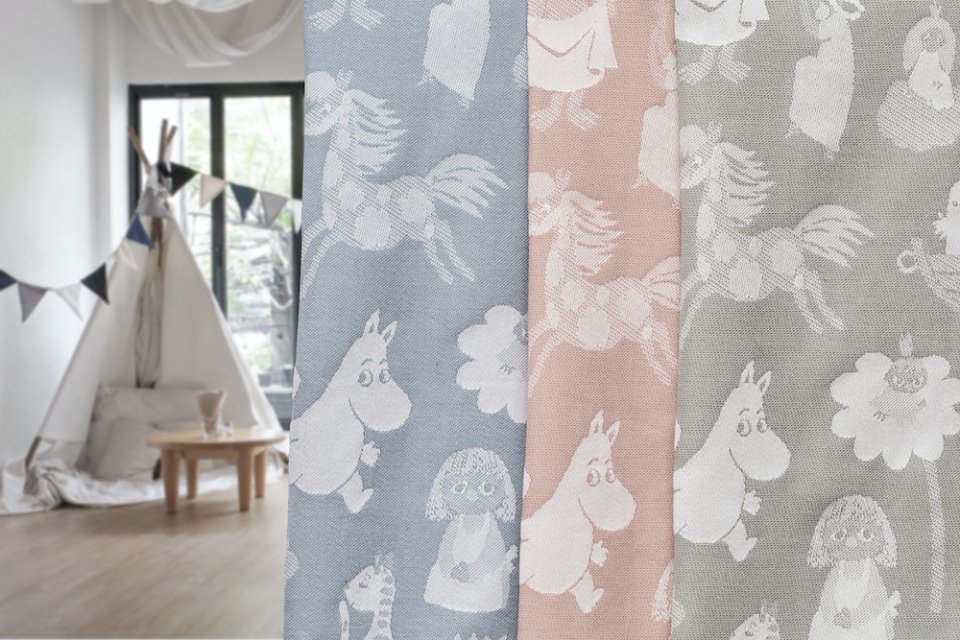 The smaller ones deserve of course their own Moomin items! Ekelund's baby blankets featuring many Moomin characters keep the baby warm and are a gorgeous addition to the nursery's decor. You can find the blue and pink blankets on our webstore – which one is your favorite?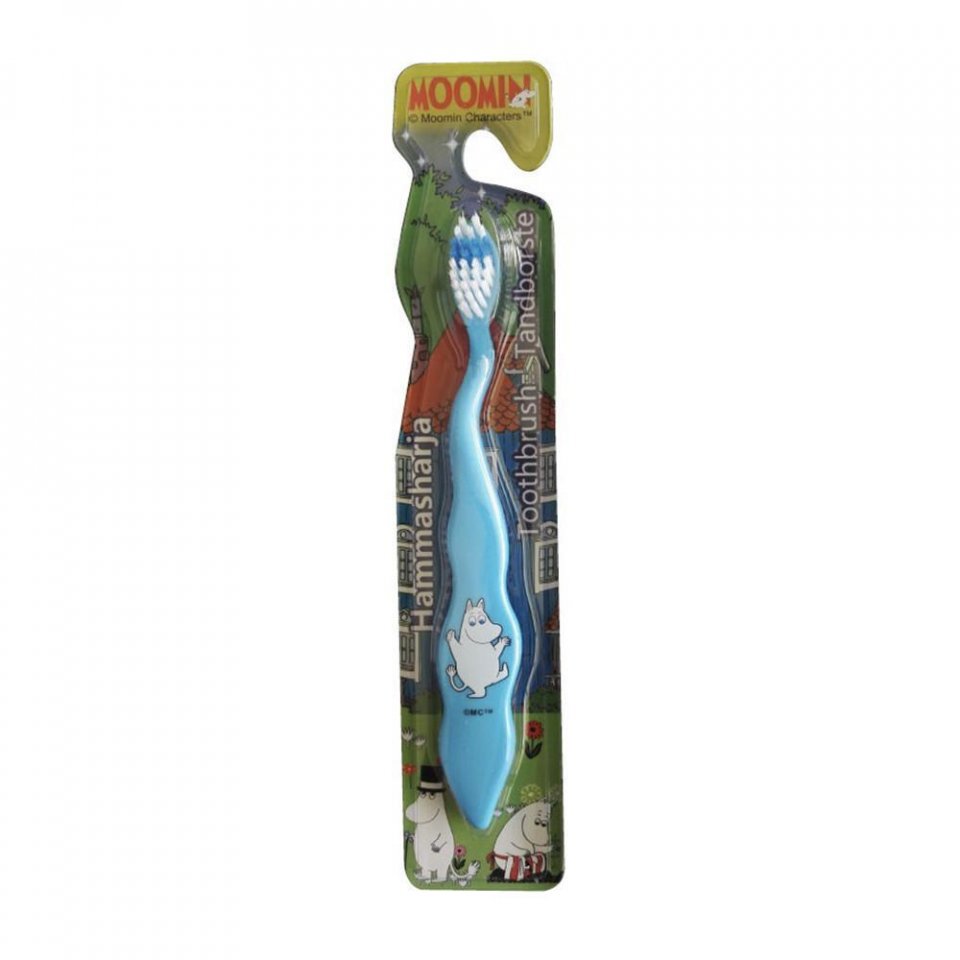 One last thing before going to bed: brushing your teeth! These toothbrushes with Moomin characters make brushing teeth a bit more fun for children. Choose your favorite character: Moomintroll, Little My or Snorkmaiden.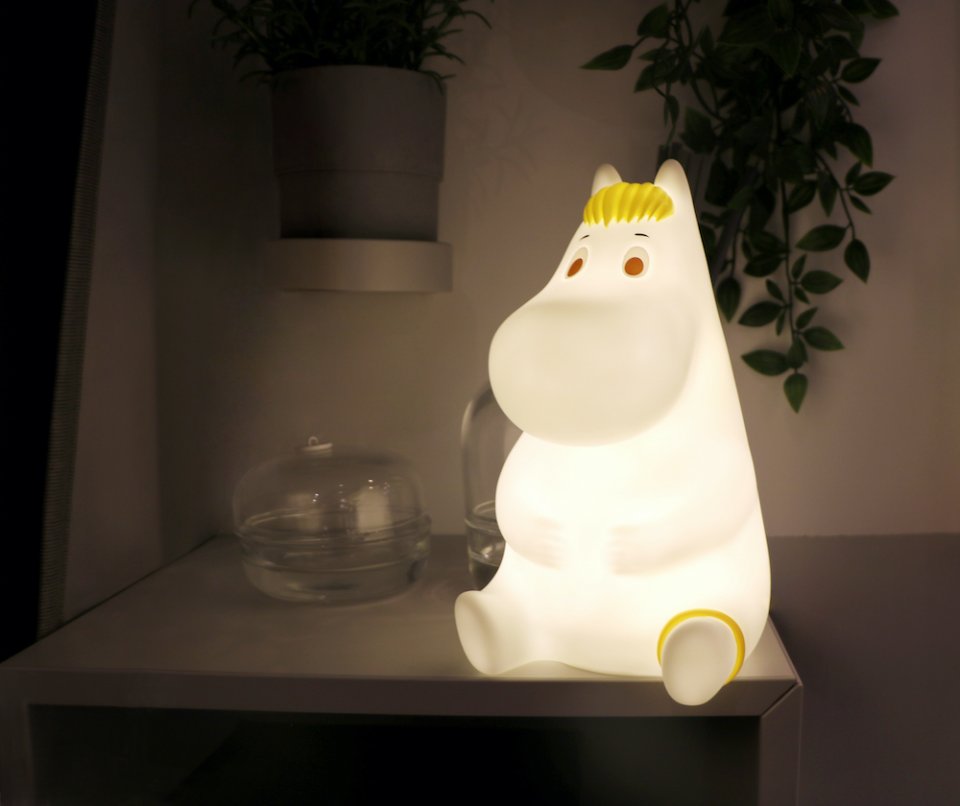 Vipo's night light with Snorkmaiden is a soothing bedtime light for children. The soft light makes falling asleep less scary. The light is equipped with a timer function, which turns the light off after being lit for 15 minutes. Handy!
These items will surely add a bit of magic to your home! ♥ Take a look at our entire home selection here.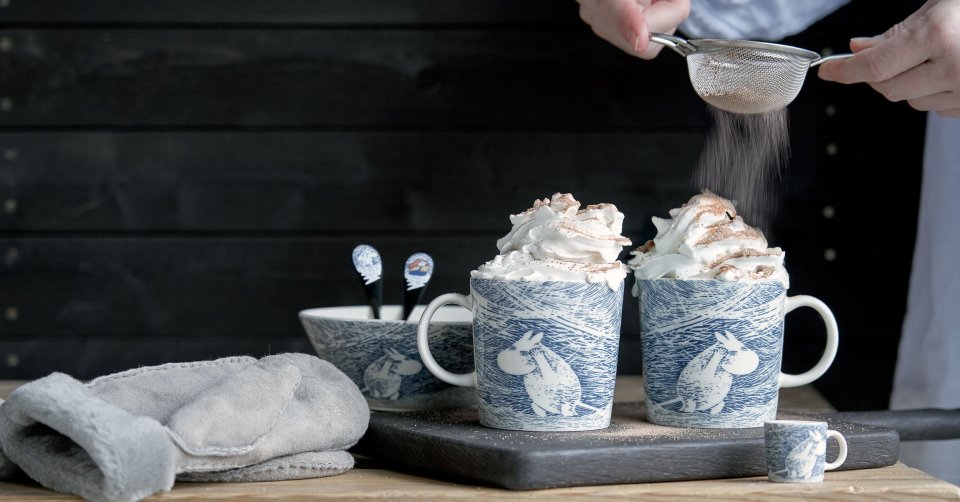 28.1.2021
What are the best products for winter time if you can't hibernate all winter like the Moomin family? Check out our blog for Moominous winter tips!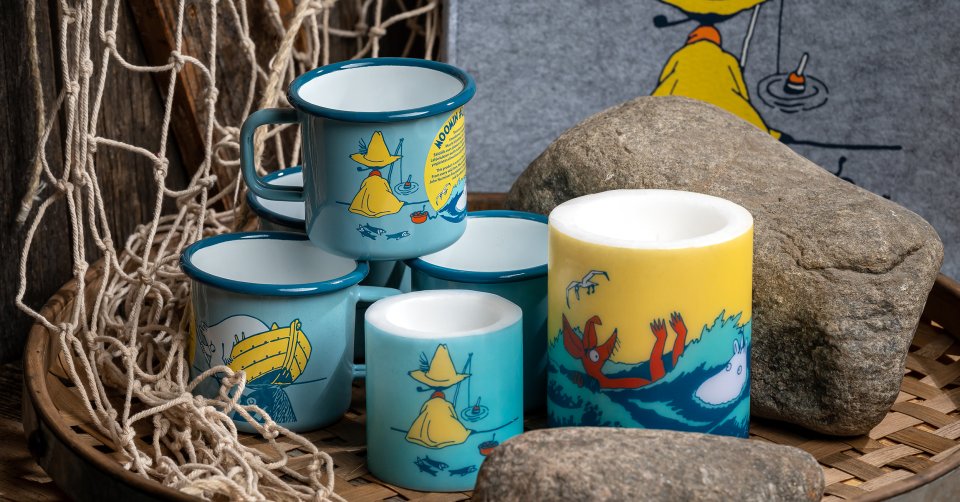 11.6.2020
Itämeri, meri jonka äärellä Tove Jansson vietti elämänsä, kuvasti hänelle tärkeää turvallisuuden ja vapauden symbolia. Merestä hän sai inspiraationsa lukuisiin muumitarinoihin. Ohessa suosikkimme lokoisiin ja inspiroiviin rantapäiviin Itämeren suojelutyötä tukevan #MEIDÄNMERI-kampanjan tuotteista.