Moomintroll, Snufkin, Little My, and all the family are back in a brand-new Sky Original Production made by Gutsy Animations with the support of Moomin Characters.
Moominvalley, airing on Sky late next year, will bring the characters from award-winning author Tove Jansson's adored classic books to life.
Bel Powley (Benidorm), Edvin Endre (Vikings), and comedian Joe Wilkinson (8 out of 10 Cats Does Countdown) are set to join Rosamund Pike, Kate Winslet, Taron Egerton, and Warwick Davis to voice the much-loved residents of Moominvalley.
Starring Moomintroll and his family and friends the series will be centred around the Moominhouse and valley, an idyllic place entirely untouched by the modern world, and will be based on Jansson's well-known novels and comic strips. Airing exclusively on Sky and streaming service NOW TV in the UK and Ireland, the series will be full of life, laughter, and adventure, with visual humour, witty dialogue and plenty of energy and drama.
Adam MacDonald, director of Sky One, Sky, said: "Rosamund Pike, Kate Winslet and Taron Egerton coming together in one Sky One show – how amazing is that? The Moomin stories are absolute classics so I can't wait for them to hit our screens next year."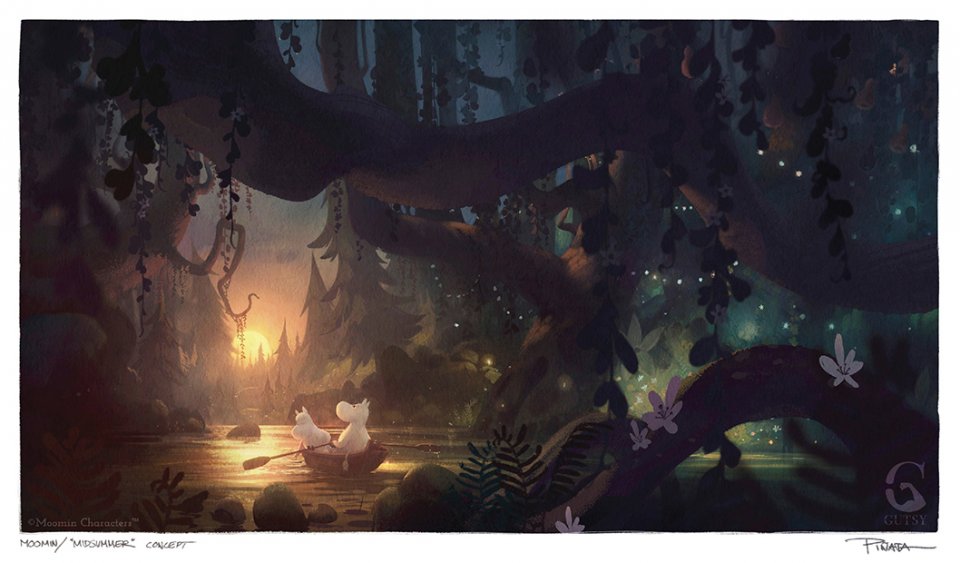 Lucy Murphy, head of kids content, Sky, said: "With their beguiling adventures, magical setting and a cast of fantastical creatures, Tove Jansson's beautiful books have been a well-deserved family favourite for decades and we can't wait to bring the joyous Moomin world to Sky families in this fabulous new series."
Marika Makaroff, creative director and executive producer, Gutsy Animations, said: "Moominvalley is very much a Finnish-British collaboration, with a top-quality UK team that includes the Oscar®-winning director Steve Box and Emmy®-winning writing duo Mark Huckerby and Nick Ostler – alongside all of this incredible acting talent. So we're delighted to announce that we're working with Sky to broadcast the series to Moomin fans in the UK, of which we know there are very many. It's an honour to be making this new adaptation of Tove's beautiful and deeply meaningful stories a reality."
Moominvalley will be directed by Academy Award® winner Steve Box (Wallace & Gromit: The Curse of the Were-Rabbit) and produced by Gutsy Animations exclusively for Sky One and Sky Kids in the UK and Ireland. Other names joining the cast include Matt Berry (The IT Crowd), Akiya Henry (Bing), Will Self (The Minor Character) and Richard Ayoade (The IT Crowd).
Moominvalley has the full support of Moomin Characters, the business set up by Moomin creator Tove Jansson and her brother Lars in the 1950s, and Bulls Licensing, their global licensing agent. It is being developed in association with the Drama department of Yle, the Finnish public broadcaster. Moominvalley will air on Sky One, TV streaming service NOW TV, the Sky Kids app and on demand on Sky in late 2018.
Cast announced to date:
Moominmamma – Rosamund Pike (Gone Girl, A United Kingdom, An Education)
Moominpappa – Matt Berry (The IT Crowd, Toast of London, The Philanthropist)
Moomintroll – Taron Egerton (Kingsman, Eddie the Eagle, Testament of Youth)
Little My – Bel Powley (The Diary of a Teenage Girl, A Royal Night Out, Carrie Pilby)
Snufkin – Edvin Endre (Eddie the Eagle, Vikings, Nameja gredzens)
Snorkmaiden – Akiya Henry (Bing, Bottersnikes and Gumble, Noddy in Toyland)
Sniff – Warwick Davis (Harry Potter, Star Wars, Life's Too Short)
Mrs Fillyjonk – Kate Winslet (Titanic, Revolutionary Road, The Reader)
The Hemulen – Joe Wilkinson (Rovers, Miranda, Him & Her)
The Muskrat – Will Self (Shooting Stars, author of Phone and Sky Arts drama The Minor Character)
The Ghost – Richard Ayoade (The IT Crowd, presenter of Travel Man & Crystal Maze)
Read also: