'There is a surprisingly large number of people who go around dreaming of an island' Tove Jansson wrote. She was among those who got to fulfill their dream. The island of Klovharun became a haven, passion and a never-ending source of inspiration.

A small, deserted island
Klovharun is an islet in the outermost archipelago of the Gulf of Finland south of Pellinki. The rocky island is so small that Little My would call it a spot of fly-dirt, but for Tove Jansson and Tuulikki Pietilä it became a summer paradise that could hold an entire world.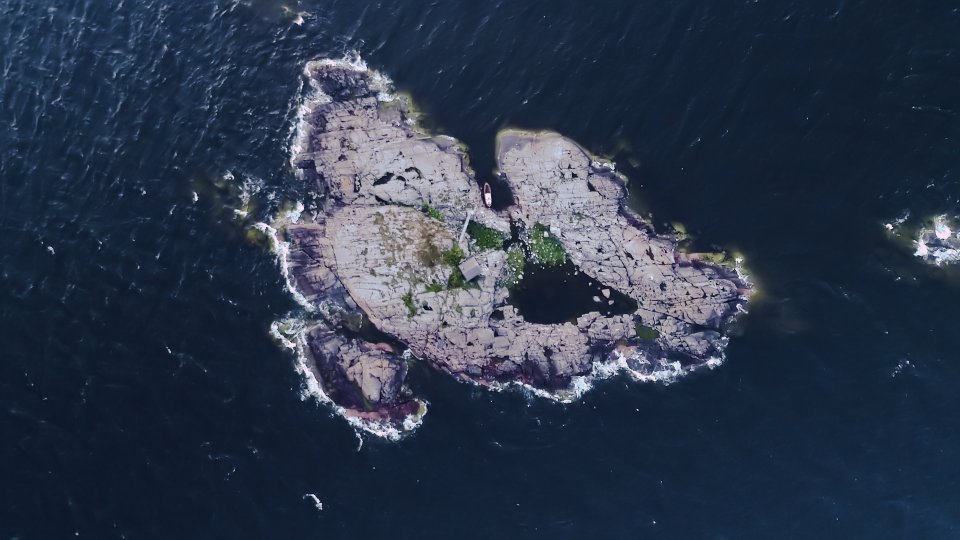 'They weren't very young when they moved out there, they were almost 50. Many people raised their eyebrows to the idea of building a house on this deserted island in the outer archipelago. There was no electricity or running water on the island and it was difficult to get there. Since they were women, people thought they would never make it. But they proved them all wrong,' says Sophia Jansson, Toves Jansson's niece and artistic director and chairman of Moomin Characters.
The cottage at Klovharun consists of a single room with windows in all four directions. This is how Tove Jansson describes it in Notes from an Island, a book with notes from Klovharun illustrated with Tuulikki Pietilä's beautiful graphics and with covers drawn by Tove's mother, illustrator Signe Hammarsten Jansson:
We dreamt of what the cottage would look like. It would have four windows, one in each wall. In the south east we made room for the great storms that rage in across the island, in the east the moon would be able to reflect itself in the lagoon, and in the west there would be a rocky wall with moss and polyps. To the north one had to be able to keep a lookout for anything that might come along, and have time to get used to it.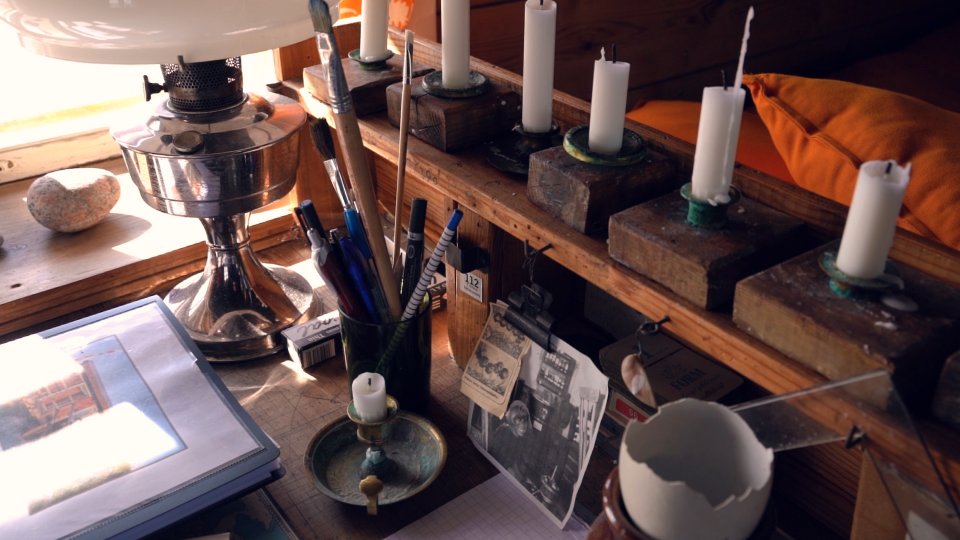 A place to work and get inspired
Tove and Tuulikki spent almost 30 summers on the island, often from April or May until September. But they were not idle – both of them were hard-working artists who wrote, drew, painted and made graphics almost 24 hours a day
'Klovharun became a haven for Tove and Tooti. They were left alone there. They could work when they wanted and how they wanted. They were good at letting each other work in peace. Although the cottage was small, they had their own desk. And they had a tent, when needed one of them could move in there,' says Sophia Jansson.
The sea was one of the biggest sources of inspiration for Tove Jansson, an element that recurs both in the Moomin books, the short stories and her visual art, such as the painting Eight beaufort (Åtta beaufort). Below is an example of how everyday life at Klovharun inspired the Moomin books – you can see more in the video!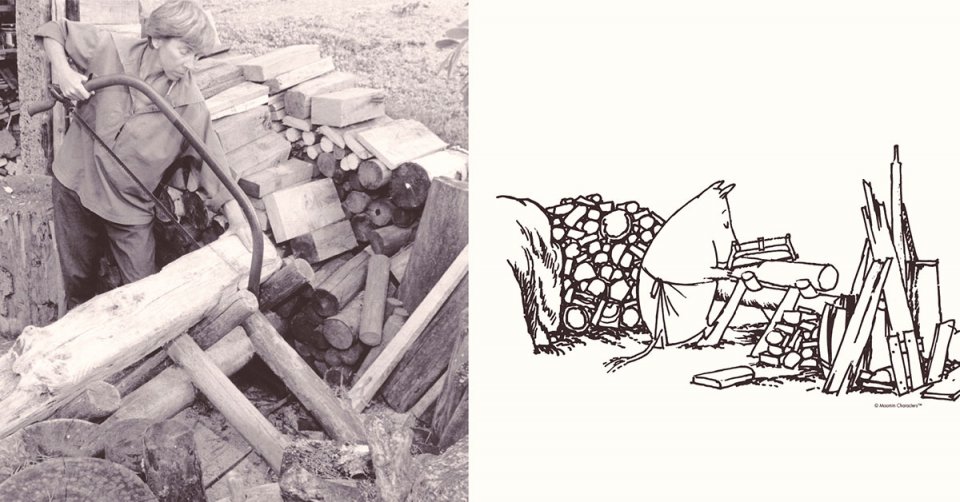 Tove and Tuulikki originally started building the cottage at Klovharun in 1964 because they wanted peace and quiet, something that had become a scarcity in the place farther inland where the Jansson family lived during the summers. But they were not left entirely to themselves. There were many visitors and often the host couple offered to sleep in the tent  while the guests were accommodated in the cottage's only room.
Just like the Moomin house, the cottage at Klovharun was open for unannounced guests. Still today, there is a piece of paper in the window urging visitors not to break in with force – the key hangs on the outside wall.
Even in the archipelago they received mail. When Tove and Tuulikki went to Pellinki, Tove often spent the entire day responding to business correspondence and letters from admirers. She received an average of 2000 letters a year and took great pride in answering them personally, and always by hand.
The months spent at Klovharun were a long-awaited contrast to life in the centre of Helsinki. 
''Klovharun became the place they longed for all winter. I have fond memories of visiting them during the winter months at Kaserngatan and they were already making lists of everything they needed to bring with them to Klovharun. Especially Tooti, who was very organized, started packing for the island very early on even though they could not get out there until the end of April,'' says Sophia Jansson.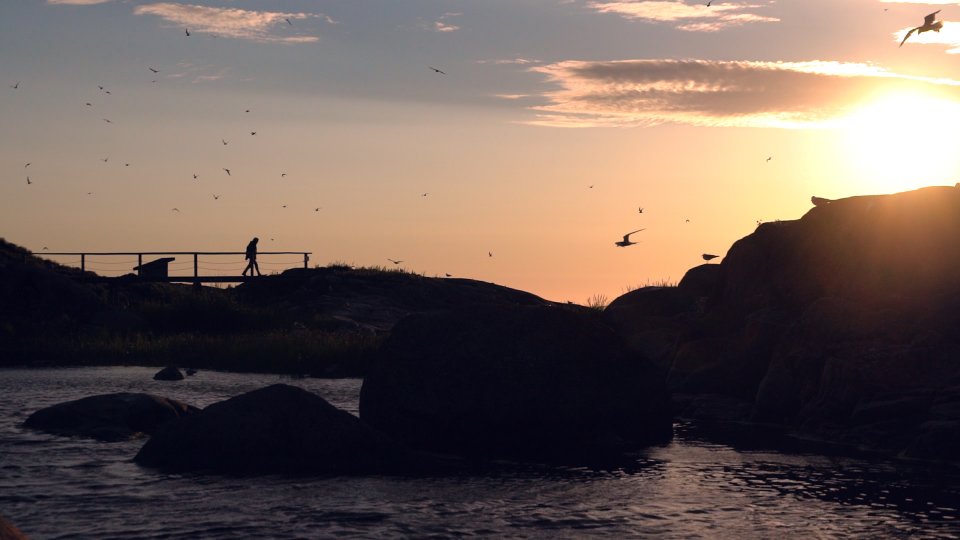 Challenged by the seabirds
Naturally, everything was not idyllic on the island. During the early summer, the island was invaded by seabirds which made life, to say the least, challenging for its two-legged inhabitants. Here's how Tove Jansson describes the fight in the book Notes From An Island
Of course I know that the seabirds were here first! They have registered their claim to this territory for who knows how many generations and their hatred for us is obvious: they swoop at us with their beaks open, screeching. The terns are the worst, true warriors who really know how to aim their poo. These shining white symbols of freedom and the horizon drive us mad. Tooti can't work on her drawings without an umbrella, and when she jumps rope in the mornings, they take it as a declaration of war (which amuses me). We can't swim, we can't put down nets, we can't even go out in the boat – I've never been hated so conscientiously!