The previous Snufkin and Little My mugs discontinued in December 2014 and it wasn't that surprising that the new versions were released already at the beginning of the next year.
Snufkin green Moomin mug designed by Tove Slotte is still in production and the original artwork can be found in comic #1 Moomin and the Brigands (1954–55) written and drawn by Tove Jansson.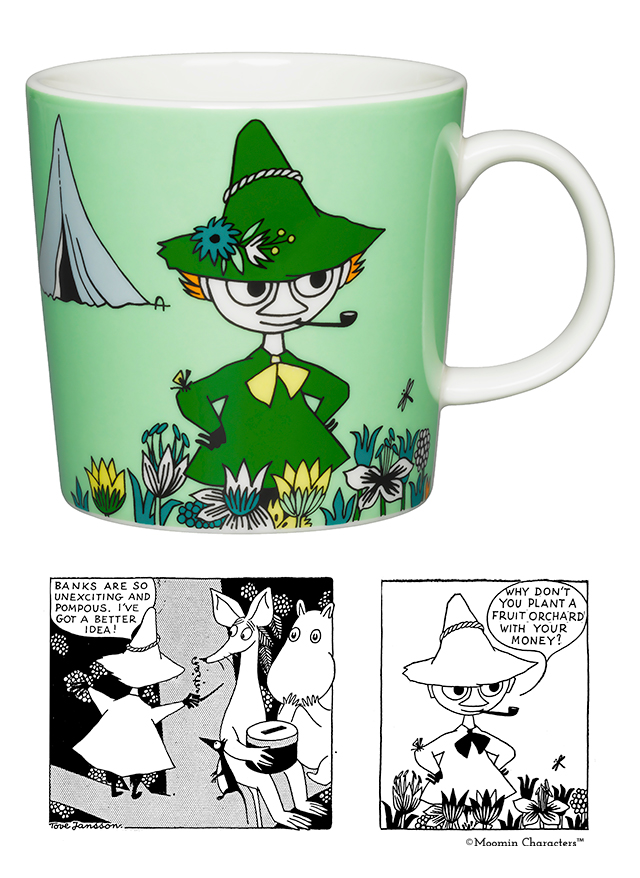 Together with Snufkin, Arabia launched also a mug representing Snufkin's half-sister, Little My. The Moomin mug Little My red was already the third Little My character mug in the Moomin mug series.
The illustrations of the fearless Little My on the mug are from Tove and Lars Jansson's comic #16 Conscientous Moomin (1958). The script for the comic is made by the siblings together whereas the illustrations are made by Tove.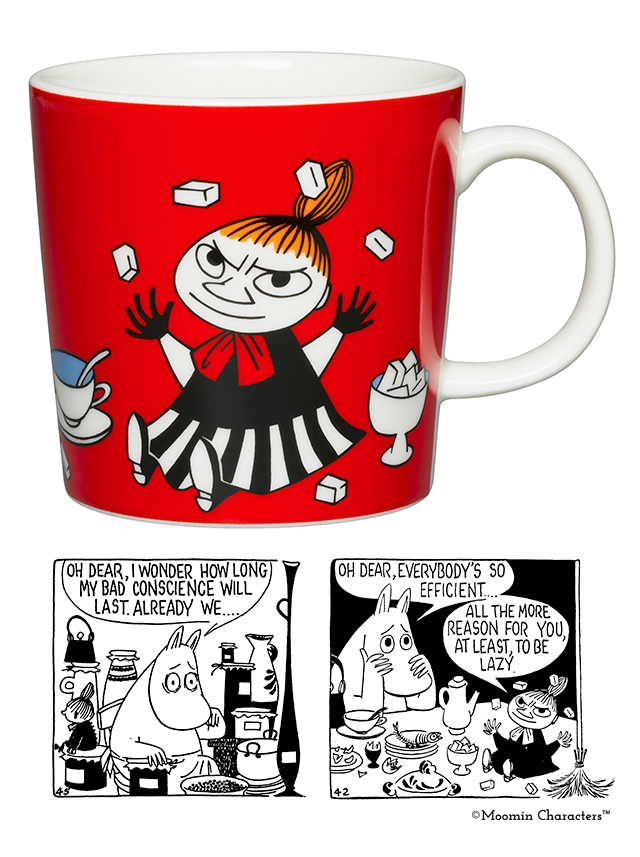 The Little My ceramic products, mug, bowl and plate designed by Tove Slotte are still in production.
#72 Moment on the shore 2015
Moomin mug for summer 2015 was called Moment on the shore. The original illustration for the mug is from Tove Jansson's comic #9 Moomin Falls in Love (1956).
For the seasonal products, the designer Tove Slotte has brought in lesser known characters, using illustrations to tell a continuous story. This time the mug presented Moomintroll and the strongman and acrobat of the circus, Emeraldo. These two have withdrawn to the mountains where they establish a camp where women are forbidden to enter.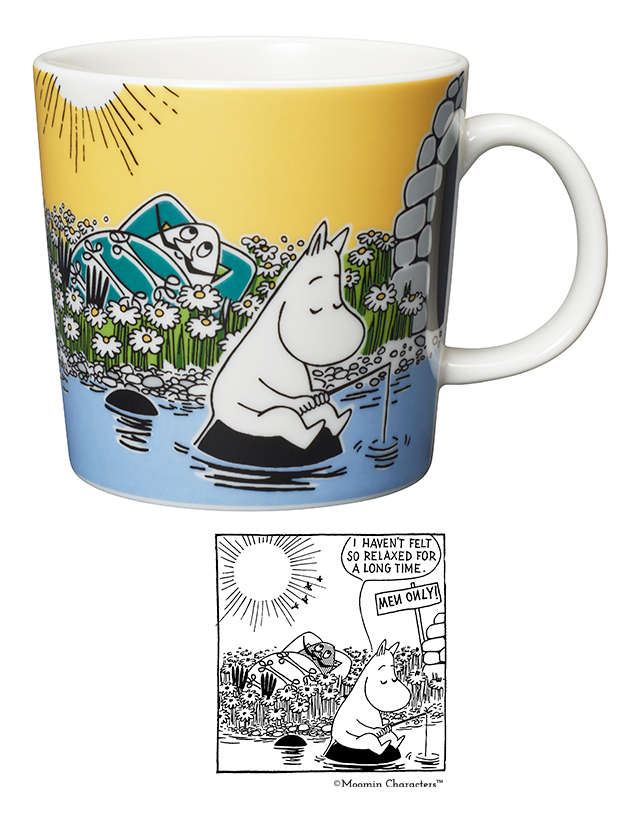 The bright and refreshing background coloring of the mug with the sunny yellow sky and turquoise water was the fourth and last in the summer mug series before a new background theme.
#73 Hibernation 2015
The Moomin mug for winter 2014 started the new series of the grey mugs that continued in 2015 with the limited edition winter mug called Hibernation.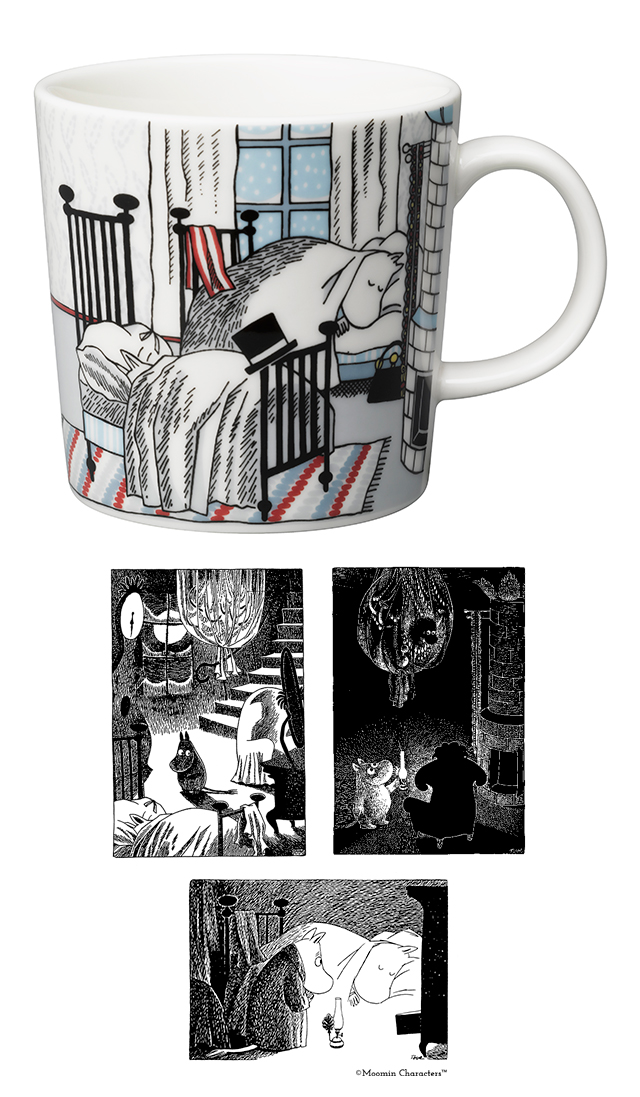 The original artwork on the mug can be found in the book Moominland Midwinter (1957) by Tove Jansson. Before the version released, designer Tove Slotte created several sketches of the mug design.
Found from the exhibition catalog made for the touring Finnish Design 2017 exhibition in Japan, below a picture of Slotte's two different sketches. Which one is your favorite – the mug in production or one of the sketches?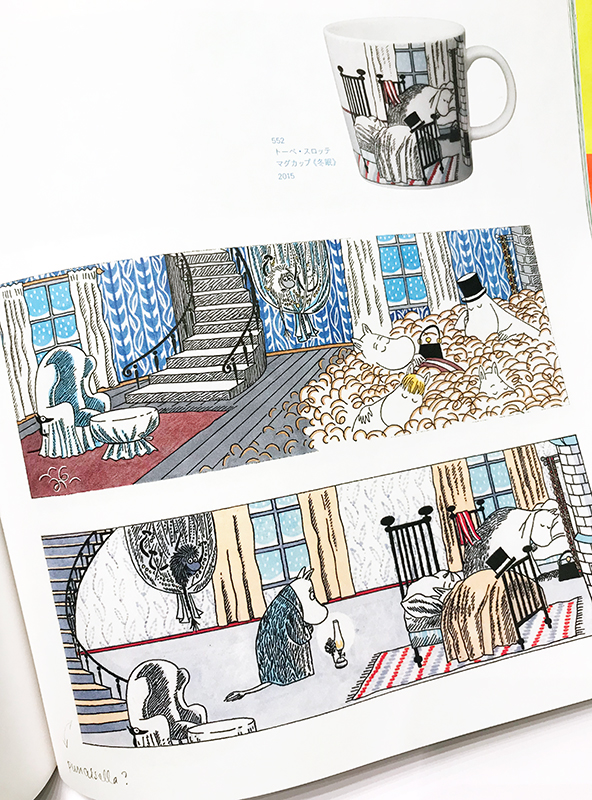 Cover photo and original illustrations: Moomin Characters
Mug images: Fiskars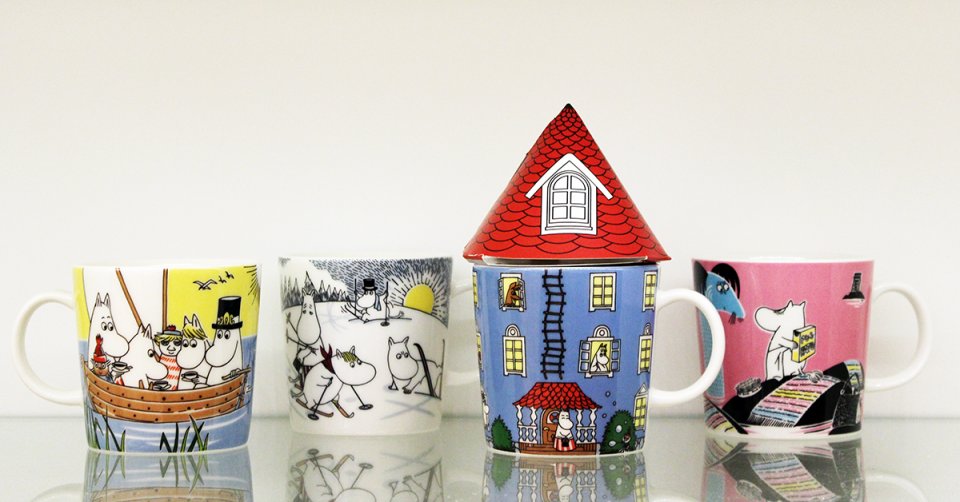 13.11.2018
Find out more information also about the Moomin mug specially made for the Swedish organization.
Get to know each and every one of Arabia's Moomin mugs on our dedicated Moomin mug page.