Christmas comes early this year for fans of Tove Jansson when tovejansson.com launches today! It's a real treasure chest for learning about the creator of the Moomins and everything else she did during a career that spanned seven decades.
Tovejansson.com is a curated online experience, combining high-class storytelling with state-of-the-art visuality.
Offering a wide collection of stories and artwork, the site presents the multi-talented artist with a scope never before presented online.
Site both for newcomers and hard-core fans
The site offers glimpses of what went on in Tove Jansson's life while she was working on the books, comics, paintings, and illustrations she is loved for, and shows how her life, experiences, and entourage are intertwined with her artistic production.
"With this website, we wanted to create the richest and most comprehensive digital gallery and online resource that exists for any artist worldwide" says Sophia Jansson, Creative Director at Moomin Characters and niece of Tove Jansson.
"Our hope is that it will be the most brilliant introduction to Tove's work for newcomers and that there will also be something new to discover for even the most committed fans. As Tove's niece, it is very moving for me to see her life and her work presented in such a beautiful way and now accessible to people all over the world."
Hanna Ylöstalo is a Finnish-Swedish author, editor and Master of Arts in Comparative literature who has written the poetic texts for the webpage.
"Apart from Tove Jansson's art and interviews she's given, canon for me has been her letters, which have been published in 'Letters from Tove Jansson'. I've returned to them to remember the chronology and her feelings and words. When she writes about turning thirty, I feel strong recognition. It's weird since people who can write and catch the nuances of life the way Tove Jansson does, they explain the essence of being in such a human way that it's as if everything falls into place."
Join the live screening to celebrate the new site
You can hear more about the design thinking behind the webpage on December 9th, when we celebrate the site's launch with a live screening of a documentary about Tove Jansson and her life partner Tuulikki Pietilä's travels.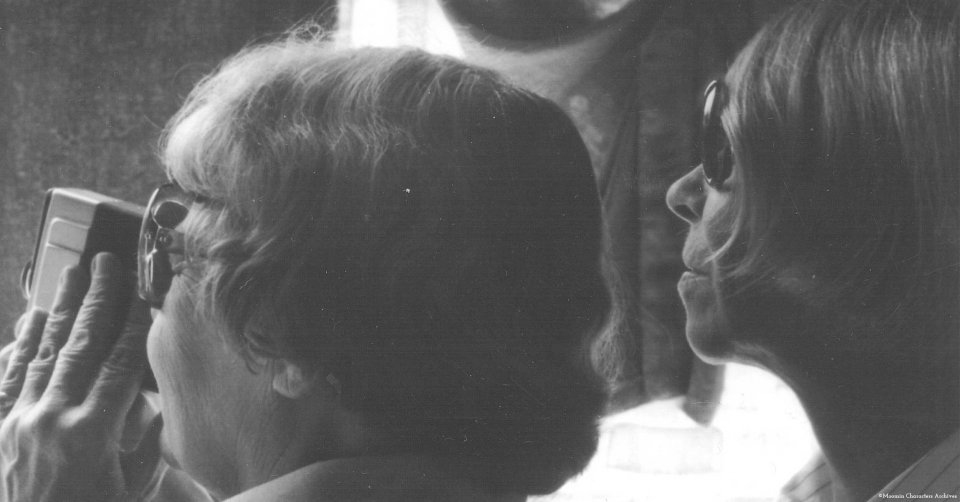 Before the screening, we'll interview James Zambra, co-founder of Kobra Agency, the design studio behind the new website, and also Tove Jansson's brother Lars Jansson's grandson. Register here to receive the link to the live stream:
What you'll find on tovejansson.com
The brand new site showcases the versatility of Tove Jansson beyond her much-loved Moomins. On tovejansson.com, visitors can explore Tove Jansson's art and life through her biography and dive into a digital gallery presenting highlights of her paintings, drawings, and illustrations. Here is a brief guide to the site, welcome onboard!
Biography
In the biography section, you can explore Tove Jansson's childhood home in a bohemian artist's studio and learn about the struggle of an artist with many talents trying to fulfill both her inner curiosity and the demands of an ever-growing global audience. This is where everything is put into context and where you can get to know Tove Jansson beyond the Moomins and get inspired by her as an artist, friend, family member, and lover. 'Tove Jansson is an artist who changes the world, for those who are ready for it'.
Gallery
In the gallery, you can explore Tove Jansson's paintings, illustrations, and self-portraits in detail, and see how she has evolved as an artist over the decades. Her early paintings were detailed, and surrealistic elements were expressed through mythical and mysterious landscapes. Over the years, her style becomes more abstract and more in line with the artistic trends of her time. Tove Jansson's self-portraits reflect the development of her identity, her susceptibility to change, and her view of herself as an artist.
Tovepedia
This is the go-to source for the most accurate facts about Tove Jansson's life and artistic production. In this encyclopedia, you will find short copy-pastable texts about Tove Jansson as the Moomin creator, artist, writer, cartoonist, and more. You will find extensive lists of books, prizes, travels, places she's lived – among other things. There's also a press kit with images that can be used in media and other publications. Ideal for anyone working on a project around Tove Jansson!
More to come in 2022
The content of tovejansson.com is rolled out in three phases, and later visitors will also be able to explore Tove Jansson's life and art through the people and places that were important to her. Visitors will be able to step into the Moominhouse, learn about lovers becoming lifelong friends and important artistic collaborators, and a family that supported her in her bold, uncompromising approach to life and art. There will also be a news section with interesting finds from the archives and events about Tove Jansson, so remember to check in regularly!
Simultaneously, the Tove Jansson Official account on Instagram has been reactivated – follow @ToveJanssonOfficial here.