Tove Jansson sometimes lent her characters to commercial settings, like this illustration for a Christmas campaign for the Finnish department store Stockmann. But in most of her writings, Tove Jansson was rather critical of how commercial Christmas had become.
When digging the Moomin archives for Christmas inspiration, a Christmas illustration by Tove Jansson that hasn't seen daylight in many years emerged.  
Tove Jansson's brochure for Stockmann, an iconic department store in the centre of Helsinki features the Fillyjonk pictured in a state of mind familiar to anyone overwhelmed by Christmas preparations. 
The little brochure depicts the Fillyjonk looking rather pressed, gliding away on a sledge full of Christmas presents. It's reminiscent of an image from Jansson's iconic Christmas short story, The Fir Tree, but this image seems to have been crafted specifically for Stockmann. 
Inside, the brochure features an image of Moomintroll struggling to wrap a big gift. The brochure's text doesn't reference Moomins in any way, but promotes the department store's Christmas services. The text says, "All those little duties that you neither can nor want to escape for Christmas – why not accept a helping hand with only a simple call" and lists different services the department store has to offer to prepare for Christmas.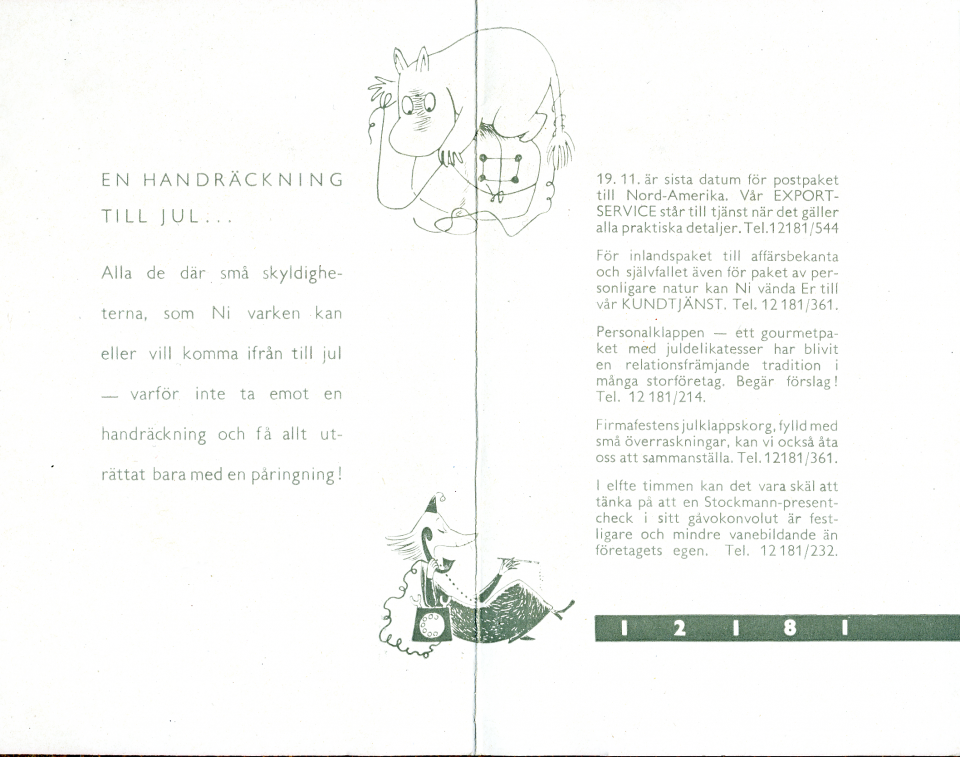 You can read more about Tove's collaboration with Stockmann at the end of this article and also help with dating the advertisement. Yet first, this piece of work needs to be put into context – as this kind of commercial content is, in fact, a rather unusual example of Tove Jansson's approach to Christmas.
"We've turned Christmas into panic"
Tove Jansson was actually quite critical of the consumerism and stress related to Christmas, which is evident in her storytelling and illustrations.
In her short story "The Fir Tree" for example, the Moomins, who sleep through winter and thus don't celebrate Christmas, are woken up and drawn into Christmas preparations by their frantic neighbours.
"'Mamma, wake up,' Moomintroll said anxiously. 'Something's on. They call it Christmas.'
'What d'you mean?' his mother said and thrust her snout out from under her quilt.
'I don't really know,' her son replied. 'But nothing seems to be ready, and something's got lost, and all are running about like mad. Perhaps there's a flood again.'"
– Tales from Moominvalley by Tove Jansson, first published in 1962
In a humorous radio essay for the Finnish Broadcasting Company Yle, Tove Jansson describes Christmas as "panic":
"Why should we clean ourselves angry… Why should we eat so much just because it's Christmas. "Why do we make it into a transaction of goods, when already one gift covers the idea of Christmas?", she asks.
"It's enough with the Christmas tree, the candles and that we, together with the ones we love, make Christmas a time for rest and celebration in the dark times of the year."
You can listen to Tove Jansson here (if you understand Swedish).
Tove Jansson's collaboration with Stockmann – help dating the advert
Tove Jansson collaborated with the Stockmann department store in the 1950s, when she did two massive Moomin campaigns during the year 1956, with the first launching in Easter and a back-to-town campaign in autumn. During the autumn campaign, the whole city seemed to have been taken over by children with Moomin masks who had visited the department store. You can read more about the campaign and see images of Tove Jansson and her Moomin decorations here.
The advertisement found in the archive might be from the same year, but there is no clear evidence about this. If there are Hemulen-minded investigators out there who know from what year the advertising leaflet is, please reach out to hello@moomin.com.
Tove's handwritten letters about Christmas windows
In the archive, there is also a letter from a Stockmann representative who wanted to feature Moomintrolls in Stockmann's Christmas windows. The letter was sent to the Pellinki archipelago, where Tove spent her summers at the Klovharun island together with her life partner Tuulikki Pietilä.
Tove's response is handwritten, as was her custom. She states that the newspaper which syndicates the Moomin strip doesn't have anything against featuring the Moomins in shop windows, as long as they are not for sale. She also offers to help with decorating the windows.
She goes on to explain that the postal service in the archipelago is rather primitive – the letter from Stockmann had arrived with a fisherman who transported one of her friends out to the island. As the letter was marked "Important" she had her friend phone in a response when he got back to the mainland, and then sent her handwritten letter.
If the Moomin Christmas windows ever materialized is another story.