#22 Mug Snufkin 2002-2014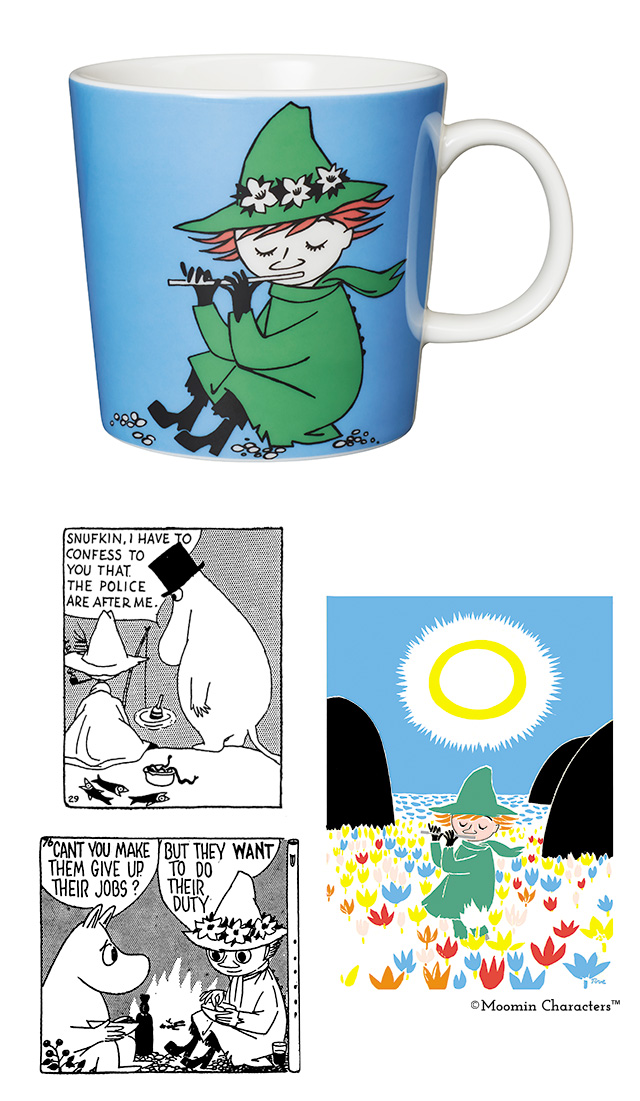 One of the most beloved Moomin characters, Snufkin, got his own Arabia's Moomin mug in 2002. Tove Slotte chose the image of a fishing Snufkin from Tove Jansson's comic #2 Moomin and Family Life (1955).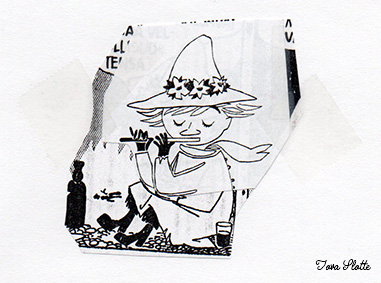 Snufkin playing flute on a meadow is one of the most well-known pictures of him, originally drawn to Tove Jansson's second picture book Who will comfort Toffle? (1960). As seen in the attached sketch, mug designer Tove Slotte combined the upper body to Snufkin's legs that were originally published in Tove and Lars Jansson's comic #16 Conscientous Moomin (1958). Can you find other combinations or differences by comparing the original illustrations and the mug design?
#23 Mug Family 2002-2009, 2011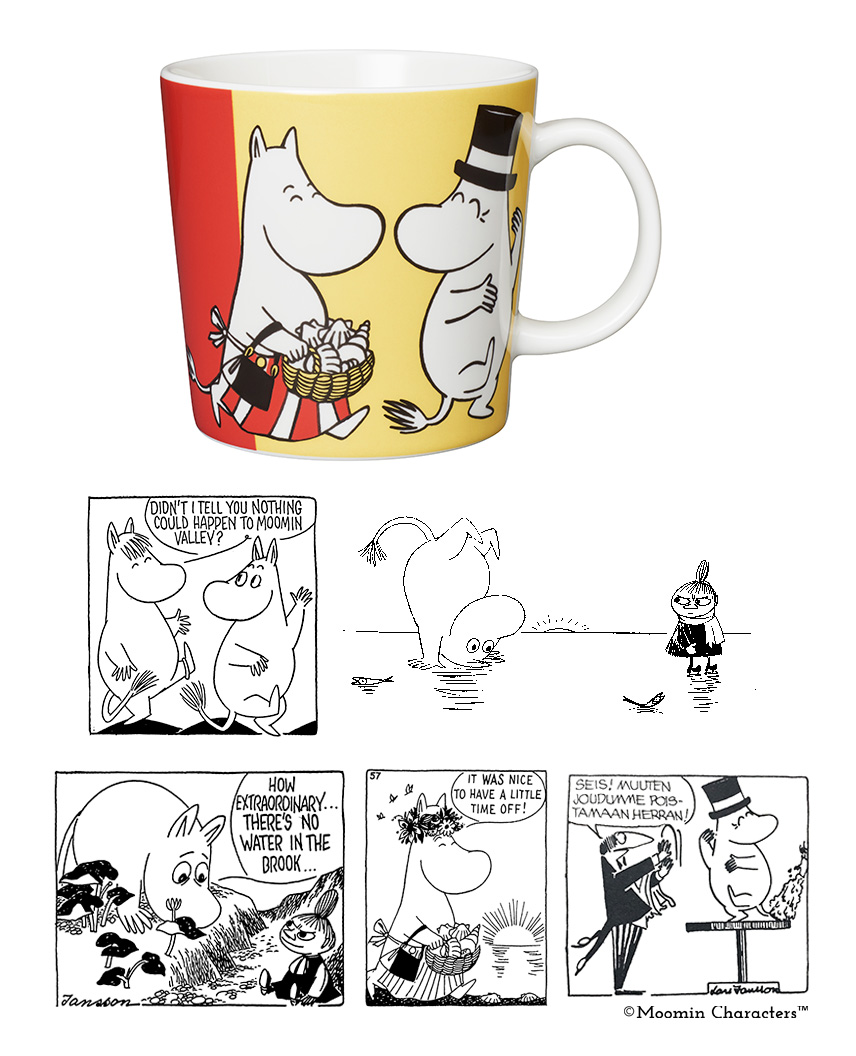 Arabia's Moomin mug Family was released in 2002, presenting a number of inhabitants from the Moominvalley, instead of just one Moomin figure. Snorkmaiden and Little My are chosen from Tove and Lars Jansson's comic #17 Moomin and the Comet (1958) and Moomintroll from Tove Jansson's novel Moominland Midwinter (1957). The loveable Moominmamma is from Tove Jansson's comic #8 Moomin Begins a New Life (1956) and Moomipappa from Lars Jansson's comic #70 Moominpappa and Old Age (1974). The most visible difference compared to the original designs is the Moominmamma's wreath removed by Arabia's mug designer Tove Slotte.
Family Moomin mug was in Arabia's selection during the years 2002-2009 and a new batch hit the market again in 2011.
#24 Mug Fillyjonk 2004-2013
Fillyjonk got its own Moomin mug in 2004. The production of the mug ended in 2013 and in contrast to many other characters, Fillyjonk has not yet received a new mug to the character mug series by Arabia.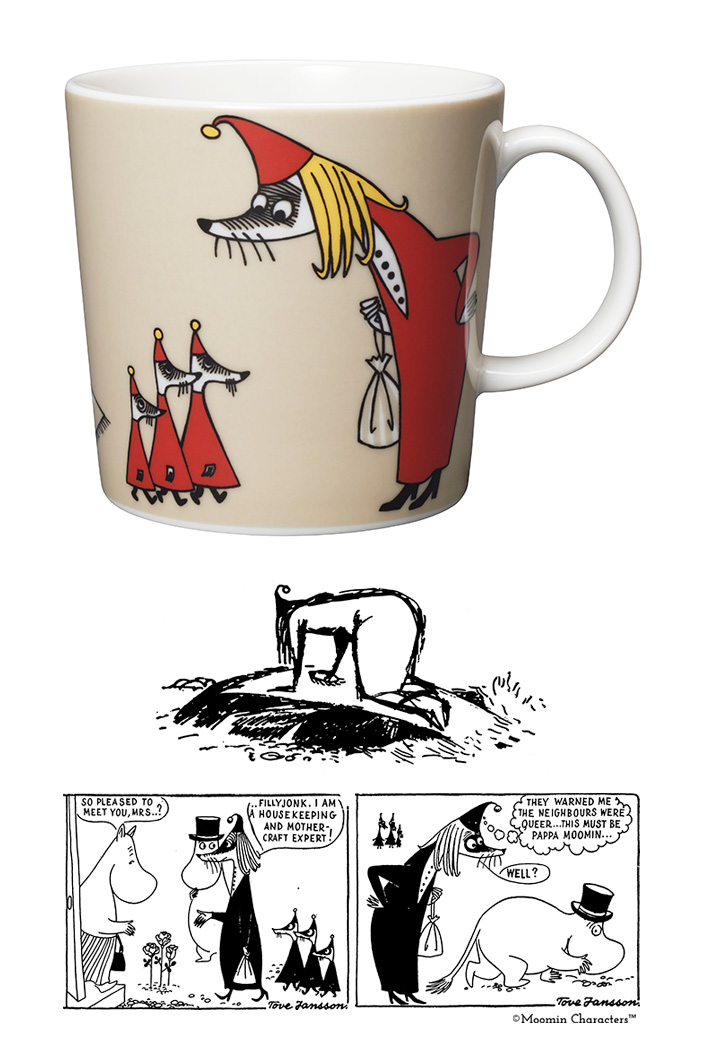 The illustration of the Fillyjonk's back is from Tove Jansson's book Tales from Moominvalley, a short story The Fillyjonk Who Believed in Disasters (1962). The illustrations of Fillyjonk and the children are chosen by Tove Slotte from separate comic panels on Tove Jansson's comic #6 Moominmamma's Maid (1956).
#25 Mug Hemulen 2004-2013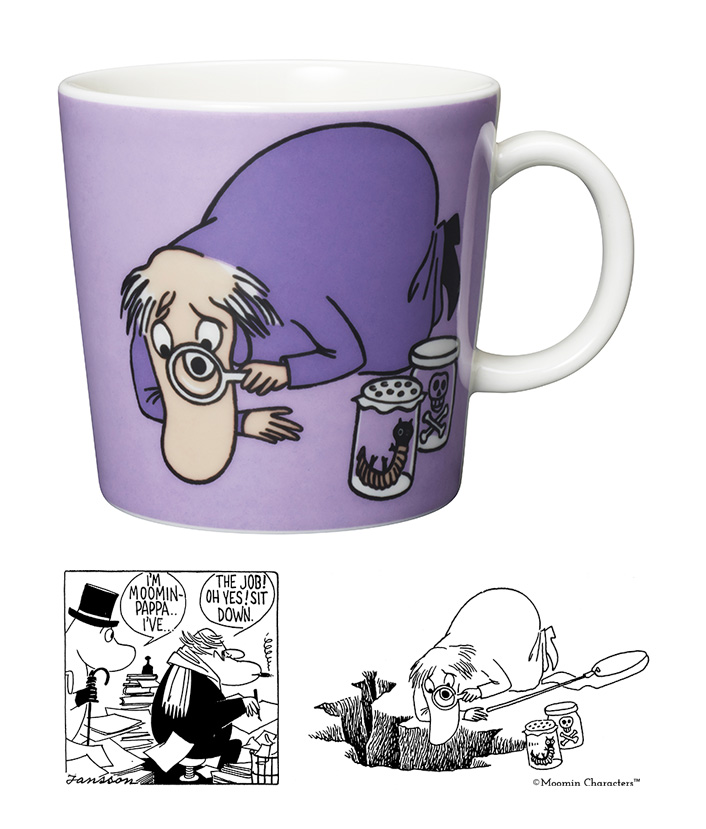 The illustration of Hemulen from behind is illustrator Tove Slotte's own design inspired by Tove and Lars Jansson's comic #16 Conscientous Moomin (1958). The illustration on the other side of the mug is a recognizable picture from Tove Jansson's first novel called Comet in Moominland (1946). Just like Fillyjonk, Hemulen did not get its own new mug after the first lilac character mug was taken out of production in 2013. Maybe the new Hemulen mug is on its way? Nowadays the mug designs are usually ready for 1,5-2 years before they will be available in stores.
Have you read our previous blog posts about the history of the Moomin mugs:
The special Moomin mug Millennium one of the most popular collector's items – The history of Moomin mugs by Arabia, part 5
Pictures:
Featured image and the original illustrations: Moomin Characters
Draft of Snufkin: Tove Slotte
Mugs: Fiskars
Get to know each and every one of Arabia's Moomin mugs on our dedicated Moomin mug page.