In Swedish: Trollkarlens Hatt, 1948
In English: Finn Family Moomintroll, 1950
In Finnish: Taikurin hattu, 1956
Finn Family Moomintroll (original title in Swedish: Trollkarlens hatt) is a book about a shiny top hat with magical powers, just like the name of the book is in Finnish and Swedish (freely translated: Hobgoblin's hat). The third Moomin story by Tove Jansson presents the characters Groke, Thingumy & Bob as well as Hobgoblin for the first time.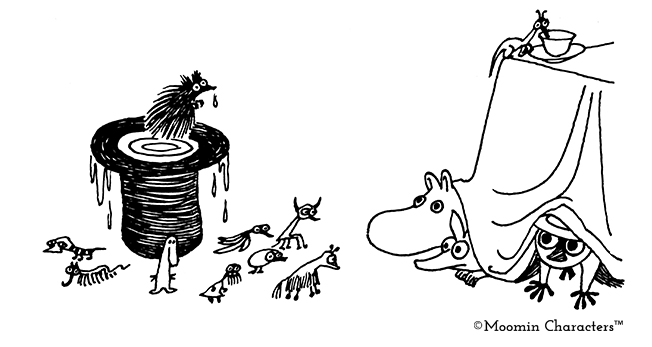 Finn Family Moomintroll is much different than the first two Moomin books, The Moomins and the Great Flood (1945) and Comet in Moominland (1946). The third story was written during the peace and not during the war as the first two. In the story Moominvalley is not threaten by any catastrophe, the book is more about the relationships of the characters and what is right and what is wrong.
The most important messages of the book are the joy and love of life. Of course also loss and sorrow are part of the story but only like they are part of everyone's life every now and then. In the book Tove describes characters and their personality more precisely than before.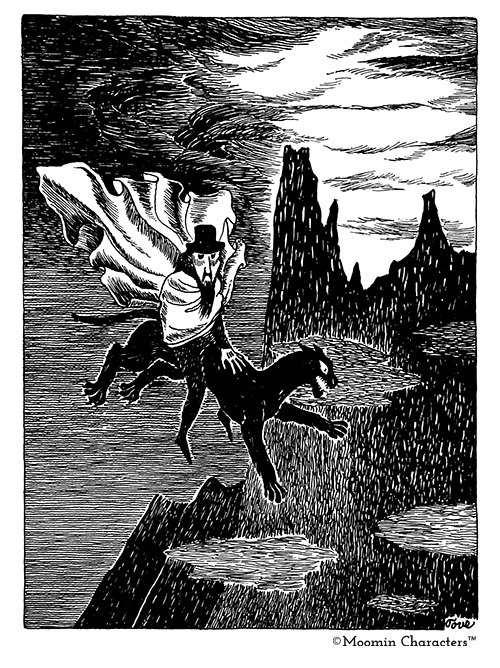 In order the book to be published, Tove had to take away two chapters of her story. Manuscript of the book describing summer in Moominvalley was longer (and more expensive to publish) than wanted. Also few illustrations had to be removed. Finn Family Moomintroll is the first Moomin book where chapters start with the words "In which…".
The 1961 English publication features a foreword "by Moominmamma", where she explains the nature of Moomins for fear that English children may not have heard of them; she also apologises for her "rottn" English.
Finn Family Moomintroll, was published in Swedish in Finland in 1948 and in Sweden in 1949. Readers were thrilled about the book, now published by the Schildts. Finn Family Moomintroll was the first Moomin book translated into English, in 1950, and made an international breakthrough.
Read also:
The first Moomin book: The Moomins and the Great Flood, 1945
The second Moomin book: Comet in Moominland, 1946