A new girly pink Snorkmaiden mug was released in 2013 to replace the yellow mug discontinued in 2012. Arabia's designer Tove Slotte has again succeeded in bringing the Snorkmaiden's character to life in this newest version of the daydreamer's mug.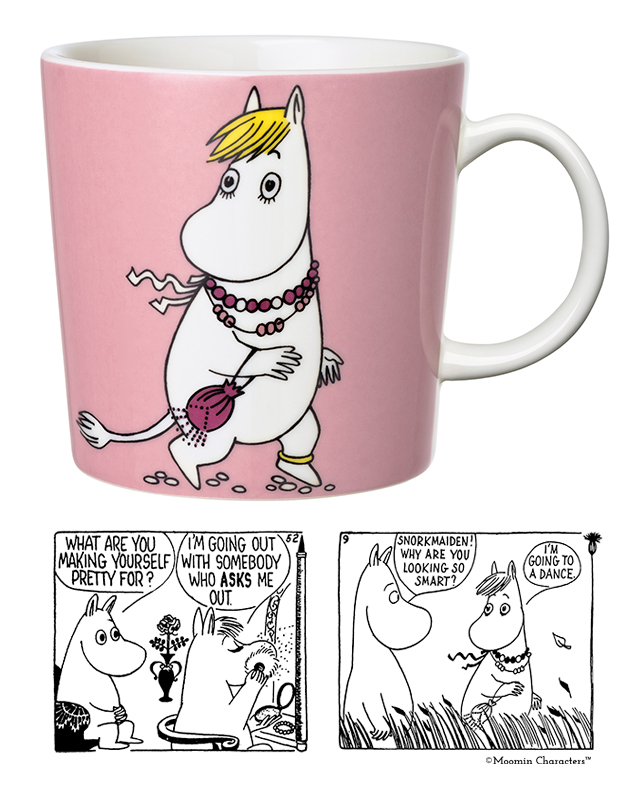 Snorkmaiden in the front of the mirror is Tove Jansson's illustration from the Moomin comic #16 Conscientous Moomin (1958), written by Tove together with his brother Lars Jansson. The girlish illustration of Snorkmaiden wearing pearls, in turn, is from Tove's comic #8 Moomin Begins a New Life (1956).
Together with the mug, also a bowl and a one-sided plate were released. In 2014 also a spoon by Hackman with Snorkmaiden's image was added into the series.
Until 2007, Arabia had only produced double-sided Moomin plates matching the character mugs. In 2009-2013 Arabia had plates in its range, each featuring several of the most significant characters from the Moominvalley. The character plates were brought back to production when the one-sided Snorkmaiden and Moomintroll were released.
At the turn of the year 2018/2019, the turquoise Moomin mug will be discontinued after nearly 6 years of production, launched in early 2013 together with Snorkmaiden.
Mug's artwork by Tove Slotte is originally from Tove Jansson's comic #7 Moomin Builds a New House (1956), where Mymble (the older) and her children have taken over the Moominhouse. In the comic, Little My and Snorkmaiden suggest if Moomintroll would build his own house for him and Snorkmaiden.
As Moomintroll is the main character of the Moomin stories, it is natural Arabia wants to highlight the character every now and then by refreshing the mug design – usually, when a character mug is discontinued, the manufacturer Arabia will soon release a new version of it. Maybe also this time!
#60 Snorkmaiden and Poet 2013
The Moomin summer mug and bowl for 2013 had the same look on the background like the summer mug in 2012. From the fruit basket to a parasol, Tove Slotte chose the illustrations for the mug Snorkmaiden and Poet from Tove and Lars Jansson's comic #20 Moomin under Sail (1959).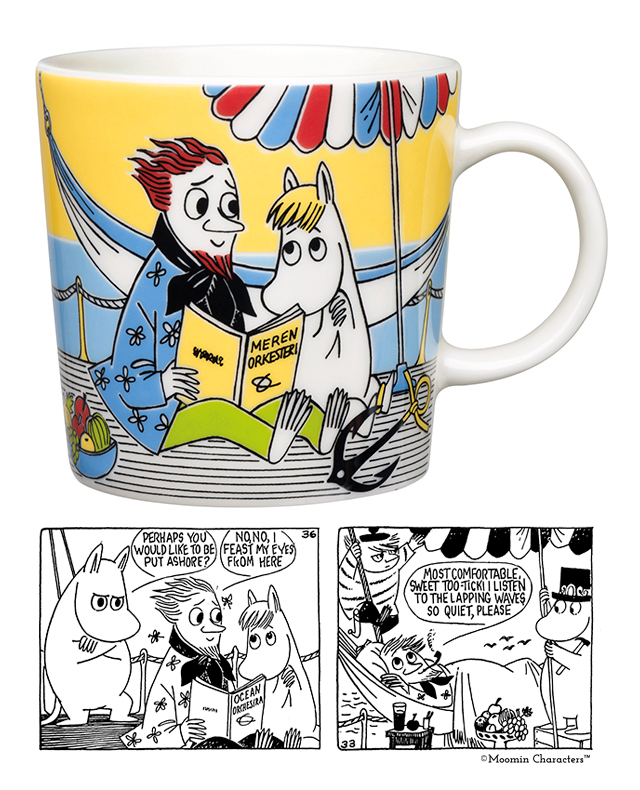 In 2013 Arabia's Adventure series continued with the new product line called Adventure Move. The illustrations in the Moomin mug number 61 are originally from a comic co-written by Tove and Lars Jansson, #17 Moomin and the Comet (1958).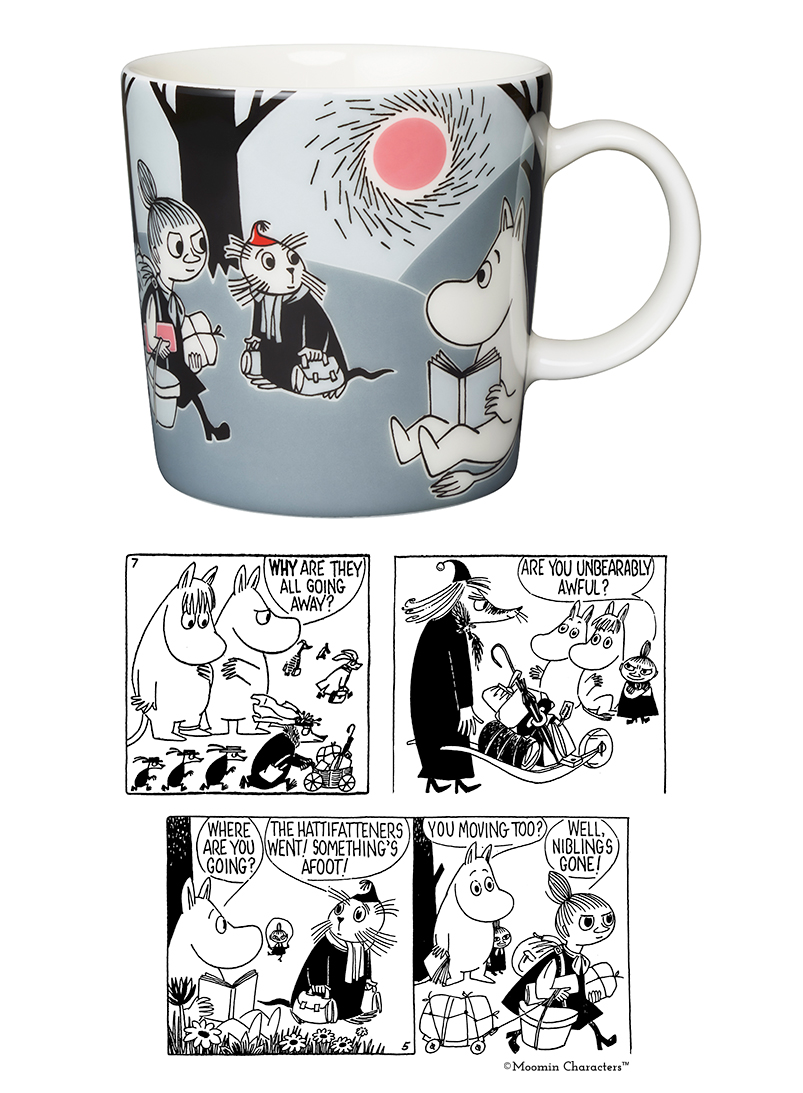 Adventure Move series is still in production consisting of a mug, a bowl, a plate, a pitcher, two different sized of jars, and a cutlery set.
Featured image and the original illustrations: Moomin Characters
Mugs: Fiskars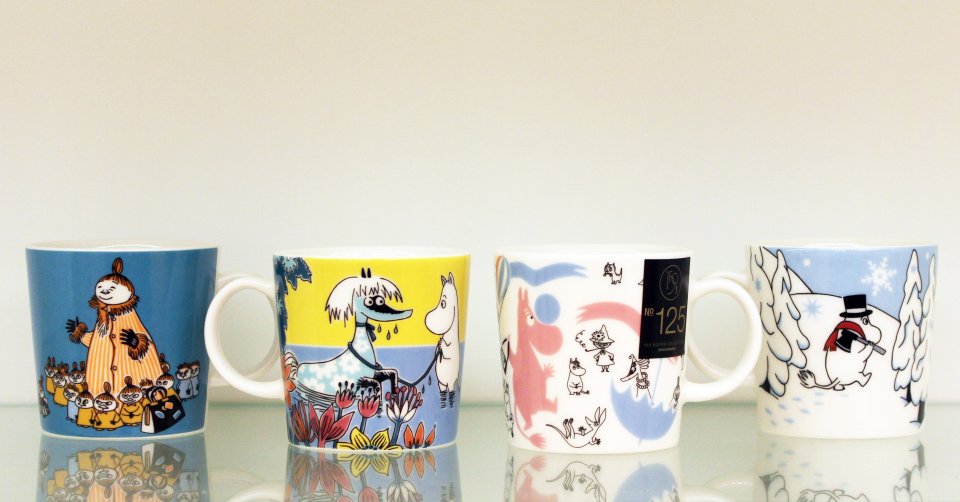 2.10.2018
Another special mug was inspired by the wrapping paper Tove Jansson designed in the 50s!…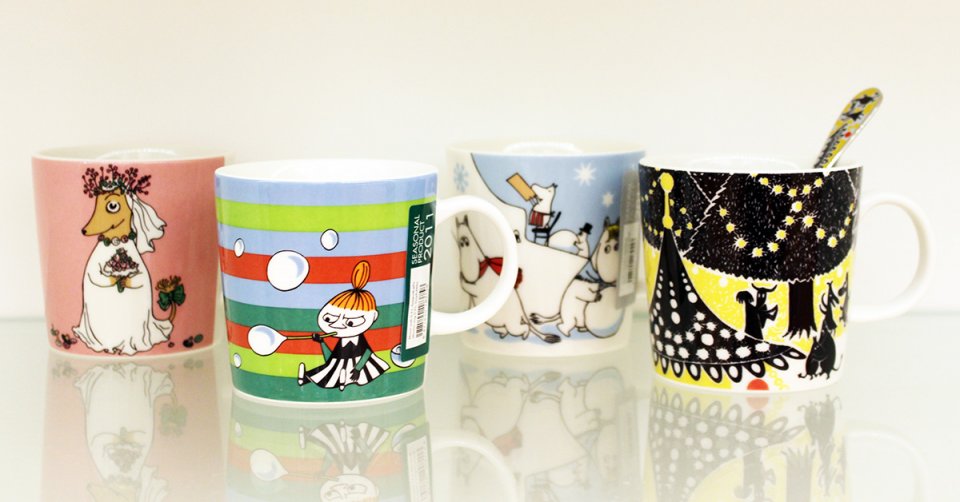 7.9.2018
The first Moomin mini mugs were launched in 2011!…
Get to know each and every one of Arabia's Moomin mugs on our dedicated Moomin mug page.