Religion might not be the first thing that comes to mind when it comes to Tove Jansson, but if you look closely, you can find biblical images in both the Moomin books and her adult fiction.

Is this the end of the world?' Little My asked curiously.
'That's the very least,' replied the Mymble's daughter. 'Try to be good now if you can find the time, because in a little while we're all going to heaven.'
'Heaven?' asked Little My. 'Do we have to? And how does one get down again?'
– Moominsummer Madness, 1955
The above quoted passage from Moominsummer Madness is a favorite of Janina Orlov, translator and  Ph.D. in Literature. According to her, there are hints of Tove Jansson's religious background sprinkled in her literature – for example the recurring floods both in the stories and the illustrations in the Moomin books. Tove's grandfather Fredrik Hammarsten was the court chaplain and a popular preacher. Tove's grandmother, Elin, was known as the priest's wild girl – which her daughter Signe or "Ham" – Tove's mother, inherited. 
According to Kaj Korkea-Aho, a Finno-Swedish author with a religious background himself, it seems like Tove often enjoys to sprinkle in some blasphemy, at least in her short stories and her adult prose.
"It's almost like a late protest against her upbringing. I may read too much into this, but it is something that recurs. I think that Tove, even though she wasn't religious as an adult, had a sort of basis that never left her. She felt that some things, in some way, were sacred."
He gives an example from the short story My Friend Klara (in Letters from Klara, 2017)  and Tove's "beautiful and religious" cousin Karin.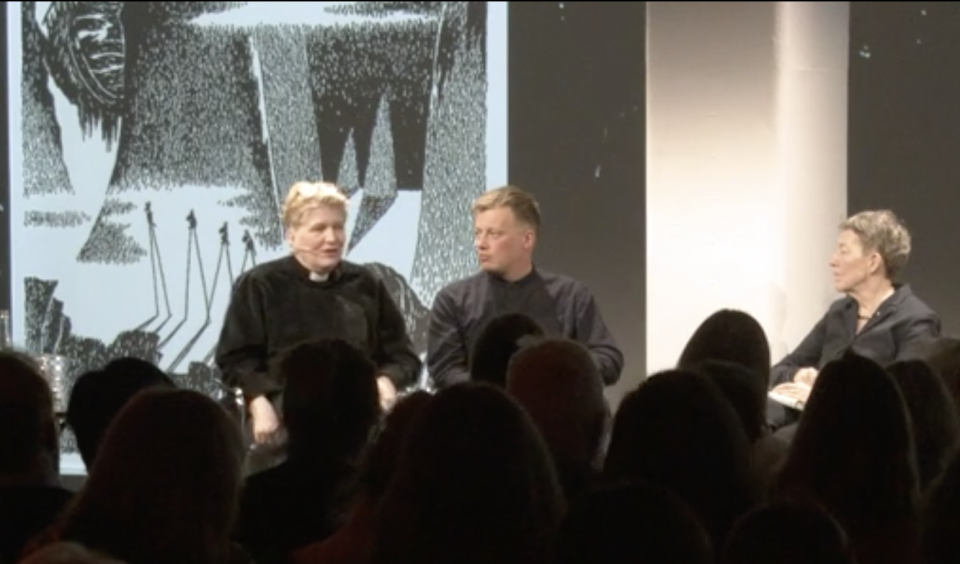 "Karin and Tove were close friends. A lot of their games evolved around religion, the spiritual. In a short story My Friend Karin,Tove and Karin build God's throne. Worshipping God is a part of the game. But suddenly Tove sits down on God's throne. Karin becomes completely pale; you are not allowed to do that! And the game is over, because what Tove has done is so horrific. I suppose she writes about it because she enjoys the provocation. And this is recurring.", describes Korkea-Aho. 
Camilla Lif, a Swedish priest and a big Moomin-fan, thinks that Tove's religious background is visible also in the Moomin stories, and that it's mostly so in her own favorite book Moominpappa at Sea.
"It's still a magical world, but Moominpappa goes around feeling unnecessary. He forces his family to join him on a trip to a desert island with a lighthouse, and he intends to write a novel about the sea. When I reread the book, I realized how similar it is to write a dissertation in theology. He wonders what the sea does in the night, what is the origin and will of the sea, how does the sea look at justice and forgiveness. And how does the sea look at the little life that is lived on this islet."
She quotes a speech that Moominpappa gives to the ocean: "If you imagine the ocean being an image of God, you understand why I am a christian", she says. "This is how I speak to God as well."
The foam was blown off the surface of the sea like angry grey smoke, and the water was lined and furrowed like a face wrinkled with rage. Suddenly, in the way it can happen to a troll, Moominpappa found it terribly easy to start talking to the sea – silently, of course.
'You're much too grown-up to show off like this, it's unworthy of you. Is it really so important to you to frighten a poor little island like this?
It has a tough enough time right out here as it is…
Moominpappa listened, but the sea made no answer…
By the way,' Moominpappa continued, 'to be perfectly fair, it was jolly decent of you to give us that crate of whisky. I know why you did, you know when you're beaten, don't you? But to get your own back by taking it out of the island was a petty thing to do. Now, I'm only saying all this because – well – because I like you.'
– Moominpappa at Sea, 1966
This article is based on a discussion at the first Tove Jansson festival in Stockholm, March 2020. You can find a rare treat for Tove and Moomin fans in the play list below, with panel discussions and unique interviews shown at the festival.