Arabia is entering a new product category by launching a collection of home textiles, with Moomin stories woven into the fabric. The new Moomin home textiles collection includes bed linen and towels made with 100% organic cotton for adults - especially ones with a soft spot for the Moomins. The collection is now out in the Nordics and Japan.
The new collection is extending Moomin Arabia into homeware. "Enjoying life's small and big moments as they reveal themselves in the everyday is a key message in the Moomin stories. Now, we are bringing this Moomin philosophy from the dining room to the bedroom and bathroom as well", says Mirka Paasikangas, Global PR and Communications Manager for Moomin Arabia.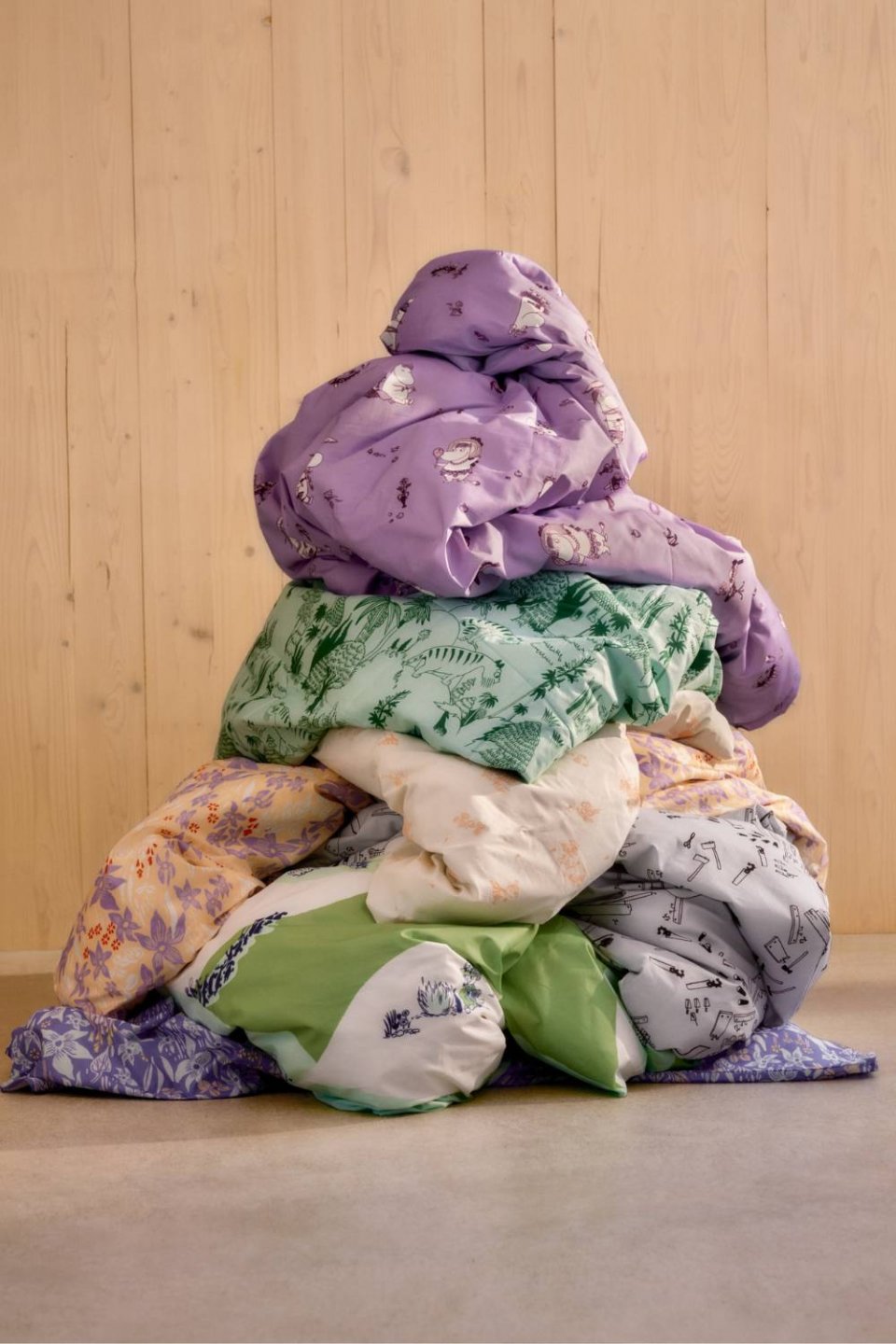 Rediscover your comfort zone with Moomin Arabia home textiles
With the new collection, Arabia encourages people to enjoy the softer values in life and to rediscover their comfort zone. For Moomin Arabia, the comfort zone is a magical place, where you can stay still and pause for a while. It's softness, meaningful moments and to be exactly who you are.
It's about the magical effect of having a mo(o)ment or two just for ourselves, escaping the hectic pace of everyday.
Perhaps it's a nice bubble bath, a minute for daydreaming between meetings, a shared bedtime story or just a warm blanket wrapped around you on the sofa.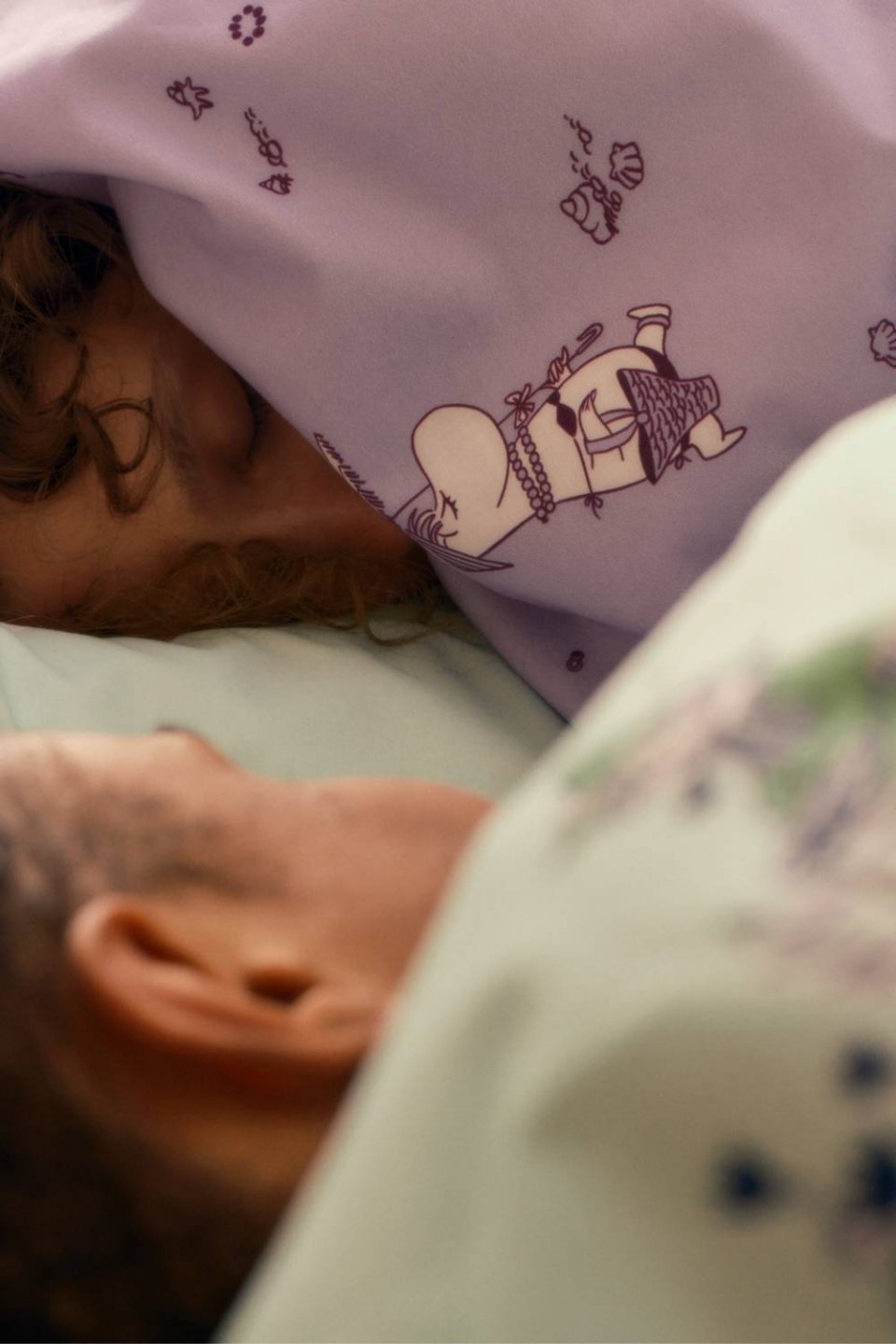 "In the world of ever-accelerating busyness, we are often told to get out of our comfort zone. We want to be the ones to announce that it's ok to go back in it for a change," says Paasikangas.
"Hard times call for soft fabrics, so to speak."
The collection is designed by Arabia's in-house design team: concept designer Annika Tickle, illustrator Parvati Pillai, and textile designer Suvi Järvelin.
Moomin stories woven into the fabric
Just like Moomin Arabia tableware, the all-new textiles get the inspiration for their designs from Tove Jansson's original illustrations in the Moomin stories. In fact, you can complement your tableware with a matching bed set and enjoy breakfast in bed wrapped in your comfort zone. Or pack for a lakeside picnic with your favourite character dishes and towels!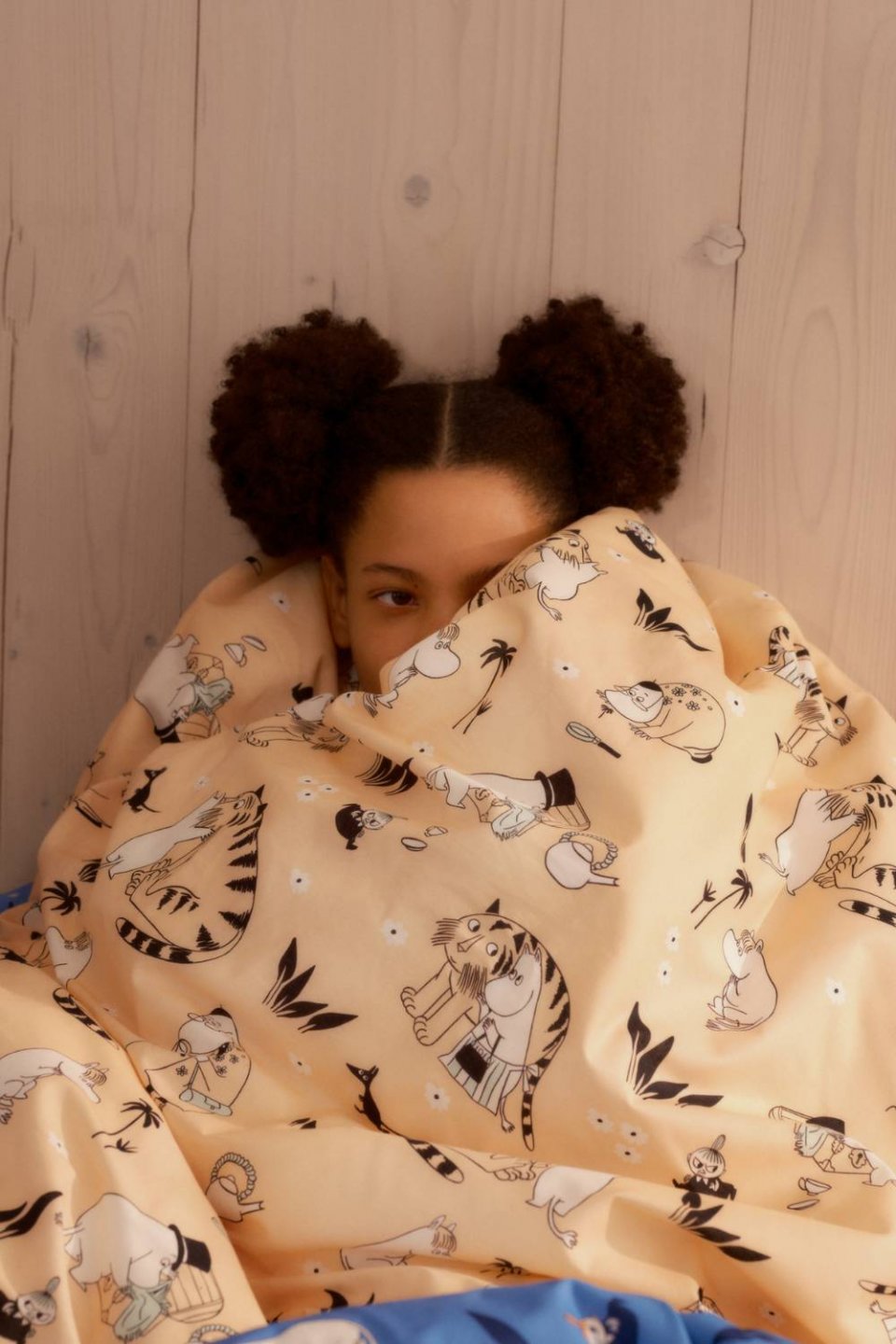 The Garden Party bed set
The Garden Party bed set dares you to sleep surrounded by tigers. This design is from Tove Jansson's comic Moominvalley Turns Jungle (1956), where tropical seeds make Moominvalley grow into a jungle overnight.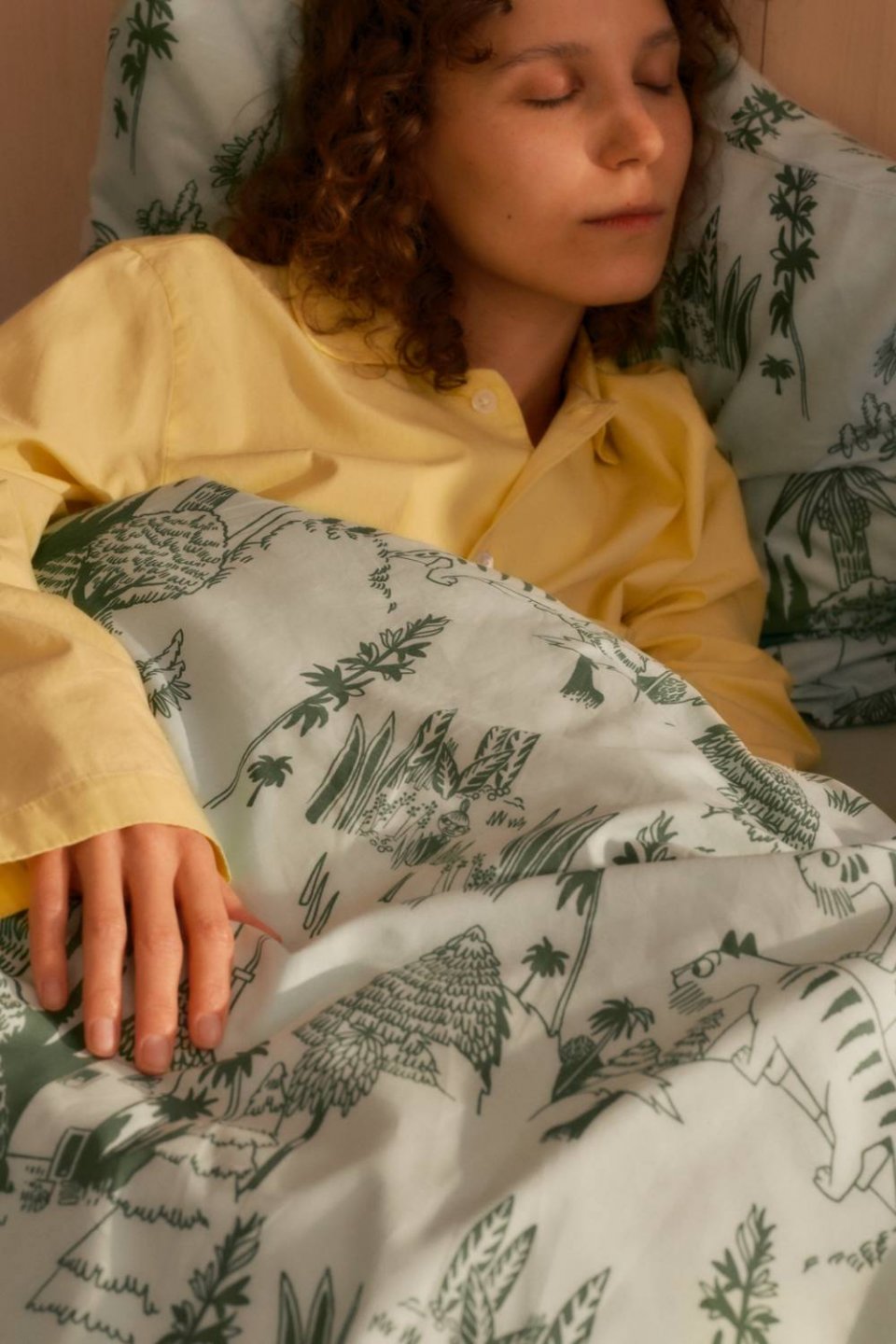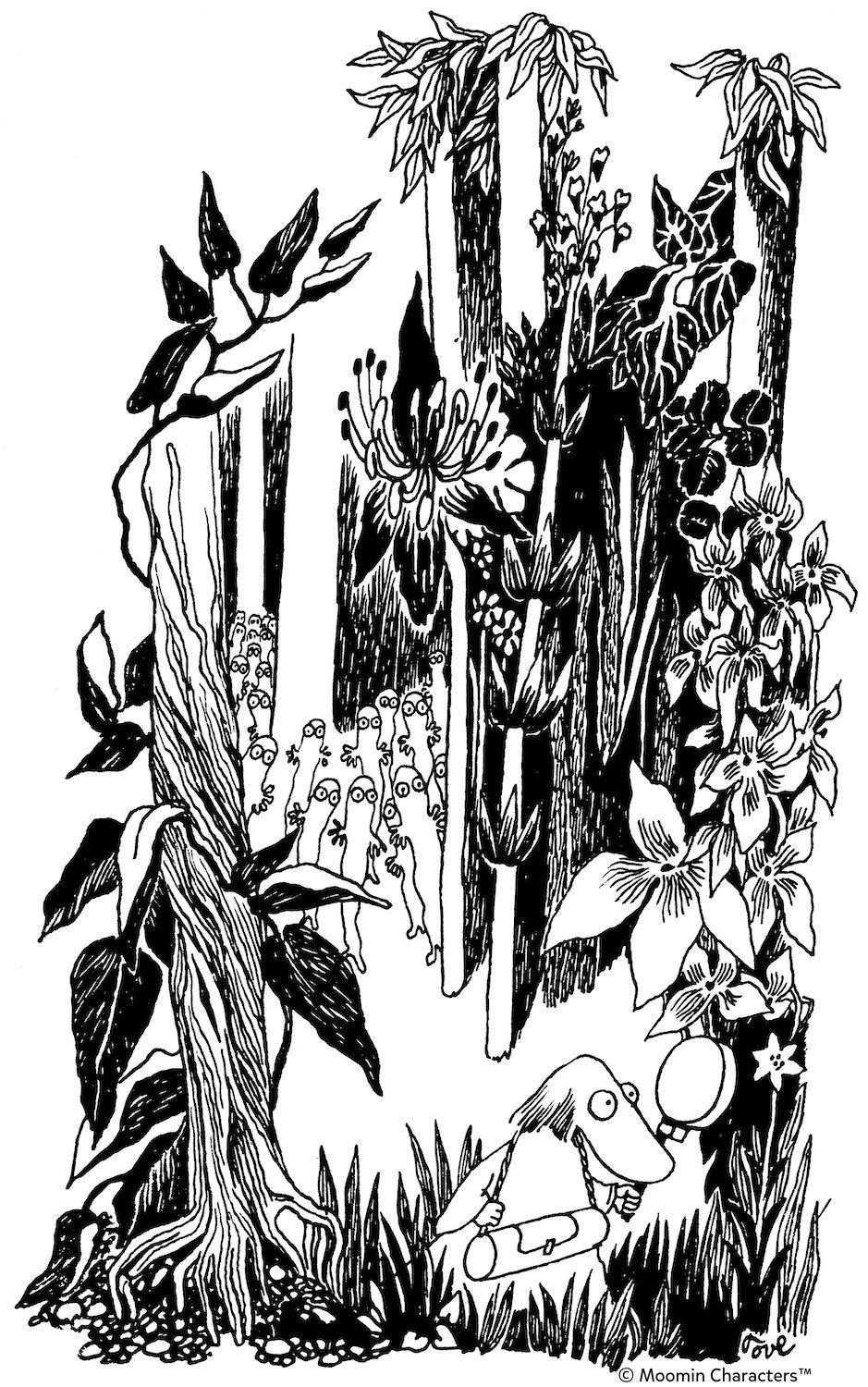 The Lily bed set
The Lily bed set is inspired by Tove Jansson's novel Finn Family Moomintroll (1948), where Hemulen travels to the Hattifattener's island and finds astonishing new flowers to add to his herbarium.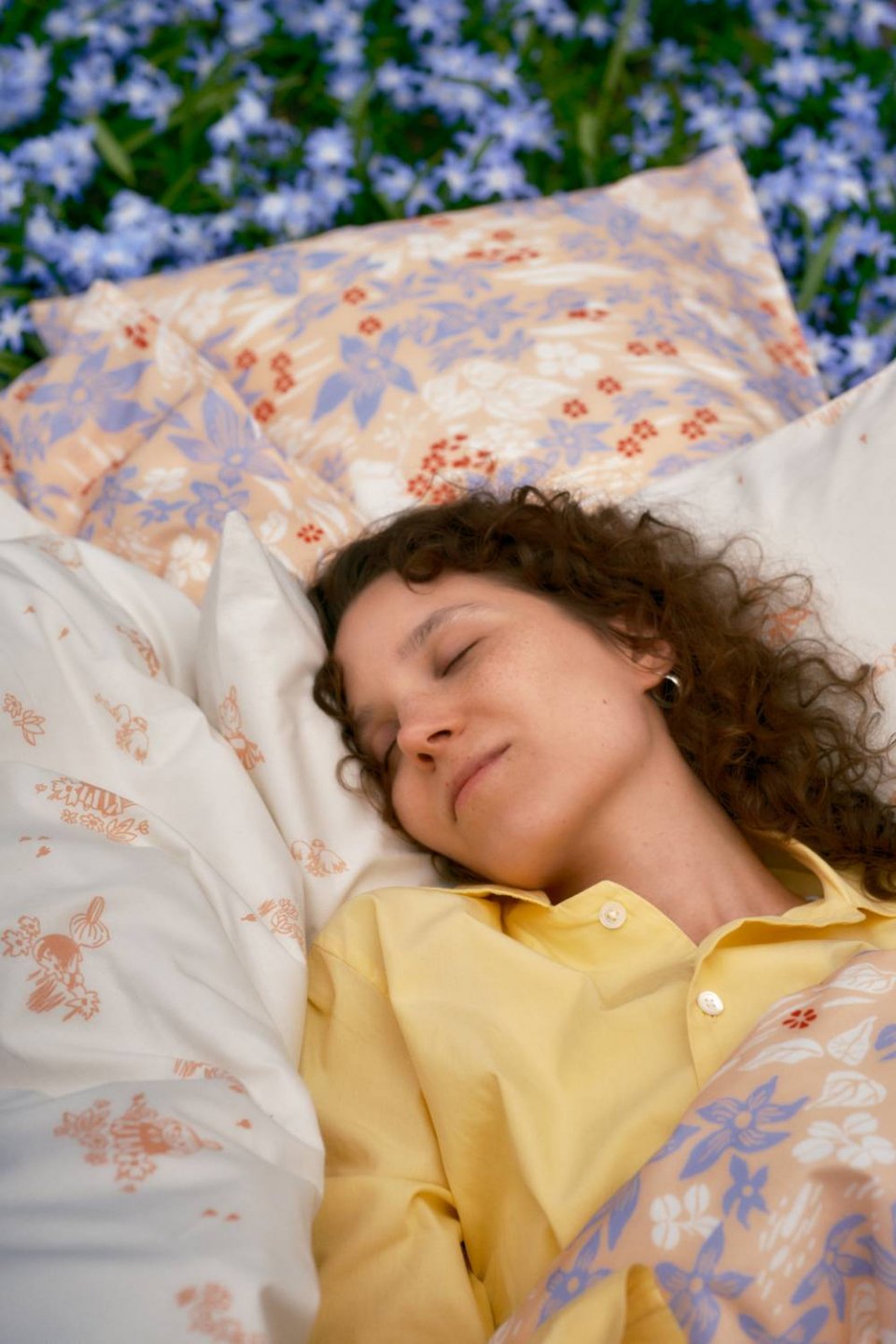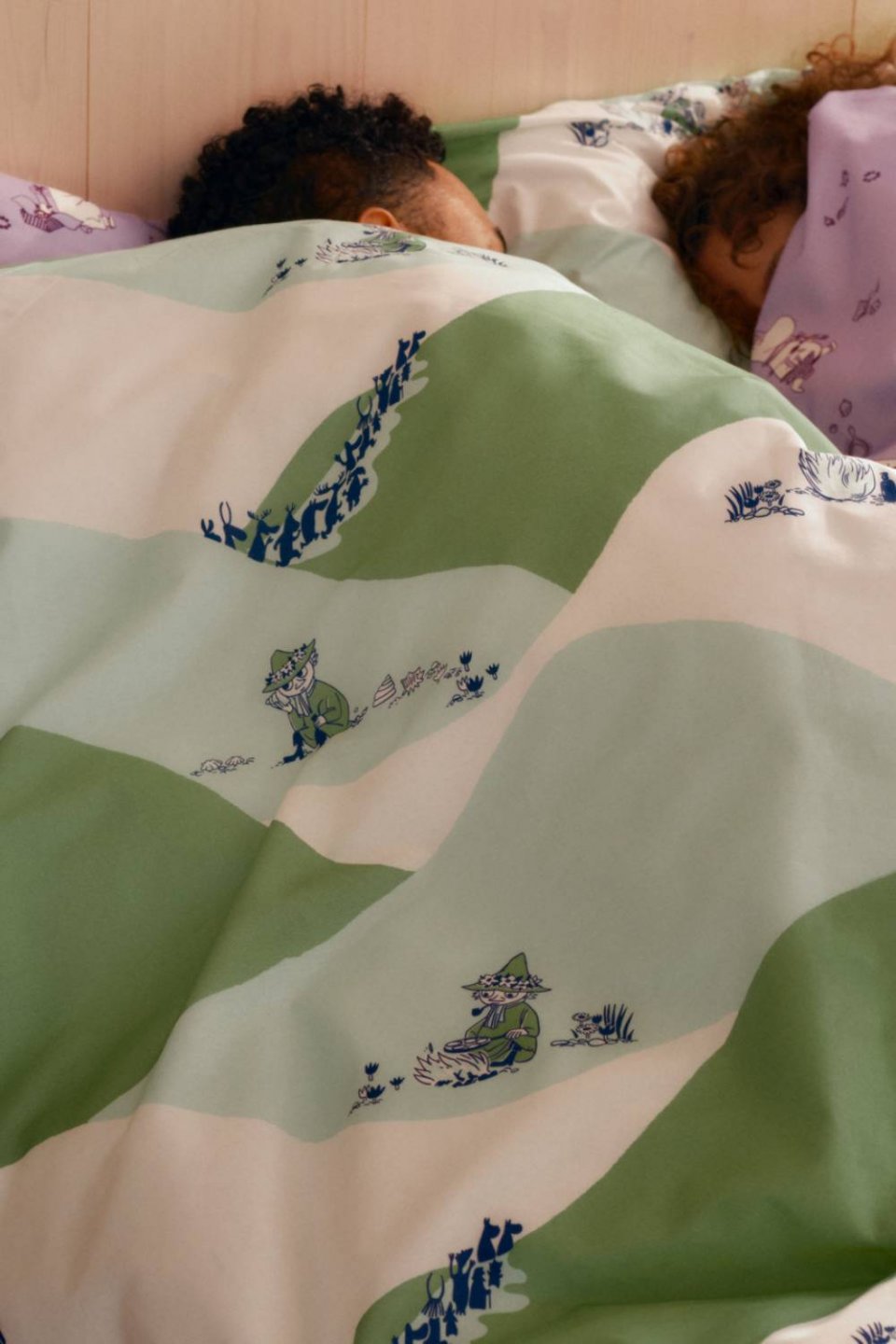 The characters are shown in their typical activities, emphasising their personality. The in-house design team redesigned the illustrations based on the Moomin Classics and other tableware collections to fit the fabrics.
Moomin home textiles for adults
The first Moomin Arabia textile collections for the bedroom will be available in single and double sets, and two quilted bed throws. For the bathroom, Arabia brings bath towels and two different-sized hand towels with selected Moomin characters. 
Designed especially for a grown-up taste, the overall look of the textiles is warm and comforting with a touch of Nordic lifestyle.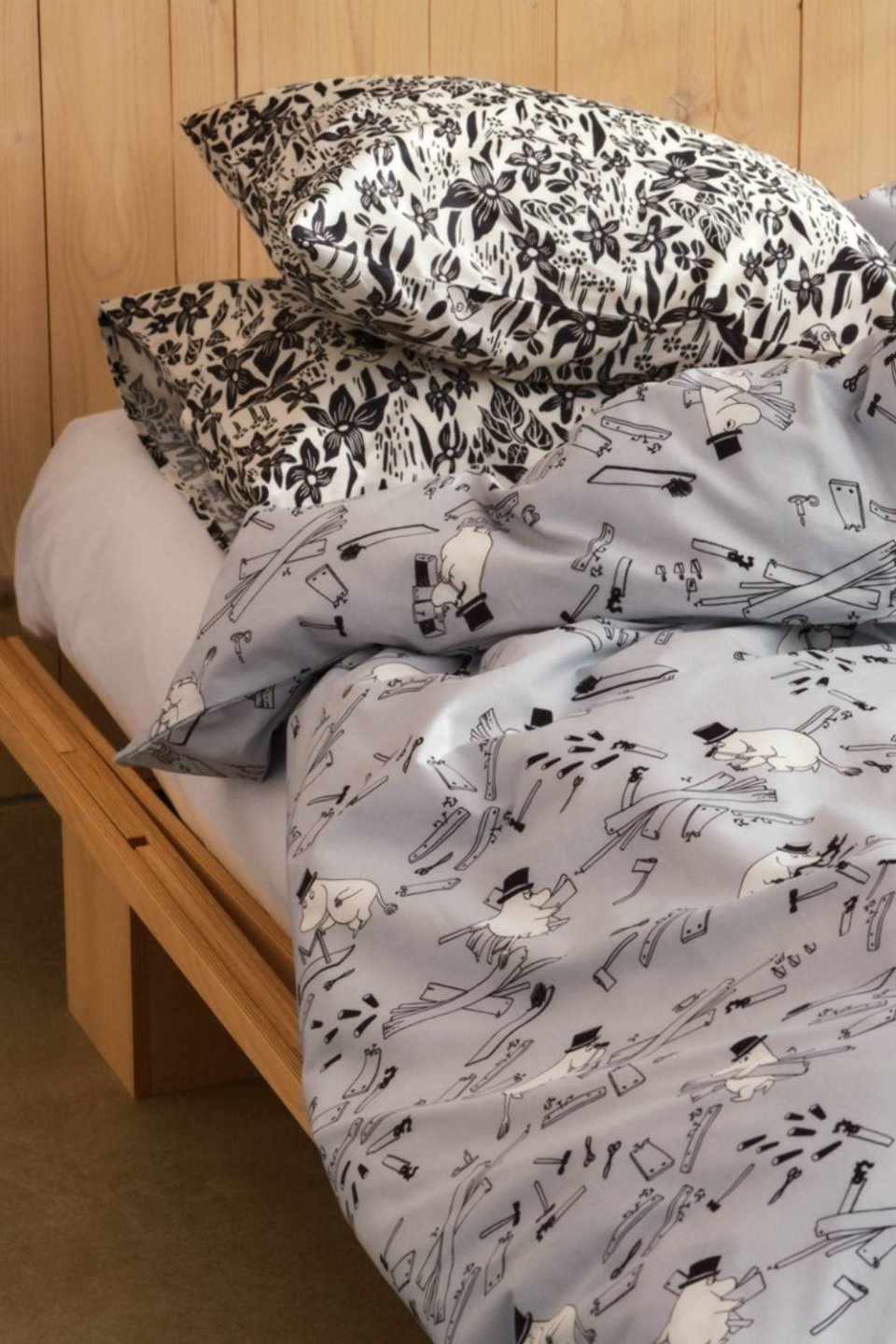 The bed linen wish you sweet dreams with muted, neutral tones and light pastels such as beige, peach and greens, and timelessly modern black and white. The bed sheets have a fresh and crisp feel that eases into airy softness for a good night's sleep or nap. Dive in and get cozy!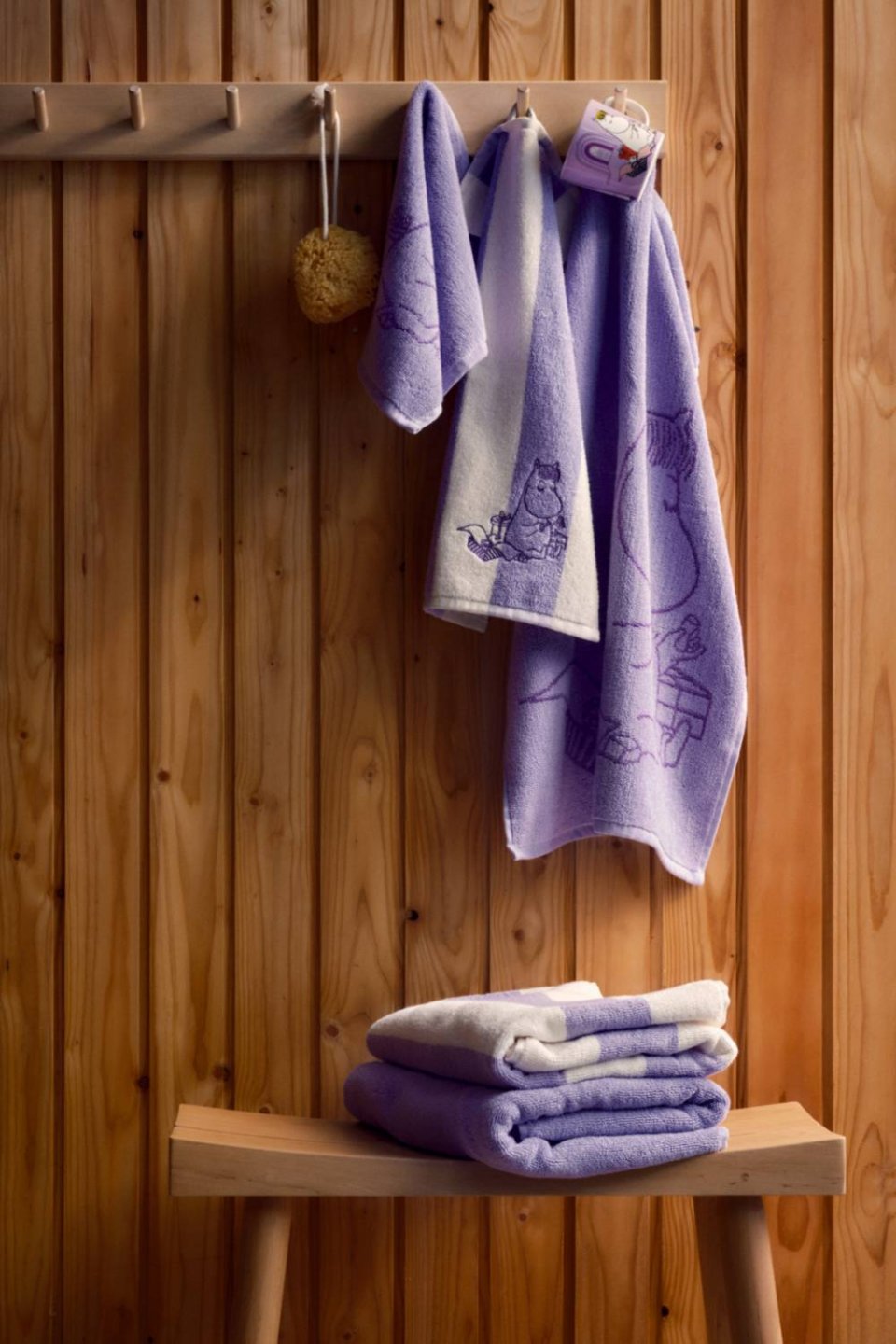 The towels wrap you comfortably in warm yellow, sweet lilac and fresh mint – either single-coloured or in stripes and with bright pops of red. The terry towelling is soft yet absorbent. Get ready for the cuddly embrace after a shower, a swim or a sauna!
All items are made from 100 % organic cotton sourced from Türkiye, Greece, and the United States. The fabrics and final products are produced in Türkiye.
Next year, Moomin Arabia is planning to extend the selection with children's bedroom textiles as well as bathroom accessories for both adults and children. 
The new Moomin Arabia home textiles are out for sale at the official Moomin Shop. Follow our channels for more information!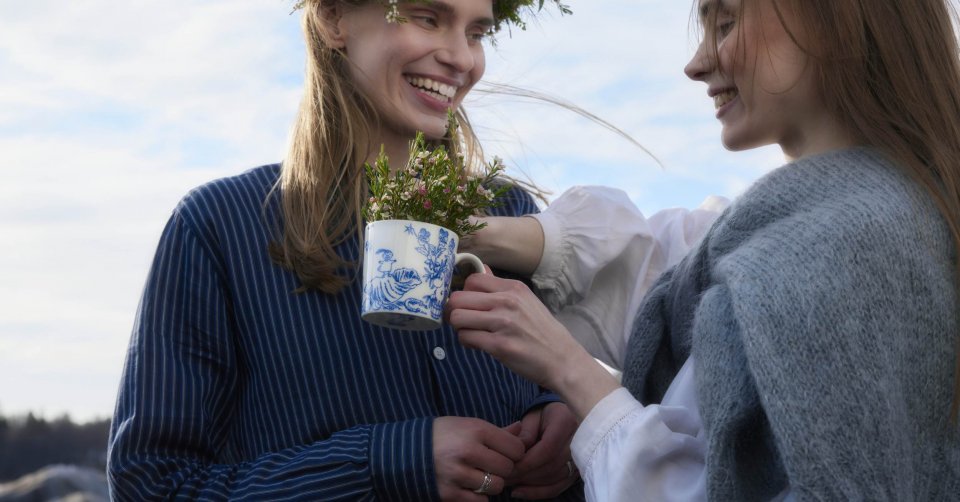 24.5.2023
Moomin's Day mug 2023 will come out for sale 9 August. Sign up now to be notified when the limited edition mug is available.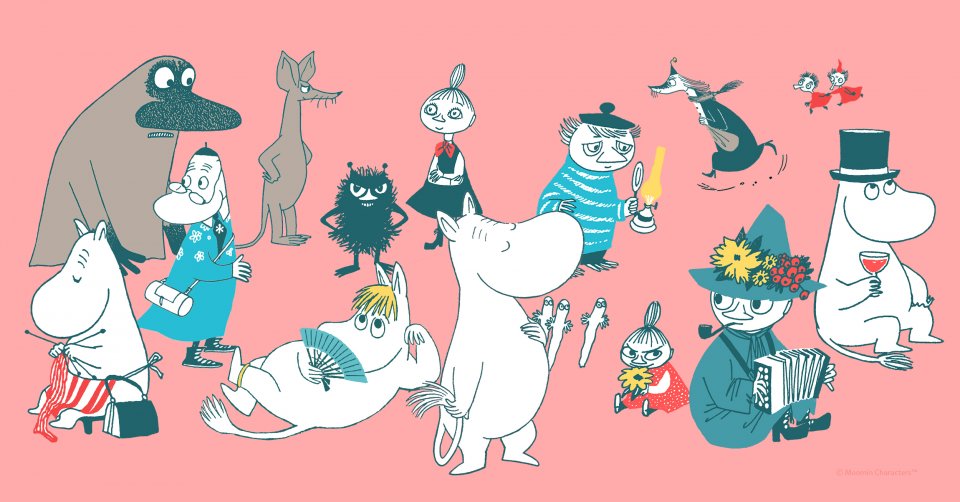 31.5.2023
Get to know all the Moomin characters! Moomintroll, Snufkin, Little My, The Groke, Moominpappa… Did you know all this about them?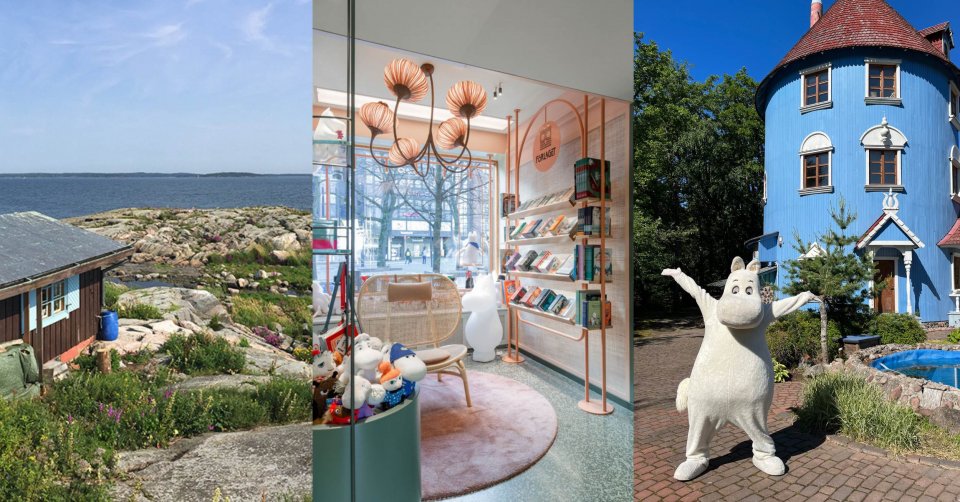 9.6.2023
Relive the Moomin stories by visiting the places listed on this Moomin tourist guide to Finland, from Moominworld to the Finnish archipelago.