The Moomin campaign #OURSEA for cleaning up the Baltic Sea inspires people to environmental deeds - and Moominvalley is in fact full of good examples on environmentally conscious decisions if you know where to look. One who tends to leave a rather small ecological footprint is Snufkin - who lives frugally in a tent in sync with nature.
Snufkin is also a master of repairing and reusing – this is what it sounds like in Comet in Moominland, as the adventurers stumble upon a small shop:
"I really need a new pair of trousers, said Snufkin. But they needn't be too new. I like trousers that have stretched to my own shape.
Yes, of course, said the old lady, climbing up a ladder and hooking a pair trousers down from the roof. What about these?
But they are so horribly new and clean, said Snufkin sadly. Haven't you got anything older? The old lady thought for a time. These are the oldest trousers I have in stock she said at last, and tomorrow they'll be still older. Probably dirtier too, she added looking at Snufkin over her glasses."
(From Comet in Moominland, 1951)
Fast fashion wasn't suitable for Snufkin, and shopping for fewer clothing items, using them for a longer period of time and then recycling them is an important deed for the environment that everyone can do. Fast fashion is already causing more carbon dioxide emissions globally than flight- and ship traffic combined, which contributes to warming up the climate and therefore the sea as well. Producing items with a short lifespan generates unnecessary emissions in water streams and the atmosphere. So, do like Snufkin and consume responsibly.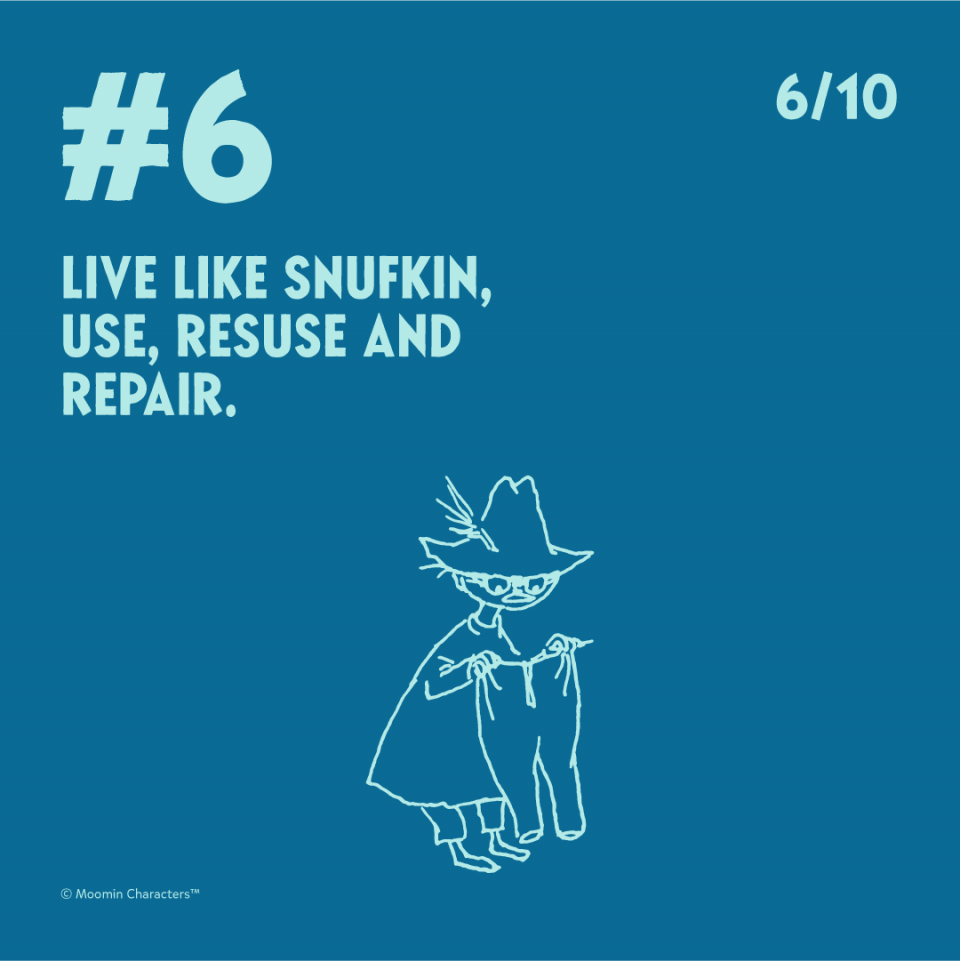 In other words, follow the #OURSEA campaign's tips for a healthier Baltic Sea – repair things more often and buy new stuff only when you really have to. Take the clothes and items you no longer use to a recycling facility and environmentally hazardous waste to a waste separation station.
The Moomin community to the rescue of the polluted sea
2020 marks the 75-year anniversary of Tove Jansson publishing her first Moomin novel. To celebrate the anniversary Moomin Characters Ltd has launched the one and a half year long #OURSEA campaign in collaboration with the John Nurminen Foundation.
At www.oursea.fi you will find more useful information on what you can do to help save the Baltic Sea – the sea that inspired Tove Jansson to create the beloved Moomin stories.
The goal of the campaign is to collect one million euros for John Nurminen Foundation's work to save the Baltic Sea and its heritage for future generations. A donation of 10€ can remove 40 kg of green-blue algae from the Baltic Sea. To take part in the campaign you can make a direct donation via www.oursea.fi, buy a campaign product, learn more about the sea, the challenges it faces and solutions needed to help improve the situation, as well as influence your friends, family, colleagues and politicians to take action.
On the website you can follow how the campaign counter works its way up to the campaign's goal of one million euros.