#97 Sleep well 2019-
Arabia's True to its Origins tableware was launched in 2017 and expanded in 2019 with the new mug Sleep well. The series already consisted of a mug, bowl, plate, teapot, two jars and a serving platter. The almost black and white series is in production for the time being.
The mug is decorated with Tove Jansson's original illustration from Moominpappa at Sea (1965).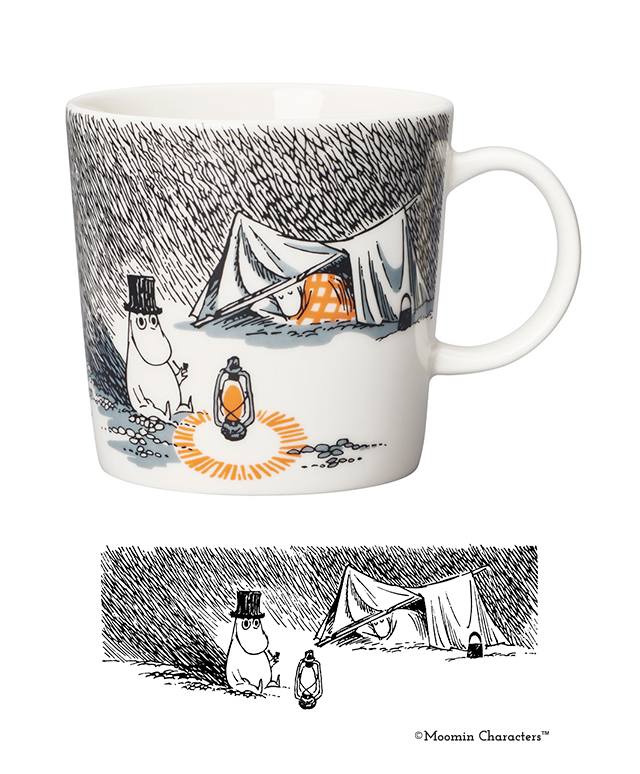 The mug showcases Tove Jansson's exceptional ability to convey emotions and moods in her drawings. The mug was designed by Tove Slotte who gave Jansson's original illustrations a new life using a collage technique.
Until May 2020, the mug was sold only in Iittala stores, the Moomin Shop and online at moomin.com, after which all retailers could sell the mug.
#98 Crown snow-load 2019
The 2019 winter mug Crown snow-load is illustrated with Tove Jansson's drawings in Moominland Midwinter (1957). The illustration is based on several different scenes in the book. Tove Slotte has chosen the colour scheme and is also responsible for the composition of the illustrations.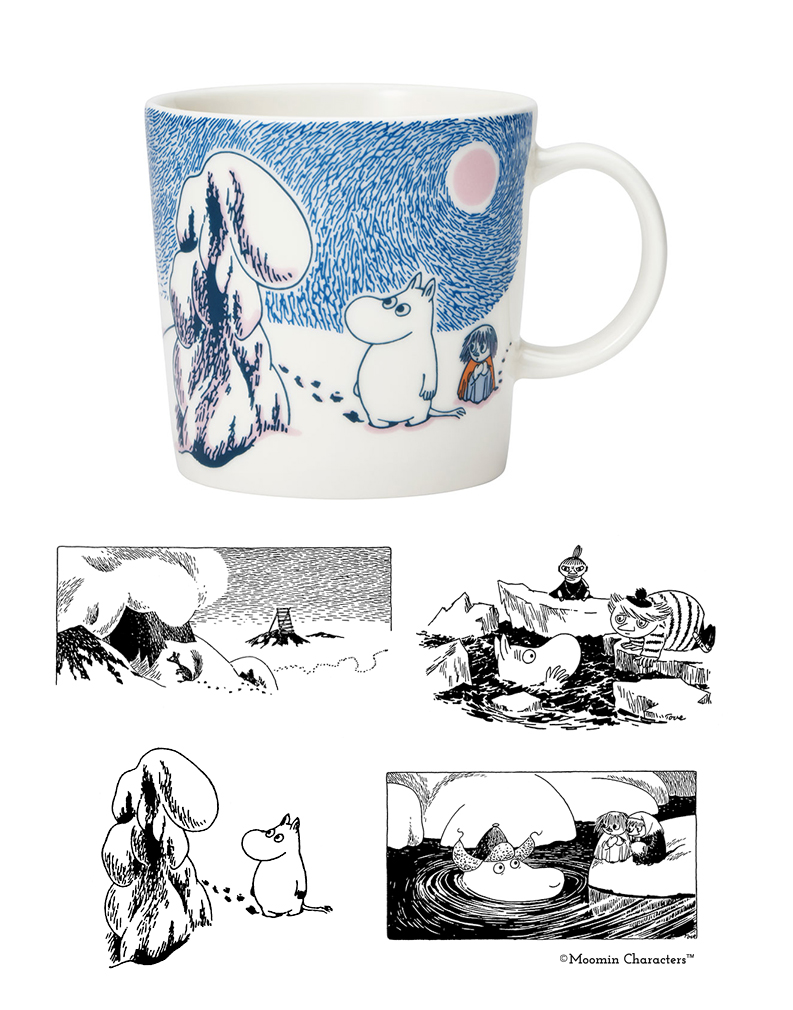 The illustration is intended to convey Tove Jansson's beautiful, accurate and respectful descriptions of nature and winter. Arabia has been manufacturing seasonal products since 2006, and many of the winter mugs are decorated with illustrations from Moominland Midwinter.
The series also consists of a bowl, two spoons and mini mugs. The products were sold for a limited time only, from October 2019 to February 2020.
#99 Snorkmaiden lila 2020-
Arabia launched Snorkmaiden lila in the early spring of 2020. The mug replaced the pink Snorkmaiden mug that went out of production at the end of the year 2019.
The illustration is from Tove Jansson's 1955 comic strip #3 Moomin on the Riviera.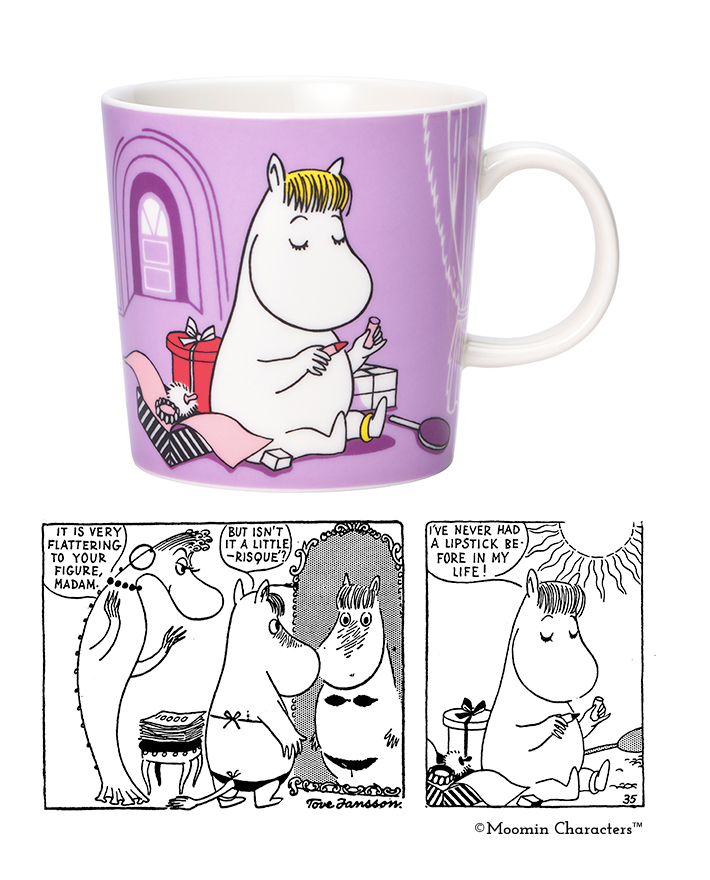 #100 Misabel yellow 2020-
There are hundreds of characters in the Moomin stories, but only a few of them have their own mug. The story of Moominmamma's maid, Misabel, is from Tove Jansson's series #6 Moominmamma's Maid (1956). Did you know that Misabel has a dog named Pimple?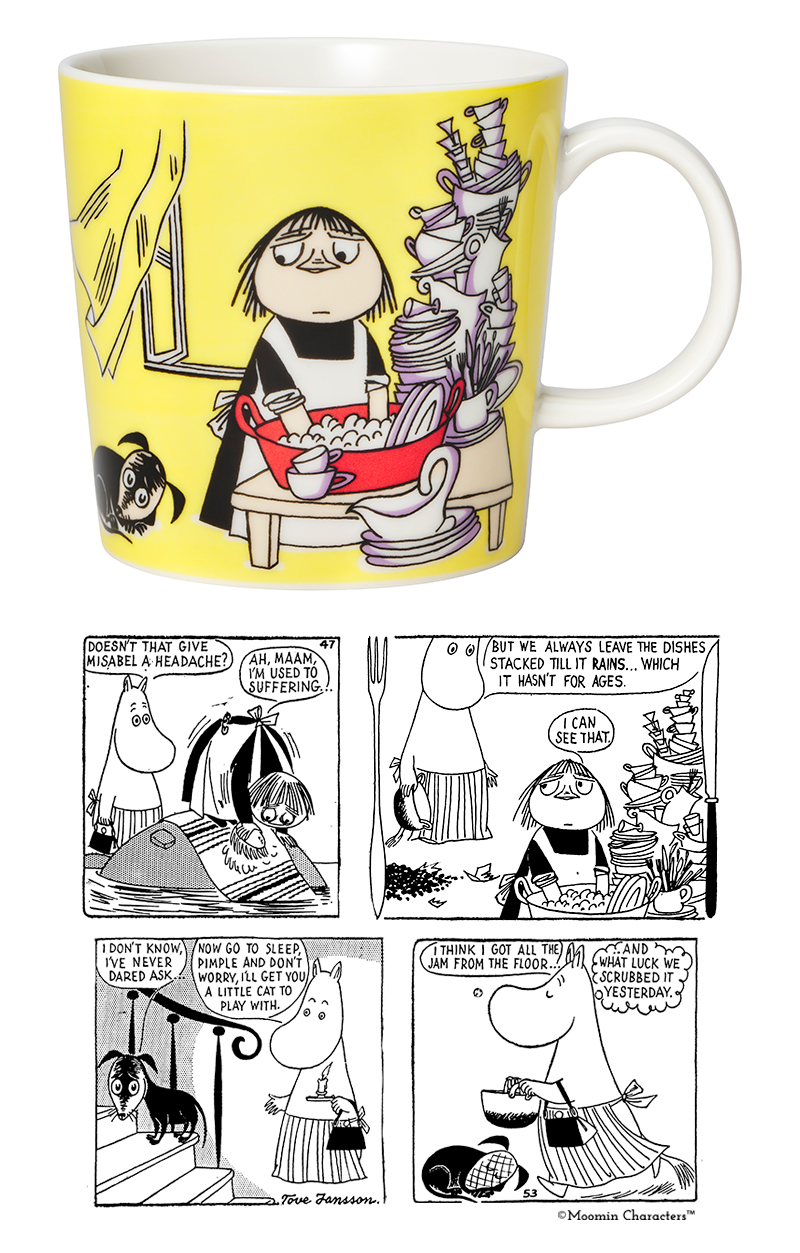 Get to know each and every one of Arabia's Moomin mugs on our dedicated Moomin mug page.