The world's favourite fictional Finnish family, The Moomins, represented by Moomin Characters Ltd, and Oxfam have today announced a new partnership to help women and girls around the world fight inequality and escape poverty for good.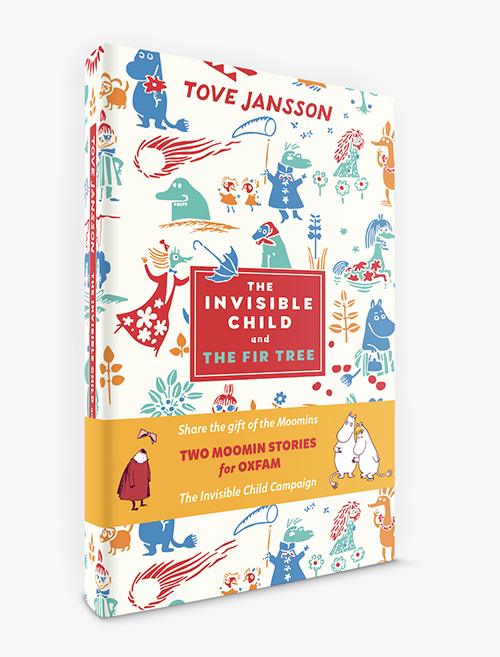 The partnership centres around The Invisible Child, a short story by Moomin creator Tove Jansson, which will be available to buy from Waterstones, the Moomin Shop Covent Garden and Oxfam shops, with at least £4 from each sale being donated to Oxfam's women's projects worldwide.
Published as a standalone title for the first time by independent publisher Sort Of Books, The Invisible Child is about a little girl who turns invisible after being badly treated by the woman supposedly caring for her. She is given a place to stay at the Moominhouse and, when shown warmth, kindness and respect by the Moomin family, she gradually reappears and regains her place in the world – a right that every woman and girl should have. The story, which was originally published in the collection Tales from Moominvalley, will also be available to buy from Waterstones.com and the Oxfam Online Shop.
A range of other Moomin products using artwork from The Invisible Child will also be sold to raise money for Oxfam, including a tote bag, tea towel and handkerchief. Macmillan Children's Books will donate £1 from sales of its Pocket Moomin Colouring Books and Finnish brands Fiskars and Finlayson will contribute a proportion of sales of their Moomin products too.
Helping women to overcome violence, abuse and discrimination is a big part of ending poverty
The fundraising is to support Oxfam's work fighting extreme poverty and suffering around the world. Since the majority of people living in poverty are women, the rights of women and girls are at the heart of the charity's work. Long-held prejudices often mean that they are denied basic rights like education, a fair wage or decent working conditions. Women and girls are also often the worst affected when emergencies strike. But Oxfam knows that the skills, determination and ingenuity of women will win through, and by supporting them poverty can be overcome.
Sophia Jansson, niece of Tove Jansson and creative director of Moomin Characters, said: "Tove was a strong and independent woman who lived life the way she wanted to – unlimited by ideas about how a woman should behave or what her role should be – which isn't too surprising considering where she grew up. Finland has always been a leader in women's rights, and was the first European country to give women the vote in 1906. However, not everyone is this fortunate, and I'm sure that Tove would be very glad that her stories are going to help women all across the world escape poverty and find their voices."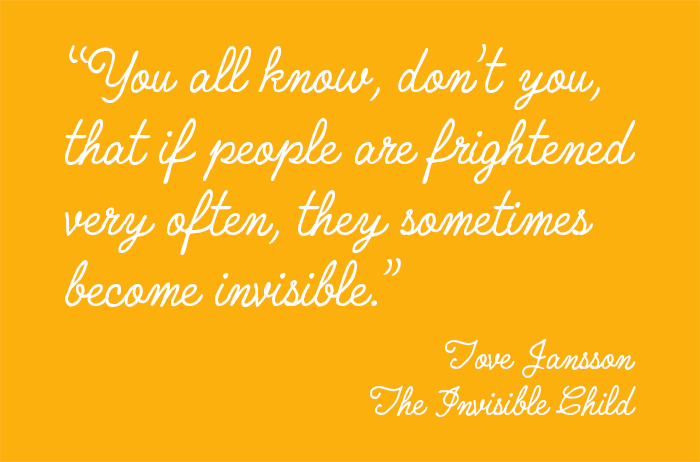 In September 2017, Sophia Jansson visited Rwanda with Oxfam to see first-hand the impact of the charity's work helping to lift women and girls out of poverty. Amongst other projects, Sophia visited pineapple co-operatives, where women have seen a vast increase in their income and are now able to send their children to school and pay for healthcare by growing and selling the fruit.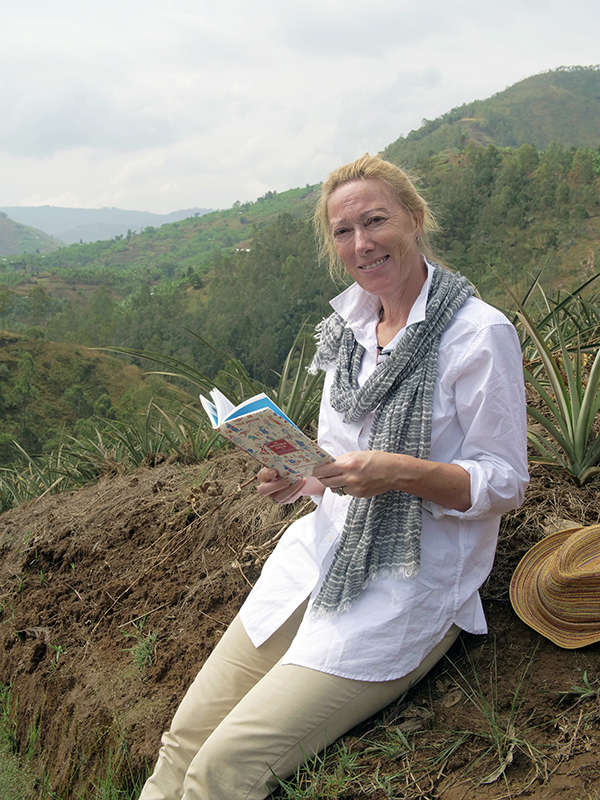 Sophia Jansson reads the Invisible Child in Rwanda, 2017
Photo: Carl Shanahan / Oxfam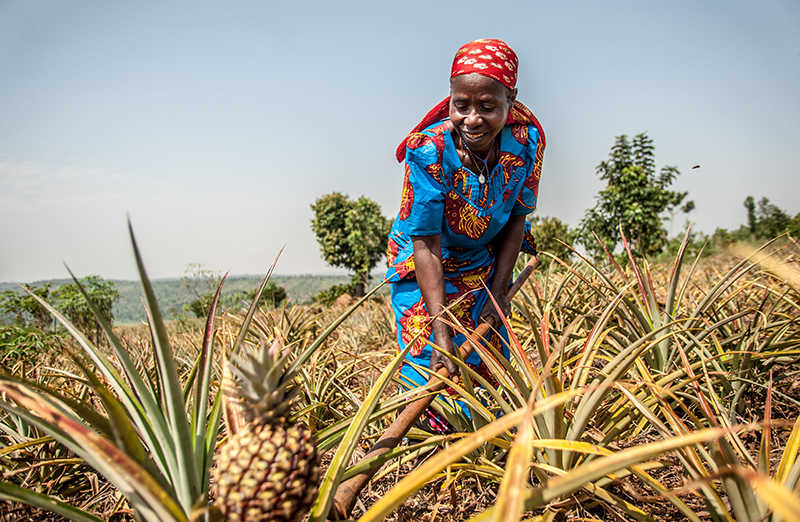 Theresie Nyirantozi in her Pineapple farm
Photo: Aurelie Marrier d'Unienville / Oxfam
Oxfam's Director of Women's Rights & Gender Justice, Nikki van der Gaag, said: "The values woven into Tove Jansson's wonderful stories – justice, compassion, kindness – perfectly echo what Oxfam represents and fights for every day.  From empowering business ventures like beekeeping and fruit-growing, to rebuilding lives and homes after disaster strikes, we support amazing women all around the world. We believe that every woman and every girl deserves the right to be visible and have their voice heard, so we're very proud to partner with the Moomins to launch this inspiring Moomins' tale."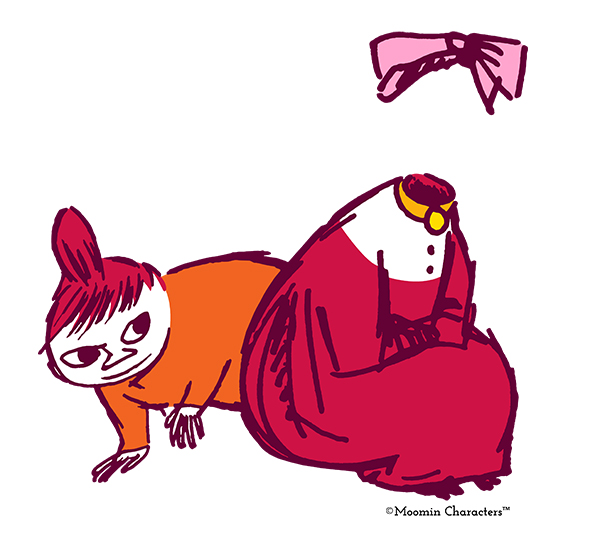 Gemma Cairney, broadcaster and author supporting the campaign, said: "When crisis happens it is statistically women who suffer the most. No woman or girl should have to suffer in silence – we can't let that happen in 2017! In Sierra Leone with Oxfam, I met strong, inspiring women living in poverty through the Ebola crisis, who fought stigma from all sides to help others. But breaking down barriers isn't easy. I'm supporting this fab campaign to encourage more people to stand up and shout out to make sure women and girls are very much seen and heard."
James Daunt, Managing Director of Waterstones, which will sell The Invisible Child, said: "This is bookselling at its very best; putting before readers an inspiring story, in an exceptionally beautiful edition, all at a modest price for the benefit of Oxfam's important work. Chapeau! to Moomin and everyone involved."
For more information on the Invisible Child campaign, please visit www.oxfam.org or follow #TheInvisibleChild on Twitter, Facebook and Instagram.