There are more than 20 Moomin cafés and dozens of Moomin shops in multiple countries all over the world. The next addition to the Moomin cafés will be the new Mumin Kaffe chain. Mumin kaffe will open licensed Moomin cafés in Helsinki, Finland and later in other European countries as well.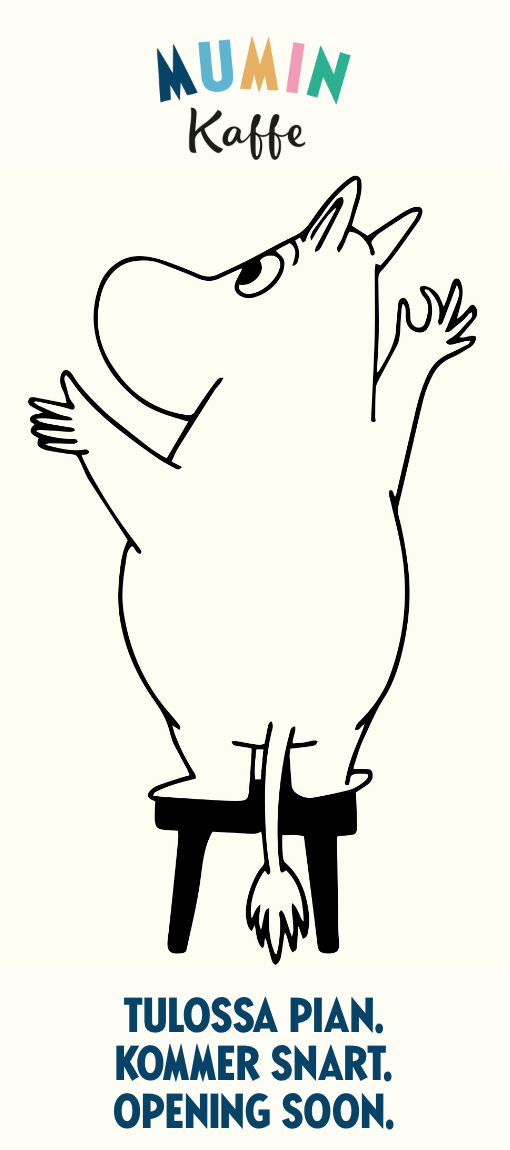 Mumin Kaffe is the first children's Moomin café in Finland and in the whole Europe – designed for children and for their needs. In November 2016, Mumin Kaffe will open its doors and there children are the priority and they will be seen and heard.
The idea for a child-friendly café came up when journalist Sanna Kiiski wanted to set up a meeting place where children are warmly welcome. Restaurateur Mehdi Younes mobilized the idea for a café concept. Moomin Characters Oy Ltd liked the concept idea and a Europe-wide license agreement was signed to make it possible to open more Moomin cafés for children in the future. The next Mumin Kaffe will open its doors in Stockholm before Christmas this year!
Also, with the workers' recruitment process Mumin Kaffe stands out from the mainstream. On Tuesday, September 20th the recruitment will start in Finland and Mumin Kaffe hopes to get contacted by over 50-year-olds and immigrant applicants.
Starting in October, the Finnish video blogger Maija Ilmoniemi will be producing a video blog of Mumin Kaffe's story. Everything begins with the construction of the café and continues with children's own video blog after the café has opened its doors. Check out Mumin Kaffe on Facebook to find out more!
What do you think – isn't this cool? ♥
Want to know where the Moomin cafés and shops around the world are located? Click here to the interactive Moomin map!