On a brisk and beautiful winter morning, a group of Moomin fans got the opportunity to visit Tove Jansson's atelier as part of a Moomin Experience they got by supporting the upcoming Moominvalley animation series on its recent crowdfunding campaign on Indiegogo.
Sophia Jansson, Tove's niece and creative director at Moomin Characters, gave a guided tour in the atelier, which was warm and cosy despite the snowy winter weather outside.
"When Tove moved in here after the war in the 1940's, it was not nearly as warm as now. Sometimes she used to write down the inside temperature in her notebook: 1 degree Celcius in the studio where she worked, and 6 degrees in the small adjacent room where she slept", Jansson said.
Once-in-a-lifetime perk
The visit to Tove's atelier was part of a one-week Moomin Experience in Finland, the biggest perk fans could get by supporting the Moominvalley animation series. Thanks to 3,701 superfans from all over the world, the campaign raised a total of US$253,320 towards the visual development of the forthcoming television series.
We caught up with the three fans who bought the biggest perk and asked them about why they wanted to help fund the Moominvalley series, which will premier in the UK and Finland in spring 2019.
"This was a once-in-a-lifetime perk. My mum hadn't been on a holiday for about seven years, so I wanted to bring her along as well," said Rhianna Pratchett, a video game writer from the UK.
Rhianna Pratchett's ties to the Moomin stories are deeply personal. She is the daughter of bestselling fantasy author Terry Pratchett, who introduced her to the Moomins. He called Tove Jansson "One of the greatest children's writers there has ever been," and said that her writing was one of the reasons he became an author.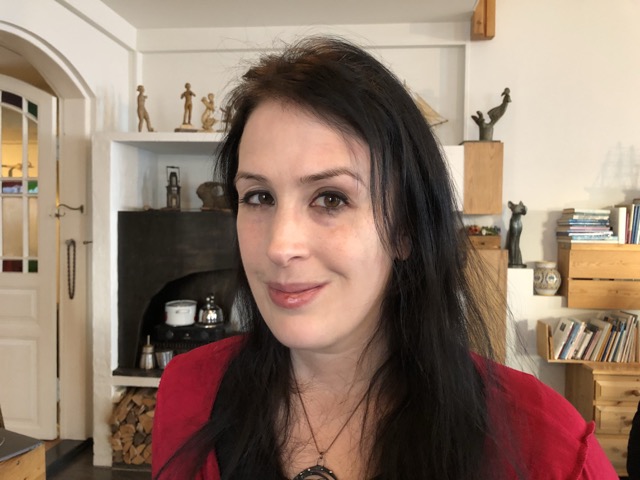 "I'm a huge fan of the Moomins, and have been since I was a child. My parents used to read the Moomins to me when I was small and then I would read them myself. My dad made me a Moominvalley and a Moominhouse out of papier-mâché and wood, and all the Moomins out of clay. When my dad was ill I would read him the Moomin stories for comfort", Pratchett said. Read more about Rhianna Pratchett's and her father's relationship with the Moomins in her piece for The Guardian.
Pratchett was looking forward to having a "an experience of full on Moominness", as she said.
"I haven't seen Moominworld or the Moomin Museum before, and going up to Lapland, seeing huskies, reindeers and hopefully the northern lights (fingers crossed!) it's a once-in-a-lifetime thing."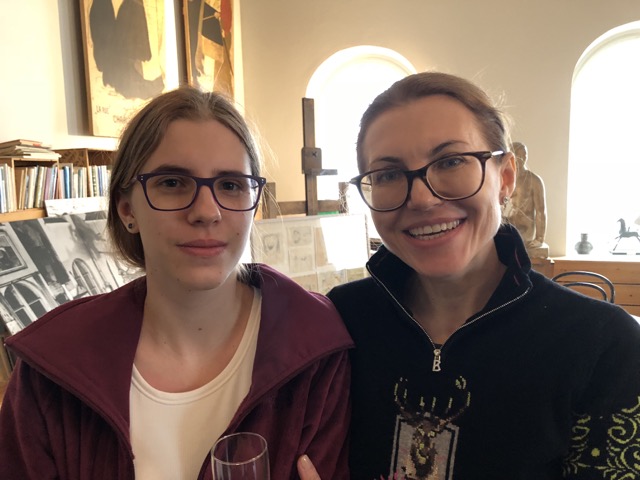 From Russia with inspiration
Elisabeth Kuznetsova had travelled to Finland all the way from Vladivostok in far east Russia. When she found out about the Indiegogo campaign, she asked her mother if they could contribute enough money to get a plush Moomin figure.
But her mother Elvira decided to go for the biggest perk and a trip to Finland. For Elisabeth, who dreams of a career in art or animation, getting to know more about the production of the upcoming animation is a dream come true.
"I really wanted to see how the things here work. Tove is an example for me and I wanted to know more about her. I want to become an animator or work with character design, storyboarding or something like that", she said.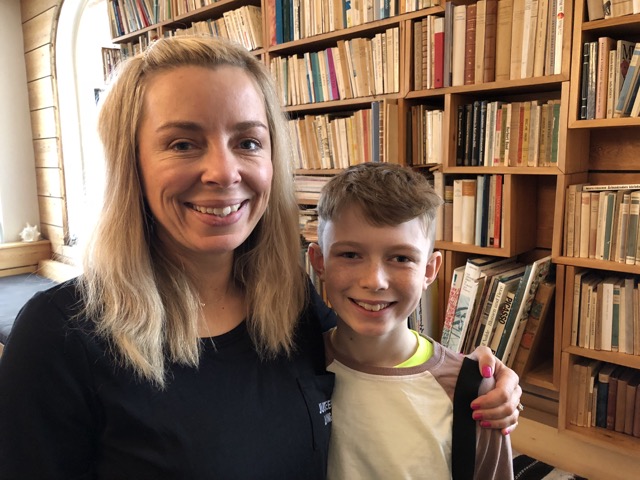 Mum-and-son-time with Tove's art
Sally-Anne Bedford from the UK saw the Moomin Experience trip as unique opportunity.
"This is a once-in-lifetime experience. During this week we'll go to places where we would never normally have the opportunity to go", she said.
"I'm interested in Tove's life, so it's interesting to see where she lived and worked. Yesterday we went to the warehouse of the Tampere Moomin museum. I loved being able to see the artwork up close, without glass in between. It's been an honour."
Sally-Anne Bedford has been reading the Moomin books both on her own as adult literature and aloud to her son Gabriel, whom she brought with her to Finland. The Moomin Museum made an impact on Gabriel, who was very clear about who his favourite Moomin character is:
"Little My, because she's naughty!"
Pictures: Moomin Characters, Gutsy