The Moomin team was treated to the new Moomins on the Riviera film this weekend and we loved it! The creators have truly stayed true to the characters, the original Riviera comic story, and the spirit of the Moomins.
The project that started many years back was initiated by producer Hanna Hemilä and she teamed up with French director Xavier Picard to bring the Moomins to life on the big screen.
Much thought has gone into figuring out how to transfer the stories and characters and it was decided early on that the movie would not be created in 3D like the majority of animated films today. Instead, they used traditional hand-drawn animation.
– You can feel the lines says director Xavier Picard
– And it might be one of the last films to be drawn by hand producer Hanna Hemilä adds.
The film will premiere in Finland on October 10th nicely coinciding with Tove Jansson's centenary. The film is the first new Moomin animation in over 20 years and it will also be screened at the BFI London Film Festival on October 11th/18th.
– I love how the filmmakers have used colour in the film and it really pays homage to Tove's original work says Moomin Characters' creative director and Tove Jansson's niece Sophia Jansson.
Watch the trailer:
The Moomins on the Riviera team
From left to right: director Xavier Picard, producer Hanna Hemilä, Moomin Characters' creative director Sophia Jansson, Swedish and Finnish voice actors Mats Långbacka (Moominpappa), Kris Gummerus (Moomintroll), Alma Pöysti (Snorkmaiden) and Christoffer Strandberg (Clark). Read about the English cast.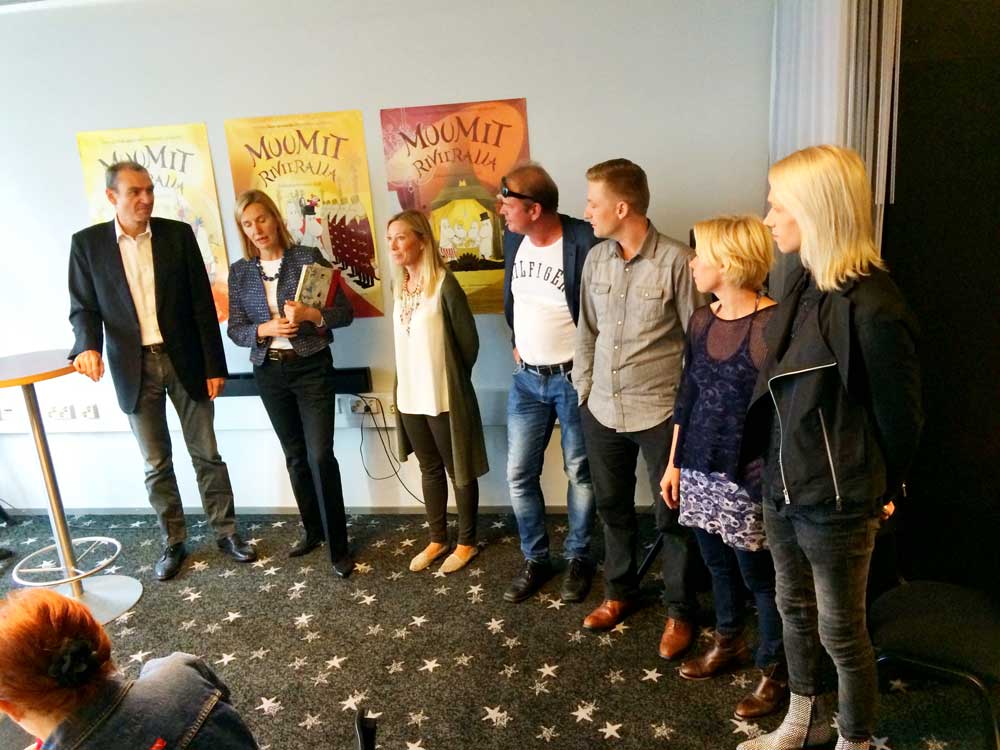 We already have a couple of Moomins on the Riviera-themed products based on the new artwork created for the film.