Arabia's Moomin dishes show a more sensitive side in a new series that highlights Tove Jansson's personal emotional journey. Tove Jansson wrote her last Moomin novel, Moominvalley in November, soon after she had lost her mother.  The tale reflects her inner growth and examines difficult feelings, from longing to loss and sorrow. The new series, called 'True to Its Origins', is based on this story and will be available in September 2017.
Time for change
The two novels Moominpappa at Sea and Moominvalley in November intertwine, and their warm wisdom is clothed with words and illustrations that portray the grief and yearning that Tove felt after her mother passed away. On the other hand, she also reflects on life's changes and the possibilities that follow.
Tove wrote her last Moomin novel, Moominvalley in November, after her mother died. The melancholy tale has no Moomins in it at all – the only ones present are the other residents of Moominvalley, who all long for the Moomins to return.  In skilful, precise line drawings, she depicted her life using the sea, the wind, light and shadow as a representation of the strong feelings she was experiencing.  When Tove Jansson withdrew from the world to draw and write her last Moomin novel, she felt like she was close to her mother.
At the same time, a crowd of lonely characters from Moominvalley comes looking for the Moomin family. Each one has their own personal reason to go to the Moominhouse. That's why they are so disappointed when they can't find the family anywhere. Fillyjonk, Hemulen, Mymble, Snufkin and the others stay in the house anyway and try to live like the Moomin family that they admire so much. They learn many important things about themselves.
On the other hand, life's changes can also offer new possibilities. In the story Moominpappa at Sea, the Moomin family has decided to move to a lighthouse. The autumn sea and the island where they now live are unpredictable, and each character experiences this new environment in their own way. Moomintroll spends time on his own, Moominmamma misses home, and Moominpappa tries to understand the power of nature. The only character who remains herself is Little My. She doesn't care about the mystical and sometimes gloomy atmosphere on the island.
Faithful to the original
True to its origins, the series strongly complements Arabia's existing Moomin collection. The sensitive black and white images look timeless beside any of the classic Moomin dishes, because they go with every other colour. The style of the pictures demonstrates Tove Jansson's exceptional ability in expressing her mood and deepest emotions with simple drawings.  Arabia's Product and Marketing Manager Nora Haatainen says that the story behind the tale affects everyone who learns about it all around the world: "Minimalistic illustrations and Tove's honest humanity really touch people. It's almost disconcerting to see how skilled she was at conveying her feelings and thoughts with just a few lines."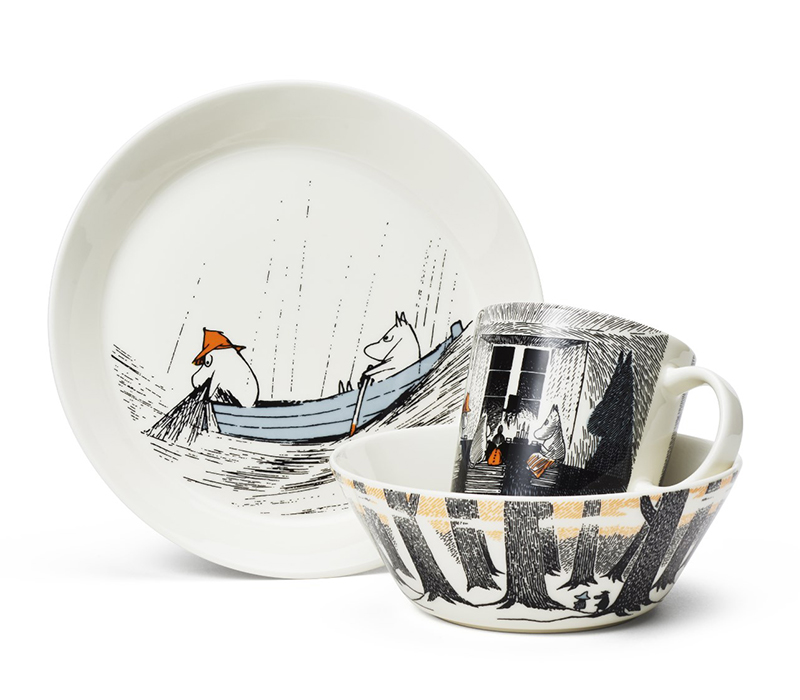 The series is available from 1 September 2017. Leave your email address on the product pages to be notified when the products are in stock:
Source: Arabia