Arabia is bringing out a new special Moomin mug, Moomin's Day, to be on sale for just one day this coming Moomin's Day, celebrated every year on 9 August, Tove Jansson's birthday. The Moomin's Day mug will be sold at Moomin Shops in Finland, Moomin.com and Arabia's own webshop as well as in selected stores on 9 August 2018. The Moomin Shop in the Forum shopping mall in the Helsinki downtown area will open at midnight, while the rest of the shops in the mall are closed.
The Moomin's Day mugs are a special edition and are available only on that day, while stocks last.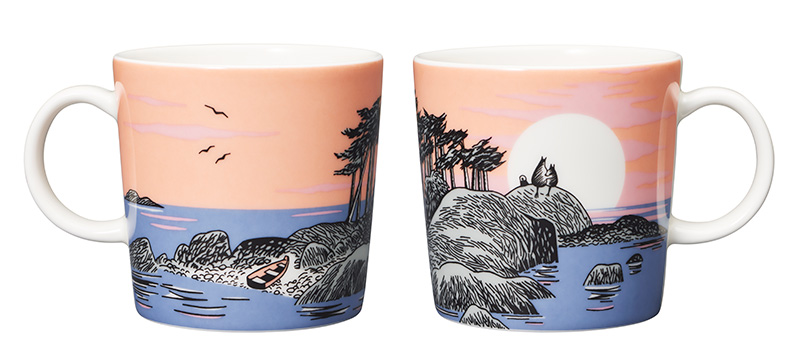 A warm moment between mother and son
Drawn in 1955, the illustration on the mug was first published in a London newspaper. Moomintroll and Moominmamma have hiked to the highest point on an island close to Moominvalley to view the beautiful sunset. Moomintroll snuggles up to Moominmamma's side and pushes his nose onto her silky snout. It's very quiet and they are alone – it feels good.
This is their chance for just the two of them to have some calm, relaxing time together, away from their busy family life. The touching image describes Tove Jansson's unique relationship with her own mother.
The island in the picture is near Tove's summer retreat, where she spent many unforgettable days. Her love of the sea and nature has always been an important part of her stories and illustrations. Visually, the Moomin's Day mug is reminiscent of Night Sailing, one of Arabia's Moomin mugs from 2010.
"The illustration on the mug is very special in many ways. It features Moominmamma and Moomintroll hugging, which is rarely seen. Also, nature and water theme together with the colours blue and rose create a harmony that is very popular on Arabia's Moomin dishes", says Tiina Pekola, Marketing Manager for Fiskars licensed products. She's noticed that certain hues are more attractive than others throughout the years, in spite of trends.
Moomin's Day 9 August
Writer and illustrator Tove Jansson was born on 9 August, 1914. In 2004, exactly 90 years later, Moomin's Day was celebrated for the first time as a tribute to her artwork and heritage. Now, the fifteenth Moomin's Day is being commemorated by Arabia through a Moomin mug that carries the day's name and meaning with it. Moomin's Day is already a phenomenon in Japan, where the day is filled with Moomin events and celebration.
The Moomin's Day Moomin mug will be available for exactly 24 hours from midnight on 9 August 2018 until the following midnight at the end of the same day while the stocks last at Moomin.com and Arabiastore.eu, as well as in selected shops.