Moomin around the world – NEW YORK CITY, USA!
The world-class international festival – The New York Film Festival – is celebrated 55th time in New York on September 28th – October 15th, 2017. Tove Jansson's frescoes come to life at the Lincoln Center where Finnish company Arilyn presents their mobile application that combines the best of Augmented Reality, Location Intelligence, and Interactive Media.
New York Film Festival – Convergence
Tove Jansson's frescoes part of the Virtual Reality Projects at the Lincoln Center
Sunday, October 1st at 12 noon-6pm
Frescoes Party in the City and Party in the Countryside come to life with the help of fashion journalist Sami Sykkö and environmental journalist Minna Pyykkö. Sami Sykkö moves inside the Party in the City fresco pondering the mood of the party, and the outfits and style of the guests and Minna Pyykkö examines the plant and animal life found in Party in the Countryside on her tour.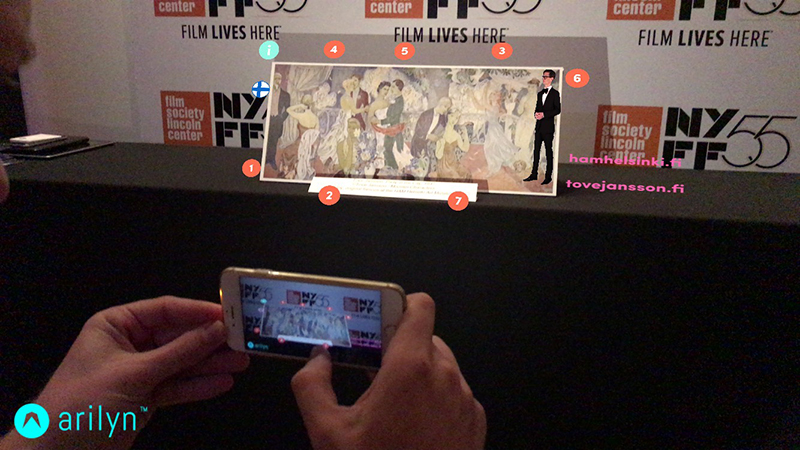 Photo: Arilyn
The new layers of the frescoes are accessible through the mobile application Arilyn. The digital content works best while facing large-scale frescoes when one can study the many details on an eye level. The application can, however, also be used to dig deeper into an image on a postcard or in a book, for instance.
The content is by HAM Helsinki Art Museum and the technical execution by Arilyn. The initiative has been made in collaboration with Moomin Characters Ltd.
The original frescoes in the center of Helsinki
The City of Helsinki commissioned large wall paintings in 1947. Paintings were originally made for Helsinki City Hall and in 1974 the frescos were moved to the lobby of Arbis, the Swedish-language adult education centre in Helsinki. In 2014 Ateneum borrowed the frescos for Tove Jansson exhibition and Arbis got high-quality copies for their premises.
The original Tove Jansson's frescoes, Party in the City and Party in the Countryside, are now permanently presented at the Helsinki Art Museum, HAM in the center of Helsinki. The first permanent exhibition of works of Tove Jansson in Helsinki opened in early 2016 showcasing the work and life of a much-loved artist. In the beginning of 2017, the frescoes and also Tove Jansson's sketches of murals for the Aurora Children's Hospital were joined by Tove's murals for the canteen at the Pitäjänmäki factory of the Strömberg company.
And the Moomintroll…
Yes –  it is not only Tove Jansson around the world but also Moomin around the world – Moomintroll really is featured on Tove's frescoes!