This edition of "Letters from Tove" features two letters that Faber novelist and short story writer Ruth Thomas has shared with us. We thank Ms. Thomas for her contribution. The letter first appeared on Faber's blog 'The Thought Fox'.
You can find the transcript and Ruth's comments on the letters below.
The first letter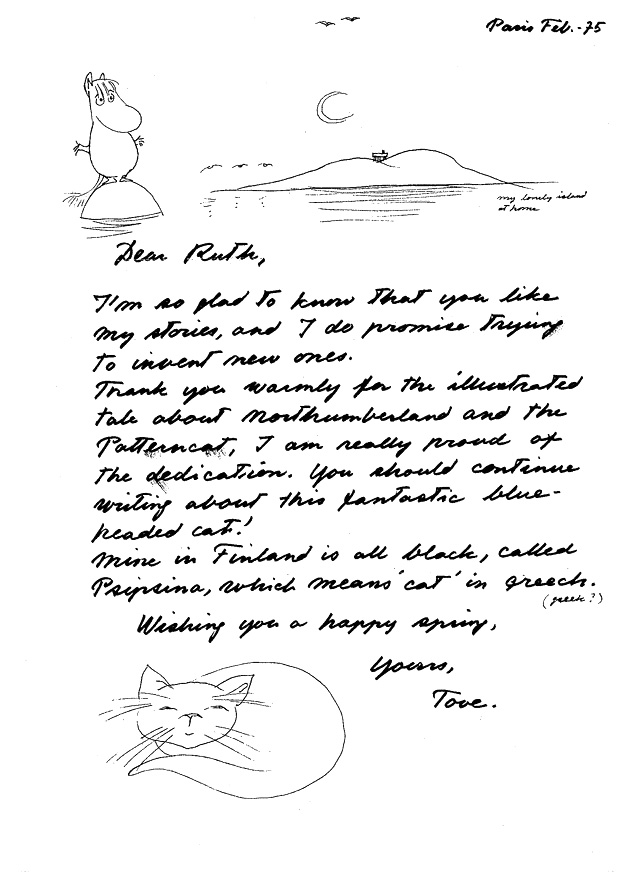 Dated: Paris February 1975
Dear Ruth,
I'm so glad to know that you like my stories, and I do promise trying to invent new ones.
Thank you warmly for this illustrated tale about northhumberland and the Patterncat. I am really proud of the dedication. You should continue writing about this fantastic blue-headed cat!
Mine in Finland is all black, called Psipsina, which means 'cat' in greech (greek?)
Wishing you a happy spring,
Yours,
Tove.
…….
The second letter
Dated: October 1977
Dear Ruth,
Congratulations to your story in Puffin Post! and good luck for the future. I am so very glad that you like my Summer Book. The grandmother is a picture of my mother.
Tooticki is giving you her best wishes – here is her drawing of Psipsina! —>
Lots of love, Tove
…….
Here is Ruth's recollection of the correspondence in her own words. The text first appeared on Faber's blog 'The Thought Fox'. 
I don't remember what I wrote in my first letter to Tove, and I don't think I ever expected a reply – the image I had of Tove and her island was still too misty and Scandinavian to have anything to do with the GPO. But then one afternoon – winter by now – I came home from school and there was an envelope lying on my pillow. It was a very particular envelope, pure white and fine-papered, and larger than the Basildon Bond ones my mother used. And there was my name on it! – and my address! And there was a stamp from Finland.
I opened it – very carefully – with a butter-knife.
Over the next three years we wrote to each other four times. Which goes to show how extremely kind she was to the children who read her books. She sent one letter – unbelievably exotic! – from Paris, where she was on holiday with Tooticki. Another mentioned her latest book, The Summer Book – '… The grandmother is a picture of my mother…' Her writing was beautiful, sloping, in black ink, and she always included drawings of Moomins.
Tove's last letter to me (which I've framed and placed – sensibly, in a grown-up way – on my bedroom wall) was inside a card she'd screen-printed. It depicted the Snork Maiden standing in a shallow sea.
Happy Spring to you! she wrote. Which is a phrase I still think of every Springtime. And still reminds me of being seven, and tiptoeing up to my dad's studio.
…….
Tove Jansson and her cat Psipsina. Psipsina lived to be 16 years old.