In 2014, to celebrate the 100th anniversary of Tove Jansson, Tove Jansson exhibition was held in Helsinki at the Art Museum Ateneum. Over 300 000 people visited the exhibition in Finland and during 2015 the touring exhibition in Japan delighted over 260 000 visitors in total of five museums.
Never seen in the UK before
Tove Jansson exhibition is touring in Europe starting tomorrow from Millesgården in Stockholm, Sweden. After Stockholm, Jansson's art go on display at Göteborgs Konstmuseum in Gothenburg, Sweden and GL STRAND in Copenhagen, Denmark. In autumn 2017 Dulwich Picture Gallery in London will present the first major Tove Jansson exhibition in the UK.
"I'm delighted that Dulwich Picture Gallery is putting on this exhibition which will make Tove's wider artistic output accessible to a UK audience, who may not yet be familiar with her work outside of Moominvalley", Tove Jansson's niece and the creative director of Moomin Characters Sophia Jansson said.
The exhibition covers all the periods in Tove Jansson's (1914–2001) productive career, including her surrealistic paintings of the 1930s, modernist art of the 1950s and more abstract works in the 1960s and '70s, as well as her satirical anti-war illustrations for the magazine Garm, her monumental paintings for public spaces, and of course Moomin characters and stories.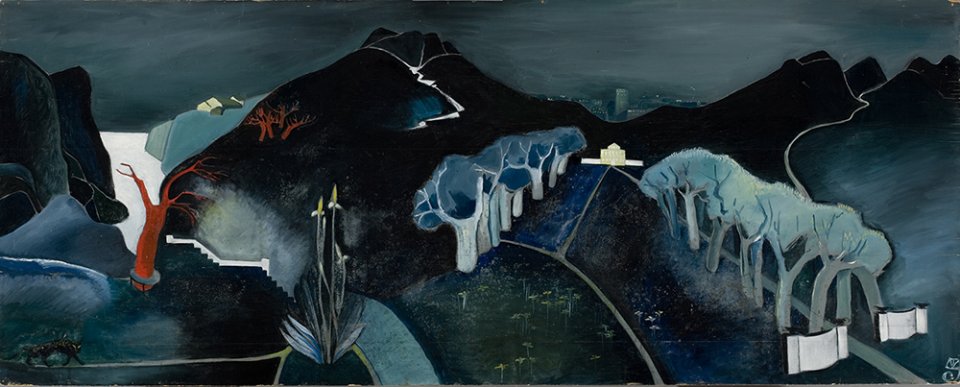 Tove Jansson, Mysterious Landscape, c. 1930,
Oil on plywood, 61 x 152.5 cm,
Ateneum Art Museum.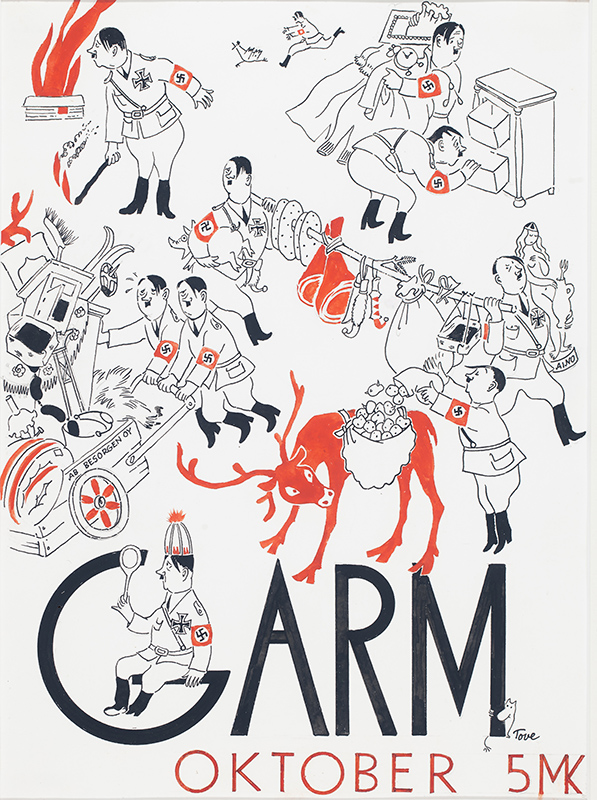 Cover illustration for the magazine Garm, 1944,
Tampere Art Museum Moominvalley
Tove Jansson follows in the footsteps of similar exhibitions at Dulwich Picture Gallery, such as Quentin Blake, Beatrix Potter and Saul Steinberg, which pay particular attention to the incredible body of work that exists alongside the illustrations that made them household names.
Sointu Fritze, curator of the exhibition, said:
"In Europe and the world today, Tove's art and stories are more relevant than ever. Her entire oeuvre and way of thinking are characterised by the acceptance of differences. Although the family circle – both the artist's own and the fictional Moomin family – is central, the door is always open for those seeking shelter. Tove Jansson's works convey a profound understanding of human diversity. This show will reveal fascinating new insights into a colourful life and the work that came out of it."
Exhibition at Millesgården opens tomorrow 22nd October 2016
Tove Jansson exhibition in Millesgården, Stockholm, Sweden is open until January 22nd, 2017.
Millesgården
Herserudsvägen 32,
181 34 Lidingö, Sweden
Opening hours:
Tue – Sun: 11am – 5pm
Touring Tove Jansson exhibition