The exhibitions presenting Tove Jansson's spectacular career as an artist will be opening in June! The world's first and only Moomin Museum in Tampere, the Helsinki Art Museum and Maretarium's Tove and the Allure of the Sea exhibition present Tove Jansson's production from various perspectives.
Helsinki Art Museum's renewed hanging of the Tove Jansson gallery presents a rarely exhibited aquarelle
Some of the most beloved works in the HAM art collection of Helsinki Art Museum are created by Tove Jansson (1914-2001). In November 2019, Tove Jansson's well-known frescoes Party in the City (1947) and Party in the Country (1947) were joined by 13 photographs from Per Olov Jansson, Tove Jansson's watercolour painting Sniff and the Children Rowing (1955) and excerpts from the documentary film Haru, Island of the Solitary.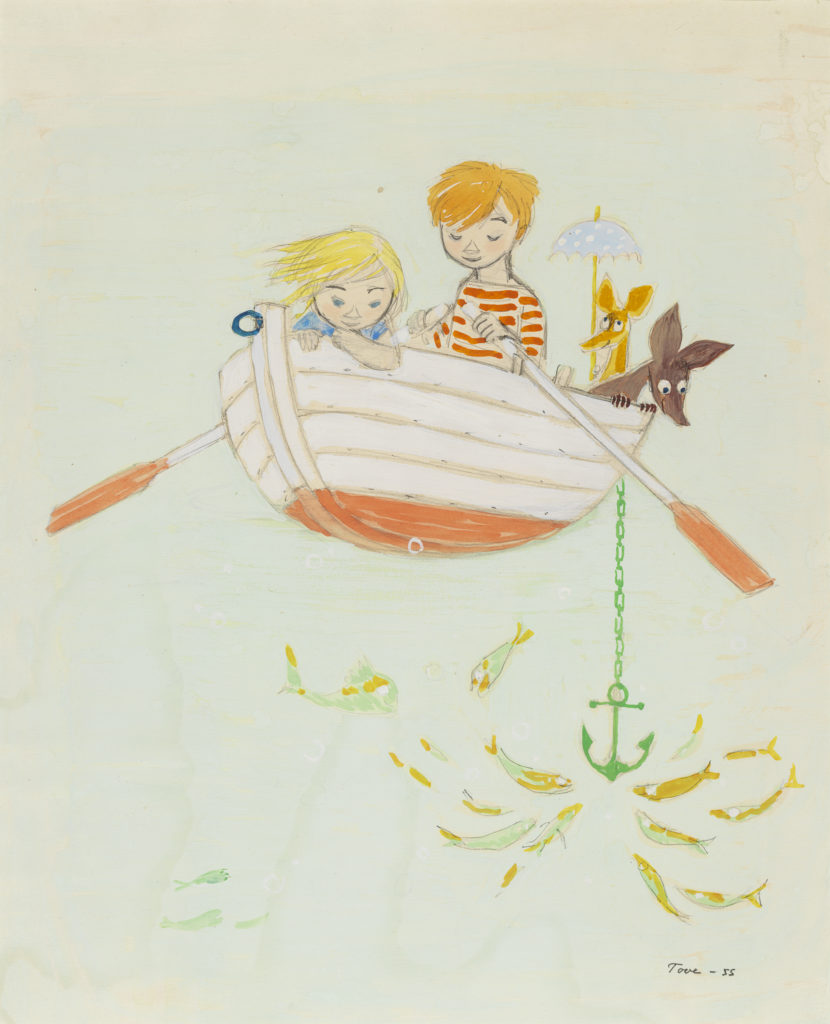 The film includes Super 8 footage shot by Tove Jansson and Tuulikki Pietilä (1917-2009) during the summers that they spent together on the island of Klovharu. Additionally, a copy of one of Tove Jansson's sea-themed paintings is recreated on one of the gallery's walls.
The hanging is complemented by lamps created by Paavo Tynell (1890-1973) – the same lamps that were used in the restaurant where the frescoes were used to hang.
Tove and the Allure of the Sea – Tove Jansson's own experiences are reflected in the illustrations of the Moomin stories.
The Tove and the Allure of the Sea exhibition at Maretarium in Kotka, Finland is open again! The exhibition is part of the #OURSEA campaign. The stories of the bold and adventurous, but home-loving, Moomins stem from the author's own experiences.
The exhibition is on display until the end of the year and features photographs taken by Per Olov Jansson. Next to the photographs, Tove Jansson's illustrations inspired by the same experiences are presented. Per Olov photographed his sister and family life in the archipelago for several decades, and has taken most of the photographs of Tove Jansson.
In the Moomin stories, the sea is a particularly important element, almost developing into its own character. The spectacular illustrations portray Tove Jansson's diverse career as a visual artist.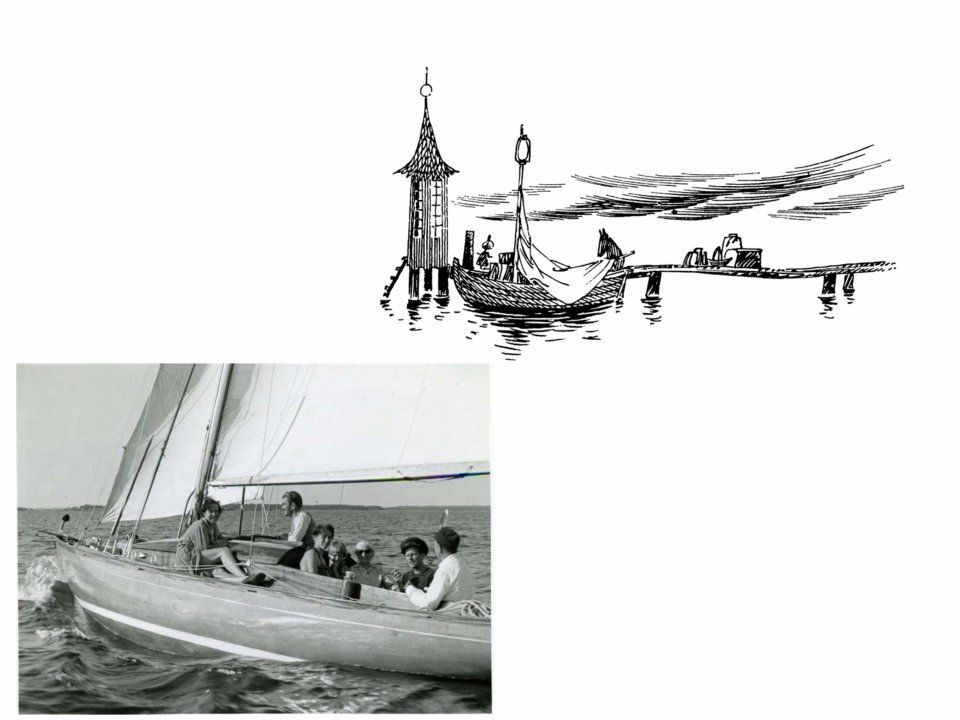 The Moomin Museum's latest exhibition takes you to the sea with the Moomins
The Moomin Museum in Tampere, which will open its doors on June 2, 2020, will also present the maritime world of the Moomins as part of the #OURSEA campaign. The exhibition Moomins and the Sea shows how the sea surrounding Moominvalley resembles the for Jansson important Baltic sea.
This exhibition takes a look at the Moomins' nature-loving lifestyle through a selection of Jansson's original illustrations, featuring images of the Moomin characters embarking on adventurous sea voyages and enjoying picnics on rocky shores.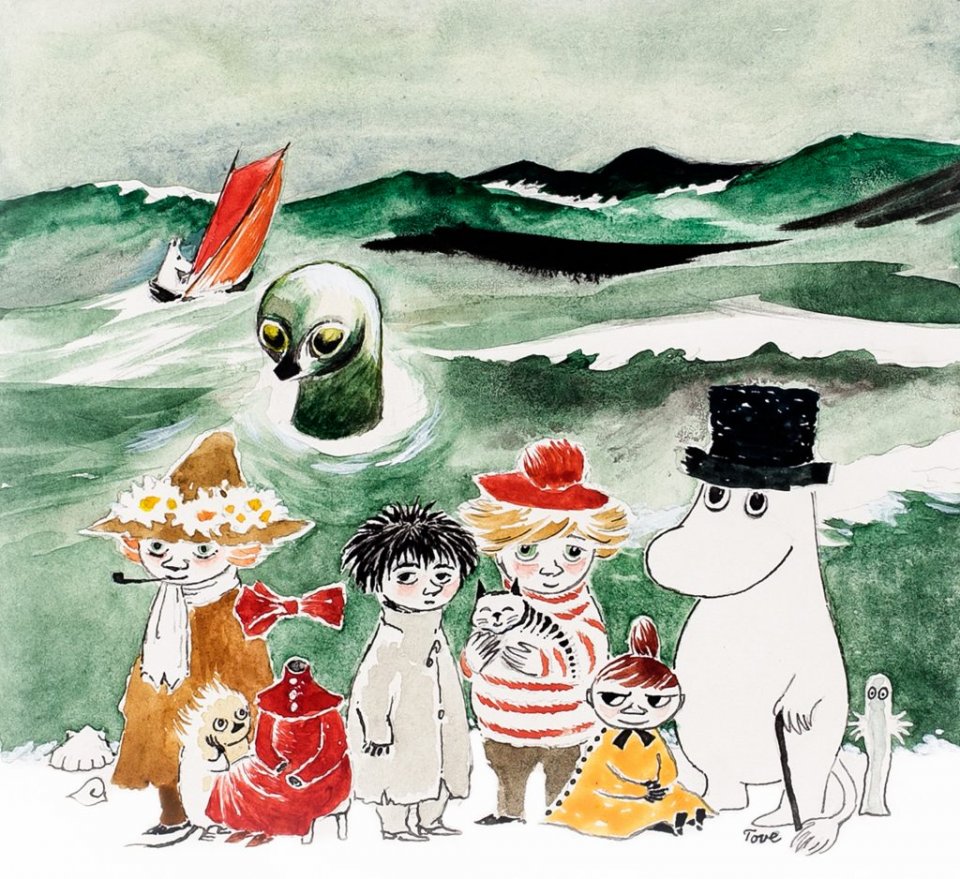 The exhibition Moomins and the Sea will be on display at the Moomin Museum in Tampere until January 31st, 2021.