Moomin Adventures – fun with all the family at Kew
1
st
– 17
th
April 2017
Join the Moomins for a botanical adventure at Kew Gardens this Easter! With the arrival of spring, the Moomins, a family of adventurous and nature-loving creatures, will be coming out of hibernation and getting up to all sorts of mischief and fun! In the Gardens, families can expect an exciting activity-packed day out as these beloved creatures from the celebrated Scandinavian tales come to Kew for the first time.
Children will be inspired by the vibrant illustrated world of the Moomins in harmony with the stunning landscape at Kew Gardens. Spring will be well and truly underway and the Gardens will be filled with the spectacular colour of flowering daffodils, crocuses and magnolias. The Moomin-themed Easter extravaganza will celebrate the beauty of nature as seen at Kew, encouraging everyone to value and celebrate the British landscape and its wonderful array of wildflowers.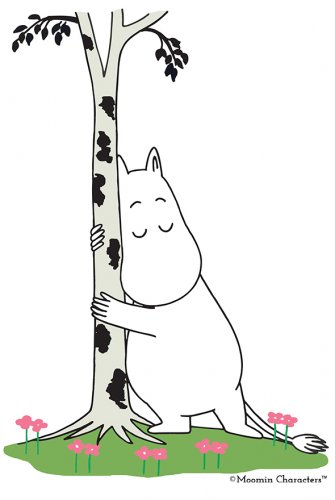 An interactive Moomin trail…
The botany obsessed character of the Hemulen is distraught! Some of his favourite plants have gone missing from his prized herbarium collection. It's up to our young visitors to embark on a magical Moomin mission through the Gardens to get them back.
At the gates, children will be presented with their very own Moomin newspaper which will help them on their quest to track down the missing plants. Along the trail, they will encounter glorious displays of spring flowers, from tulips to fritillaries, where they'll be able to get creative at embossed rubbing points to collect their spring plant specimens on their newspapers.
The Moomin Festival Camp
The trail will culminate in a specially created Moomin Festival Camp in the wild woodland of the Conservation Area. Here, youngsters can find Kew's very own Travelling Herbarium where they can report with all their marvellous botanical findings and collect their reward.
Children will be delighted at the chance to 'meet and greet' a real-life Moomin costume character who'll be popping up to say hello in the Festival Camp!
Daily between 11:30am -12:00pm and 2:00pm – 2:30pm
Marvellous Moomin workshops
In the Moomin Festival Camp, there will be a plethora of activity workshop tents for children of all ages. Inspired by the Moomins, who are accomplished foragers and gardeners, kids will be able to get stuck into den building and have the chance to plant their own courgettes to take home and care for. Other exciting activities on offer include Moomin storytelling, Moomin mask making and the chance to set up a Moomin tea party on Kew's giant outdoor table.
All activity workshops will run from 10:30am – 4:00pm daily
Face Painting
From £4 per face or 2 faces for £7! Get your face painted with a traditional Easter or Moomin inspired design.
Take home activities
The Moomin fun doesn't stop after leaving the Gardens! The Moomin newspaper will be jam-packed full of at-home activities and will form an exquisite souvenir for youngsters to take away.
Catering
A variety of exciting culinary offerings will be available, including of course the Moomins' beloved pancakes and other delicious Easter delights from pop-up shops in the Moomin Camp.

A specially designed Kew Moomin App
Visitors will be able to enhance their experience of the Gardens even further with a new Moomin app, developed by Finnish company RealityXpander and made available for the first time as part of the Moomins Easter festival at Kew. Players, young and old, will be able to virtually collect and learn more about the beautiful plants they spot on the trail with this interactive location-based game.
Easter Sunday
On Easter Sunday itself, April 16th, Kew is once again teaming up with Lindt and children will be able to get their hands on some delicious chocolate treats at the gates. 

Adam Farrar, Head of Commercial Activities, Kew says, "We are delighted to be partnering with the Moomins to create a magical Easter festival here at Kew. Our interactive Moomin trail and activities will give youngsters the opportunity to explore the wilder parts of the Gardens and witness the incredible beauty of Kew in spring."
Sophia Jansson, creative director of Moomin Characters and niece of Moomins creator Tove Jansson, said: "All of the inhabitants of Moominvalley possess a deep love and respect for nature, from the Hemulens who spend their time collecting plants or butterflies to the adventurous Snufkin, whose music is inspired by the landscape around him. So we couldn't be happier to be working with the world-renowned team at Kew to inspire a similar love of nature in families and young visitors to the Gardens."
Cover photo: Kew Gardens
Other photos: Moomin Characters