In 2017 the British charity organization Oxfam and Moomin joined forces to help women and girls around the world. Around the world today, you're more likely to be poor if you're a woman and beating poverty for good means making the world a fairer place, ensuring that no one is held back by discrimination or inequality.
Oxfam is running the campaign Unwrapped gift, Equality for All October 14-28th, and your donation will be matched pound-for-pound by the Moomins – up to a total value of £9,000!
This means even more money raised for vital Investing in the Future projects. From ending violence against women and getting kids into school, to improving healthcare services for people around the world.
The campaign items are available online and you can read all stories on our cooperation with Oxfam here.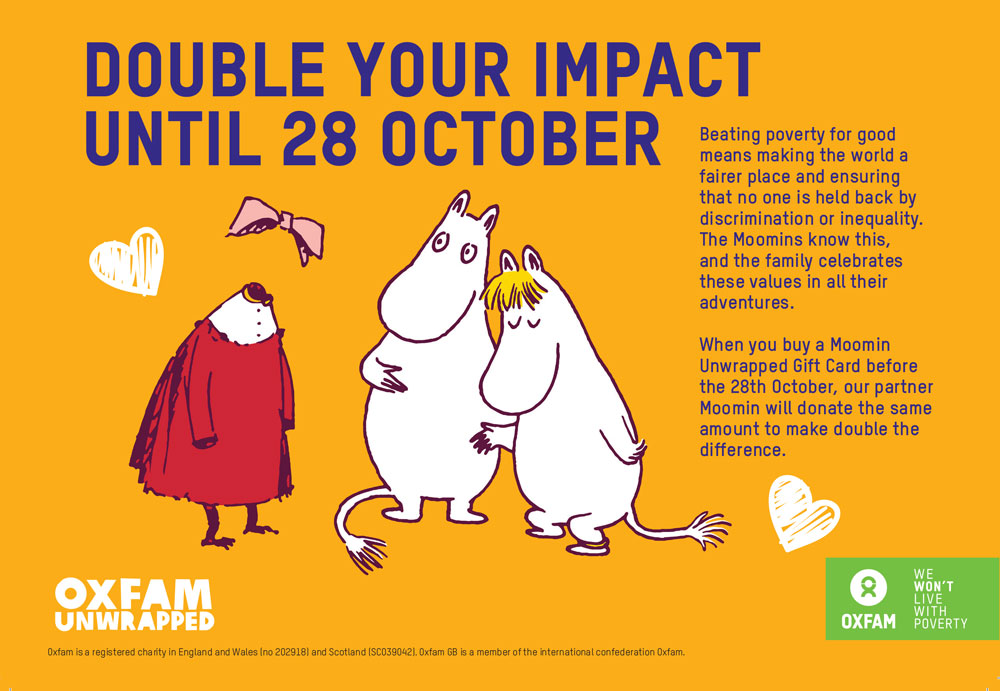 Moomin Equality for All T&Cs
1. Income raised from the promotion will be spent on a women's empowerment project in Zimbabwe as well as projects in the Investing in the Future category in accordance with the following: how we spend your money
2. In circumstances where we cannot spend the income raised as Investing in the Future, income will still be spent in accordance with the other funding categories.
3. The promotion is for the specified Oxfam Unwrapped gift only, and excludes UK Poverty gifts. It does not include other Oxfam Unwrapped gifts, donated items, Sourced by Oxfam products or other products in-store or online.
4. The selected gifts are non-exchangeable with any of our other products.
5. The promotion is available for a limited time only: 14th to 28th October 2019.
6. Available online only.
7. The offer is only available while stocks last.