A significant collection of Tove Jansson's manuscripts and other material related to Moomin books can be found at the Manuscript and Picture Unit at Åbo Akademi University Library in Turku, Finland. This wide and valuable collection includes also the script of 'The book about Moomin, Mymble and Little My' as well as an essential colour map for the illustrations. The Book about Moomin, Mymble and Little My was the first Moomin picture book by Tove Jansson, published in Swedish (Hur gick det sen?) in 1952.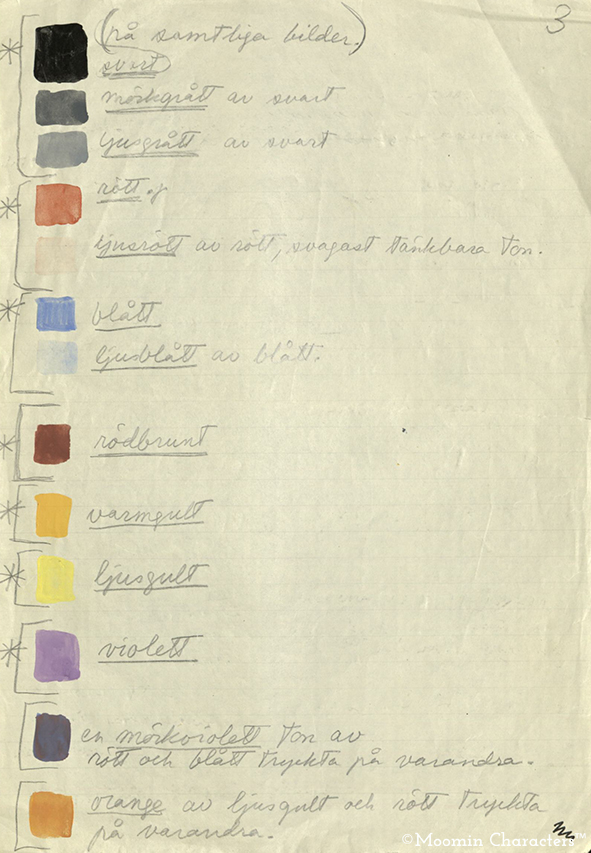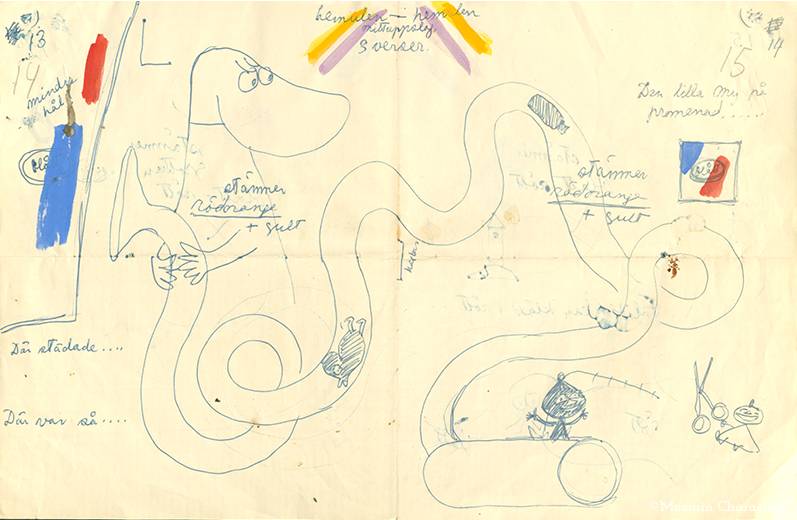 The first edition with new colours in Swedish
As printing techniques have changed and evolved since the 1950s, Moomins Characters Ltd now wanted to go through all the original material so that in the future all the publishers around the world could print Moomin picture books in different languages in similar colours.
Colour separation for the books 'Hur gick det sen?' and 'Vem ska trösta Knyttet?' was done by the designer driven creative agency Kobra Agency, founded by Tove Jansson's niece Sophia Jansson's oldest son James Zambra. Kobra Agency compared the hand-painted colour map from the 1950s and the first editions of the books and made the new materials for printing as Tove Jansson wished in the first hand. In 2015 James Zambra was also part of the team creating the official Moomin font based on Tove Jansson's handwriting.
Now the publishing house Förlaget has released the new edition of the book 'Hur gick det sen?'  with the original colours and the book 'Vem ska trösta Knyttet?' will be published in December.
'Hur gick det sen?' poster now available for purchase
To continue the series of exclusive posters, the Official Moomin Shop has launched a new poster with the illustration of 'Hur gick det sen?' book cover. The poster is available in two different sizes: 70 x 50 cm and 100 x 70 cm.