Nordicbuddies' new apparel collection highlights the magical feeling of the first snow. The collection is exclusively available in the Moomin Shops.
The Moomins usually hibernate during the winter, but one year, Moomintroll suddenly wakes up and begins to explore the wonders of the snowy season. 
"And so Moomintroll was helplessly thrown out in a strange and dangerous world and dropped up to his ears in the first snowdrift of his experience."
-Moominland Midwinter (1957)
Nordicbuddies has used Tove Jansson's Moomin illustration to bring that magical feeling of experiencing winter for the first time to a beautiful apparel collection. The collection, consisting of hoodies, beanies, socks and a tote bag, features Moomintroll staring at a snow-covered tree. The illustration is from the novel Moominland Midwinter, published in 1957.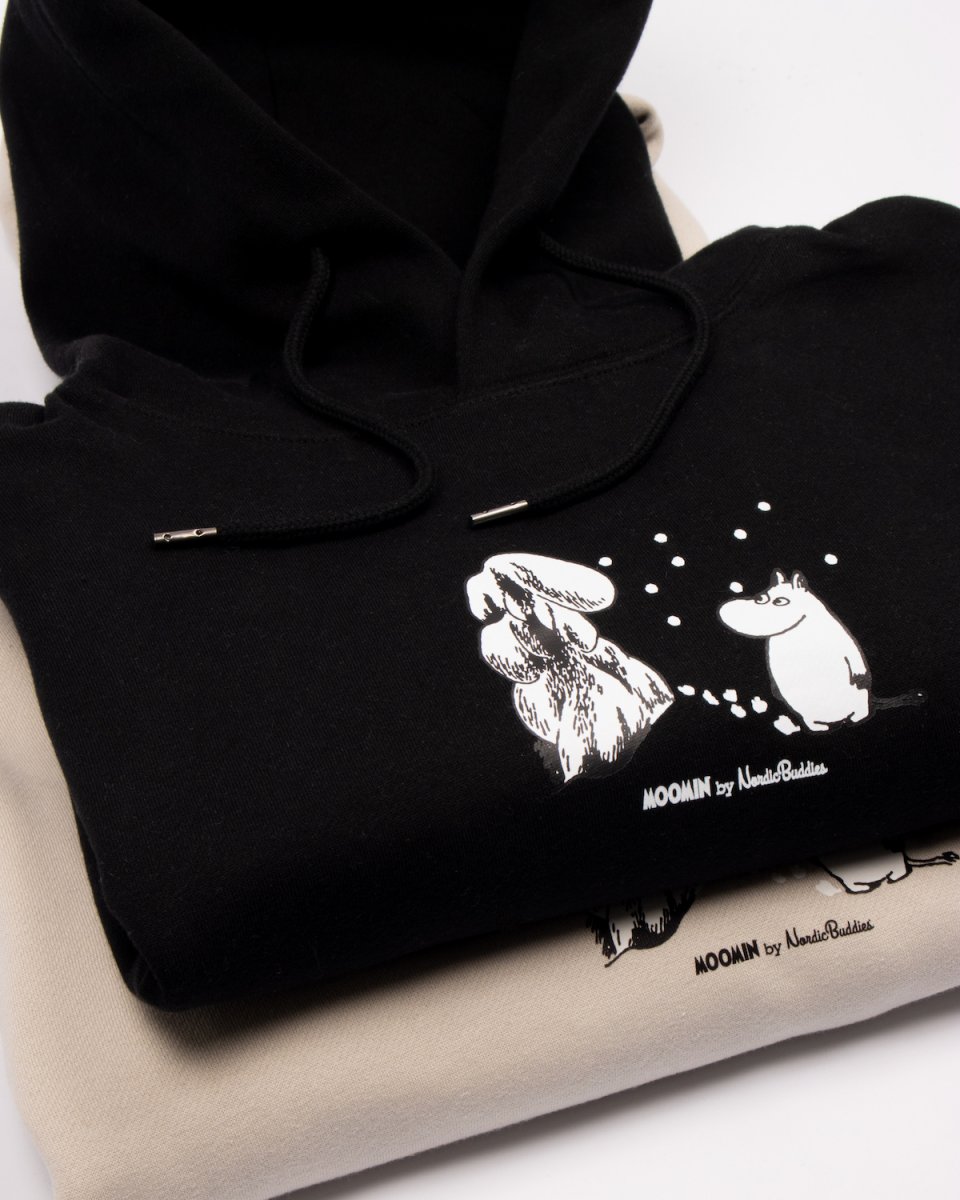 Inspired by a quote
According to Nordicbuddies' founder Lasse Lähteenmäki, the design process for the collection started with a quote from the novel:

"One flake after the other landed on his warm snout and melted away. He caught several in his paw to admire them for a fleeting moment, he looked towards the sky and saw them sinking down straight at him, more and more, softer and lighter than bird's down.
'Oh, it's like this,' thought Moomintroll. 'I believed it simply formed on the ground somehow.'"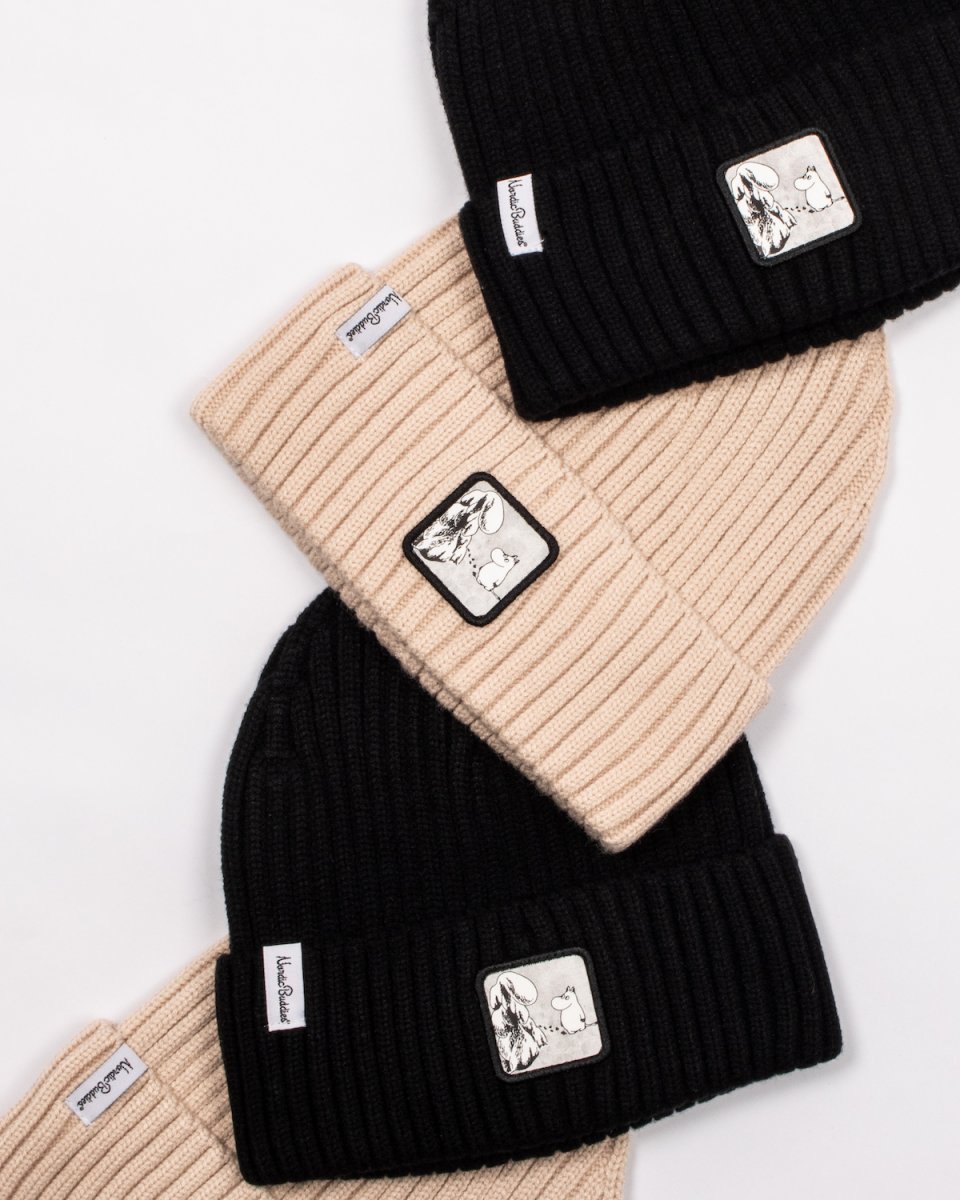 "Tove Jansson brilliantly describes the special feeling of the moment of the first snow. While reading the quote, it is hard not to feel the snowflake floating down on your snout. We thought that this moment could be relatable to many of us. The feeling of a new season starting: new adventures await, and you start looking at life from a slightly different perspective," Lähteenmäki comments.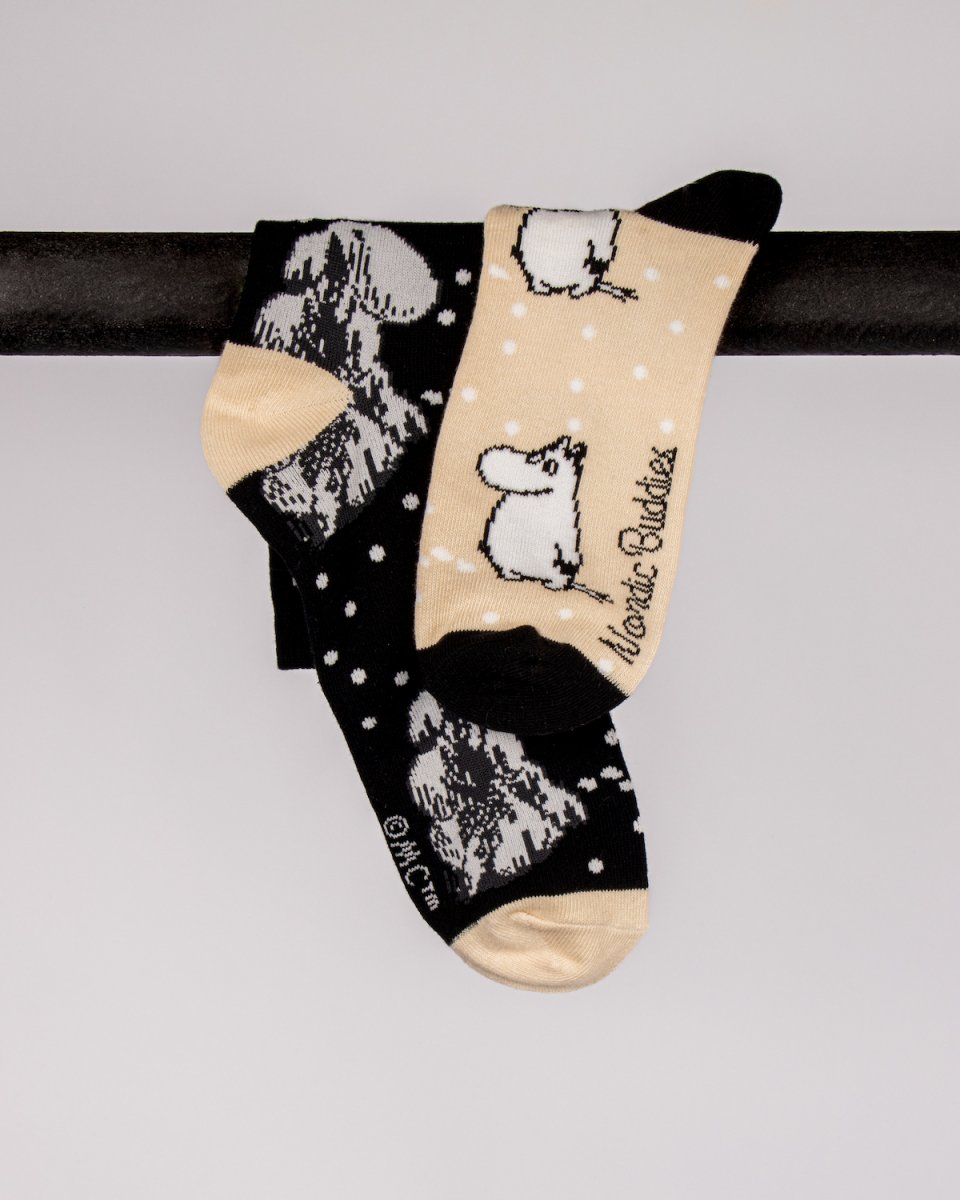 The chosen illustration describes that feeling perfectly, don't you think? The team at Nordicbuddies hopes that the collection gives Moomin fans worldwide a glimpse of the magical moment of the first snow.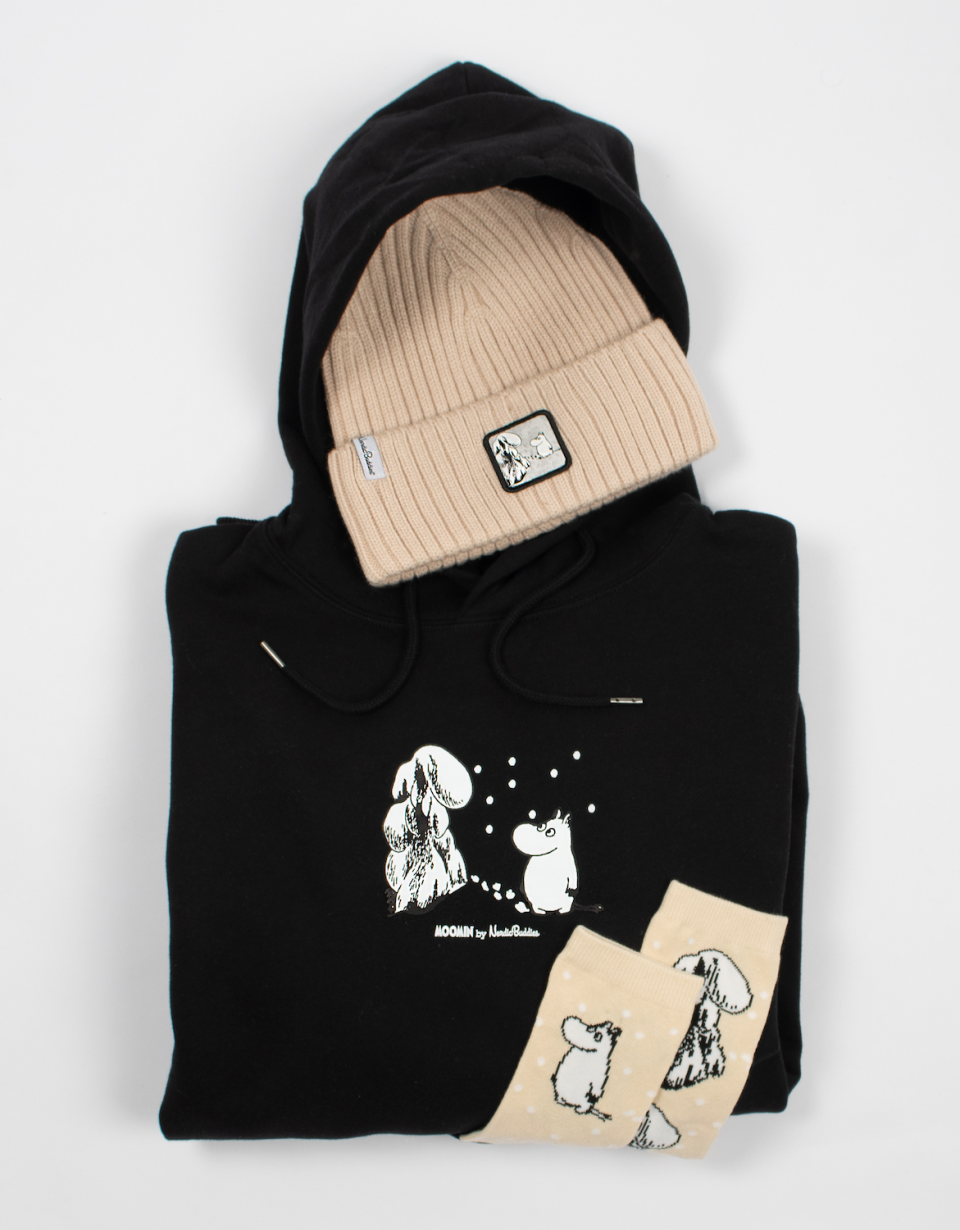 Beige and black apparel
The collection consists of socks, hoodies, beanies and a tote bag – a Moominous survival pack for the winter days. The simple colours of the collection, beige and black, match the black-and-white illustration beautifully.
The collection is made exclusively for Moomin Shops.
Biodegradeable phone cases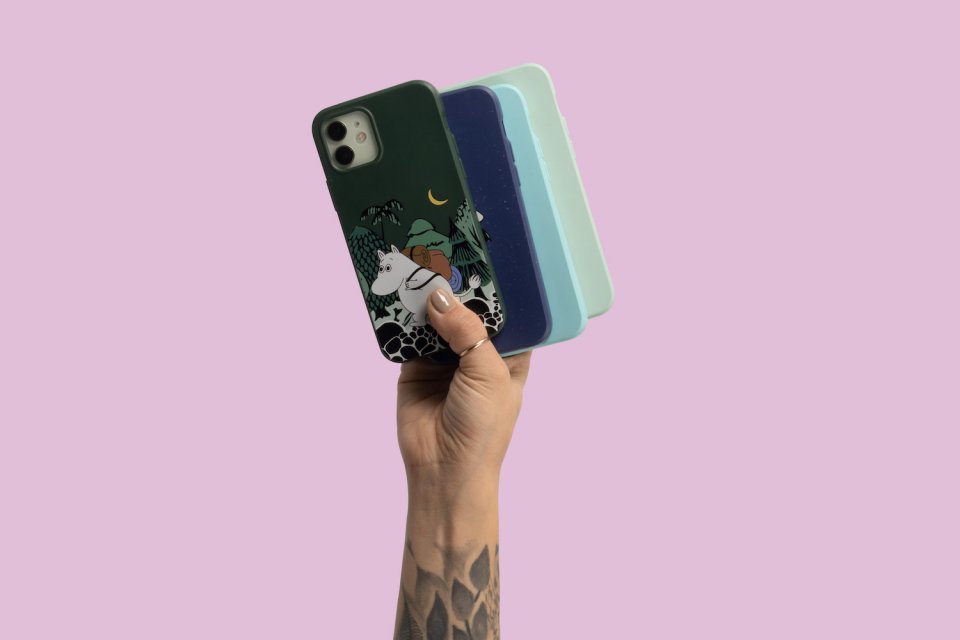 Another novelty in our webshop is Nordicbuddies' new iPhone cases with Moominous designs. The seven cases feature some of the most beloved characters from the Moomin stories.

The phone cases are made from corn starch, wheat straw and soil, making them fully compostable. Despite the natural materials, the cases are durable and strong and are guaranteed to protect your phone on your travels and adventures.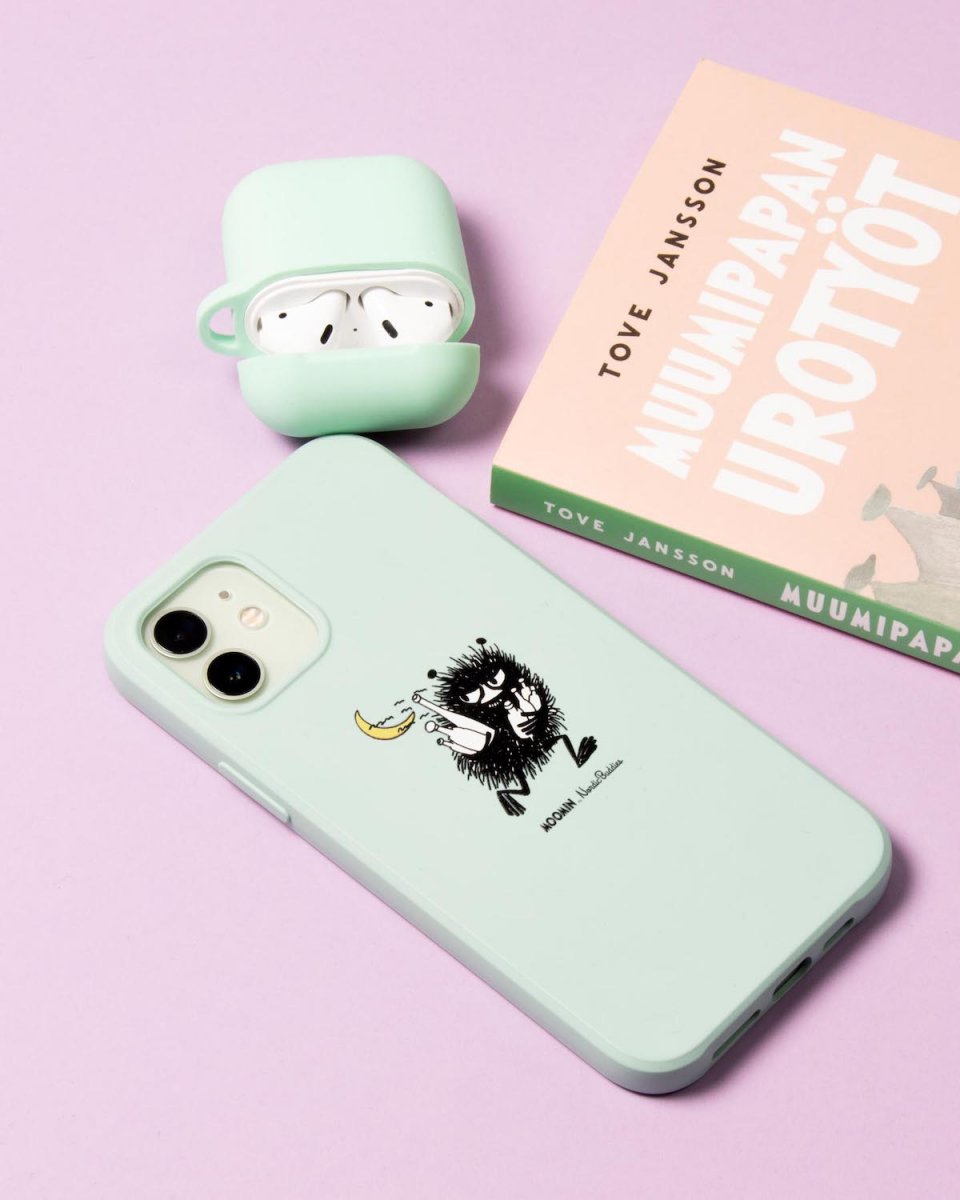 The cases have a matte, silky and soft finish which offers a solid grip to your phone and feels nice in your hand.