Rooted in Finnish nature, one of the purest and most unspoiled sanctuaries on earth, Moomins and the Finnish cosmetics brand Lumene share the values of authenticity, honesty, and harmony with nature.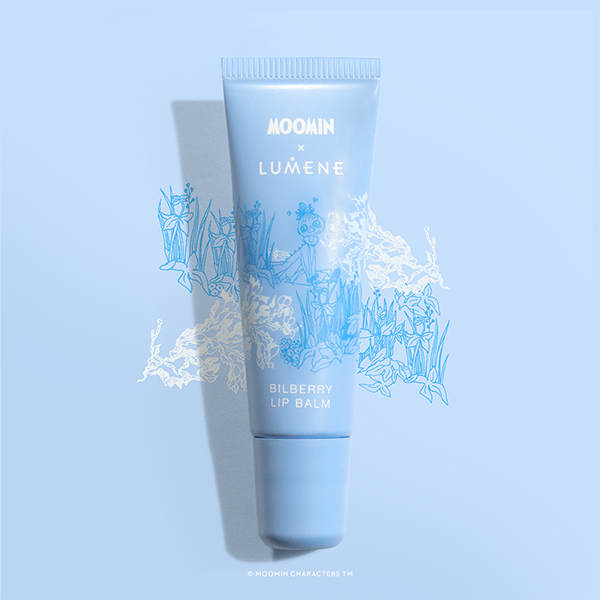 Respecting nature
One of the most important themes of the Moomin stories, respect for nature, is one of the key messages also in the new Moomin product line by Lumene. The natural, skin-loving Moomin x Lumene formulas are infused with radiance-boosting Nordic meadowsweet along with pH skin friendly pure Arctic spring water for healthy-looking, hydrated skin. The water Lumene uses, originates from a natural spring located in the wilderness of Finnish Lapland, close to the Polar Circle known for its beauty and purity.
The scent of the Moominvalley
The delightful Moomin x Lumene skincare product line includes three hand balms and three lip balms and two different gift packages. The natural ingredients moisturize and help make the skin healthy-looking. The fresh flower fragrances are inspired by the scents from the Moominvalley.
Product packaging design by a family member of Tove Jansson
The color scheme of the product packaging is inspired by the four seasons of the northern hemisphere as well as the natural raw materials. The packaging is designed by James Zambra, the son of Tove Jansson's niece, and his design office, Kobra Agency.
Wherever your adventures may take you, Moomin x Lumene formulas keep your skin soft and conditioned and lets you keep the magic of Finland close to you. Products are available from Moomin.com, Moomin Shops in Finland and selected department stores throughout Finland!