Killinki daycare center in Kouvola specializes in children with language support requirements and linguistic special needs. There are seventeen children at the center who speak Finnish as a second language, and activating them linguistically can be challenging.
"The material is good. Children use the program together with an adult, and at the same me they learn how to use a tablet in a proper and safe way" Pirjo Marttinen, Head of Killinki daycare center says.
Pirjo Marttinen says, that when it comes to children who speak Finnish as a second language, learning the language begins with listening and building trust. At first, a child learning Finnish is often very shy about using the language and bonds with adults first before venturing to communicate and play with other children. Marttinen thinks that digital language immersion works best exactly for these children with beginner level language skills.
In Killinki, Moomin digital language immersion has been used by twelve 3-6-year-olds, who speak Finnish as a second language. The experiences have been good. The games and figures are inspiring, and the program gives children moments of success which are important for a child building his/her self-esteem and self-image.
"Those who haven't spoken much earlier now have the courage to talk. The program also inspires children and gives them a sense of success. Sometimes children even high five when they succeed with an exercise" says Kindergarten teacher Raija Virtanen, responsible for 3-5-year-olds.
Marttinen believes that the program lends itself well also to other children in need of linguistic support. And the number of these children is constantly increasing.
Moomin Language School transmits cultural heritage as well.
"The program shows the context, too. Children learn for example which aspects of Finnish culture are associated with a certain season. They also learn perception, colors and hand-eye coordination. For some children, even using a tablet is a new experience", Virtanen says.
Digital language immersion helps the personnel notice when a child needs more practice for instance in pronunciation, perception, color recognition or concentration.
City of Kouvola is satisfied, too
The city of Kouvola is also pleased. The digital reform is well under way, although nothing like this has been done in daycare centres before.
"The program fits well into everyday life of daycare centres and no special arrangements have been needed. We are planning on extending the use of the program to all foreign children in daycare. Extending it to English teaching later on is also possible" says Head of early childhood education, Helena Kuusisto.
Sofia, 6, loves to be Little My
Sofia Petertsens, 6, attends preschool in Killinki. She has one undisputed favourite figure in the digital language immersion: Little My.
Sofia, who speaks Russian as her mother tongue, proceeds with the program without hesitation on.
"Memory games are my favourites, and usually I'm Little My," she says.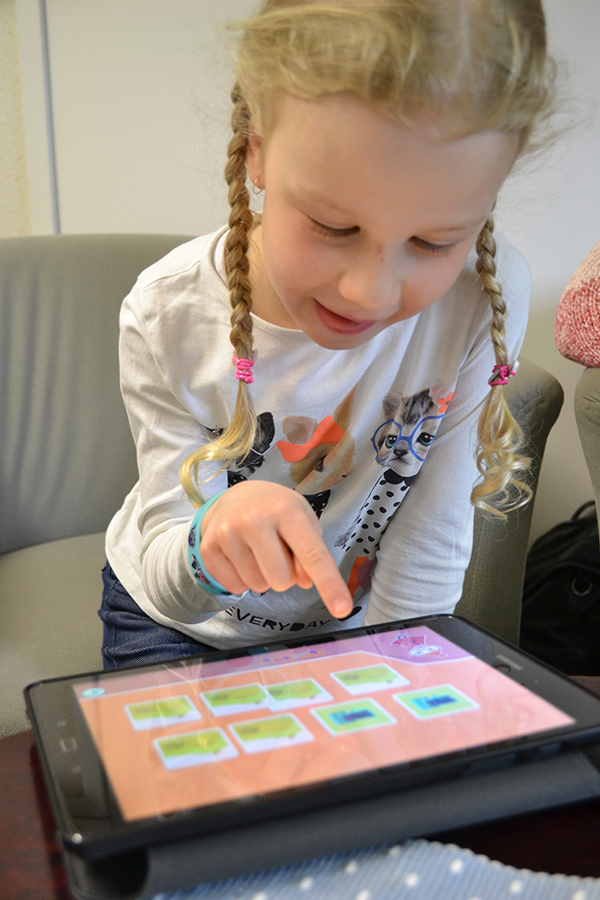 Sofia's mother, Angelina Petertsens has also noticed how her daughter's skills have developed.
"Sofia has made a linguistic leap onto another level. She now has the courage to speak Finnish even outside daycare and has learned to use many new words" Angelina Petertsens, Sofia's Mother says.
Kindergarten teacher Jaana Salo says that the vocabulary and pronunciation of all children who have used the program have improved.
"Moomin Language School is part of our Finnish as a second language teaching. We have also created a learning environment that supports language development and learning Finnish. Children use the program together with an adult, as interaction during the game is important", she explains.
Text and photos: Leena-Kaisa Laakso