All Fazer's xylitol pastilles for children are now Moomin-themed, featuring some of the most beloved Moominvalley inhabitants. Moomintroll was also present when Fazer invited pre-school groups to learn more about dental care.
The Fazer Experience Visitor Center in Vantaa, Finland echoes with the happy sounds of small children laughing. The reason turns out to be Moomintroll, who has turned up to the surprise of the six- and seven-year-olds, who gather around him, hugging his round belly.
During two weeks in January, about 35 pre-school groups visit Fazer to learn about dental care.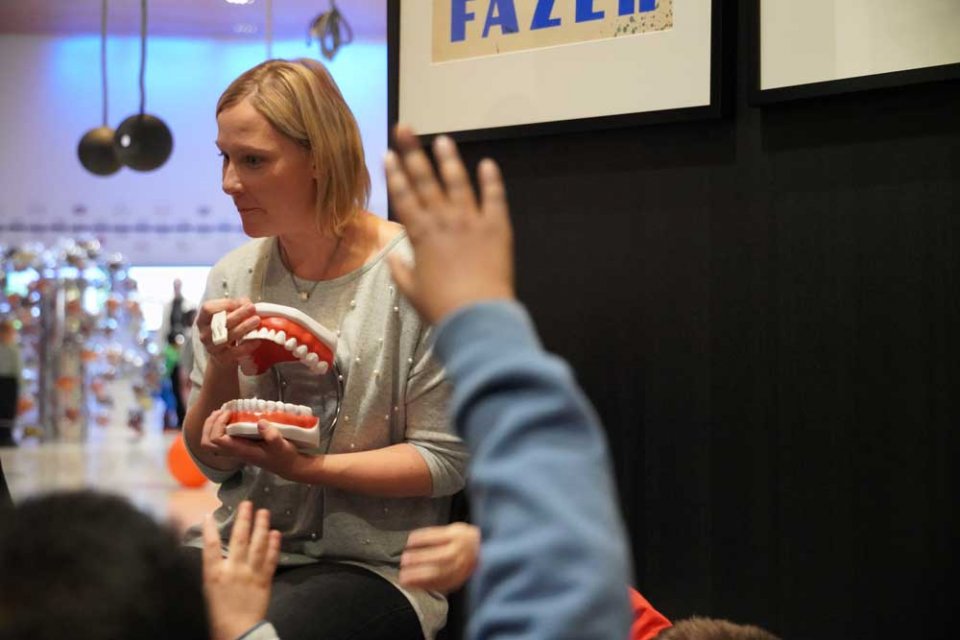 A group of children have gathered in a cozy corner, sitting on plush cushions eating xylitol pastilles while they listen to dental hygienist student Mira Kortelahti, who tells them about the beneficial effects of xylitol on dental health.
EFSA, the European Food Safety Authority, has established that consumption of food containing xylitol instead of sugar contributes to the maintenance of tooth mineralization. It's good to have xylitol after each meal, especially if you've eaten sweets, but that's not enough if you don't brush your teeth properly.
"Do you know for how long you should brush your teeth every day?" asks Kortelahti.
"Two minutes", replies a boy.
"That's two minutes per time", Kortelahti corrects.
"Oh, then it's four minutes per day", the boy calculates within seconds.
"Six-year-olds are too young to brush their teeth by themselves"
Kortelahti has noticed stark differences in children's dental care routines. "Unfortunately, there are lots of differences, and it is due to what children learn at home. Some children say they never brush their teeth in the morning", she says.
Kortelahti stresses that parents have to help pre-school children brush their teeth.
"Six-year-olds are too young to brush their teeth by themselves, they need help from an adult at least once a day. It's not enough to give them an electric tooth brush, the adult has to do the brushing."
Kortelahti asks the children if they've already lost any of their milk teeth, a question that seems to electrify the audience. Then she shows the right brushing technique on a set of big model teeth. When she asks who wants to brush the model teeth, all hands shoot up into the air – her instruction has clearly lit a spark.

Moomins featured on all Fazer's xylitol pastilles for children
From the beginning of 2019, the Moomins are featured on all Fazer's Xylimax xylitol pastilles for children.
"There is a lot of interest around the Moomins, especially now with the new animation series. In Finland, everyone is familiar with the benefits of xylitol, but it is not as well-known in other places", says Senior Brand Manager Susanna Brummer.
Xylitol decreases the growth of harmful bacteria in the mouth, decreasing levels of dental caries. Its beneficial effects on dental health were established already in the 1970s. All of Fazer's xylitol gums and pastilles are made in Karkkila in Finland.