The Finnish company FatCloth was founded in 2011 by five entrepreneurs with different backgrounds. They aim was to create multifunctional pocket squares and accessories for men. The idea for a multipurpose pocket square emerged during a hot summer wedding when wool suits combined with too much fun led to some unwelcome perspiring. Now FatCloth is introducing stylish pocket squares with Tove Jansson's Moomin illustrations. The FatCloth for Moomin project started last winter and together with Moomin Characters the idea for a Moomin inspired line of pocket squares became a reality.
The FatCloth pocket squares are made out of silky and smooth microfiber fabric that is meant to be used. The material is durable and withstands more repetative machine wash cycles compared to cotton, silk, linen or bamboo satin materials. The microfiber cloth is also absorbant, machine washable and withstands ironing as well. The multifunctional pocket squares come in four absolutely stunning designs. The beautiful images are Tove Jansson's original artwork from the novels and the design and colours were designed by Leena Kangaskoski from design agency Aivan.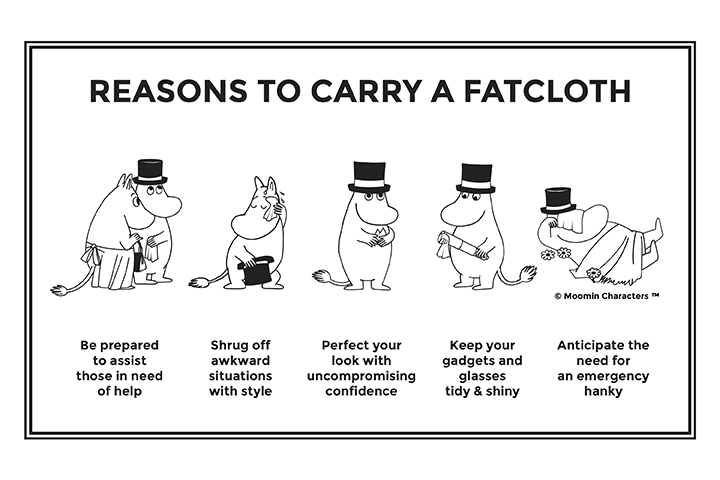 You can find stunning designs on Moomin.com. See also, the newest additions to the Moominous collection by FatCloth here.