In honour of the International Day of Peace, 5% of the sales on moomin.com during last Wednesday and Thursday was donated to UNICEF. We received over a hundred orders from you and we are more than happy to tell you that the total amount we donated was 553,08 euros! Thank you! ♥
Tove Jansson for UNICEF
During an extensive career, Tove Jansson also illustrated postcards for charity. In 1971 UNICEF's Christmas card assortment included a card "Wonder of Christmas", and ten years later "March for Peace".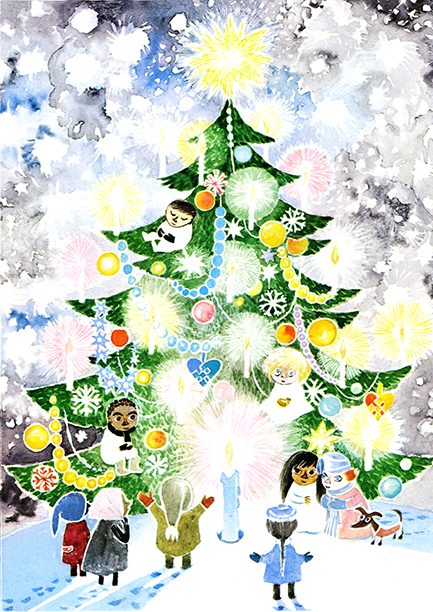 Wonder of Christmas
Tove Jansson 1971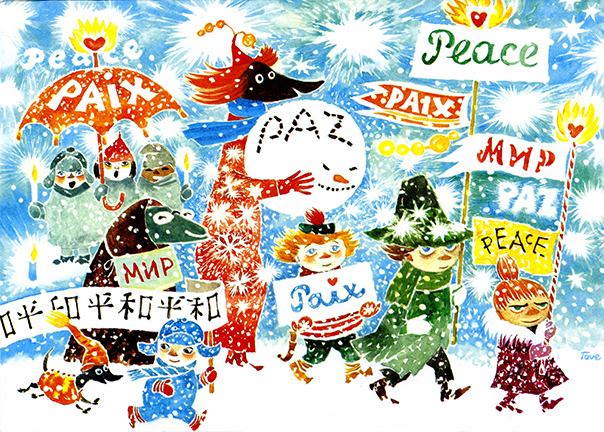 March for peace
Tove Jansson 1981
The card Wonder of Christmas was reprinted in 1995. The illustration is based on the picture Tove Jansson drew for the book "Tales from Moominvalley" in 1962. The illustration in the short story "The Fir Tree" is quite similar to the illustration in the UNICEF's card but in the card for example, there is a star at the top of the tree, not a silk rose like in the book. Tove Jansson wrote: "They looked at the sky, black and distant but unbelievably full of stars, a thousand times more than in summer. And the biggest one was hanging exactly above the top of their fir tree." This view illuminates the entire card.
In autumn 2000, UNICEF asked Tove Jansson for her permission to also reprint the card March for Peace. Tove was delighted at the request and said that she was more than happy to give permission, that she still could do something good for the kids, although she was not able to paint anymore. Artist Tove Jansson died in the summer of 2001 and in the winter 2001, UNICEF launched the new edition of the lovely card with the peace theme.