Tove Jansson herself, her loved ones, as well as real happenings and experiences have influenced a lot to the creation of the characters and stories of Moominvalley. From our previous blog posts you can read who have inspired Tove when creating Moominmamma, Moominpappa and Too-ticky and now in turn we will tell you a little bit about the characters that have been seen as Tove's self-portraits.
Moomintroll is Tove's alter-ego. All the characters are in relation to Moomintroll, of course closest Moominmamma (Tove's mother Ham) and Moominpappa (Tove's father Faffan). Together they form a Moomin family. On the the other hand Little My, who is adopted by the Moomin family, reminds much of Tove and her friends – she says things straight, always truthfully and sometimes even unkindly.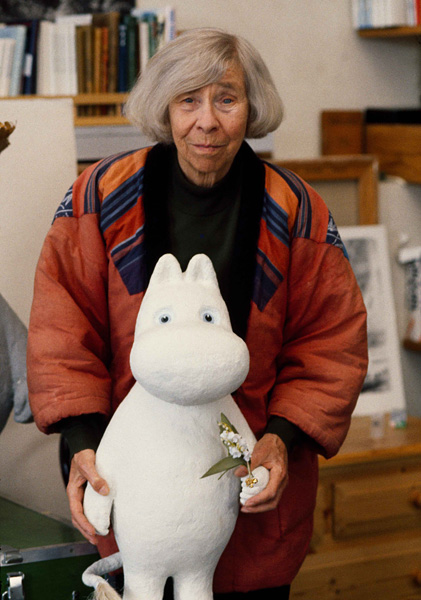 Thingumy and Bob are inseparable and cohesive characters whose relationship reminds the passionate love of Tove and her partner Vivica Bandler. In turn Hemulen and Tove both were diligent – Tove was extremely meticulous and she always knew exactly her work and her income.
In some way Snufkin describes Tove's yearning for her own space as well as her love for the nature. However Tove's male partner Atos Wirtanen was genuine Snufkin with his looks and traits and it is obvious that he was the main inspiration for the character of Snufkin.
Tove and possibly a wide range of readers find Groke's fears, loneliness and an inner evilness from themselves. As Tuula Karjalainen writes in Tove Jansson's biography, "She (the Groke) is in the human and you can't escape from her. She is waiting."
In the last Moomin book, Moominvalley in November, as a listener and narrator appeared a Whomper. The Swedish name Toft but also the appearance of the character have a lot of similarities to Tove herself. Miffle from the book Who will comfort Toffle? is equally small and shy and Tove has granted her as her self-portrait as well.
Read also:
Who inspired Tove when creating Moominmamma?
Who inspired Tove when creating Moominpappa?
Who inspired Tove when creating Too-ticky?