A cup of good tea, some baked goods and a sweet dessert – sounds like the perfect afternoon! Make your next afternoon tea more Moominous with beautiful kitchenware and delicious sweets.
An afternoon tea is a lovely way to spend time together with your loved ones while enjoying delicious treats and a cup of warm tea. Scroll down to see how you can make your next afternoon tea more Moominous!
Satisfy your sweet tooth with Moominous treats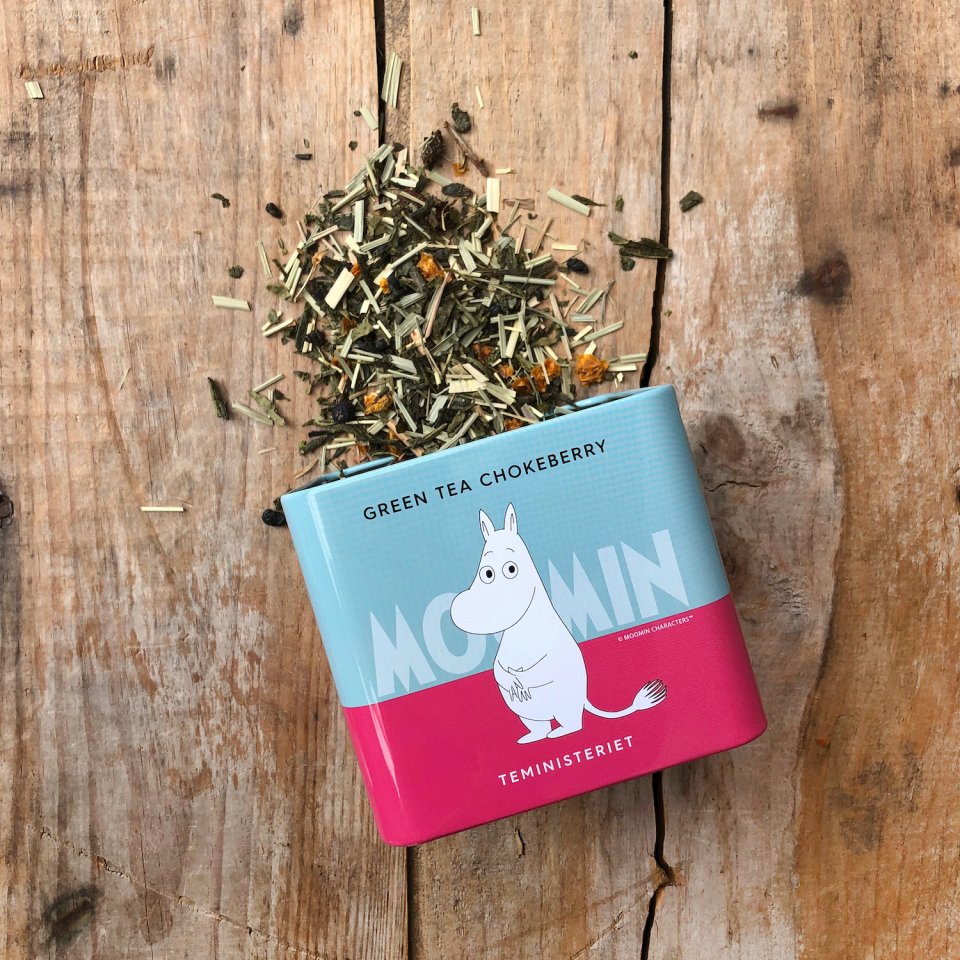 An afternoon tea wouldn't be anything without a delicious tea selection! Teministeriet's Moomin teas come in several flavours and are available both as loose tea and tea bags. Green tea with chokeberry, rooibos with red berries or black tea with mulberry – which one would be your choice?
Those who prefer coffee over tea will surely appreciate a warm cup of medium-roast Moominmamma coffee!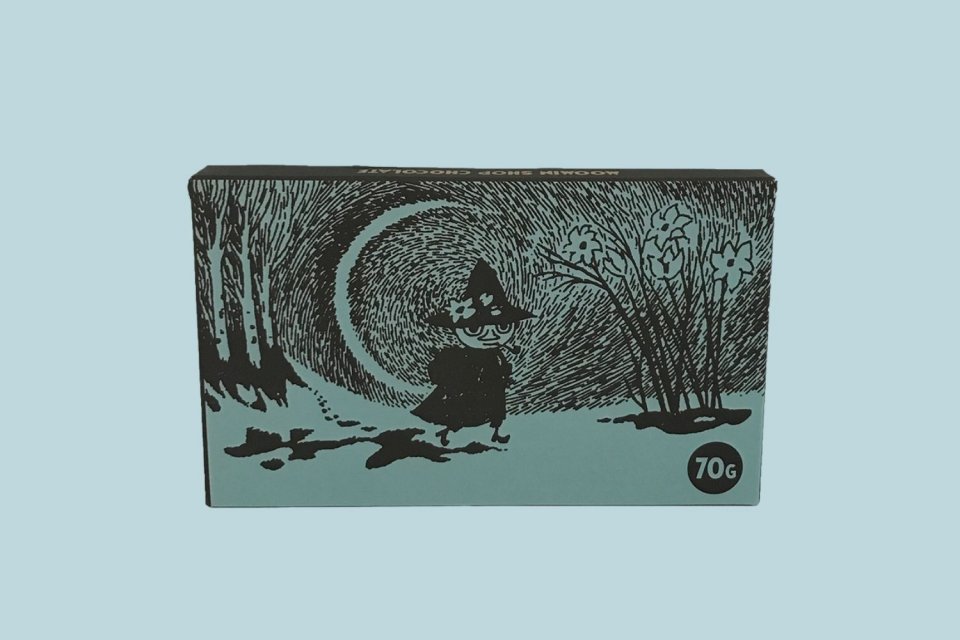 A piece of dark chocolate together with a cup of tea – yum! Dammenberg's dark chocolate, flavoured with cranberry, is made exclusively for the Moomin Shops. The chocolate is perfect for an afternoon with friends, as it's vegan and gluten-free and thus suitable for many different diets.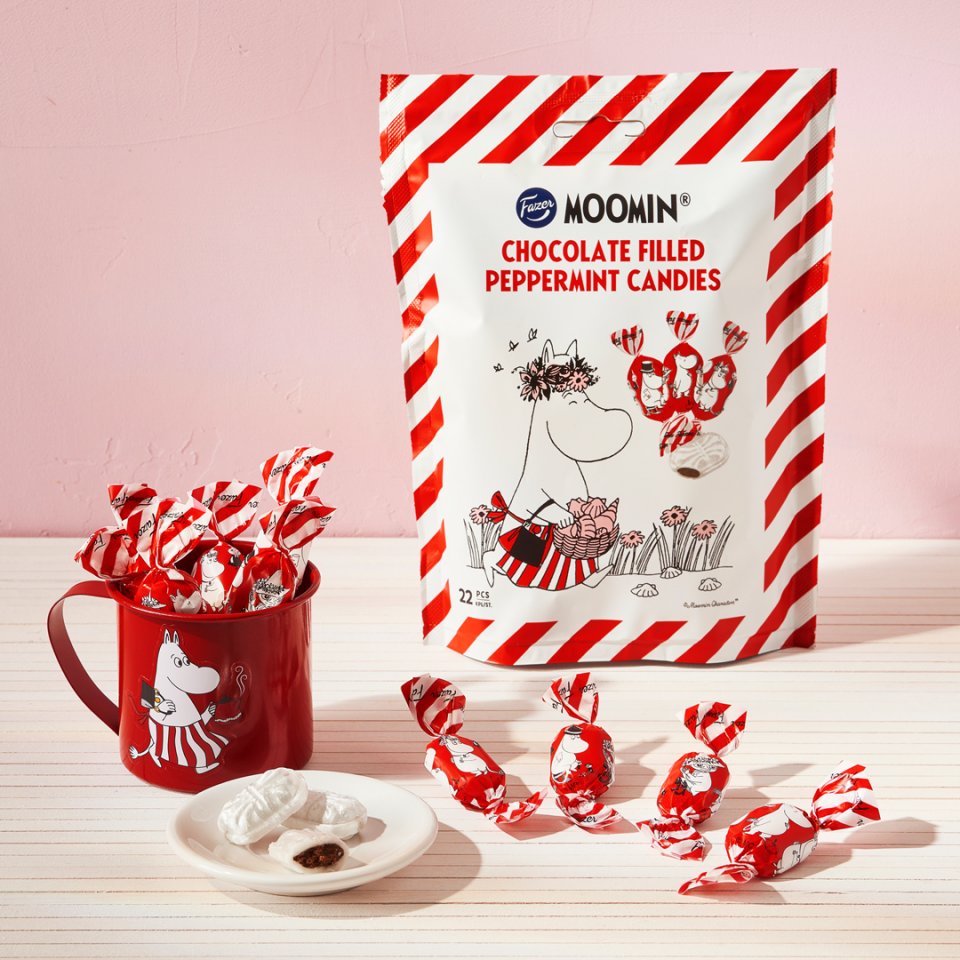 Have you already tried Fazer's peppermint sweets? They're the perfect treat for a Moomin fan! The Finnish classics have a crunchy peppermint peel that encloses mouth-watering chocolate. 
Fazer's selection also includes several other delicious Moomin products, including creamy fudge and a candy assortment filled with different Moomin sweets!
Set the table in a Moominous style
Once you've selected the tea flavours and have all the treats ready, it's time to set the table!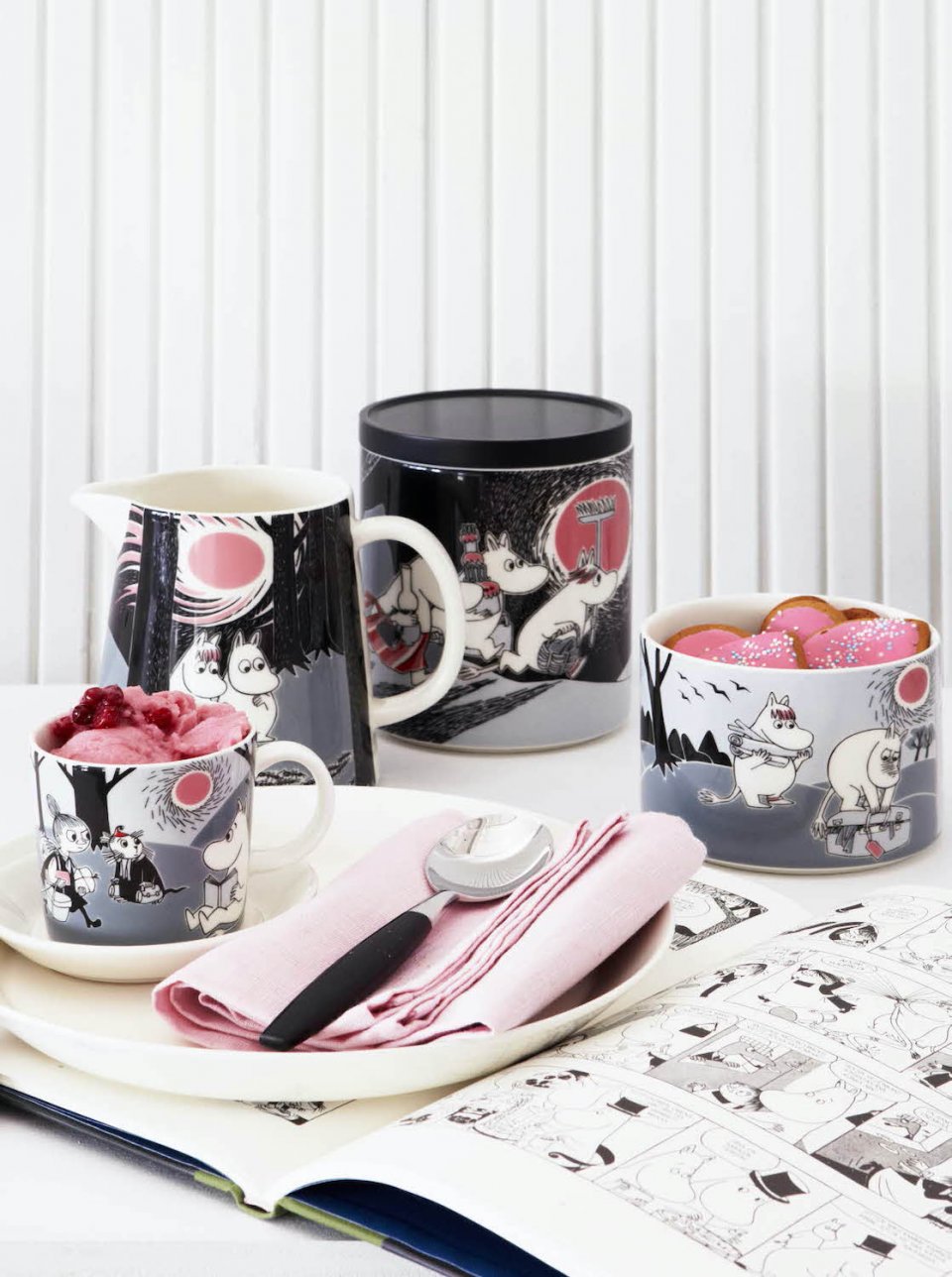 Moomin sweets and Moomin tea should of course be served from Moomin-themed tableware! Arabia's "Adventure move" series is inspired by the novel Comet in Moominland and the cartoon by the same name. You can find the entire series on our webshop!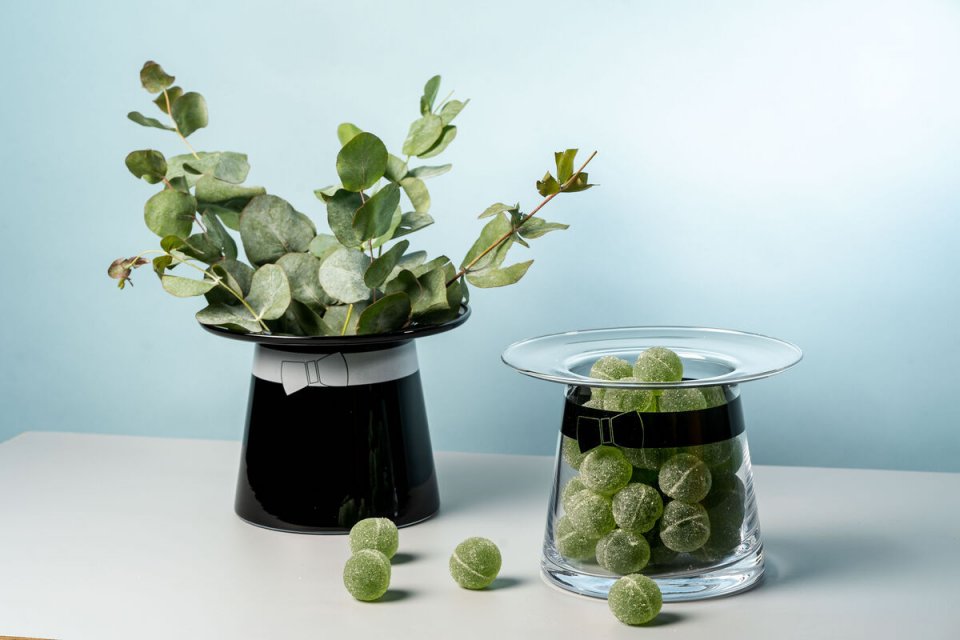 Decorate the table with flowers (or candy)! Moominpappa's hat vase is one of the all-time favourites from Muurla's Moomin series.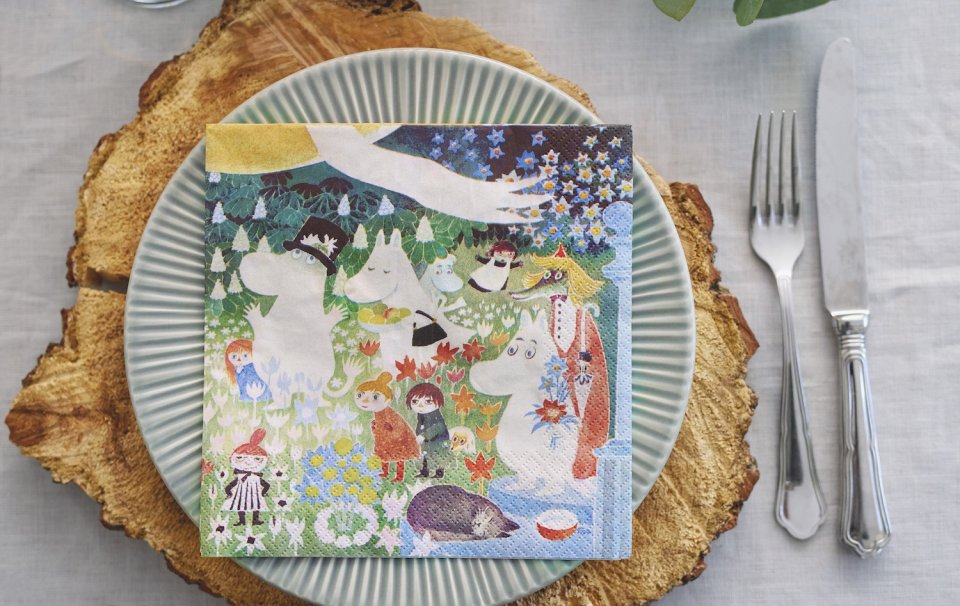 Something colourful to go with the grey tableware? These beautiful Moomin napkins have an illustration from Dangerous Journey. The napkins are made in Finland by Suomen Kerta.
You can also find a wooden tray and coasters with the same illustration on our webshop.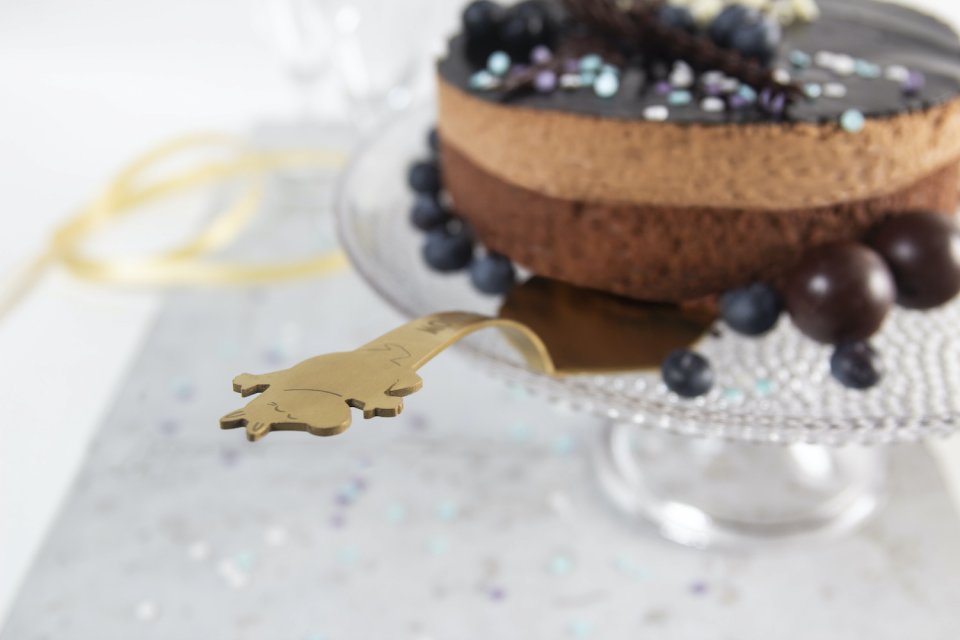 Cake is always a good idea! And a cake server with a happy Moomintroll is the cherry on top.
You can find the golden cake server and all products presented in this article on the Moomin webshop. Enjoy your afternoon tea!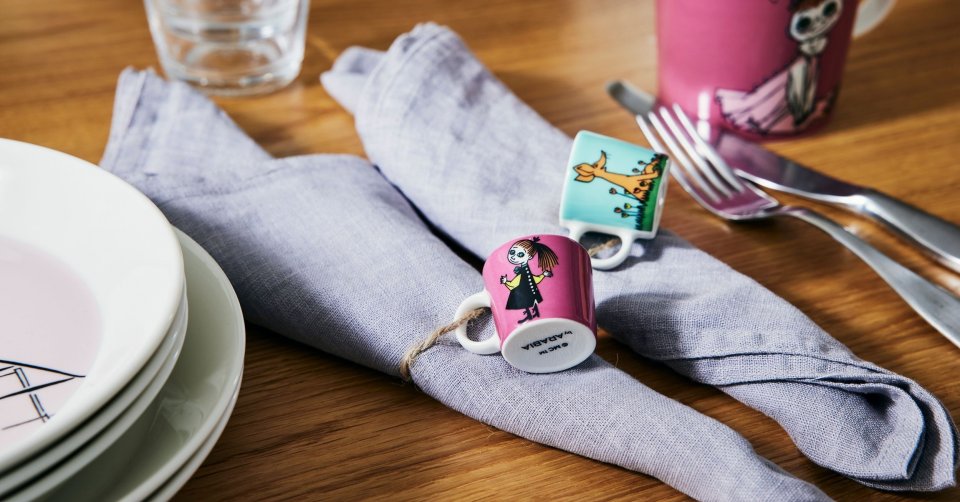 24.8.2021
Arabia's collection of Moomin Collector's plates and mini mugs is growing. In addition, new, bigger Moomin mugs are coming for sale!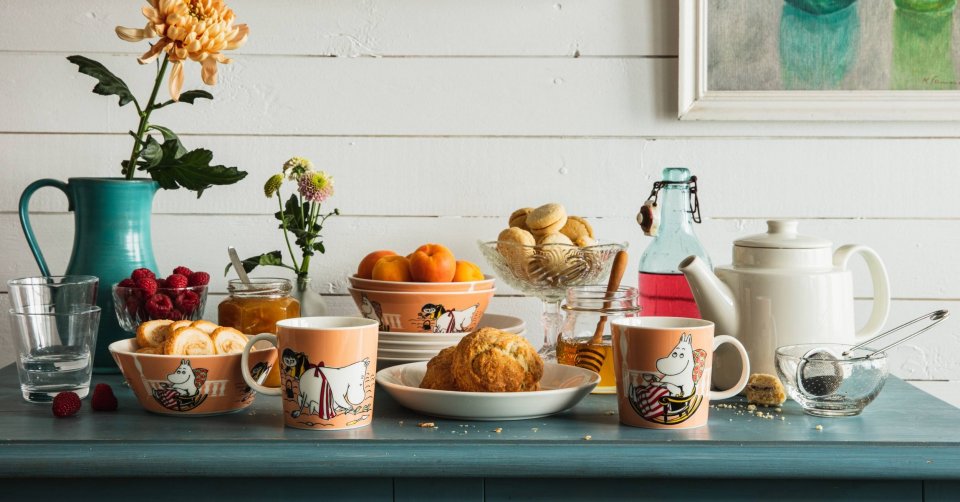 4.5.2021
There are several mothers in the Moomin stories, and the most central one of them is of course Moominmamma. On our webshop, you can find wonderful products for fans of Moominmamma.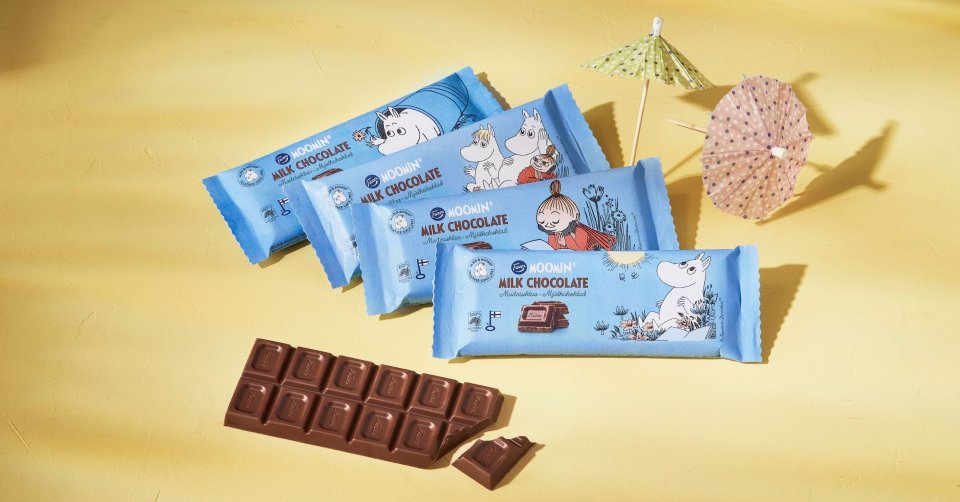 6.8.2021
Are you a fan of chocolate? Try out the new Moomin chocolate bars and chocolate-filled peppermint candies by Fazer!