BAFTA-winning producer John Woolley is the series producer for MOOMIN. Here he answers some questions about the 2D/3D hybrid technique that will be used in the cutting-edge new animation, which we thought would be of interest to lovely funders!
Can you explain the 2D/3D hybrid technique – how is it achieved?
With the hybrid technique we're exploring, characters are rendered in 3D in an environment with some 2D illustrative or painterly elements. Imagine being in a theatre, where the actors are living, breathing human beings performing against a flat backdrop – it's similar to that, although the contrast between the two will be more subtle.
What kind of look and feel results from this technique?
Combining elements of 2D and 3D results in a real sense of depth; as you'll see from the first concept which we released to launch the Indiegogo campaign, it's very atmospheric. The contrast between the two styles also allows us to express a vast emotional range and puts the main character, Moomintroll, and his development at the very centre of the action.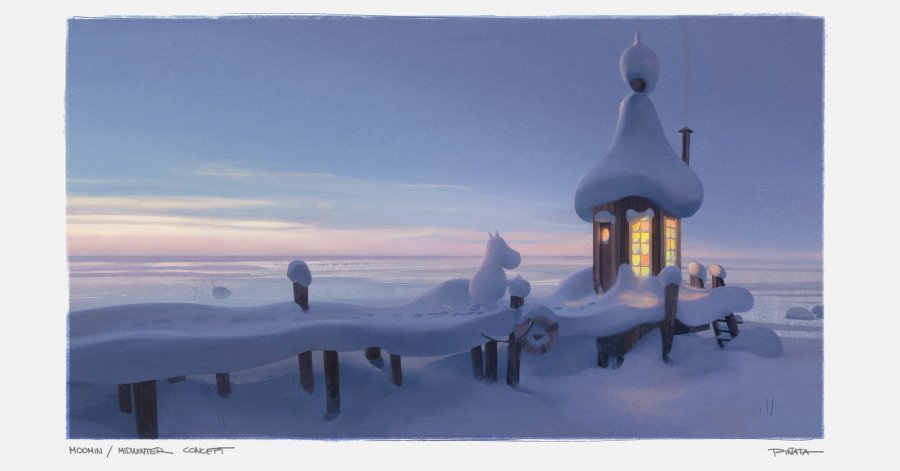 What is the inspiration behind this technique? Has it been used before?
There's a very beautiful 2013 Studio Ghibli film called The Tale of Princess Kaguya which inspired us – specifically because of its use of traditional hand-drawn techniques. There's also a 2012 black-and-white 3D short film called Paperman, produced by Walt Disney Animation Studios, which blends traditional animation and computer animation. Our hybrid technique is different again, but Paperman got us thinking about how to achieve the best of both worlds.
Why is this technique perfect for the new Moomin animation?
The original Moomin stories by Tove Jansson tackle a huge emotional range. We witness our hero Moomintroll experience everything from jealousy, frustration and loneliness to gratitude, hope, joy and exhilaration – sometimes all in one book! This technique will allow us to communicate such a spectrum and be faithful to the spirit of the original works.
Click here to learn more about MOOMIN, how you can get involved and the perks on offer.
Best regards,