Moomin art in an everyday experience
A collaboration between Arabia and Tampere Art Museum has produced Tove Jansson's art in a new form: a new Moominvalley mug will soon be available to make exposure to art an everyday occurrence. The mug honours the extensive collection of Tove Jansson's art in Tampere and is illustrated with one of her colourful aquarelles. Originally painted for the cover of Finn Family Moomintroll, today the picture illustrates Arabia's tribute to Finland's centenary theme 'Together'.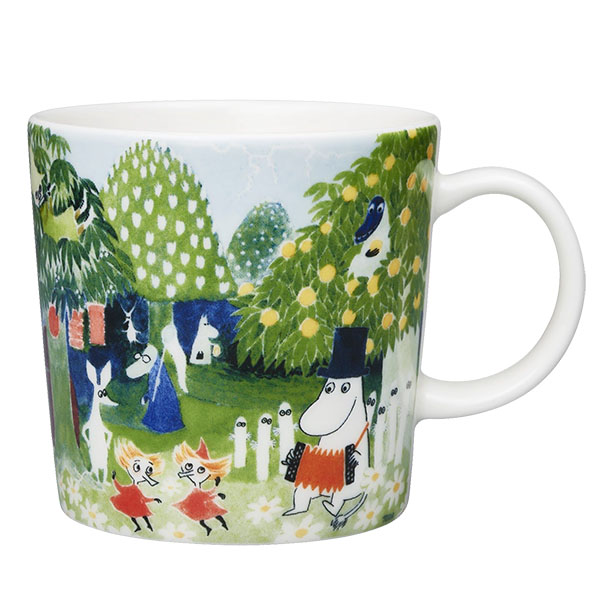 Tove Jansson donated most of her art collection to Tampere Art Museum in 1986. The museum called the collection 'Moominvalley', and it was first opened to the public in 1987, some 30 years ago. Comprising around 2000 pieces of art, it will get a new home when the world's first and only Moomin museum opens in summer 2017.
Aquarelle shows the theme of Finland's centenary
To create a tribute to Finland's hundredth year of independence, Arabia began working with Tampere Art Museum and the City of Tampere to choose one representative piece from their collection. First, they narrowed it down to a shortlist of 10 and finally, the aquarelle from french book cover, Moumine le Troll from 1968 was the final selection.


Original illustration is sized 12,2 cm x 42,4 cm.
Photo: Moomin Characters
The picture as well as the mug contains 27 hues, which makes it quite unusual. Arabia Product and Marketing Manager Nora Haatainen says this makes the artwork very attractive: "Tove Jansson was a versatile artist and writer. We wanted to put her art into a new form and foster its appreciation. The mug brings art closer to everyday life."
The Hobgoblin's hat leads to adventure
In the Finn Family Moomintroll story, Moomintroll, Sniff and Snufkin find the Hobgoblin's hat on mountain near Moominvalley. The magical hat changes the appearance of things: egg shells thrown into the hat become clouds and the Moomins begin to fly with them. The hat belongs to the Hobgoblin, who rides with a black, flying leopard between the planets, searching for the world's biggest jewel. He sees Thingumy and Bob's ruby from space and wants it. In order to obtain the ruby, the Hobgoblin uses his magical powers to grant others' wishes . The adventure has a happy ending: Thingumy and Bob as well as the magician each get their own rubies. In the end, Moominmamma throws a party, and everybody joins in to celebrate.
Presale at Tampere Art Museum
The Moominvalley art mug is in presale at the Moomin museum 9th May onwards and soon after that in retailers. It is available until the end of 2017.
Click here to enter the product page in order to leave your email address to be notified when the mugs are in stock.
Text and mug photos: Fiskars