UK's largest arts centre, Southbank Centre in London, will host an immersive, interactive exhibition which explores the internationally-recognised stories of the Moomin Family through the life of its author Tove Jansson. Adventures in Moominland will be the first major UK exhibition on The Moomins opening 16 December 2016.
Southbank Centre's Royal Festival Hall hosts the exhibition exploring the internationally renowned and beloved stories of the Moomins, presenting new insights into Tove Jansson's life and the influences behind her work with rare archive objects and illustrations built into the experience.
Using significant archive materials on loan from Moomin Characters Ltd and Tampere Art Museum, the exhibition will display objects never-before exhibited in the UK: from original illustration; artworks and 3D models; to letters and personal items from Tove's studio in Helsinki and her family island of Klovharu, where she lived for almost thirty years.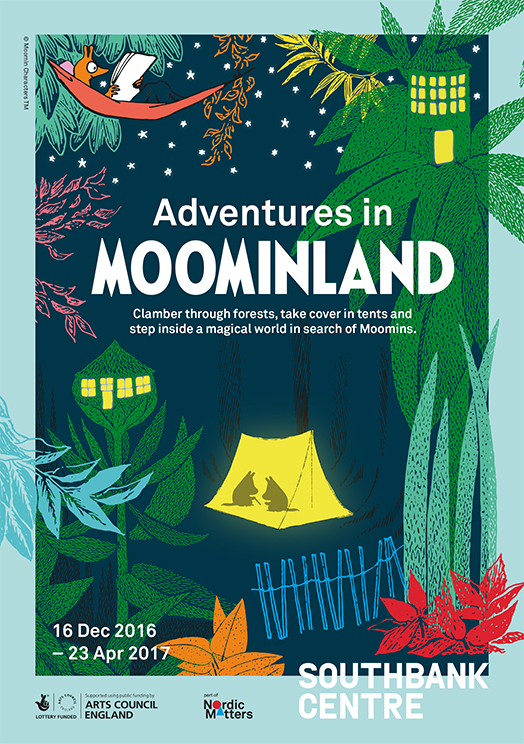 Experiential exhibition
The highly experiential exhibition uses the archival objects as part of the narrative, bringing Tove's world and creations closer to the audience and offering visitors something completely different from a traditional museum exhibition. Visitors will be guided through the exhibition by an audio narrative, discovering seven immersive and interactive worlds that explore the inspirations behind Tove's much-loved stories. These worlds explore the influence of the Nordic landscape within the Moomin books, from the dense forests of Moominvalley to a canvas tent on the water's edge in Finland, a recreation of Tove's art studio and her island of Klovharu.
Paul Denton, Producer, Southbank Centre, said: "Tove Jansson's work is beloved throughout the world by children and adults alike, and we're delighted to be able to introduce a new generation to the magical world of the Moomins through this new immersive exhibition."
Tolerant world of Moominvalley
Several of the Moomin stories, such as Comet in Moominland (1946) and Moomin Midwinter (1957) were written against the backdrop of political and socio-economic change in Finland and heavily influenced by Tove's own personal relationships with family, friends and lovers which defined the narrative and character development. Written during a time of hardship and war, the tolerant world of Moominvalley offered a refuge from the harshness of reality. Tove explored her art and own sexuality within the confines of this changing political landscape – and her friends, enemies, fears and hopes often found themselves manifested in the complex and emotional stories.
Sophia Jansson, niece of Tove Jansson, said: "Tove's work was very much inspired by her life experience – both on the highly personal level of her close relationships and more generally in terms of the influence of Finnish society, politics, lifestyle and landscapes. Southbank Centre's approach of combining archive objects from Tove's home and studio with immersive worlds straight from the pages of the Moomin books is the perfect way to tell the story of how this artist and her creations developed in conjunction with one another."
Moomin themed events
Running until 23 April 2017, the exhibition will also feed into Southbank Centre's 2017 festival offering, with a range of Moomins themed events taking place across the site during WOW – Women of the World festival (March 2017) and Imagine Children's Festival (February 2017). A pop-up Moomins shop will also be on Level 2 of the Royal Festival Hall throughout the exhibition's run.
16 December 2016 – 23 April 2017, Spirit Level at Southbank Centre's Royal Festival Hall

Recommended for ages 7+

For more information on tickets and opening hours please visit the Southbank Centre website

southbankcentre.co.uk
Tove Jansson exhibition at the Dulwich Picture Gallery in autumn 2017
Southbank Centre's exhibition is the first major UK exhibition on Moomins and in autumn 2017 Dulwich Picture Gallery in London will present UK's first major Tove Jansson exhibition.
The exhibition in Dulwich Picture Gallery covers all the periods in Tove Jansson's productive career, including her surrealistic paintings of the 1930s, modernist art of the 1950s and more abstract works in the 1960s and '70s, as well as her satirical anti-war illustrations for the magazine Garm, her monumental paintings for public spaces, and of course a bit of Moomin characters and stories.
Tove Jansson exhibition world tour started from Millesgården, Stockholm, Sweden and before Dulwich the exhibition visits also Gothenburg, Sweden and Copenhagen, Denmark.